Garden Dialogues 2018: Brentwood, CA

Garden Dialogues 2018: Brentwood, CA
Garden Dialogues 2018: Brentwood, CA
Located in the heart of beautiful Brentwood, this stunning residence is the result of combining two properties—one house was a renovation of an existing structure and the other house was newly constructed. Both of the improvements were designed by Frederick Fisher and Partners. Landscape architect Pamela Burton then added a large, sunken lawn with a stone-and-wood pergola to the south. A long, stone rill filled with irises runs amid the lawn, which is wrapped by a decomposed granite path. The path is bordered by an ever-changing palette of sun and shade-loving shrubs designed in the pattern of the color wheel. White, green, chartreuse, and yellow merge into orange, red, and rose, then transition into burgundy, purple, and blue. The result is a garden room filled with color year-round from the foliage and flowers.
Enjoy refreshments after the tour while chatting with landscape architect Pamela Burton.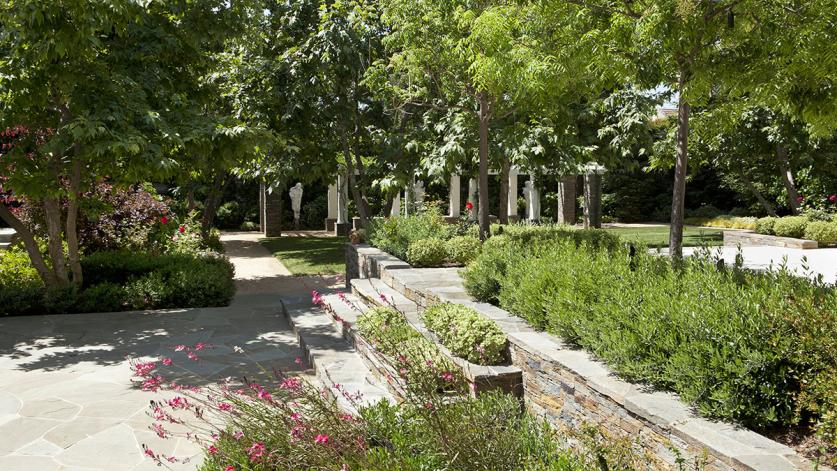 Pamela Burton, FASLA, received her Bachelor of Arts and Master of Architecture from the University of California, Los Angeles. She founded Pamela Burton & Company shortly after graduation, motivated to integrate the disciplines of art, architecture, and landscape. 

In 2003 Princeton Architectural Press published Private Landscapes: Modernist Gardens in Southern California, which Pamela co-authored with Marie Botnick. The book profiles residential gardens designed by mid-century modernists Richard Neutra, Rudolph Schindler, and several of their colleagues. In 2010 Princeton Architectural Press published Pamela Burton Landscapes, which describes the interrelationships among twenty of Burton's projects, including private residences and public landscapes in California, Hawaii, Idaho, New York, and Brazil.


Ms. Burton is a member of the Chancellor's Cabinet of the UCLA Fund. She served on the Design Review Board at the University of California, Santa Barbara, on the Design Review Board at the University of California, Riverside, and on the Architectural Review Board of the City of Santa Monica. 
2.0 LA CES™ Professional development hours will be available to attendees.
Thanks to the generosity of our hosts and sponsors, tickets for Garden Dialogues are tax-deductible, and proceeds benefit the educational programs of The Cultural Landscape Foundation.
---
Refund Policy:
Cancellations and Refunds will be granted according to the following schedule:
Up to two (2) weeks in advance: 90% (Deduction represents administrative processing fees)
Less than two (2) weeks in advance but up to seven (7) days prior: 70%
No refunds will be made for cancellations seven (7) days prior to event
No refunds will be made for "No Shows" (a person who registers for a program but who does not cancel