Landslide
Lester Collins' Innisfree Listed in National Register
by Kate Kerin and Jean Phifer
On September 3, 2019, Innisfree, the 185-acre designed landscape in Millbrook, New York, was listed in the National Register of Historic Places—the perfect way to help celebrate Innisfree's 60th season as a public garden in 2020. The property met the criteria for national significance in landscape architecture and the even higher bar of "exceptional significance" required of any work completed in the past 50 years. The Period of Significance, 1930 to 1994, recognizes the entire design arc of this exceptional site, and the nomination itself has just received a 2019 New York State Historic Preservation Award from the Office of Parks, Recreation and Historic Preservation.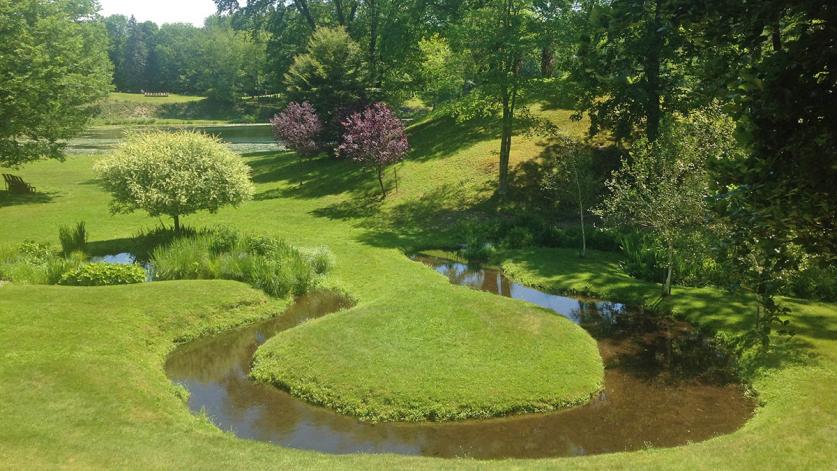 Innisfree is the masterwork of Lester Collins, FASLA, an iconic if perhaps underappreciated figure in twentieth-century American landscape architecture. Collins' work was groundbreaking, influential, and wide-ranging. In addition to Innisfree, his résumé included large-scale urban designs, urban parks and plazas, corporate, academic, medical, and research campuses, and both small- and large-scale private gardens. Describing Collins, Hugh Newell Jacobsen, FAIA, stated, "I always thought he was the best." Mark Simon, FAIA, who frequently collaborated with Collins, called him "the most important and unsung landscape architect of the late twentieth century….[someone who] was fun to work with… a brilliant designer who made difficult situations simple, but who could make simple solutions interesting." And the influential Charles Moore, FAIA, said of Collins, "In the pantheon of landscape designers, 'Lester was right up there.'"  
With his clients Walter and Marion Beck, Collins began work at Innisfree in 1938 while still an undergraduate at Harvard majoring in English. In 1939–1940 and 1953–1954 he traveled through Asia studying gardens. During the latter trip, as a Fulbright Scholar in Japan, he collaborated on what is likely the first English translation of the most influential of all Japanese garden texts, the Sakuteiki.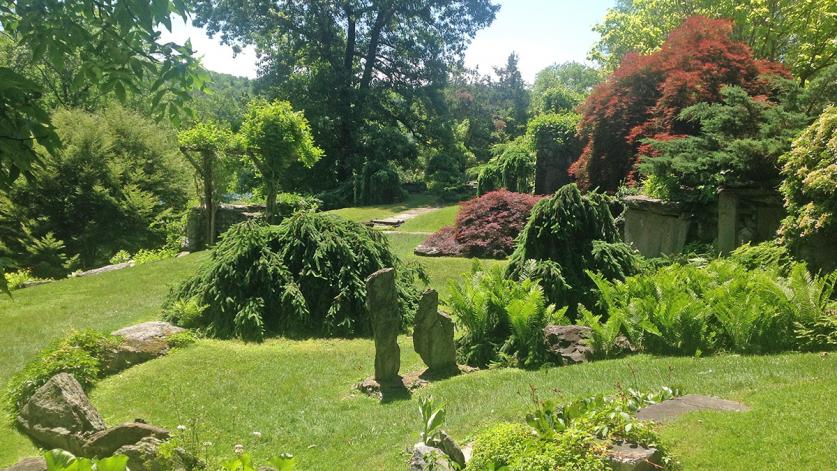 Collins' work at Innisfree reveals more facets of his creative genius. While the Becks had never traveled in Asia, Collins drew on his own first-hand experiences there and used a large eighth-century Chinese villa garden as his inspiration. Weaving together his deep understanding of Chinese and Japanese gardens, his modernist sensibilities, and his study of Picturesque landscapes, Collins shaped the Innisfree landscape in a rocky, glacial bowl centered on a 40-acre lake in Dutchess County, New York. The result is both worldly and entirely American—a timeless and clear expression of the very best of postwar landscape architecture in the United States. 
After the Becks died, Collins ran Innisfree as a public garden for 33 years until his own death in 1993. With essentially no money and no staff, he brilliantly created a host of new features and more than doubled the size of the garden, wrapping it around the lake to create a memorable physical and experiential journey. Collins knew he had to enlarge and simplify the smaller Beck-era garden while being strategic with any new elements. Not wanting to end up with something dull, he was always thinking about how to both "sustain and survive public interest." The techniques he developed to create drama and interest without costly construction or intensive, ongoing maintenance could serve as a playbook for 21st-century landscapes: a Giacometti-like stone—a glacial erratic—poised just so along the sculpted lakeshore; a sweep of rolling natural topography revealed through judicious clearing and emphasized by an undulating field of constructed berms nearby; a wide, sensuous curve in a stream looking for all the world like a fragment of a Henry Moore piece that brings the reflected sky down into the garden, tying together a trio of hills.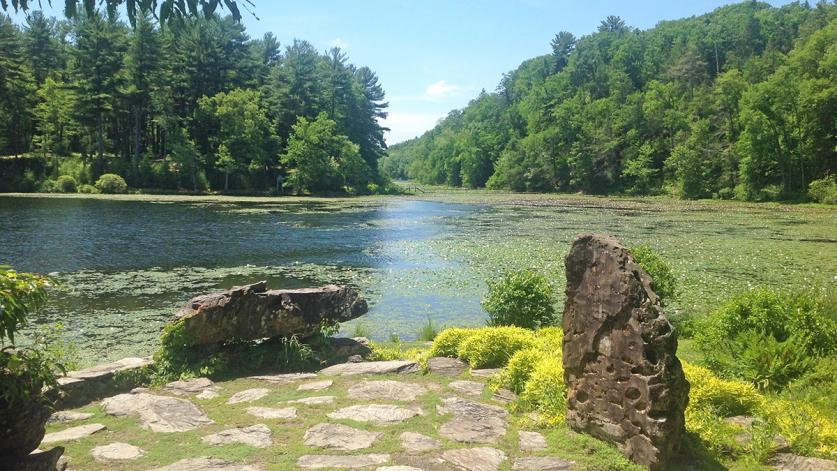 Charles Moore wrote of Innisfree, "There is, in keeping with the Chinese philosophy, a process of bringing your attention to the immediate, to the moment in a particular place, in order to lead to a comprehension of the universal, and not the other way around." With his focus on the individual experience in nature and his purposeful design choices, Lester Collins made Innisfree the embodiment of mindfulness.
Perhaps the most intriguing of Collins' many innovations at Innisfree are the ways he achieved specific design goals by partnering with nature, drawing on his deep understanding of natural processes and how individual ecosystems work. Collins relied on what he called his "farmer common sense" to create a resilient landscape that is environmentally and economically sustainable but is most definitely a designed landscape, not an ecological restoration. Creating gardens that function as plant communities as opposed to traditional mixed borders or masses of plantings is a concept now at the leading edge of horticultural thought. Through carefully timed but minimal interventions in the natural succession process, Collins caused different plant communities to emerge (rather than be planted) to perform different aesthetic functions.  These are carefully and minimally edited over time, relying on highly developed aesthetic sensibilities and knowledge of plants and ecosystems instead of an army of gardeners. Most of the ecological gardens Collins created are bog gardens in Innisfree's broad, natural bowl, although some are upland meadows and woodlands. These ideas that merge design, construction, and maintenance enable Innisfree to function effectively with a remarkably small staff and budget.
Also remarkable is the innovative water system that Collins developed at Innisfree. There are no wells on site. All the water used for the many water features and limited irrigation is rainwater collected in the natural bowl that defines Innisfree, drawn from a loop that includes the 40-acre glacial lake at the center of the site and a seven-acre reservoir on a ridge above the garden. Before scientists understood how to control algae bloom, Collins used his "farmer common sense" to solve that problem at Innisfree by taking nutrients from undesirable plants (algae) and giving them to desirable ones. He installed a pump to draw the lowest, sediment-rich layer of water out of the lake and into the reservoir. With the material in that algae-feeding layer removed, the lake cleared. Today, this process is known as hypolimnetic withdrawal. The Innisfree reservoir thus became nutrient rich, essentially compost tea. By designing a water system that could handle a heavy sediment load, Collins was able to feed all of the plants along streams, in bog gardens, around fountains, and in any area that was irrigated. The plants draw nutrients out of the water, and the ground itself serves as a giant sand filter. By the time the water returns to the lake, it has been naturally filtered and aerated by waterfalls, fountains, and sprinklers.
Collins focused on what he knew, developing and refining the design and maintenance of Innisfree. He also separately ran a busy practice, so the non-profit remained rudimentary. The garden was maintained with extreme thrift, relying on admissions income and an annually appropriate drawdown from the small endowment that was created when outlying acreage was sold in the 1970s. When he died in 1993, Collins was about to complete a spectacular fountain, called the Water Sculpture, at Innisfree. It was finished to his specifications the following year.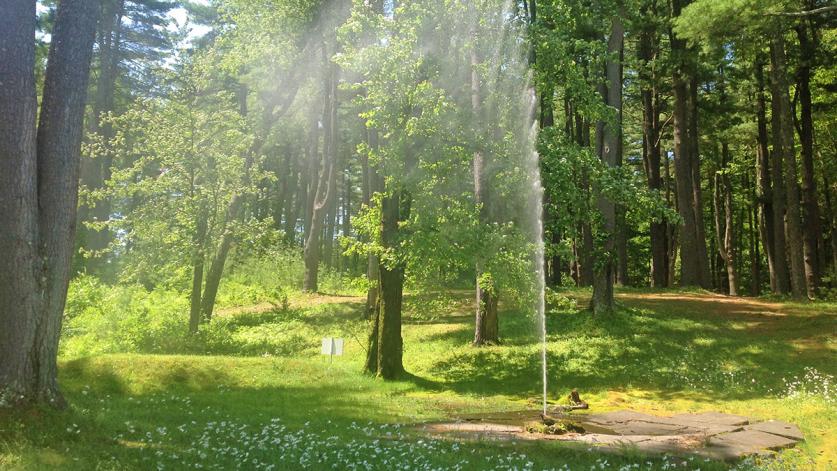 After Collins' death, members of his family continued to manage the garden until 2017, so his ingenious maintenance practices were perpetuated, and the landscape is remarkably intact.  While their efforts must be applauded, the family did not have the ability to create a more vital non-profit and raise significant funds, leaving certain major repairs, such as mending stone walls and updating utilities, unattended. Some of the refinement that Lester Collins' professional knowledge and exceptional eye brought to Innisfree had eroded, as none of the family members were landscape designers or horticulturists. The Collins family did, however, see the need for change and reached out to The Cultural Landscape Foundation (TCLF) in 2012. 
Recent Advances at Innisfree
Innisfree's listing in the National Register is but the latest milestone on the landscape's road to a secure future. In October 2012 TCLF included Innisfree in its Landslide program for significant at-risk landscapes, helping to call attention to the challenges facing the site. In 2013 Innisfree added a part-time landscape curator to its tiny staff. At that time, most trustees had been involved since before Lester Collins died in 1993, so new trustees with particular professional abilities were gradually added to the roster to help the non-profit begin to rise to the level of the extraordinary landscape in its charge. Public programming and community outreach as well as a membership program and fundraising events were started. A five-year grant from New York State was secured, as were several smaller grants.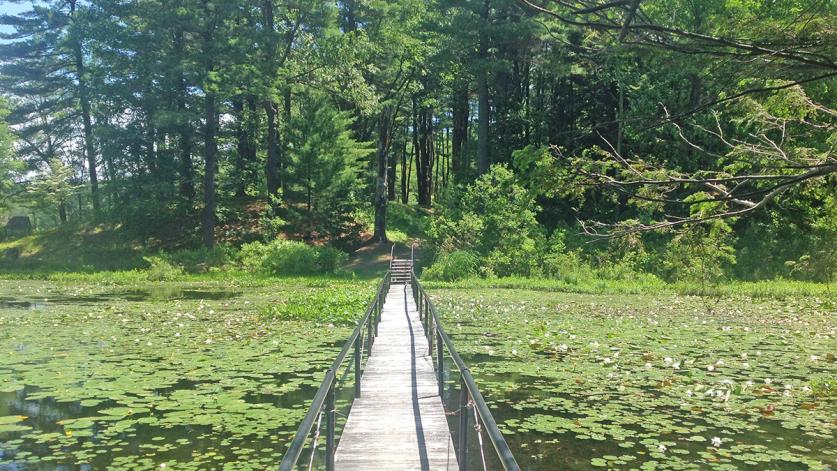 In June of 2015 TCLF's Charles Birnbaum and Nord Wennerstrom spent a weekend at Innisfree, working with the board, staff, and key stakeholders to understand its significance. Birnbaum declared that "Innisfree is a postwar masterpiece, PERIOD." He also helped the organization see key differences between preserving an important historic landscape and simply running a public garden, explaining what steps could be taken to appropriately preserve the landscape and secure its future. Those included successfully nominating Innisfree to the National Register of Historic Places (done!), having it designated as a National Historic Landmark, and creating a cultural landscape report. The research and documentation forming the National Register listing are now being used, as funding allows, as the basis for a preservation maintenance plan. The non-profit is professionalizing, creating active committees, and fine-tuning its organizational practices. New staff members have been added in the past year, including a property manager, an administrator, and fundraising consultant. Work has also begun to catalogue archival materials at Innisfree. Planning is underway for Innisfree's first major fundraising event celebrating six decades as a public garden in September 2020.
The significance of Innisfree and Lester Collins' large body of work is now established, but this important landscape is still seriously underfunded. With guidance from TCLF, Innisfree has taken purposeful and effective steps toward appropriate preservation and organizational development. With support from landscape lovers everywhere, it will be possible to secure the future of this remarkable place for another 60 years and more.  
Kate Kerin is Innisfree's landscape curator, and Jean Phifer is president of the Innisfree Foundation.