feature
Ralph Cornell - Southern California Dean of Landscape Architecture

Pomona College, Claremont, CA.
Ralph Cornell (1890-1972) was the single most influential landscape architect to shape Los Angeles. Cornell's extensive portfolio, which spans Picturesque, Beaux Arts and Modernist styles, includes city parks, subdivisions, luxury hotels, college campus master plans, and civic landscapes.
Active in both design and writing from 1919 to the early 1970s, he is arguably the Olmsted of Los Angeles. This enduring legacy is the focus of What's Out There Weekend Los Angeles – The Public Landscapes of Ralph Cornell, November 8-9, TCLF's inaugural Weekend of free, expert-led tours focused on the work of a single designer.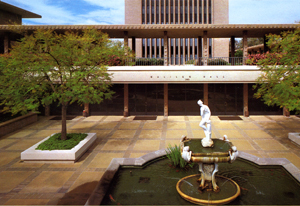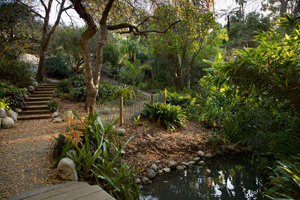 (upper) Harvey Mudd College, courtesy Harvey Mudd College; (lower)
Mildred E. Mathias Botanical Garden, courtesy Mildred E. Mathias
Botanical Garden.Ralph Cornell graduated from Pomona College in 1914 and earned his Master of Landscape Architecture degree three years later from Harvard University. In 1919 he opened one of the first landscape architecture practices in Los Angeles and would spend his career promoting the preservation of California's native landscape with a strong focus on the use of indigenous plant materials coupled with design restraint. In 1919, he began developing his "campus in a garden" at his alma mater, Pomona College, a project that would last 40 years.  Building upon architect Myron Hunt's 1908 Beaux Arts plan for the campus, Cornell developed quadrangles, memorial walks, and open spaces, utilized native and exotic plants to form outdoor rooms, and promoted the preservation of a natural linkage to Claremont's canyons. In 1931 he, designed the Beaux Arts Beverly Gardens Park, a 23-block linear promenade bordered by themed gardens of palms, roses, succulents, lawns, and allées. At the same time, Cornell was commissioned to restore and rehabilitate the landscape at Rancho Los Cerritos, once part of a 27,000-acre estate and reduced by the 1930s to just 4.7 acres. The Rancho had been the site of extensive orchards and gardens dating to the 1880s; Cornell drew upon the historic design and existing vegetation to develop new plantings for the site, now a National Historic Landmark. His master plan for the Mediterranean-style University of California, Los Angeles (UCLA) campus united disparate buildings along a central axis with dramatic vistas from distinct park-like settings. From 1937 to the mid 1950s Cornell managed the development of UCLA's Mildred E. Mathias Botanical Garden, which blended arid-adapted, native coastal plants with exotics imported from Australia and Hawaii.
In 1955 Cornell became senior partner in the firm he co-founded with Samuel Bridgers and Howard Troller;  they worked extensively on Modernist municipal projects throughout Los Angeles, including: the twelve-acre Civic Center Mall constructed atop a subterranean parking garage; the town square-inspired City Hall East Mall; the sixteen-block Department of Water and Power campus with its array of fountains and reflecting pools; and the stepped plaza and sunken forecourts of the Music Center. In the 1960s Cornell designed UCLA's Franklin D. Murphy Sculpture Garden, a Modernist green space with sculpture by Alexander Calder, Auguste Rodin, and others. In nearby Culver City, Cornell developed the extensively planted Hillside Memorial Park, a Jewish burial ground that includes a mausoleum and 120-foot waterfall. In Pasadena, Cornell's designs are found at a number of neighborhood parks including the sunken gardens at Washington Park, the three-acre La Pintoresca Park, which includes remnants of gardens surrounding an 1880s hotel, and the ten-acre Central Park, Pasadena's first public green space.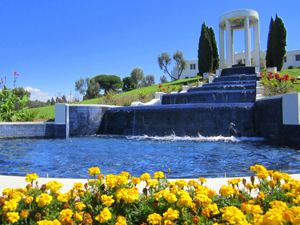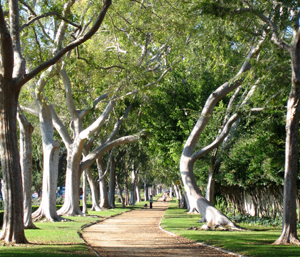 (upper) Hillside Memorial Park, photo by Steven Keylon; (lower) Beverly
Gardens Park, photo by Larkin Owens.Since 2010 TCLF's What's Out There Weekend program has brought national focus to the landscape architecture and city planning legacies of Chicago, Miami, New York, San Francisco, Washington, D.C. and numerous other locations. The first What's Out There Weekend Los Angeles in October 2013 was so popular – with capacity tours and more than 1,000 attendees – it prompted calls for an immediate follow-up.  Because of Cornell's significant design impact, much of which could not be included in last year's event, it was decided his legacy would be this year's focus. The Weekend is generously supported by Ralph Cornell's daughter Mrs. Rosita Cornell Smith as well as by a number of national and local partners including Bartlett Tree Experts, Park West, SWA Group, the California Garden & Landscape History Society, and the Los Angeles Conservancy among others.
The Weekend kicks off with an event co-sponsored by California Garden and Landscape History Society and UCLA Library Special Collections that includes a  lecture by Brian Tichenor, professor at USC's School of Architecture, and the opening of an exhibit in the UCLA Charles E. Young Research Library, "Ralph D. Cornell: Dean of Southern California Landscape Architecture." This retrospective of Cornell's life and career, on view November 7 through December 23, 2014, features a diverse array of drawings, renderings, photographs, and artifacts, many of which have never been publicly displayed. Steven Keylon, Curator, with Kelly Comras. Curatorial assistance by Sam Watters and Genie Guerard. Designed by Octavio Olvera.
What's Out There Weekend Los Angeles – The Public Landscapes of Ralph Cornell will feature tours of thirteen sites in Los Angeles, Beverly Hills, Culver City, Claremont, and Pasadena. These free, expert-led tours will reveal Cornell's life, career, design philosophy, and impact on Southern California, and the field of landscape architecture as it moved from an era of Picturesque and Beaux Arts traditions to Modernist design and planning principles.