Wayne Stiles
The early part of the twentieth century is considered to be the golden age of golf, a period which saw legitimization of the sport through Olympic inclusion, technological advances in the design of balls and clubs, and the establishment of the Professional Golfers' Associaion (PGA). It is during this time that Wayne Stiles was most active as a golf course architect.

Wayne E. Stiles was born in 1884 in Boston. He spent his formative years as a draftsman and office boy for Franklin Brett beginning when he was eighteen. Stiles stayed with the Boston firm of Brett and Hall until 1914, ending up as a junior partner. He was primarily involved in city planning and land subdivisions in Canada and essentially learned the trade of landscape architecture without formal schooling, which was common at that time in this country.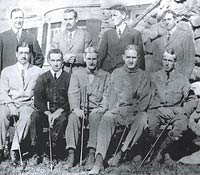 During his time at Brett and Hall, he was an avid golfer, peaking at a three handicap from 1909 through 1911 at his home course, the Brae Burn Country Club, in Newton, Massachusetts. He played numerous competitive matches, both individual and team efforts during the years 1905 through 1911, and competed both with and against some of the top professional and amateur golfers of the day, including Francis Ouimet, Alex Ross and Walter Travis. Stiles won several club invitational tournaments as early as 1905, qualified for the Massachusetts Amateur Championship and won a series of medals, among them for runner up in the Club Championship of 1910 and for winning the 1910 MGA Team Championship, representing Brae Burn.  
By 1916, he became involved in golf course design largely due to the tremendous proliferation of golf course construction in this country at that time. Many golf courses during this period were designed for private estates and often involved a subcontract from a landscape architecture firm, among them the Olmsted Brothers. The earliest golf course design for which he is credited came in 1916 when he completed a nine-hole course at the Nashua Country Club, in New Hampshire. After a hiatus during the World War I years, he designed his first 18-hole course for the Oak Hill Country Club in Fitchburg, Massachusetts.
In 1924, he formed a partnership with John Van Kleek, having offices in Boston, New York, and St. Petersberg, Florida. The firm continued to be involved in non-golf projects, although Stiles work was primarily golf related whereas Mr. Van Kleek focused more on landscape design.  Associates of Stiles and Van Kleek included Thomas D. Church and R. Butler Sturtevant, both of whom later established themselves as nationally known landscape archi­tects.
In 1916, there were fewer than 1000 courses, but by the onset of the Great Depression, there were well over 5500, with Mr. Stiles being involved in designs from Maine to Florida and as far west as Missouri. During the depression when relatively few golf course projects were completed, Stiles managed to win contracts for several notable courses, including the Putterham Meadows, in Brookline, Massachusetts, where he beat out several competitors, including A.W. Tillinghast.  He also designed a private estate course in 1936 on Martha's Vineyard, today known as Mink Meadows. His work during this time also included the first municipal course in Maine (funded by the Works Progress Administration) known as the Riverside Municipal Golf Course (North) in Portland, which opened in 1935.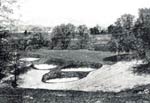 Stiles had a distinctive style, and he was known for spending considerable time at those projects where he was hired. He would spend weeks walking the grounds when laying-out a course.  He took on fewer projects than many golf course architects and developed highly detailed drawings which formed the basis for plans and specifications. For most courses, he developed individual blueprints for each of the holes, often with substantial margin notes on each hole, enabling his foremen to implement his concepts accurately.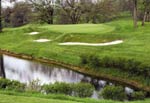 When he designed greenside bunker complexes and associated mounds, they had a natural look to them. He focused on selecting the best green sites first, then routing the course to link them. He was known for utilizing naturally elevated areas for greens, often fitting them into a hill. Many old trees guard these greens today, showing his understanding of how they would look, and affect play, decades later. Mounds were often placed around the putting surfaces. This feature distinguishes him from his Massachusetts contemporary, Donald Ross who usually made the putting surface the zenith of the green complex.  Stiles' greenside approaches often featured a narrow and sloping neck between bunkers guarding an elevated green. His greenside bunkers were often hidden and deep; only visible to the golfer upon finding his or her shot in the sand. Although much of this type of bunkering has surrendered to modern alterations, a few great examples still exist, and several of his layouts are in close to original condition or have been restored.
Stiles passed away on February 8, 1953. In Landscape Architecture magazine in 1953, the ASLA noted the passing of one of its more dynamic members. He is buried in the Evergreen Cemetery in Portland, Maine.
Bibliography
Labbance, Bob and Kevin Mendik, The Life and Work of Wayne Stiles, Montpelier, VT: Notown Communications, 2008.
Healey, James F. 2003. Norwood Hills Country Club A Family Tradition.
Cornish, Geoffrey S. and Whitten, Ronald E.  Architects of Golf:  A Survey of Golf Course Design from Its Beginnings to the Present, with an Encyclopedic Listing of Golf Architects and Their Courses. New York, NY: Harper Information, 1993.
For additional information about see www.waynestilessociety.com