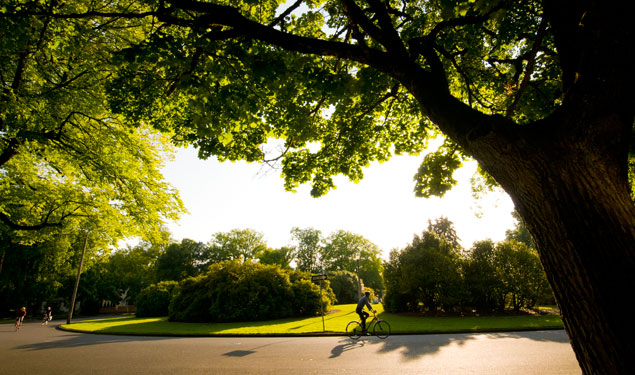 [Mr. Ladd] has provided for supplying the residents of this tract with gas and electric lights, he has arranged for a splendid system of sewerage and drainage... he will lay sidewalks fronting on every block and he will have a perfect water system that will insure residents of an ample supply of the purest water for domestic purposes. — Oregonian Souvenir (1892)

History of Ladd's Addition
Elm Grove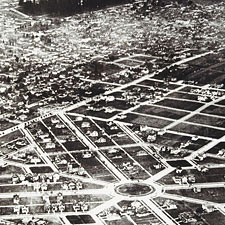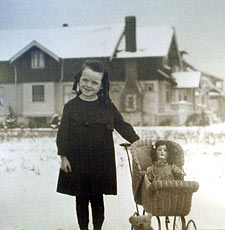 Circa 1918 / view plan
Ladd's Addition was the first planned community in the state of Oregon. In 1891, Portland Mayor, William S. Ladd, proposed a 126-acre community Ladd's Addition, on a gently sloping portion of farmland in southeast Portland. The design abandoned the traditional grid, and instead used diagonal streets that crossed at Ladd's circle, a central circular park. In each quadrant of the plan, a smaller diamond shaped park provided a roundabout to through traffic. American elm trees were planted along the main diagonal avenues and around Ladd's Circle, while a mix of European white birches, little-leaf lindens, Norway maples, and Persian walnuts were planted as street trees throughout the neighborhood. In 1909, Portland Parks Superintendant, Emanuel T. Mische, proposed a planting plan for Ladd's Circle; this plan was partially-implemented in 1910 once irrigation was installed. That same year the diamond shaped squares, known as Maple, Orange, Mulberry and Cypress (north, south, east and west, respectively), were planted with rose gardens.
Today the community is dominated by Craftsman-style bungalows built primarily between 1905 and 1929. During the 1970s and 1980s, the neighborhood was threatened by a proposed highway project that would have forever transformed the character of downtown Portland. This proposal brought community issues to the attention of many of residents and resulted in the formation of several advocacy groups intending to preserve Ladd's Addition as well as Mische's Portland designs in general. In 1977, the City of Portland established the Ladd's Addition Conservation Historic District and, in 1988, the Ladd's Addition Historic District was listed in the National Register of Historic Places. Since that time, few changes have been made to the original park plans. In an attempt to address issues with vagrancy over the years, however, several of the planting beds were removed from Ladd's Circle, but four semi-circular planting beds planted with camellias and rhododendrons remain. The rose gardens now serve as the City of Portland's test gardens, showcasing a large variety of hybrid roses.
Steward David Kaplan joined other community members to form Save Our Elms in 1995 after Dutch elm disease began to pose a threat to Ladd's Addition's mature elms, which contribute significantly to the historic neighborhood. The locally-based volunteer group is dedicated to preserving and protecting the community's elm trees, as well as educating the public about the threat from Dutch elm disease.
Since beginning his work with Save Our Elms, Mr. Kaplan was a volunteer board member and served two terms as President and is currently the Vice-President for Membership. He is also part of a larger effort to maintain city ordinances used to implement the historic landscape plan. Today, Save Our Elms coordinates a group of forty volunteers to inoculate the community's 250 American elms annually. Volunteers participate in an aggressive tree re-planting program, replacing trees lost to disease and weather with disease-resistant varieties, and encouraging pruning and maintenance of street trees to promote the trees health and survival. Since the group was established, over 600 trees have been planted within the public viewshed and replanting has increased more than 20%.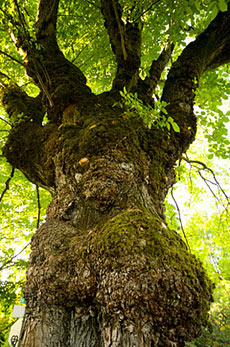 Photograph © C. Bruce Forster
Threat
Dutch elm disease is a fungus that spreads between the roots of closely-planted elm trees, like those planted as street trees across the country during the early 20th century. The fungus attacks the tree's vascular system, causing it to wilt and die. By 1970, the disease was blamed for the death of nearly 80 million elms in the United States, which destroyed the urban tree canopies of many cities. Dutch elm disease continues to threaten the more than 250 mature American elm trees that line the streets of Ladd's Addition. While there is no cure for the disease once a tree has acquired it, vaccinations, given once every three years can protect the trees from infection.