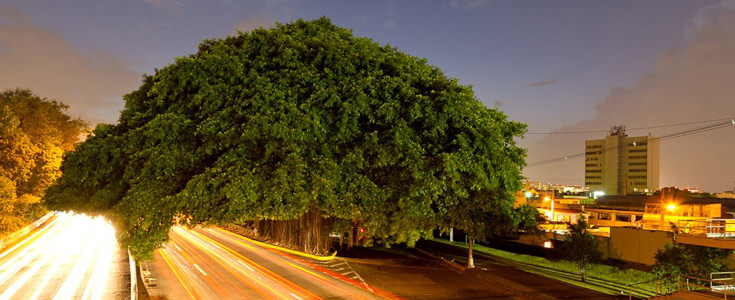 The three African Cloth-Bark trees (Ficus nekbuda) located along one of Puerto Rico's busiest thoroughfares are approximately 50-feet tall, each with a 20-foot total trunk diameter. Reminiscent of the farmstead that once inhabited the region, their combined canopy stretches over seven lanes of highway and marks the entry point to Río Piedras and the greater San Juan metropolitan area.
History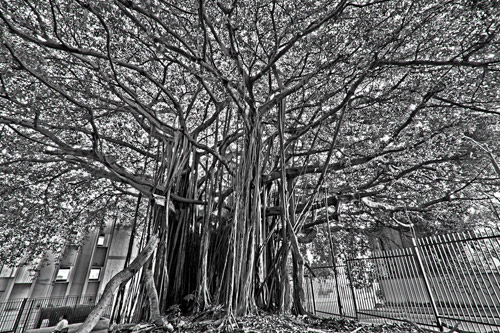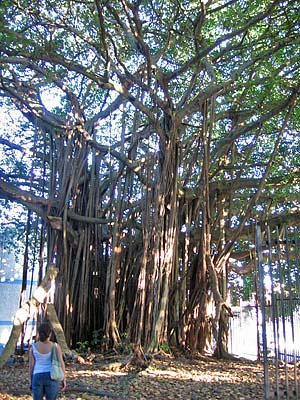 (top) Photograph © Juan Pons: (bottom) Courtesy Marisabel
Rodríguez

Following World War II, the United States government enacted the Federal Aid Highway Act of 1944 to construct a system of roads that would address the nation's growing dependency on private vehicles, while also permitting quick deployment of military personnel to locations throughout the country. Puerto Rico took part in this massive construction initiative, which included installation of 65th Infantry Avenue in Río Piedras on the right-of-way of a former rail line that bisected the island in an east-west configuration and allowed access to sugar mills along the coast. Once completed, the 35-mile-long avenue connected the towns of Río Piedras, a suburb of San Juan, and Ceiba. Much of the road traversed the extensive Garcia-Ubarri farmstead, which meant that much of the four-lane avenue was lined by vegetation, including these three African cloth-bark trees (Ficus nekbud).
Over the past two decades, the avenue has changed in both name and scale, transformed from a narrow railway site into a major highway, Route #3. Puerto Rico's population had grown, as had its dependency on private vehicles, and the local department of transportation had expanded the road's width to keep up with volume and changing safety standards. However, the African cloth-bark trees remained as a constant remnant of the area's agricultural past. Today, standing at approximately 50 feet tall, and with a 20-foot diameter trunks, the 70-year-old trees' combined canopy spans over seven lanes of Route #3 the landmark symbolizing the areas agricultural heritage as well as the entry to Río Piedras and the greater and San Juan metropolitan area.
These three trees have been recognized through the US Forest Service's Champion Trees Program. However, these sentinel survivors from an earlier era deserve further recognition and investigation as  landmarks that convey the story of "rural-to-urban" transition that also has affected the lives of generations of Puerto Ricans.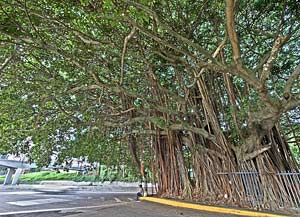 Photograph © Juan Pons
Threat
While most residents are familiar with the trees, there has been little recognition of their cultural significance or the need for their protection. Construction of new roadways and a rise in land costs threaten the remaining open landscapes along the avenue. Little documentation exists regarding the planting traditions in these areas and subsequent undocumented changes hinder the investigative and preservation process. These factors, as well as the fast growth-rate of vegetation in the tropical climate, diminish the public's awareness of the tree's significance.