Tudor Place, established in 1805, maintains a beautiful collection of specimen trees on its 5½ acre property but the great tulip poplar (Liriodendron tulipifera) located along its eastern border is particularly distinctive. More than 100 feet tall and with a diameter of 60 inches at breast height, it was a seedling when the city was founded in 1790. It has witnessed the growth of our national capital from a small port to the world's greatest center of power. Each passing year brings another chance for danger as a result of urban development, shifting weather patterns or global climate change.
History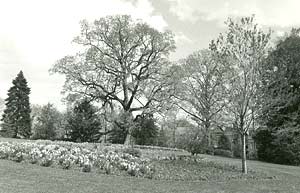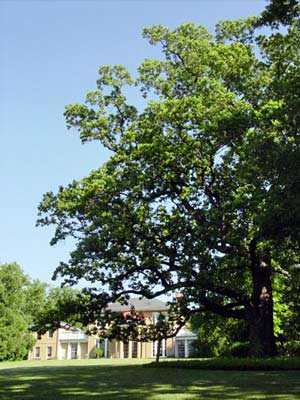 Images courtesy Tudor Place Historic House and Gardens
In 1805, Martha Custis Peter, step-granddaughter of George Washington, and her husband, Thomas Peter, purchased land in Georgetown Heights. The Peters engaged Dr. William Thornton, architect of the U.S. Capitol, to design a neoclassical house and expansive gardens on the lot. When Tudor Place was completed in 1816, the 5½-acre estate included a virtual arboretum, as it does today. However, the tulip poplar (Liriodendron tulipifer), located along the estate's eastern border, remains as one of only two trees original to the site, along with an American holly (Ilex opaca).
The tulip poplar stands on the south lawn, where cattle once grazed in a green pasture that overlooked the bustling port of Georgetown. Its low and open branching structure, the result of expansive growth in an area unimpeded by competing trees, allows visitors a rare glimpse of tulip poplar flowers at eye level. (In its native forest home, only the upper canopy of a tulip poplar receives enough sun to flower)
Over the years, many notable guests enjoyed its glorious form, shade, and flowers: the Marquis de Lafayette, Daniel Webster, Henry Clay, and John C. Calhoun and others who shaped America's history. As the tree grew to maturity, so did the nation transform itself: a nation founded on slavery became a haven for immigrant laborers seeking a better life. Six succeeding generations of the Peter family were stewards of Tudor Place until the early 1980s. Following the death of its last family owner, Armistead Peter III, the historic site opened to the public in 1988 under the stewardship of the Tudor Place Foundation who continues to care for the property. Tudor Place was designated a National Historic Landmark in 1960.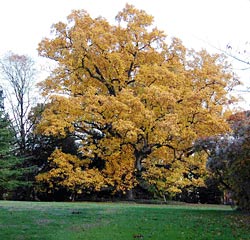 Courtesy Tudor Place Historic House and Gardens
Threat
The greatest threat to this rare specimen tulip poplar is its age. Like a person up in years, it will continue to thrive if there are not too many alterations to its environment. The effects of drought, erosion, lack of proper nutrition, extremes of temperature, or shifts in drainage due to still more development on the escarpment where it stands must be constantly monitored. Replacement of an historic tree is always possible—but this particular majestic form could never be replicated, given the conditions that nurtured its start. While the average age of a tulip poplar is 250 years—some have grown to be almost double that: 450 years.