Fern Dell

Griffith Park, Los Angeles, CA
Public parks are a safety valve of great cities, and should be accessible and attractive, where neither race, creed, nor color should be excluded. — Colonel Griffith J. Griffith
History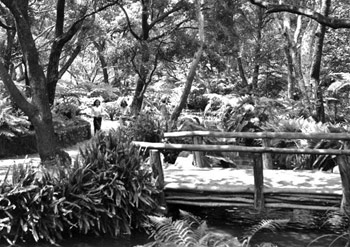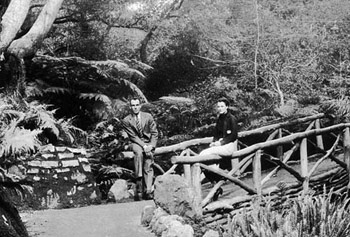 Vintage postcard views of Fern Dell in its heyday, (top) by
Frashers Foto
postcard company, Pomona CA. Photos courtesy Friends of Griffith Park.
In December, 1896, Colonel Griffith J. Griffith, a Welsh immigrant who amassed a fortune in California's mining industry donated his expansive ranch to the City of Los Angeles. Griffith envisioned the property, 3,015 acres of naturally forested mountains, canyons and meadows (including 1000 acres of riverfront and the water rights that went with it), would be used to create a great public park. His donation was motivated by his belief that city life was potentially harmful to people, particularly the urban poor, and his foresight that one day, Los Angeles, still a farm town with a population of 110,000, would be a world metropolis.
At the time, the donation was the largest gift of public lands that Los Angeles had ever received. Capitalizing on the vast array of resources that the property held, early on officials misused the land, allowing its forests to be logged, its river to be mined for gravel, and its wildlife to be hunted. Griffith lobbied extensively to encourage the city to realize his vision and convert the land into a park and urged the creation of roads and trails that would increase public access and enjoyment. In 1903, his efforts began to pay off, and he was appointed to the Board of Park Commissioners, but his official involvement ended shortly thereafter when, in an alcohol-induced rage, he shot and injured his wife. After serving a prison sentence, he returned to Los Angeles and resumed advocating for the park. In 1910, he published Parks Boulevards and Playgrounds, a book setting forth his vision of the Park as an antidote to the city, and was gratified to see public entrances and roads begin to appear within its confines.
In 1910, Frank Shearer, a well-known plantsman, assumed the role of Los Angeles Superintendent of Parks. In 1912 he began planting native and imported ferns within a natural canyon nestled in the park's southwestern quadrant that was once the Mococahuenga council grounds used by the Gabrielino Indians for tribal meetings. By the early 20th Century, Shearer's Fern Dell had become a popular destination for California health-seekers who sipped from its spring-fed well, which they considered a "fountain of youth" with curative powers. By the start of the 1920s the first of Fern Dell's rustic bridges, footpaths and faux bois features, designed by New Zealand landscape architects, the Montgomery Brothers, had been constructed.
During the Depression, Fern Dell was enlarged by Civilian Conservation Corps artisans and workers who lived in three Works Progress Administration camps located in the park. Water features, picnic areas, walls and railings were built using National Park guidelines in a style that would become synonymous with the U.S. National Parks.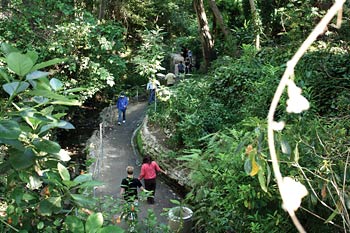 Visitors to Fern Dell enjoy this green oasis in the city. Photo by Gerry Hans.
Today Fern Dell, which fuses natural and man-made features into a unique transitional zone between the Park's manicured and wilderness zones, is a much-loved and visited area of Griffith Park. With its spring-fed ravine, meandering paths, picturesque bridges and tree-shaded ponds the 20-acre site is the only public fern garden of its size and significance in California. Located at a major entrance to Griffith Park, Fern Dell is the access point for travel through the park on route to the Griffith Observatory and popular trails.
In 2009, Griffith Park was designated a Historic-Cultural Monument by the City of Los Angeles—with Fern Dell's significance recognized as a contributing feature in this designation. The park is the largest municipal landmark in Los Angeles, as well as the United States.