Isham Park

Inwood, Manhattan, New York, NY
As the population crowds around the park in commercial and residential buildings, this breathing space of exceptional beauty, with its varied topography, will be more and more appreciated and remain a constant reminder of the generosity of the donors and the wisdom of the city officials in accepting and preserving such a noble gift for the benefit of the people of the City of New York… On account of the high elevation of the park, there are uninterrupted views looking in nearly every direction… — George McAneny, Manhattan Borough President, 1912
History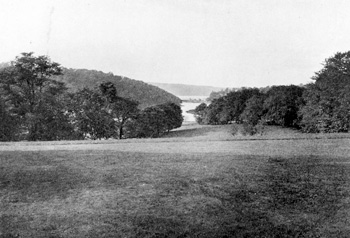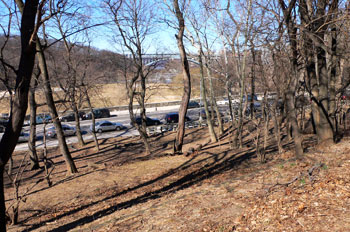 (top) View from Isham Park through Spuyten Dyvil Inwood Hill to left,
circa 1913; (bottom) View from Isham Park today.
On September 28, 1912, the New York City Department of Parks and Recreation officially opened Isham Park in the rapidly developing neighborhood of Inwood, a commuter enclave situated at Manhattan's northern tip. The park, with commanding, panoramic views, was named for William Bradley Isham, (1827-1909), a prominent New York banker, whose daughter, Julia Isham Taylor, the fifth of his six children, gifted the park's original six acres – a portion of the family estate – to the City after her father's death in 1909. At the time, Inwood was rapidly developing from open farm and estate lands to an urban residential apartment house community. The creation of the new park preserved a significant swath of open space and helped reignite plans for the creation of the adjacent 196.4-acre Inwood Hill Park, created in 1916 on lands purchased by the City.
William B. Isham came to New York from Malden-on-Hudson in Ulster County, New York in 1848. In 1864, he purchased a property in Inwood from the family of Dr. Floyd T. Ferris. There he established his summer residence in a house that Ferris had built about 1853. It was a two story wood frame house with four extended wings that gave it a unique cross-shaped plan. The property also included a stable, greenhouse, a gardener's lodge, gardens, forest, rocky outcrops, and fields with cold springs. The house was sited at the property's highest point, taking advantage of cross breezes and expansive views of the Hudson and Harlem River valleys, and the Spuyten Duyvil Creek.
Following Isham's death, Taylor contacted George McAneny, then Manhattan Borough President, about creating a public park in her father's memory and subsequently donated the park's initial acreage. In early 1912, Flora Eliza Isham, William's sister donated land that extended the park west to the Spuyten Duyvil waterfront. Two New York Times articles dated May 1911 and March 1912, talk about the expansive vista, and indicate that the Isham women hoped that their donation would preserve the extraordinary views that were visible from the park's summit, a natural, central high point in the community.
Between 1914 and 1927 the park was expanded further to its current size. Taylor, acting as executor for her late brother Samuel's estate, donated his inherited portion of land along Broadway in 1914, and later, in 1917, purchased additional land with an outcrop of Inwood Marble at the corner of Isham Street and Seaman Avenue to add to the park. By 1927, through its own acquisitions, the New York City Department of Parks and Recreation had increased the park lands to encompass 20-acres of the original 22.25-acre Isham estate.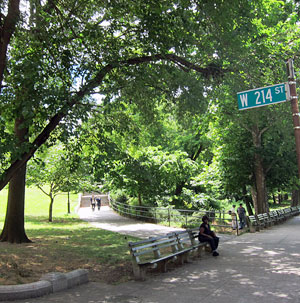 Photo © Diane Love
In the late 1930s during Robert Moses' tenure as New York City Park Commissioner and Head of the New York State Parks Council, a children's playground and baseball fields were constructed in the lower, western portion of the park, nearest to Inwood Hill Park. At Isham Park, rock and debris removed from a canal straightening project in Manhattan's Marble Hill neighborhood was added to the playing fields to provide a level surface and the edge of the waterfront was redefined.
Several landscape architects and architects have been credited with the design of park amenities, including Aymar Embury II who designed the bleachers for the playing fields, Gilmore Clarke, consulting landscape architect for Moses' Westside Improvement plans and Michael Rapuano. Rapuano worked on the design of the pedestrian circulation network in both Isham and Inwood Hill Parks. Further improvements, including the construction of paths, walls and steps were meted out during the WPA era.