Jones Beach State Park

Wantagh, NY
. . . every spot that his architects and planners touched bears the mark of highly rational purpose, intelligent design, and esthetic form. — Lewis Mumford on Robert Moses
History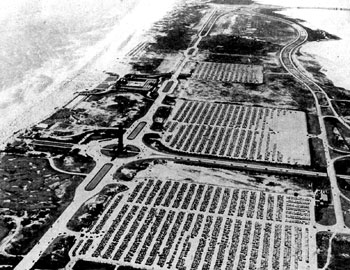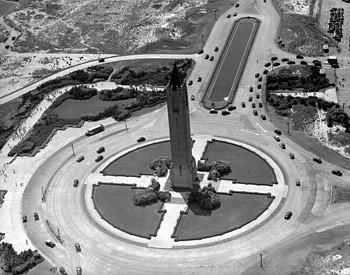 Photos courtesy New York State Office of Parks, Recreation and
Historic Preservation.
 When Jones Beach State Park opened on August 24, 1929, it was the first public beach created to provide resort-like activities to ordinary people, making it highly significant in the nation's history of state parks, recreation, and public works. Located in the Long Island region of New York State, it was conceived by Robert Moses during his tenure as President of the Long Island State Park's Commission in the early 1920s as the highlight of an extensive system of interconnected parks and motor parkways. The unprecedented scale and scope of this vast network acted as a catalyst, which led to 1924 legislation creating the nation's first consolidated state park system. This later served as a model for Moses' work in New York City and the development of other state park systems across the country.
Creating Jones Beach State Park was an ambitious effort that required a massive program of land acquisition, infrastructure development, and construction. Robert Moses, as first president of the Long Island State Park Commission, directed every aspect of the park's realization – from conceiving its general plan and recreational program and establishing the funding stream to complete the project, to building its accessory roadways and causeways, designing landscapes and buildings, and overseeing the nautically-themed decorative program.
Robert Moses was an expert organizer who knew how to oversee and drive big projects. Execution was the responsibility of staff. Working on the Jones Beach project was a team of employees at the regional State Park Commission who included: Earle Andrews, the project's chief architect and engineer; landscape architect, Clarence C. Coombs who is credited with designing the circulation system as well as the landscape; engineer Herbert Magoon who designed the park's most architecturally ambitious structures (like the water tower and west bathhouse); and Arthur Howland who, as the Commission's chief engineer, was the project's general manager.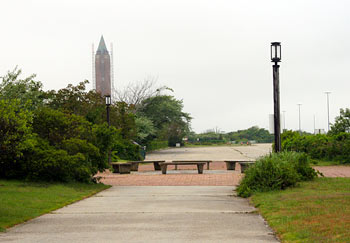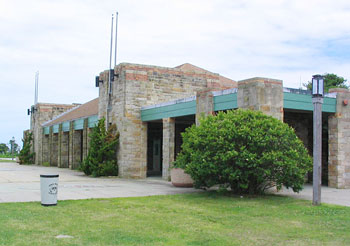 Photos courtesy New York State Office of Parks, Recreation and
Historic Preservation.
Jones Beach changed what a public beach could be by bringing a level of order and sophistication to design that was largely unknown – a synthesis of complex urban planning principles, high-style architecture, Beaux Arts landscape design, and an extensive program of decorative features. The result was an aesthetically enhanced user experience that included all modern conveniences and the organizing structure of highly managed zones of activity.
Jones Beach, as a public facility, embodies the ideals of the progressive era in government by delivering healthful outdoor recreation in a quiet, clean, safe, and uplifting environment based on the principle that fresh air and opportunity for physical activity was a public benefit. In conceiving Jones Beach, Robert Moses added dignity and grandeur to the equation and produced a facility that was an instant success. Despite several decades of deterioration, it remains one of the best attended beaches in the New York State Park System: a testament to the enduring principles that led to its creation and guided its physical development.