Designed by landscape architect Daniel Urban Kiley, Milton Lee Olive Park was constructed on the shores of Lake Michigan, directly adjacent to the Chicago's Central District Water Filtration Plant, in 1964. On June 19, 1966, the City of Chicago posthumously honored Medal of Honor recipient PFC Milton Lee Olive by dedicating the park in his memory. Despite its location immediately adjacent to the popular attractions at Navy Pier, Milton Lee Olive Park is relatively unknown, underutilized, and unmaintained.
History
Designed by landscape architect Daniel Urban Kiley, Milton Lee Olive Park was constructed on the shores of Lake Michigan, directly adjacent to the City of Chicago's Central District Water Filtration Plant (now known as the Jardine Water Filtration Plant). The Central District Plant, the largest water treatment center in the world, was constructed on a sixty-one-acre cofferdam within Lake Michigan, forming a man-made peninsula on Chicago's lake front just north of Navy Pier. Mayor Richard J. Daley, elected in 1955, initiated construction of this ambitious infrastructure project in his first term, and agreed to devote ten acres of the site to an open green space.
Stan Gladych of the architecture firm Naess & Murphy (later C.F. Murphy Associates) was the lead architect for the filtration plant. Gladych had worked with Kiley on the design of the U.S. Air Force Academy campus in Colorado while he was working for Skidmore, Owings & Merrill (SOM), and eventually brought Kiley to the filtration plant commission.
The water plant and its adjacent park were completed in late 1964. Kiley's design for the filtration plant landscape is functional, yet retains his signature aesthetic. The plant entry is separate from that for the public park. A drive lined on one side by trees leads to the utilitarian landscape of the water filtration plant, separated from the park for security purposes by a dense planting of hawthorns. Once inside the gate, a narrow band of lawn surrounds the massive structure. The simple design includes an entry court and outdoor picnic area, set under bosques of trees along the water on the property's eastern edge. The site is it susceptible to a variety of environmental conditions, including high winds and extreme temperature fluctuation. Consequently, the plant materials are predominatly hearty and tolerant honey locusts, hawthorn, and barberry. These same plant materials are used in the park, where groves of honey locusts arch over a paved pedestrian path that runs along the western edge of the promontory.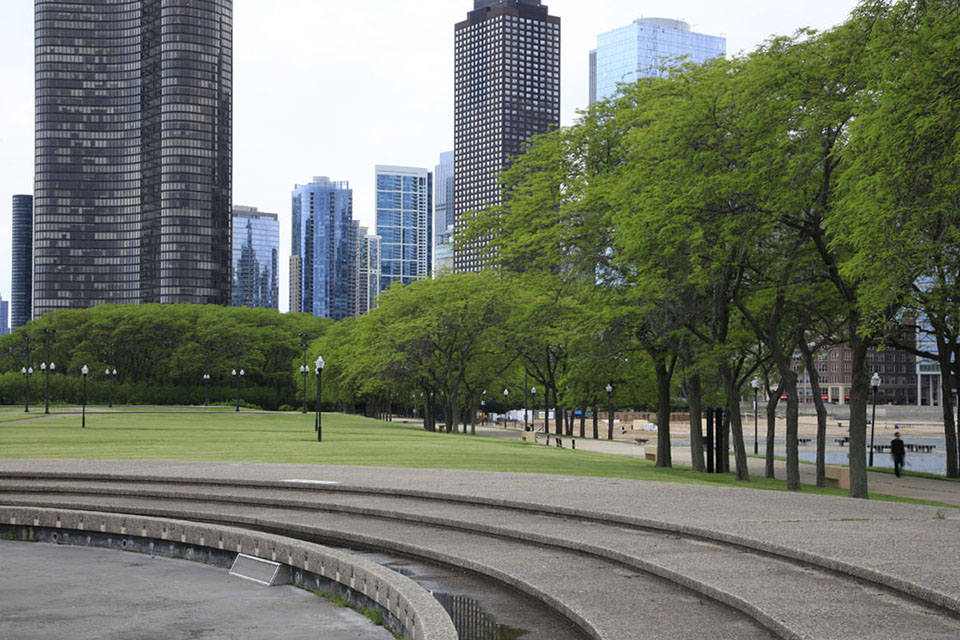 The main body of the park landscape consists of five stepped, aerating, circular fountains of varying circumference, connected by diagonal walks. Kiley described the fountains' design as inspired by both the craters of the moon and by the zen garden at Ryoan-ji in Kyoto, Japan. The park also features a statue, Hymn to Water, by Milton Horn.
Two years after its opening, the park was renamed in honor of Milton Lee Olive III, a resident of Chicago's Englewood neighborhood who in late October 1965—just two weeks before his nineteenth birthday—died while protecting his platoon on a search mission in Phu Cuong, Vietnam. In 1966, Chicago was in the midst of what would later be known as the Chicago Freedom Movement, a civil rights campaign led by Dr. Martin Luther King, Jr., James Bevel, and Al Raby, focused on the need for open housing, quality education, transportation, and economic opportunities for Black residents, among other reforms. This ambitious movement touched nearly every part of the city and attracted national and international attention to the plights of African Americans in Chicago.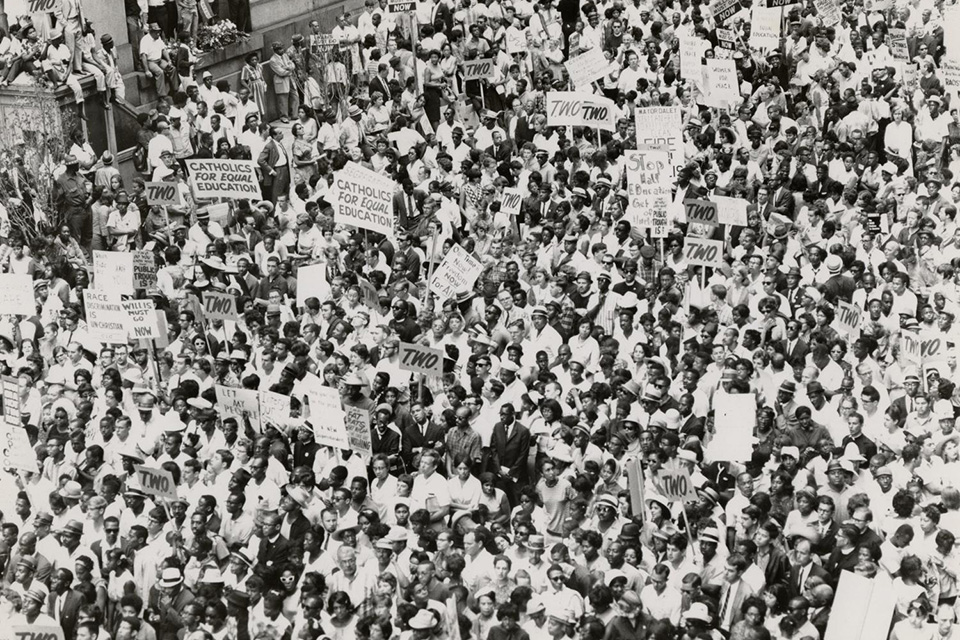 Perhaps influenced by this momentum, in a White House ceremony in April 1966, President Lyndon B. Johnson posthumously awarded Private First Class Olive the first Medal of Honor given to a Black soldier for service in the Vietnam War. Two months later, on June 19, 1966, the City of Chicago further honored Olive by dedicating its newest public park in his memory. At the ceremony, during which a bronze memorial plaque surrounded by flowers was unveiled, Olive's parents and Mayor Daley were joined by hundreds of citizens, as well as paratroopers dropping from planes into Lake Michigan, and a chorus singing "The Battle Hymn of the Republic." While the City of Chicago held this dedication ceremony on June 19—Juneteenth—no records have been located to prove that the selection of this date, with its great significance to all Americans but especially to African American history, was anything more than a coincidence.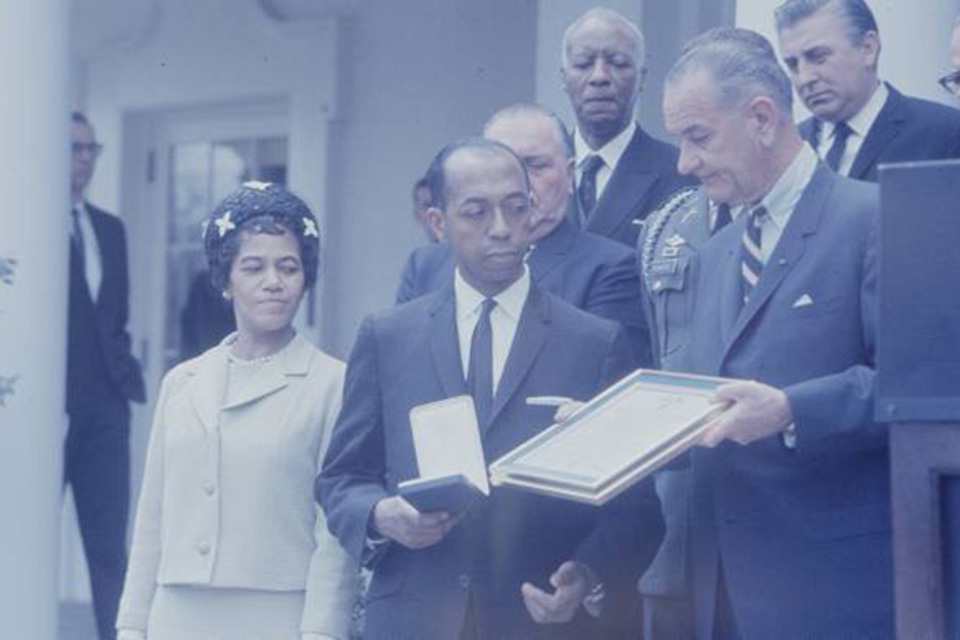 The Chicago Freedom Movement was a powerful catalyst that contributed to President Johnson's signing of the 1968 Civil Rights Act, and Milton Lee Olive Park remains a reminder of the tumult, violence, and progress taking place in 1966 in Chicago, throughout the United States, and around the world.
It should be noted that Kiley did not design this park to recognize the growing Civil Rights Movement in the United States, nor did he intend to include a memorial to any person or event, particularly to a Vietnam soldier. Nevertheless, Milton Lee Olive Park has served to honor the life, courage, and sacrifice of this young Black Chicago man for more than 55 years, while simultaneously offering a place to contemplate one's relationship to the earth, water, and sky. Had he not given his life in Vietnam, Milton Lee Olive III would have celebrated his 75th birthday on November 7, 2021.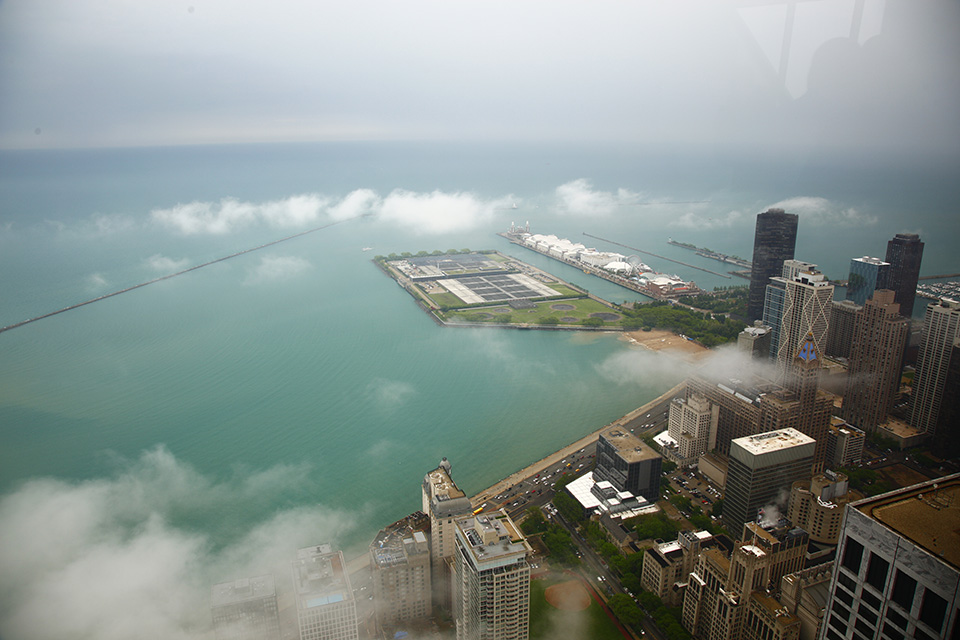 Photo by Aaron Kiley, 2013.
Threat
Milton Lee Olive Park is the only public park that is maintained by the City of Chicago Water Department, rather than the Chicago Park District. The Water Department's staff, including its maintenance crews, were not established or equipped to maintain public parks, plazas, or urban open spaces as a part of its mission. Citing increased need for security of the city's water infrastructure against terrorist attacks, both the Central District Water Filtration Plant (now named the Jardine Water Purification Plant)—including the largest bronze relief ever completed by Chicago-based sculptor Milton Horn, "Hymn to Water," displayed in the Administration Building lobby—and Milton Lee Olive Park employ a series of walls, fences, and gates to restrict public access. Kiley's groves of hawthorn and honeylocust trees are enclosed by steel fences, preventing visitors to the park from seeking respite under the leafy canopies that shelter the lawns. The five pools that represent the five Great Lakes have been empty for several years, and their fountain jets do not spray; ironically, the Water Department has claimed to be unable to repair the pipes to restore function. Perennials planted around the Olive memorial at its dedication have been replaced with modest evergreen shrubs. The concrete walkways that zigzag between the fountains are beginning to crack and buckle, and graffiti is starting to appear. The public no longer can view the bronze "Hymn to Water" inside the building.
Despite its location immediately adjacent to the popular attractions at Navy Pier, the park is relatively unknown to many and somewhat underutilized, often referred to as a "hidden gem" and a "secluded oasis." Neither the City of Chicago Water Department nor the Mayor's Office has made any publicized decisions to reinvest in Olive Park—to rehabilitate nor restore the plantings, walkways and plazas, and water features—in recognition of what would have been Milton Lee Olive III's 75th birthday this past November—but the best time to do so is now.
What You Can Do to Help
Write the offices of the Chicago Water Department, the City of Chicago Historic Preservation Division, and the Illinois State Historic Preservation Office encouraging designation of Dan Kiley's Milton Lee Olive Park as a historic landmark. Currently, the Chicago Water Department does not support landmark designation and the City of Chicago Landmarks Commission and Historic Preservation Division will not pursue landmark designation (or associated protections) without the approval of the Water Department.

Chicago Water Department
1000 East Ohio Street, Chicago, IL 60611
Phone: (312) 744-4420
E: https://webapps1.chicago.gov/eforms/contactUsForm
Chicago Historic Preservation Division
City Hall, 121 N. LaSalle St., Room 1000, Chicago, IL 60602
Phone: (312) 744-3200
landmarks@cityofchicago.org
Illinois State Historic Preservation Office
One Natural Resources Way, Springfield, IL 62702-1271
Phone: (217) 782-4836
E: https://www2.illinois.gov/dnrhistoric/About/Pages/ContactUs.aspx
Donate to Landmarks Illinois and Preservation Chicago and encourage stewardship of Milton Lee Olive Park.

Visit Milton Lee Olive Park and encourage others to do so by sharing your experience on social media.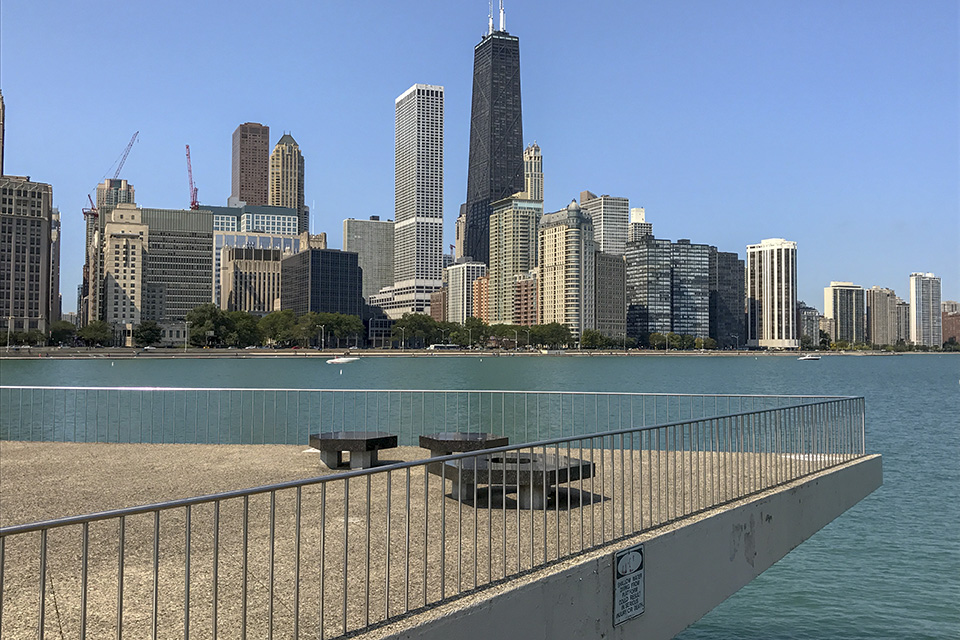 Photo by Aaron Kiley, 2013.