In 1928 Frederick Law Olmsted, Jr., led a team of landscape architects and scores of volunteers to develop a comprehensive list of sites that could be added to the California State Park System. Covering 1,000 miles of coastline and thousands of acres of forests, deserts, mountains, lakes, and other areas, the plan ultimately resulted in the addition of more than 120 parks to the system.
History
When California's Yosemite Valley and Mariposa Big Tree Grove were set aside by the United States Congress in 1864 as the nation's first state-owned parkland, Governor Frederick Low appointed Frederick Law Olmsted, Sr., to create a resource inventory, statement of purpose, and recommendations for park management. Although Olmsted, Sr.'s, report was not heeded—the budget it called for deemed too costly—it established a philosophy and approach for state park design and governance that was continued by his son, Frederick Law Olmsted, Jr., six decades later. In the 1920s, the Save the Redwoods League, of which Olmsted, Jr., was a member, led a coalition to campaign for the establishment of a state park system in California. In 1927, a landmark in public lands legislation was passed directing the Department of Natural Resources, through the recently created State Park Commission, to conduct a survey of suitable lands for inclusion in a "comprehensive, well balanced state park system." Olmsted, Jr., was hired to direct the project, with a mandate to submit the survey results as a report to the secretary of state by December 31, 1928.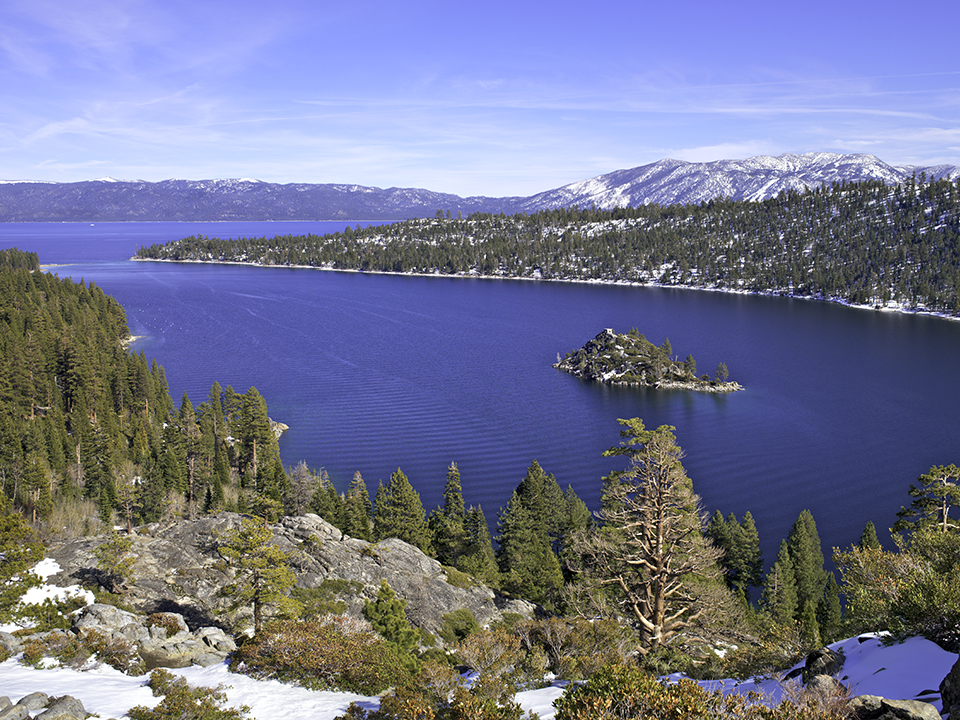 For this monumental task, the state appropriated a mere $15,000. Olmsted was assisted by a small staff of landscape architects who, he wrote, "worked at rates of pay much below their normal professional compensation," and scores of advisers in the field who worked "without compensation." The assembled team conducted public meetings and site visits, and gathered data. Scenic, natural, cultural, historic, and recreation values were considered, as well as current management practices and challenges and the ability to acquire sites.
The result was a pragmatic report identifying more than 120 properties (winnowed down from more than 325 candidate sites) that could be acquired for the future park system.
Olmsted began his report with these words:
"The scope of the Survey as authorized by the legislature is very broad … The brief time allotted for making the Survey and the limits of the appropriation available … when compared to the vast extent of the State, the richness and variety of its scenic and recreational resources, the diversity of means employed in utilizing them, and the difficulties of transportation in many areas, made it obvious from the beginning that the study and presentation of so large a scope of facts must be in many respects more superficial, hurried and tentative than I could wish …"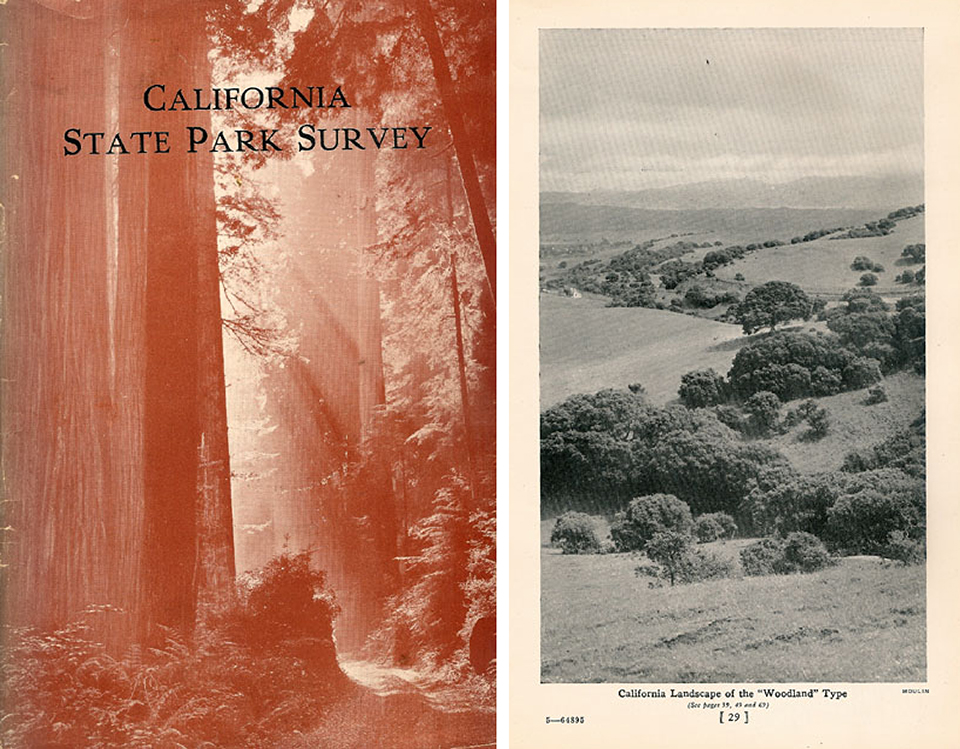 Olmsted's report divided the proposed parks into the following categories: Sea Coast Projects; Redwood and Woodland Projects; Lake and River Projects; Mountains, Buttes, etc.; Desert Projects; and Projects of Historical and of Scientific Interest. Within each were recommendations for specific sites and notes about their characteristics and significance. While the report explicitly noted that public education and conservation were its chief priorities, Olmsted and the Parks Commission also promoted the higher values a park system can serve, describing a practical way for Californians to realize the "joy of living," which included "automobile pleasure trips," termed one of the "major sports" of California.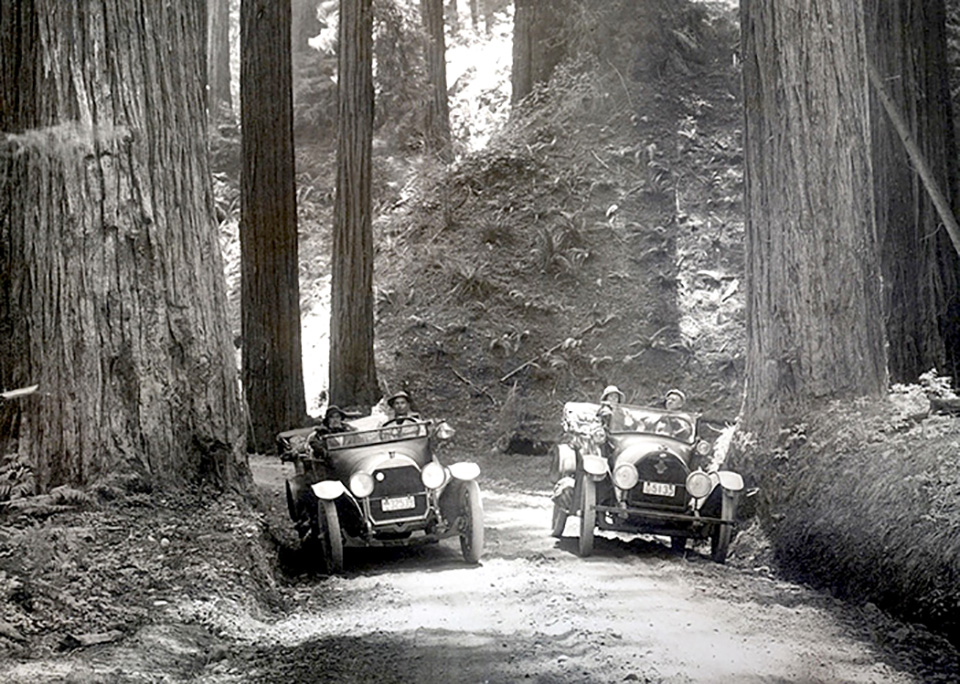 A state bond act, which overwhelmingly passed the California legislature, established six million dollars to purchase the recommended lands. Within this remarkable appropriation of state funds for parks was a caveat that another six million dollars' worth would need to be acquired, as private gifts of money or donations of land, thus realizing a twelve-million-dollar yield for what became one of the largest systems of state parks in the nation. By 1934, the state had acquired and designated the first 49 parks of the system.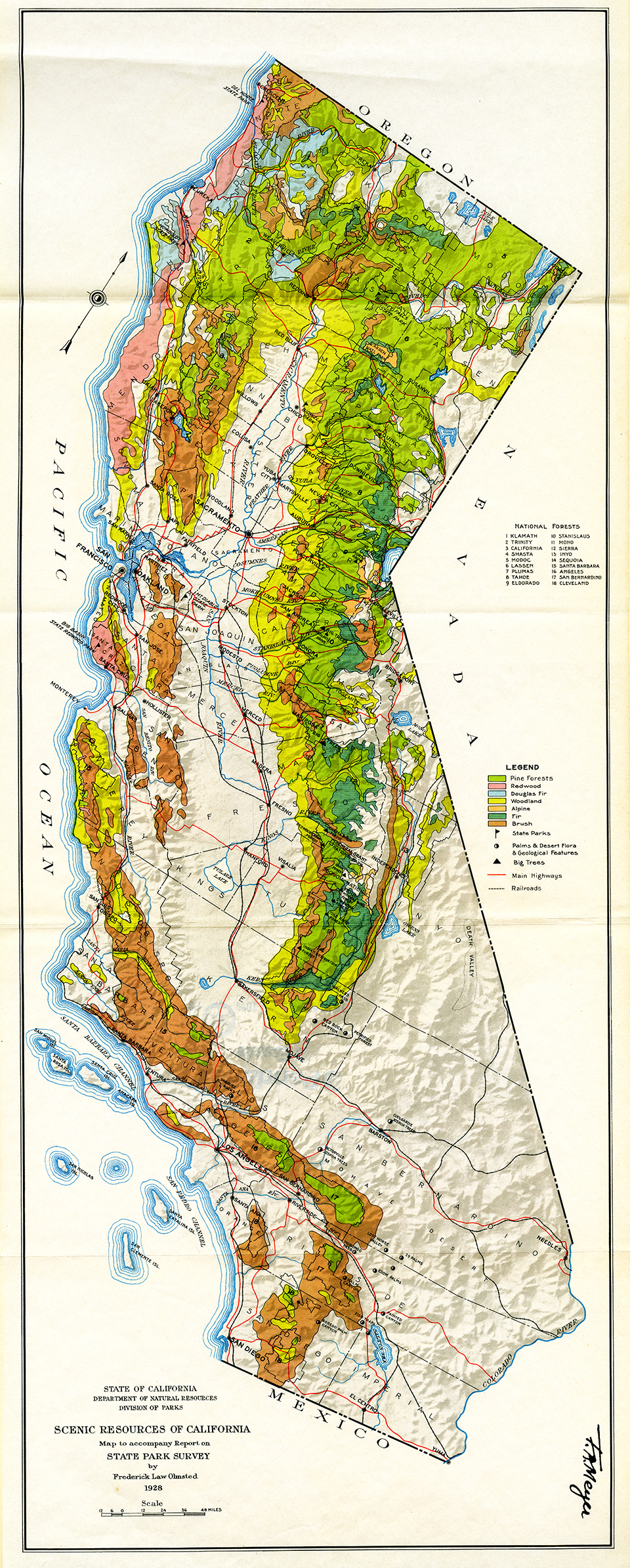 Following World War II, park visitation increased rapidly, and California Governor Earl Warren signed an omnibus bill to fund the acquisition of new parks and expansion of existing parks. Olmsted, Jr., was asked to advise on the establishment of new parks and parkways, particularly in the underserved valley, desert, and mountain regions of the state's interior. His second report, published in 1950, served as the guiding document for park acquisition until the late twentieth century.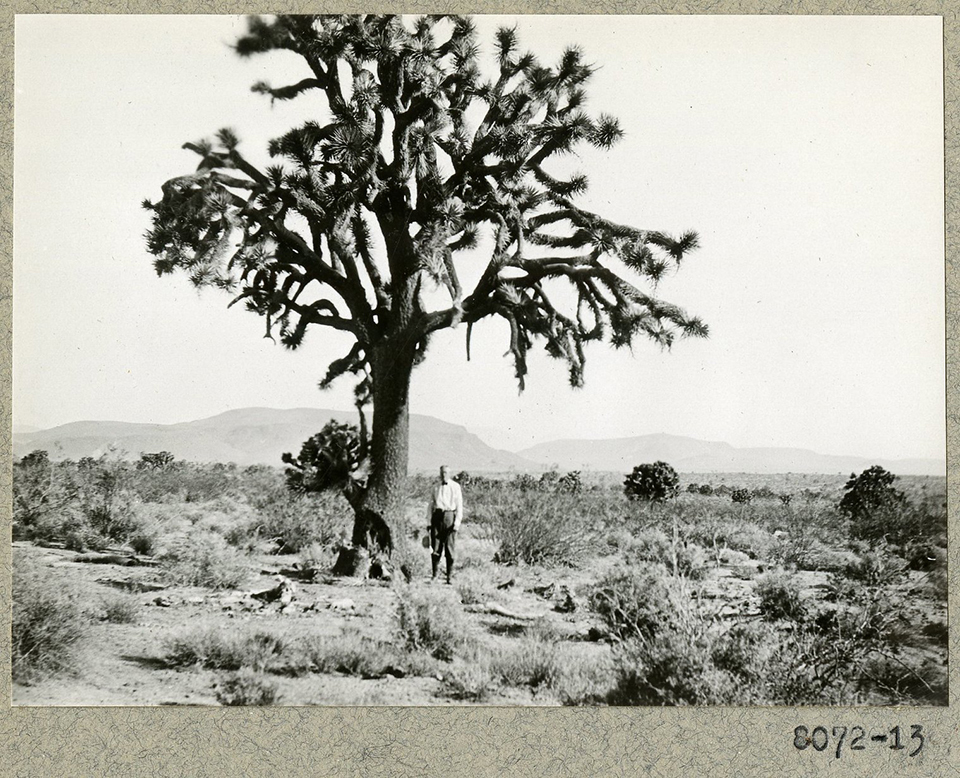 The California State Parks System, which celebrated its 150th anniversary in 2014, now includes 280 parks totaling 1.3 million acres. The more than 68 million people who visit these parks each year continue to benefit from the vision established by Frederick Law Olmsted, Sr., and his son.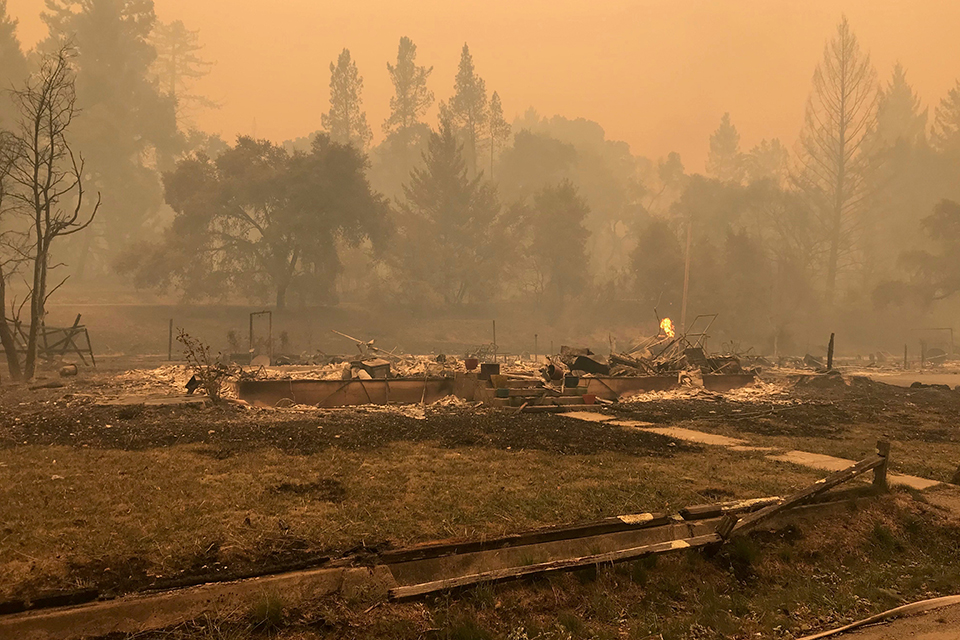 Photo © California State Parks, Alex Tabone.
California State Parks and the Threat Today
Climate change is causing the accelerating state beach erosion with each record-setting tidal surge; destroying park resources with each new fire season; and forever altering park landscapes and habitats with each additional year of drought and temperature extremes. Threats from climate change in California occur throughout the system, affecting all the landscape types identified by Olmsted. Below are original descriptions of the distinct landscape typologies identified for acquisition by the Olmsted-led commission, followed by their associated current threat.
---
Below is a list of five California state park typologies and a brief account of their threats.
---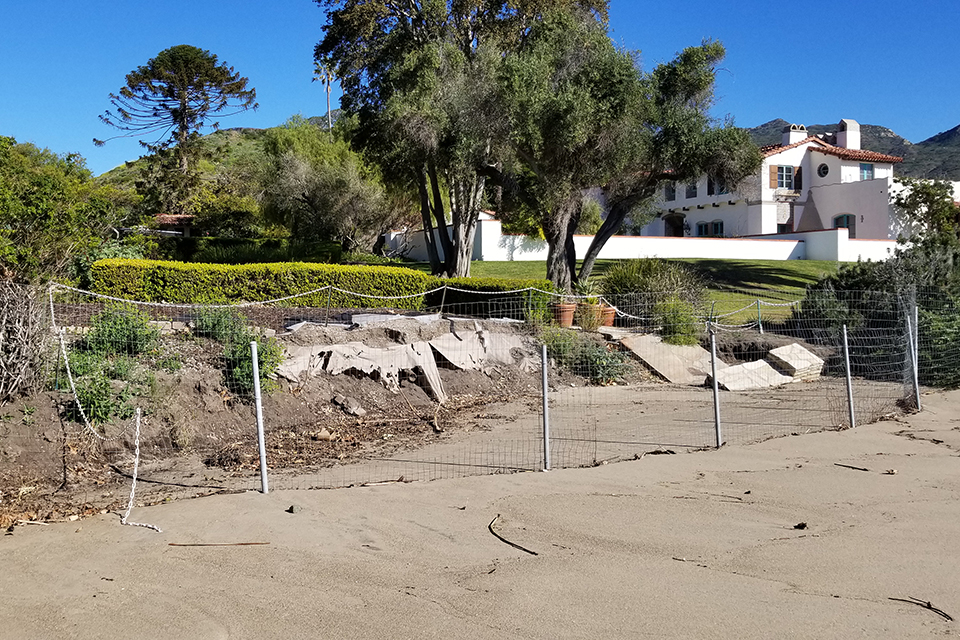 Sea Coast Parks
Photo © California State Parks.
Malibu Lagoon State Beach, Los Angeles County. California State Parks manages nearly one quarter of the state's coastline, including the storied Malibu coast, which the 1928 report called "a series of beaches with bluffs and mesas, alternating with valley mouths, backed by the Santa Monica Mountains and traversed by the new State Highway along the coast…" Notable sites include: the Malibu Lagoon, where Malibu Creek meets the Pacific Ocean; historic Surfrider Beach, one of the first places where modern surfing culture developed; and the Adamson House, a Spanish Colonial Revival home that showcases regional history and decorative ceramic tile produced by Malibu Potteries.
Threat: According to the California State Parks Foundation, "modeling indicates that [five] feet of sea level rise and a 100-year storm would result in the inundation of 593 structures, 150 acres of parking lots, 93 campgrounds and day-use areas, and 65 miles of access roads." Sea-level rise undercuts bluffs and erodes the coastline, pulling designed landscapes forever under the tide. Adamson House museum and environs are on edge of coast succumbing to erosion and flooding.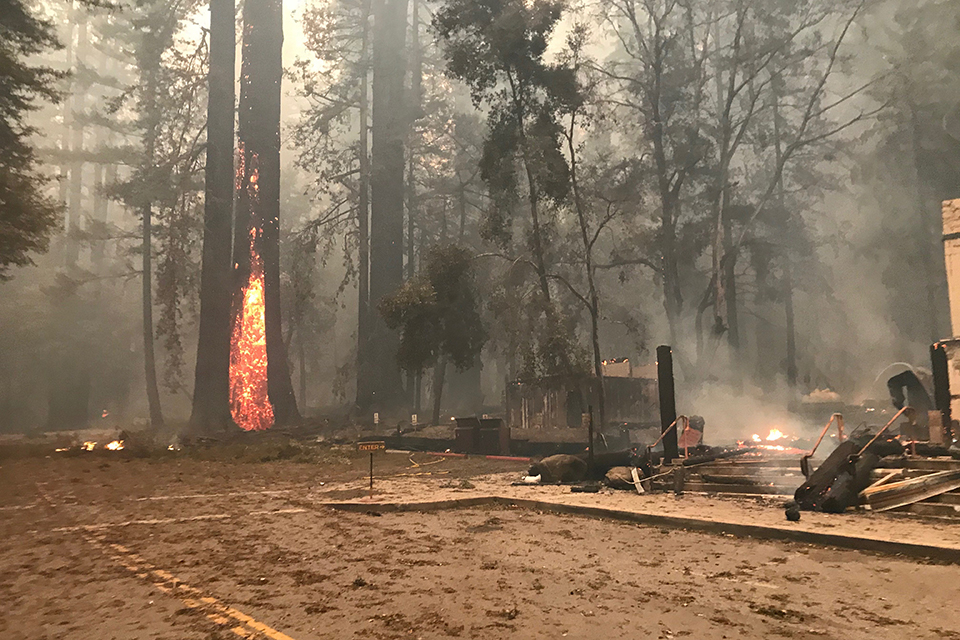 Redwood and Woodland Parks
Photo © California State Parks, Alex Tabone.
Additions to Big Basin Redwoods State Park, Santa Cruz County, San Mateo County. "Timbered canyons, ridges and slopes north and west of Big Basin. Redwoods and mixed conifers, excellent stream and interesting small falls. Camping and hiking. 2 ½ hours from San Francisco. 12,000 acres."
Threat: Wildfires threaten woodlands, such as Big Basin Redwoods State Park (the state's oldest state park, established in 1902), which Olmsted, Jr., recommended for expansion. In 2020 Big Basin suffered catastrophic losses as ancient redwoods, previously thought too big to burn, were left charred in a fire that eliminated Douglas firs and other big tree species, and younger groves of the mixed conifers noted by Olmsted, Jr., and destroyed historic features.
Ninety-seven percent of the park burned. Historic resources—such as lodges and campgrounds —cannot be rebuilt. There is some optimism: the redwoods are resprouting to the amazement of many; and the park has a plan that could be a template for the resilient management of public lands.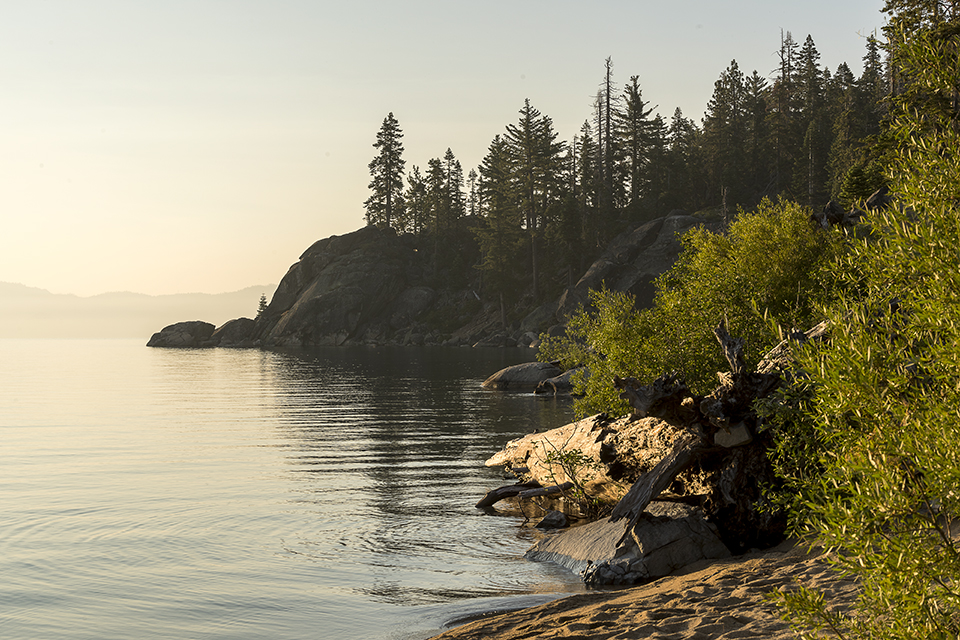 Mountains, Lakes, and River Parks
Photo © California State Parks, Brian Baer.
D. L. Bliss State Park, El Dorado County: "Scenic Rubicon Point and craggy shores including small sandy beach. Timbered and if rough topography. 162 acres in trust for gift to State. Tahoe City and Emerald Bay."
Threat: This is one of best vantage points for viewing Lake Tahoe but the lake and its mountain backdrop are being altered by climate change: the lake is increasingly becoming not as blue or clear, and mountains that are blanketed in less and less snow. And there is the threat of wildfires.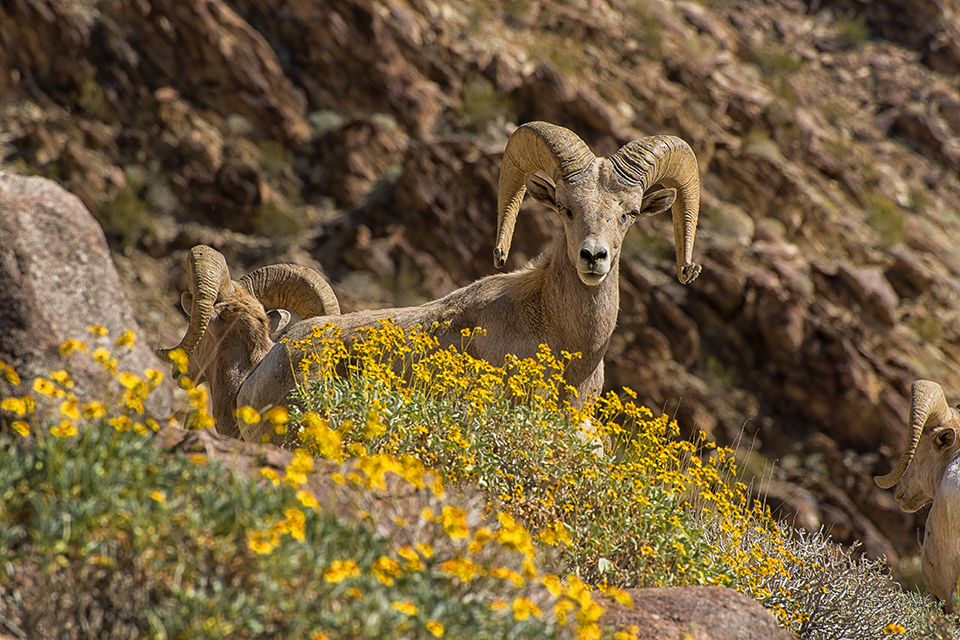 Desert Parks
Photo © California State Parks, Brian Baer.
Anza-Borrego Desert State Park, San Diego County. "An area of many square miles near the northeast corner of San Diego County, including palm canyons and the desert mountain escarpments descending toward Borrego Valley, and including also the more interesting desert portions of the San Felipe valley."
Threat: Rare salt marsh and freshwater streams in Anza-Borrego Desert State Park are drying up, resulting in severe loss of habitat for amphibians and other species. Up to 40% loss in vegetation has occurred in places, which is imperiling already endangered species, including bighorn sheep.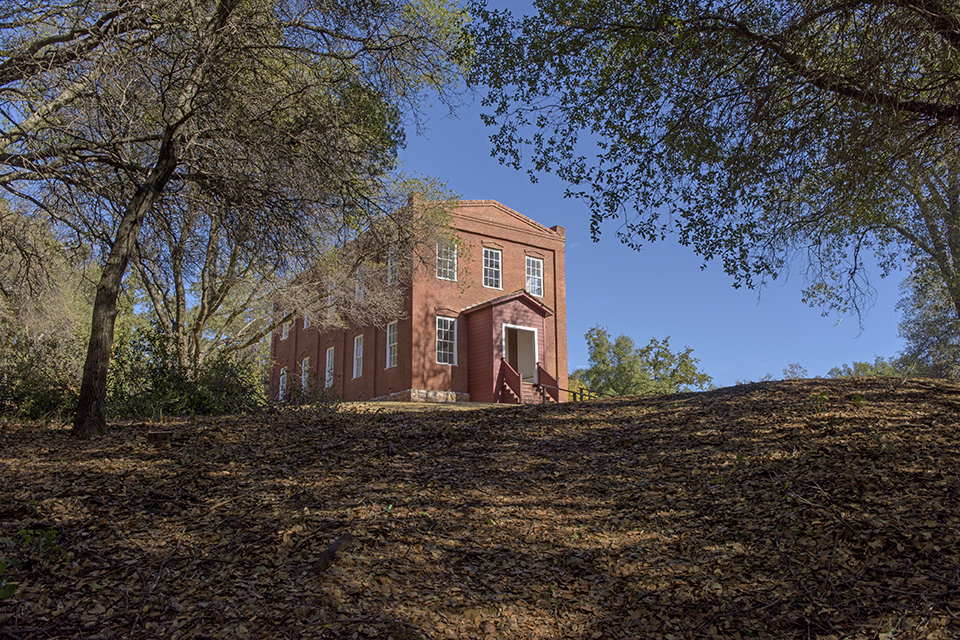 Historic and Scientific Parks
Photo © California State Parks, Brian Baer.
Columbia State Historic Park, Tuolumne County. "This old town as it stands today is the most interesting, picturesque and historically valuable monument of the early mining days of California which has been found in the course of the survey. Its physical characteristics should be preserved in perpetuity mainly by suitable agreements entered into between the State and the property owners and in part by purchases, and also by public's assistance in financing and supervising necessary repairs, restorations and care."
Threat: A surprising culprit for years' worth of California wildfires is a creature about the size of a grain of rice -- the bark beetle. A Columbia University study calls the bark beetle "one of the world's most aggressive tree-killing insects." They have migrated north from Central America up into California and flourish in the increasingly warm winters and extended years of drought. These climate induced outbreaks have killed millions of trees, creating the fuel for the Golden State's raging forest fires, and threatening to destroy historic parks like Columbia.
What You Can Do to Help
California is now developing its Fifth Climate Change Assessment, which advances actionable science to advise state and local decision-makers from a variety of sectors on emerging threats. Register to receive information about regional workshops, online webinars, and other activities.
California has aggressively funded climate science and has specific fire prevention programs in State Parks that leverage that money to expand impact through volunteer groups like HistoriCorps. Volunteer with HistoriCorps and visit State Park sites to work with trained professionals to protect historic buildings and clear surrounding overgrowth, which acts as ladder fuel to escalate flames during a fire.
Volunteer with the California Archaeological Site Stewardship Program This statewide program trains and recruits volunteers to monitor historic and ancestral sites that may be impacted by erosions along the coast and other human induced impacts.
Support the work of the non-profit partners of California's State Parks, particularly the California State Parks Foundation and Parks California.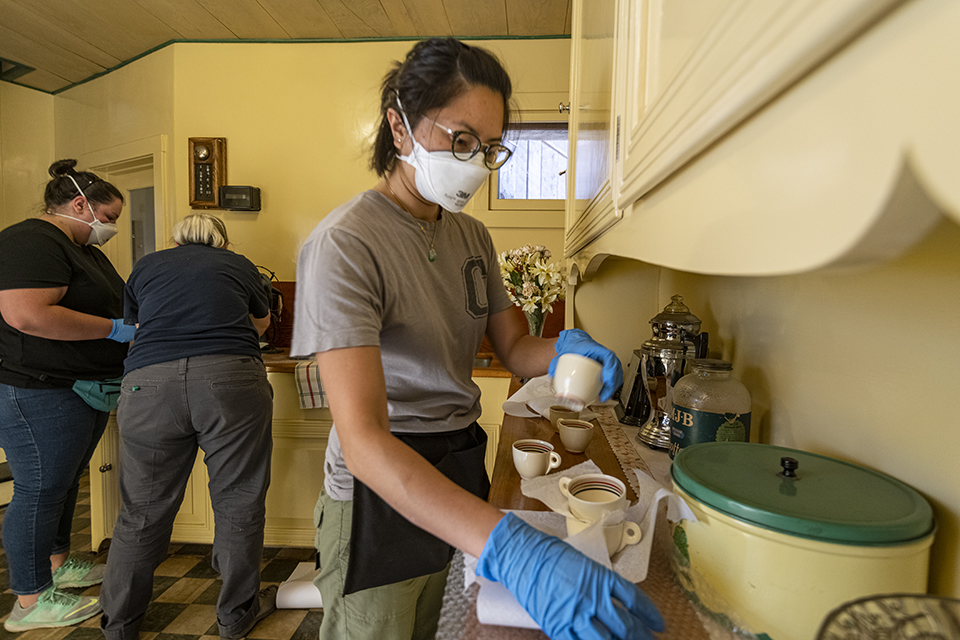 Photo © California State Parks, Brian Baer.