While working on Bok Tower Gardens in central Florida in the 1920s, Frederick Law Olmsted, Jr., completed a comprehensive plan for the nearby city of Lake Wales, envisioning a "city in a garden" with streets bordered by single or double rows of palms and understory trees. Over the years, deferred maintenance and increasingly severe storms have led to significant tree loss and the degradation of the Olmsted firm's carefully laid out street tree plan.
History
The city of Lake Wales in central Florida, named for the body of water it borders, was first plotted by the Lake Wales Land Company in 1911 and incorporated in 1917. In 1915, real estate tycoon Frederick Ruth purchased more than 2,000 acres just north of the lake and engaged Olmsted Brothers to design a master plan for a 600-acre residential community and golf club. The resulting development, known as Mountain Lake, grew to encompass 1,100 acres and more than 130 homes. Edward Bok, editor of The Ladies Home Journal, became enamored with the area after spending the winter of 1921 near Lake Wales and commissioned Frederick Law Olmsted, Jr., to transform 25 acres at the high point of a sandhill into a bird sanctuary and garden. Bok added a 60-bell carillon, now known as Bok Tower, that was dedicated in 1929.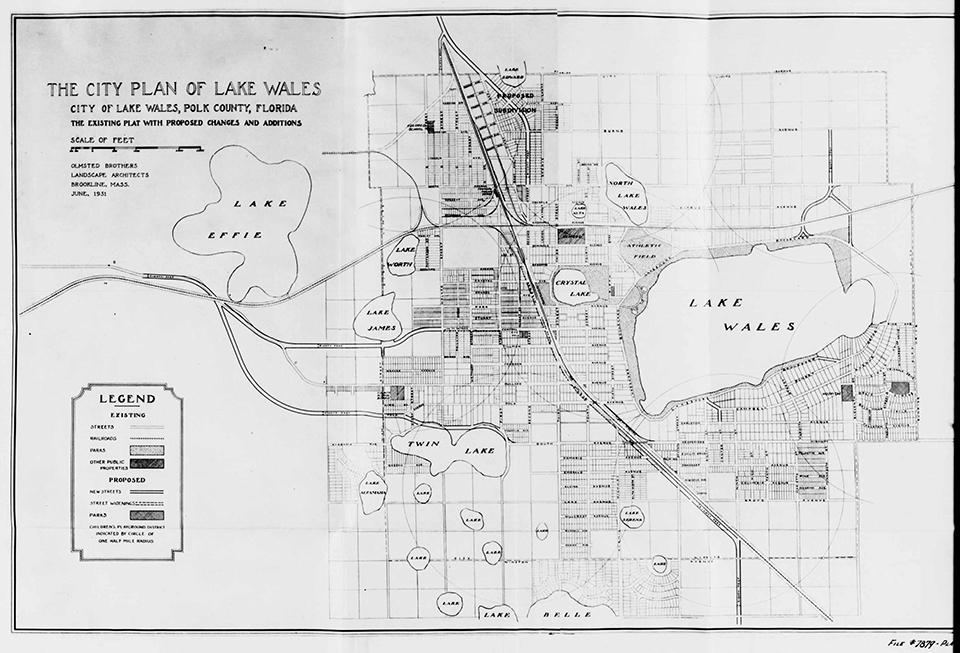 While Olmsted, Jr., was working on the iconic landscape feature (where Edward Bok was ultimately laid to rest in 1930) and its expansive gardens, Olmsted Brothers was asked by Bok to improve the parks and streets of Lake Wales, with the firm eventually developing a codified master plan for the town planning board in 1931. The Olmsted firm's 48-page plan set forth a vision for a "city in a garden," with guidelines for setbacks, street widths, grading, and connectivity, including improved access to nearby Mountain Lake, recommendations to further develop the town's existing park system, and detailed tree and planting plans for the community's twenty miles of streets. They additionally designed a distinctive clock tower. As was the case with most subdivision plans by the Olmsted firm, considerable attention was devoted to guiding and enhancing "the appearance of the city." Here, the collective importance of such details as the character of street poles, signage, and curbs, the tonality of brick and masonry, and the neatness of street trees, medians, and lawns were all addressed. Above all, the plan stressed the importance of continued maintenance, or "municipal housekeeping," declaring that "planning does not so much pretend to create beauty as to lay a good foundation for it."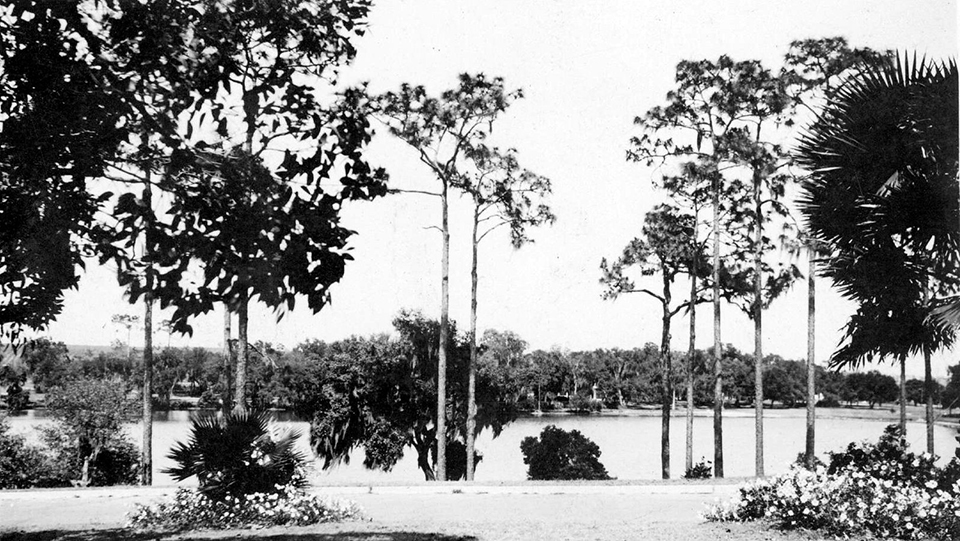 The planting plan, largely devised by firm employee William Lyman Phillips, included 28 species, with residential streets predominately bordered by orderly single or double rows of trees including palms, magnolias, oaks, and cherry laurels. To attain both the advantages of shade and the "distinguishing effect" of palms, many streets feature alternating plantings of towering Washingtonia palms and shade trees or flowering trees of smaller stature; similar strategies were implemented in other Florida suburbs designed by the Olmsted firm, including Gilchrist Avenue in Boca Grande.
For Lake Wales, trees were strategically sited to establish a "structure of vegetation beautiful in itself," concealing or softening the visual impact of "ugly distracting things such as pole lines, railroads and shabby properties." Surrounding Crystal Lake, one of several smaller lakes within the neighborhood, live oaks, acacia, and camphor trees were added in informal groupings to complement earlier plantings of date palms. Orange trees and magnolias were to line the street opposite the shore of Lake Wales, while the scenic highway passing through the community would be ornamented with century plants and oleanders. Noting the advantage to Lake Wales of "getting some of its streets clothed as quickly as possible," the plan also explains that species were selected for hardiness and quick-growing properties.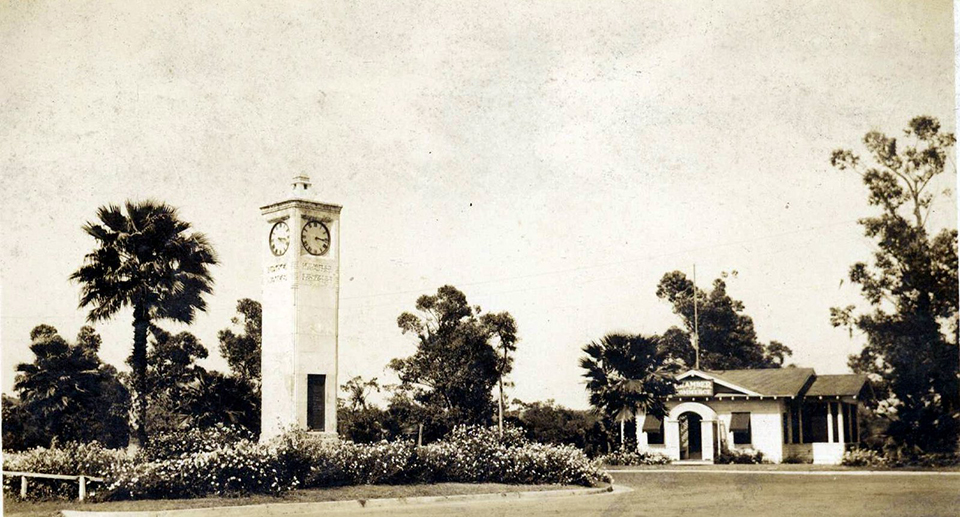 The onset of the Great Depression interrupted the implementation of the Olmsted firm's plan for Lake Wales, and many portions were never completed. Unlike many other Olmsted-designed subdivisions, Lake Wales did not establish a community association to enforce the regulations laid out in the town plan. While the connection to Mountain Lake was implemented as proposed by the Olmsted plan, other roadway changes suggested by the firm were not developed, nor was a proposed subdivision south of Lake Edward. Along with the clock tower, street trees, understory plantings, and turf panels remain the most significant extant elements of the Olmsted plan. Although the Lake Wales Historic Commercial District and Historic Residential District were both listed in the National Register of Historic Places (in 1990 and 1997, respectively), neither nomination mentions the Olmsted firm's contributions.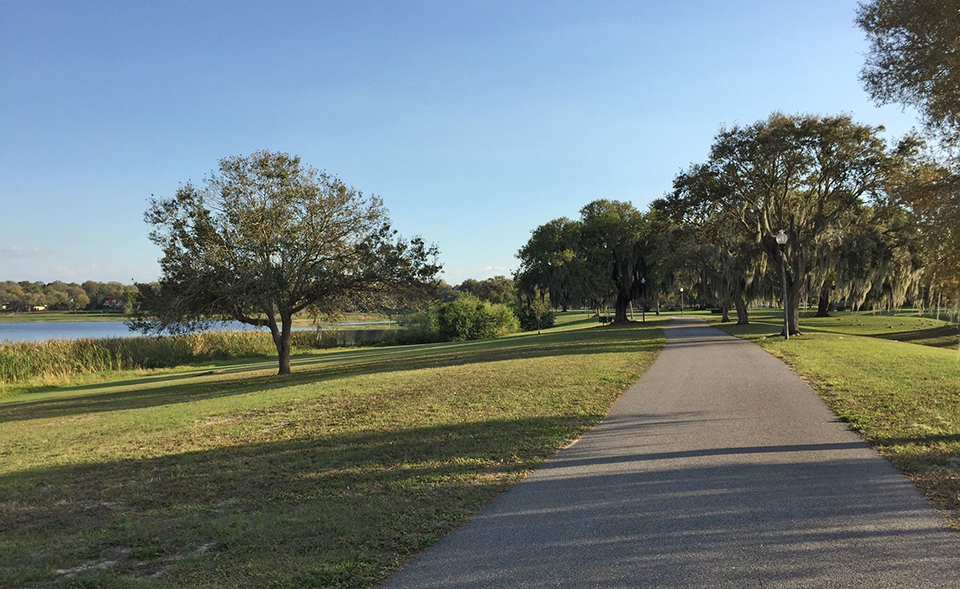 A master plan for the town of Lake Wales prepared by Dover, Kohl & Partners and adopted in 2019 admirably aims to revive the design intent of the Olmsted firm's 1931 "city in a garden" plan in localized areas by planting new street trees and enhancing connectivity in the downtown commercial district. Although there are contemporary ecological concerns about monoculture plantings to be considered, there is a unique opportunity to remain faithful to the form, scale, color, and texture of the Olmsted firm's tree planting plan.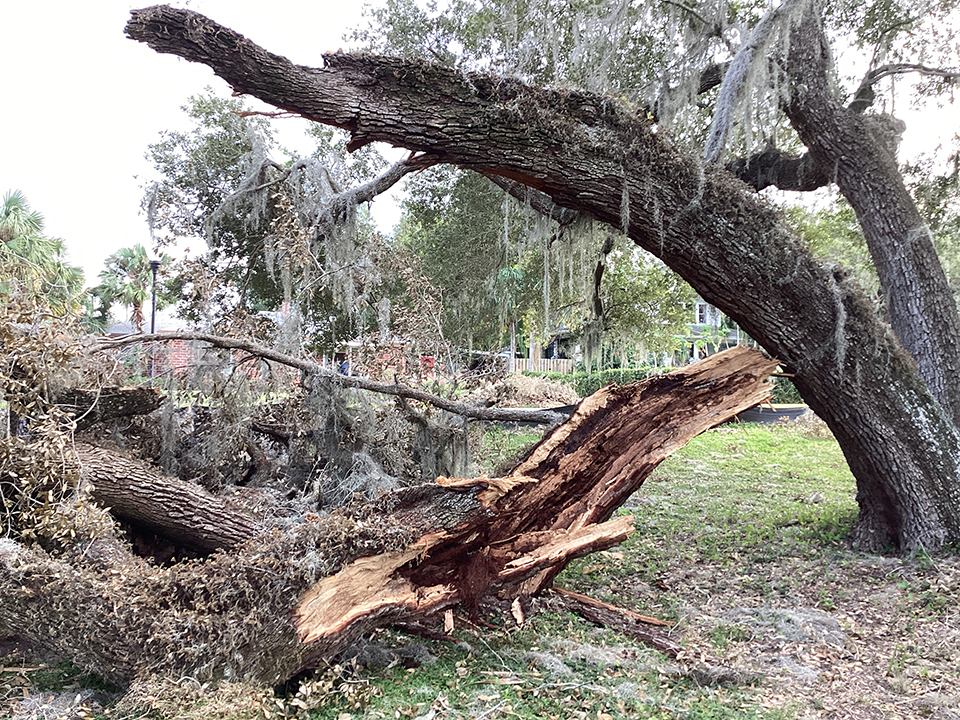 Photo courtesy of Lake Wales Heritage.
Threat
Over the years, a lack of public awareness of the Olmsted firm's design intent has enabled neglect and, in some cases, tree removal that has resulted in a decline of the overall tree canopy. Compounded with damage caused by at least seven major hurricanes, deferred maintenance has led to significant tree loss and the degradation of the Olmsted firm's carefully laid out street tree plan. In addition to their aesthetic benefits, urban street trees provide vital shade and lower temperatures, while also benefitting diverse habitats for insects and animals, all of which is put in jeopardy when trees are lost.
In contrast to nearby Mountain Lake, which has been maintained for decades as a private community, supported by membership fees and governed by a board of directors, Lake Wales has suffered from disinvestment and uncoordinated development, alterations, and poor storm damage mitigation. Without community oversight and stewardship, the natural resources and historic design integrity of Lake Wales remain under threat. Recognizing this, a volunteer board of directors established Lake Wales Heritage, Inc., (LWH) in 2018. Working in partnership with the City of Lake Wales, LWH intends to educate the public on the community's historic value as a nationally significant Olmsted designed community plan, and to garner support to restore the town's plantings according to the 1931 plan.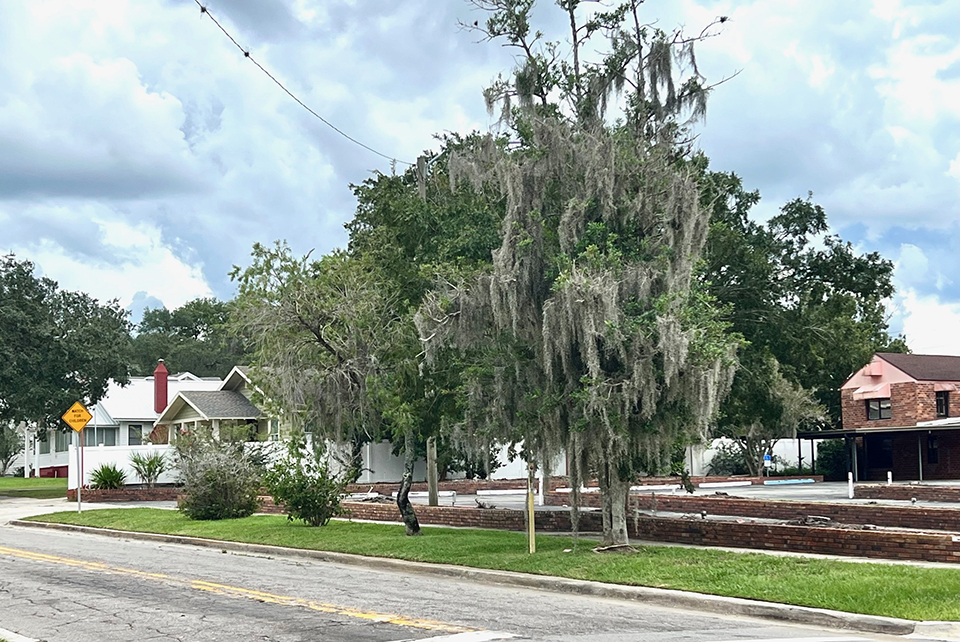 Florida is experiencing increasingly frequent and more destructive hurricanes—most recently, Hurricane Ian, which caused major damage in late September 2022. As the effects of climate change escalate, government resources are spread more thinly. Despite the danger of urban tree loss caused by storms, federal storm preparedness and relief programs provide insufficent funding for urban tree maintenance or restoration. A holistic strategy is required, often involving non-profit and public partners. The founding of LWH serves as an opportunity and a source of optimism for this unique civic Olmsted commission in Florida.
(above) Dying Magnolia grandiflora trees, 2022. Photo courtesy of Lake Wales Heritage.
What You Can Do to Help
Lake Wales Heritage offers many ways to support the restoration of the Olmsted tree plan in their community:
Become a member of Lake Wales Heritage to stay informed about their efforts and support their work year-round or make a one-time donation to their general tree purchase fund.
Dedicate a tree in honor of a loved one with a gift of $100, or sponsor the planting of an individual tree with a gift of $300.
Lake Wales Heritage seeks area volunteers to help plant and maintain trees, and to assist with community outreach and education events including an annual "Olmsted Day."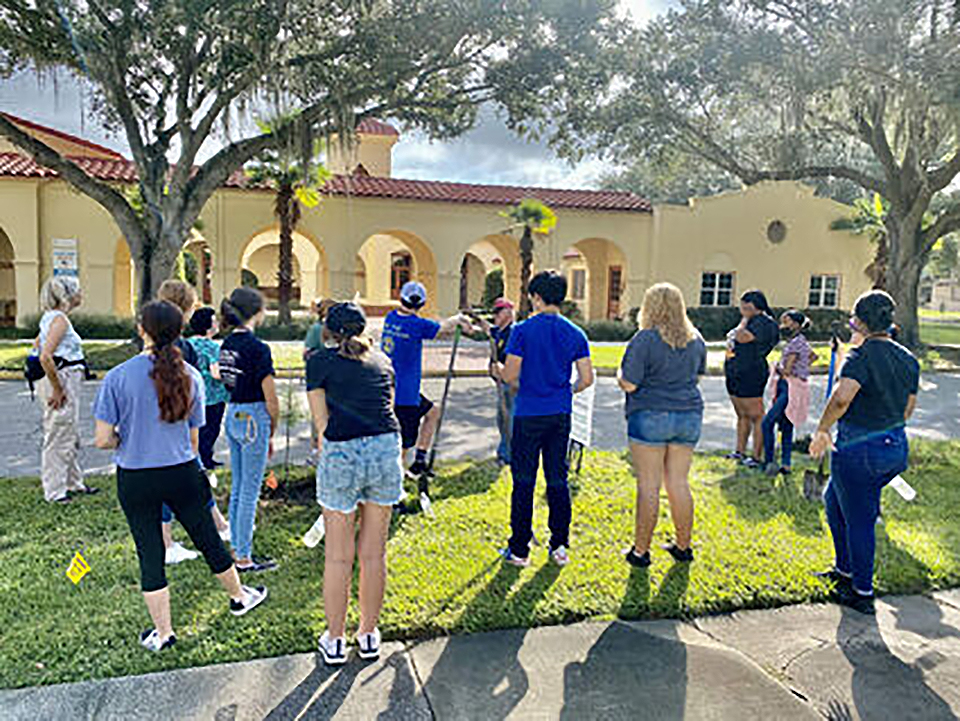 Photo courtesy of Lake Wales Heritage.