In 1903, the Olmsted Brothers firm, under the leadership of John Charles Olmsted, developed "A Comprehensive System of Parks and Parkways" for Seattle's Board of Park Commissioners, beginning a professional relationship that would span three decades. Over the years connections between parks and residential enclaves, once purposefully linked by twenty miles of tree lined boulevards, has been severed, threatening the carefully choreographed landscape experience.
History
Quick to become the largest urban center in the Pacific Northwest, Seattle was established in November 1851 on land now designated as West Seattle. The following year, the beginnings of the city were relocated to a site near an Indigenous community of the Duwamish peoples, led by their chief Seattle, from whence the city derived its name. Since its inception, Seattle's development has been woven into its spectacular surroundings—the bordering dense woodlands, Cascade and Olympic mountain ranges, lowland waterways, and coastal vistas over the Puget Sound.
In 1903 the Olmsted Brothers firm, under the leadership of John Charles Olmsted, was hired to survey Seattle's natural landscapes and prepare the report, A Comprehensive System of Parks and Parkways, for the city's newly re-established and expanded Board of Park Commissioners. So began a relationship between the city and the Olmsted firm that would span more than three decades, including the involvement of Frederick Law Olmsted, Jr., and firm associates James Dawson and Percy Reginald Jones. John Charles Olmsted's vision was to produce a network of boulevards and parkways connecting parks across the city, with the assurance that every home in Seattle would be within a half mile of parkland. The initial plan was adopted in October of that year, with a subsequent plan adopted in 1908 for the growing city (Seattle's population had ballooned from approximately 80,000 to 250,000 in the first decade of the twentieth century alone). A distinguishing feature of Seattle's system of boulevards is that its initial construction occurred concurrently with the city's accelerating development. Thus, to a great extent, neighborhoods formed around the Olmsted plan, with urban fabric and natural features of the landscape inextricably linked.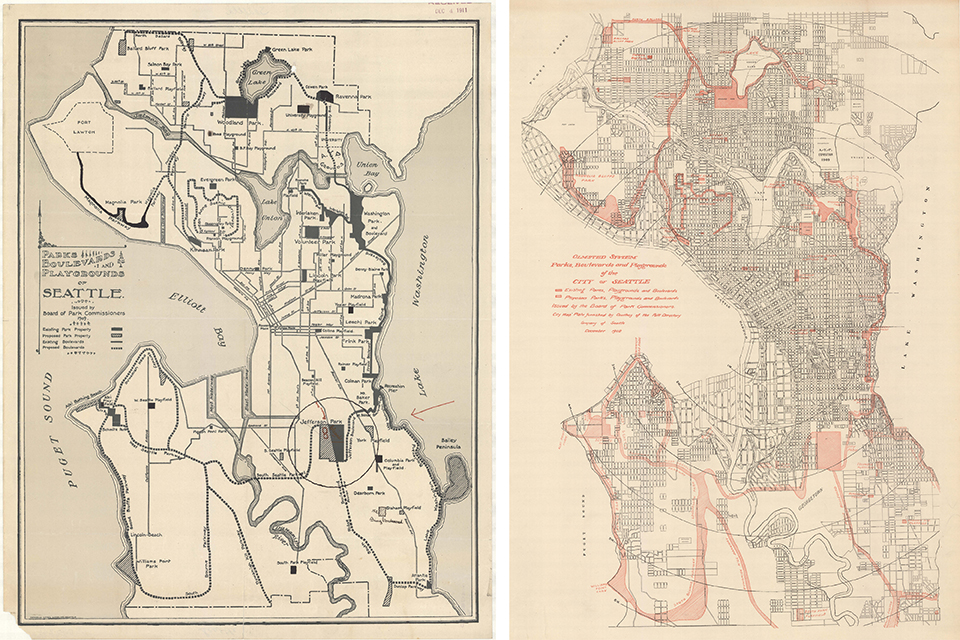 John Charles Olmsted recognized the city's "extraordinary landscape advantages" from lakefront to mountaintop, endeavoring to "secure and preserve for the use of the people as much as possible of these advantages of water and mountain views and woodlands, well distributed and conveniently located." The goal of the original plan was to locate a park or playground in close proximity to every home, with a twenty-mile landscaped boulevard as both the system's dominant feature and its primary connective tissue. Parkways and boulevards (distinct in the Olmsted report, but now all referred to colloquially as 'boulevards') connected the series of parks and were located and shaped to maximize views of the spectacular features of a topographically complex landscape—snow-covered mountains, water vistas, and abundantly vegetated hollows.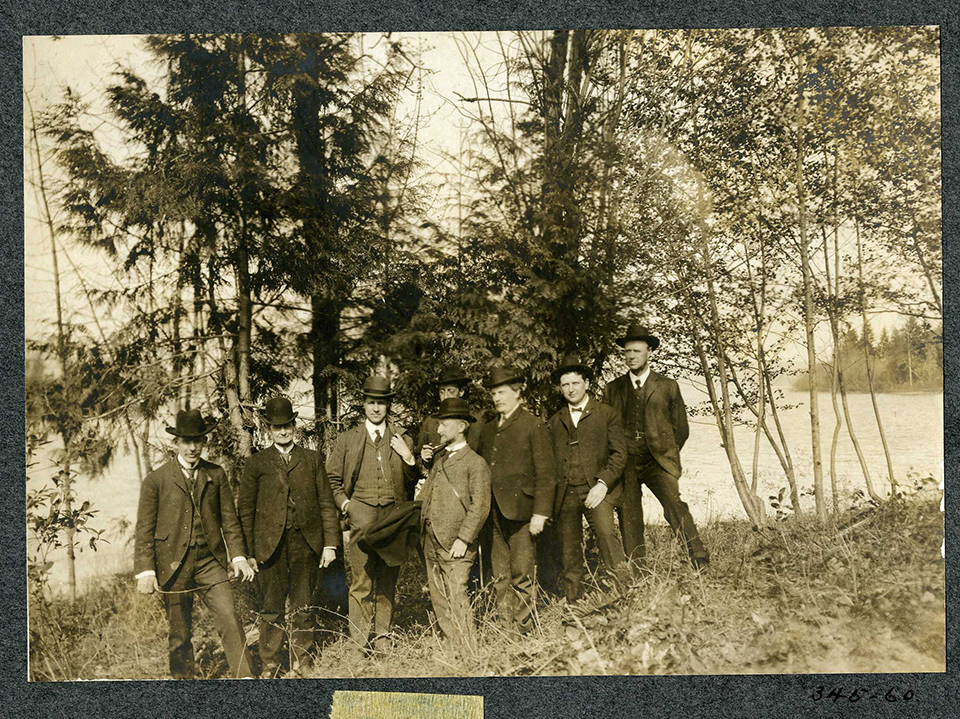 As testimony to the public support the plan generated, within ten years of its submission, most of the land was secured. In all, the firm designed 37 parks and playgrounds and 23 miles of boulevards and parkways, culminating with their final contribution, Washington Park and Arboretum, in 1936. Each park took advantage of the existing topography, borrowed views, and features distinct to its particular location. The boulevards responded to the topography as well, winding from the shore to the crest of bluffs to capture views, incorporate woodland areas and stream corridors, and connect parks throughout. This movement through the landscape heightens the visitor's overall understanding of Seattle's dynamic natural setting, and how the city fits within that setting.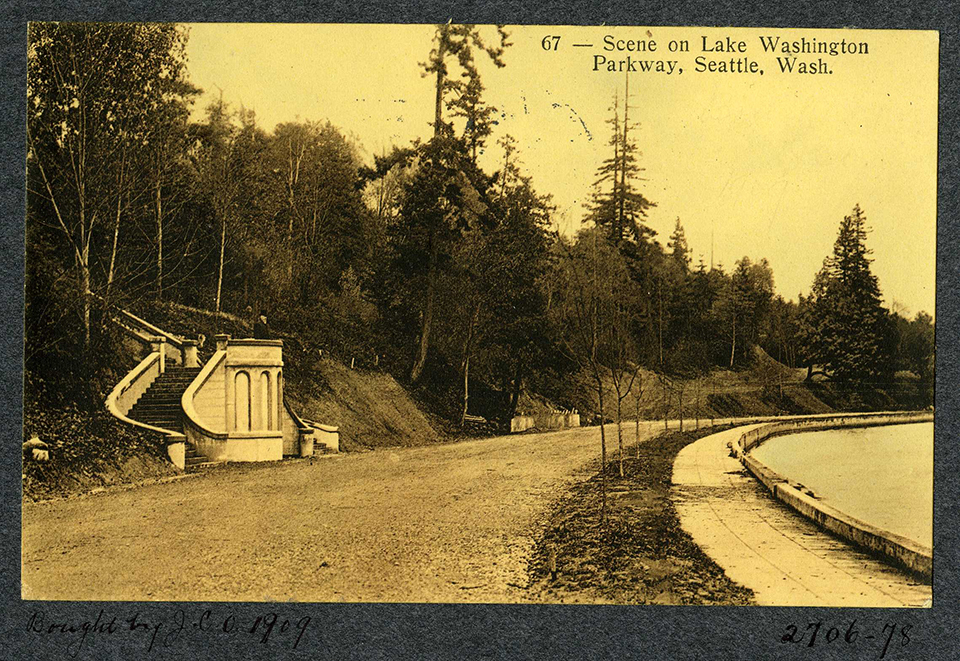 Today, the Friends of Seattle's Olmsted Parks, a group founded in 1981 to promote awareness, enjoyment, and care of the city's Olmsted parks and landscapes, plays a key partnership role with the city. Lake Washington Boulevard, as a component of the Seattle Parks and Boulevard System, was listed in the National Register of Historic Places in 2017.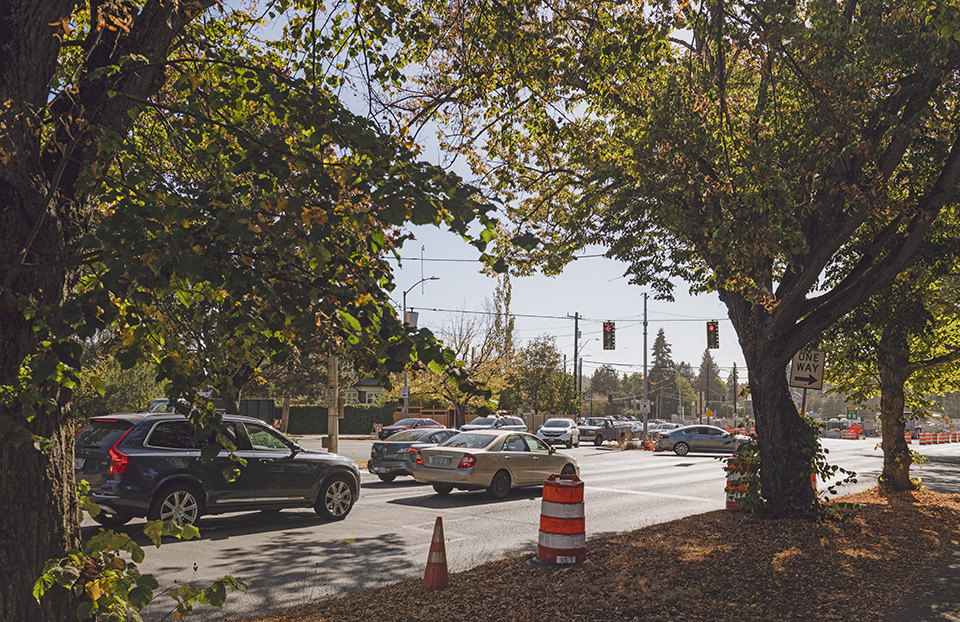 Photo by Aaron Leitz.
Threat
The challenge for Seattle's Parks and Boulevards System, and most specifically the network of boulevards, is an incremental erosion of its continuity, contiguity, and character. Over the years there have been impacts resulting in severed connections between and among the thoroughfares, truncated sections, realigned intersections, hardened edges, obscured views, removed vegetation, restricted access, and encroachment into parkland. Each individual decision leading to a detrimental result is excused as necessary for the particular need being addressed at that time, or overlooked as not being a substantial impact, but the cumulative effect is the loss of the overarching experience of the continuity of a National Register-designated system connected across the city—a system that once seamlessly linked neighborhoods to their parks.
Notably, Olmsted intended for each boulevard to be wide enough to accommodate multiple forms of transportation, but the rights-of-way acquired by the City were often more narrow than envisioned; as a result, it has been a challenge to incorporate all modes equally ever since the system's inception. Recognizing the multipurpose and multi-modal needs of the boulevards for a modern city, while retaining the original routes and design intent, is essential to ensuring their survival as a connected system.
---
Three specific types of threats to the boulevards have been identified:
---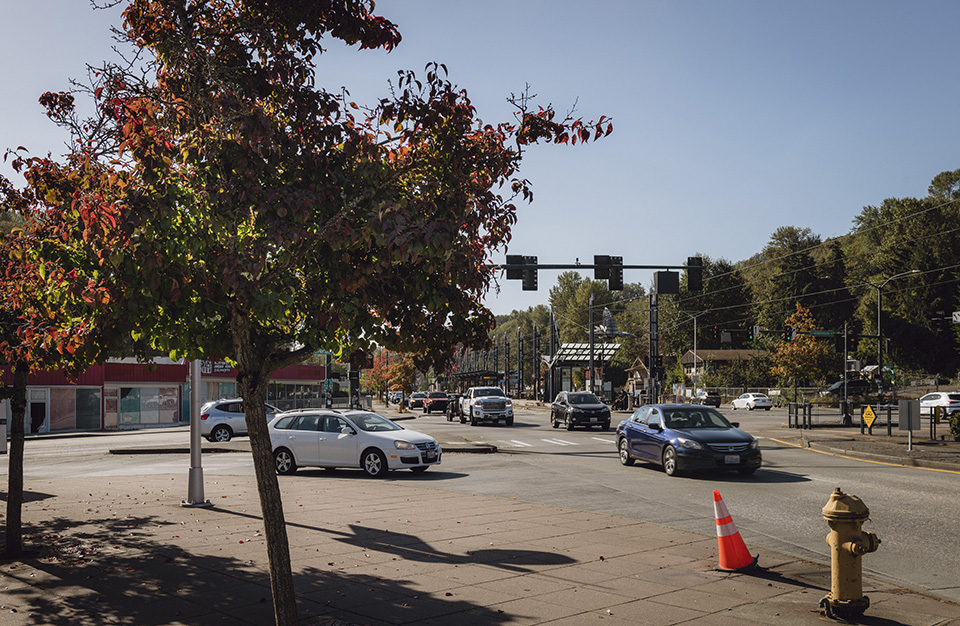 INTERRUPTED CONNECTIVITY
Photo by Aaron Leitz.
INTERRUPTED CONNECTIVITY – Many of the boulevards providing the critical, original connective tissue between parks and among neighborhoods have been severed, either due to new development or lack of completion of the original routes per the Olmsted vision. At Montlake Boulevard, for example, major alterations have occurred as a result of State Route 520 initial construction and current expansion. By way of Section 106 negotiations, efforts are currently underway to incorporate some landscape features while simultaneously adding major intrusions of new traffic lanes and intersections. At Ravenna Boulevard, since 2020, visual continuity has been disrupted at 15th Avenue, with the installation of cross bicycle lanes—the interrupted views and navigational conflicts between transportation modes make it difficult to understand that the boulevard continues westbound. Issues of ownership and lack of jurisdiction come into play at Seward Park Avenue, which was always intended to be a connector to Seward Park but is not currently a park-owned boulevard.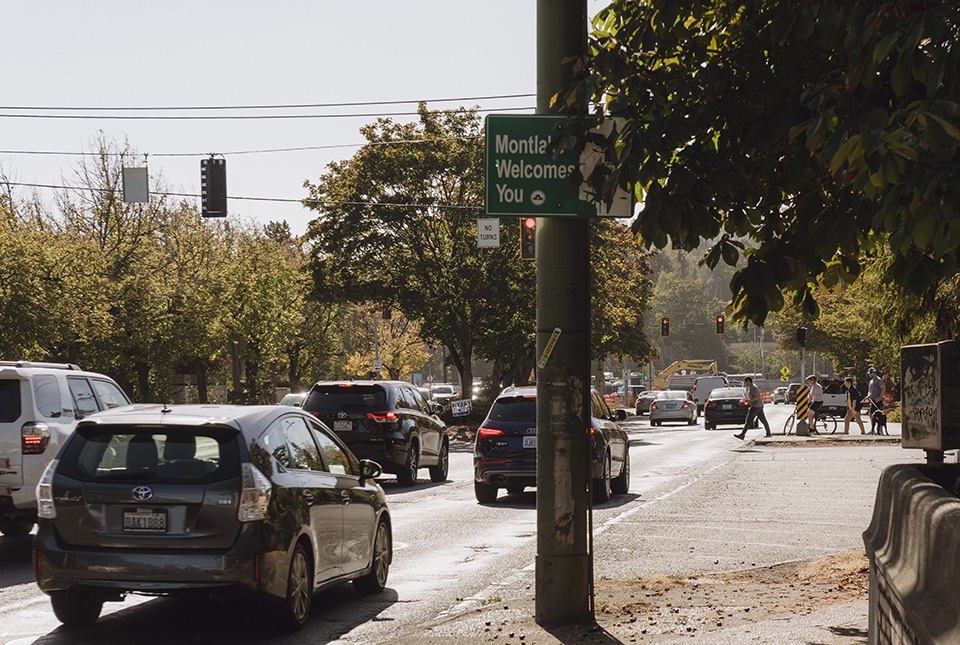 CONFLICTING MODES OF TRANSPORTATION
Photo by Aaron Leitz.
CONFLICTING MODES OF TRANSPORTATION - The construction of new transportation lanes within the existing boulevards is an important but often contentious issue. The Olmsted firm always intended for the Seattle boulevards to accommodate both pedestrian and other forms of transport, but a modern emphasis on vehicular traffic has impacted the hierarchy and physical street widths. Recently, bike lanes have broadly been a welcome introduction, but sometimes also interrupt the original boulevard layouts. This complicated issue can be seen at Green Lake Boulevard, where a new layout for separation of modes of travel has provided necessary increased access to one of the city's most popular parks. The channelization of Green Lake Boulevard successfully separates bicycles, but the intersection with Ravenna Boulevard has been degraded visually.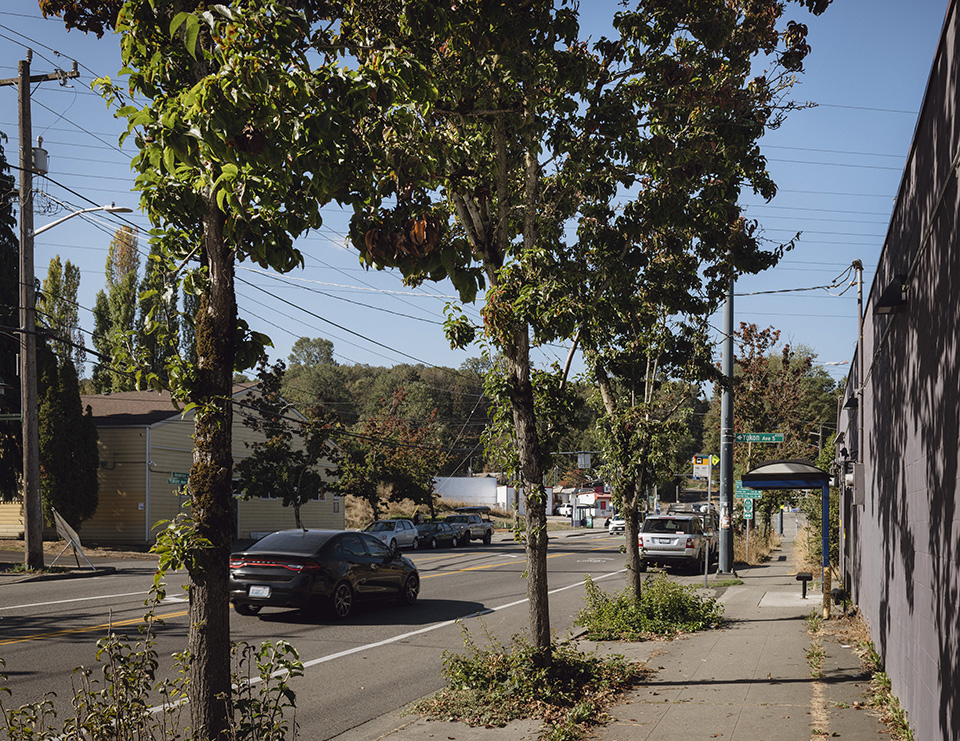 LOSS OF TREE CANOPY
Photo by Aaron Leitz.
LOSS OF TREE CANOPY - Several corridors are experiencing tree loss due to disease and/or encroaching development, including Henderson Street (diseased pear trees at the west end) and Magnolia Boulevard (suffering from encroachments on the east side and, on the west side, the loss of its iconic Madrona tree landscape due to vandalism and environmental impacts); concurrently, the natural aging process has led to further degradation of significant tree canopies.
What You Can Do to Help
Various city agencies have the authority to take specific, impactful steps to improve or rectify issues throughout the National Register-designated System.

Seattle Department of Transportation
Call or write to the department to encourage them to take the following actions to repair connectivity:
1. Resolve the confluence of transportation modes at the intersection of S Winthrop Street (formerly part of Cheasty Boulevard) and Mt. Baker Boulevard with Rainier Avenue S by creating clearly delineated routes for pedestrians, bicyclists, and vehicular traffic making the connection east/westbound.
2. Retain the original Olmsted vision for Lake Washington Boulevard, within the framework of it serving as a continuous, connecting multi-modal park facility (read more about the project here).
Seattle Department of Transportation
Greg Spotts, Director
P: 206-684-7623
E: 684-Road@seattle.gov
700 5th Avenue, Suite 3800
Seattle, WA 98104
Seattle Parks and Recreation
1. Contact the Parks Department to insist that they fund and prioritize the next phase of their critical Olmsted Parks and Boulevards Restoration Project, which will replant and renew significant tree plantings such as the Madronas along Magnolia Boulevard, and address issues of deferred maintenance, environmental impacts, and modified connectivity within and among the parks and boulevards (read more about the first phase of the project here).
2. Encourage the Parks Department to implement a program for a consistent palette of site furnishings throughout the System (light fixture standards, uniformly colored and designed street signs) to highlight Olmsted's significant contributions throughout the city.
Seattle Department of Parks and Recreation
Christopher Williams, Acting Superintendent
P: 206-684-4075
E: pks_info@seattle.gov
100 Dexter Avenue N
Seattle, WA, 98109
Support Friends of Seattle's Olmsted Parks in their work to educate about and advocate for the preservation and protection of Seattle's nationally significant Olmsted park system.