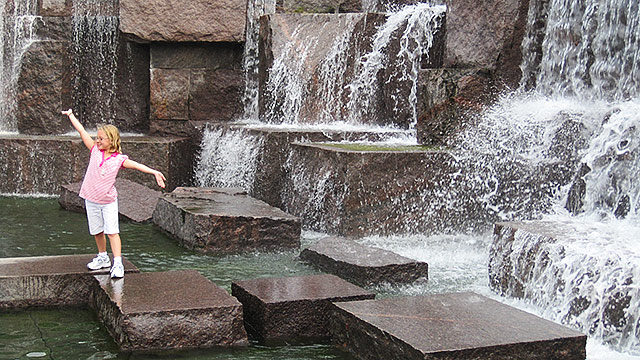 Franklin Delano Roosevelt Memorial. Photo © Charles A. Birnbaum
The Cultural Landscape Foundation's (TCLF) free, richly illustrated Web-based, city-focused What's Out There Guides provide access to information about our shared urban designed landscape legacy. Ever expanding, these Guides cover each city's network of designed landscapes from their origins to the present day.
The series is an outgrowth of TCLF's free, profusely illustrated What's Out There online database—currently featuring more than 1,900 landscapes, 900 designer profiles, and 10,000 images. With informative overviews, historic and contemporary photographs and maps, and links to a proliferation of landscape and designer profiles, the Guides are engaging and attractive compilations useful to residents, tourists, researchers, planners, and design enthusiasts among many others. For residents and visitors of each landscape destination in this Guide, these may be places they see, in some cases daily, but do not know the stories behind their creation or evolution over time. By developing thematic linkages between cities based on designers, types, and styles of landscapes, this series will be upgraded and expanded over time to allow users to build individual itineraries to explore the nation's cultural landscape legacy.
Each Guide will continue to evolve as additional sites and designers are added to the What's Out There database. Significantly, the guide also features What's Nearby, a GPS-enabled function accessible by laptops, iPhones, and similar handheld devices that locates all sites in the What's Out There database within a 25-mile/40-kilometer radius of any given location.
So, begin your adventure and let us know what you think of this new series.