In 1996, the Office of Dan Kiley was commissioned to design the landscape for the Kimmel Residence, a sprawling property that included a modern farmhouse situated atop a knoll within the eastern foothills of Connecticut's Taconic Mountain Range. Kiley's goal was to provide a transition between the expansive home and its scenic hilltop setting overlooking a natural wetland and orchard.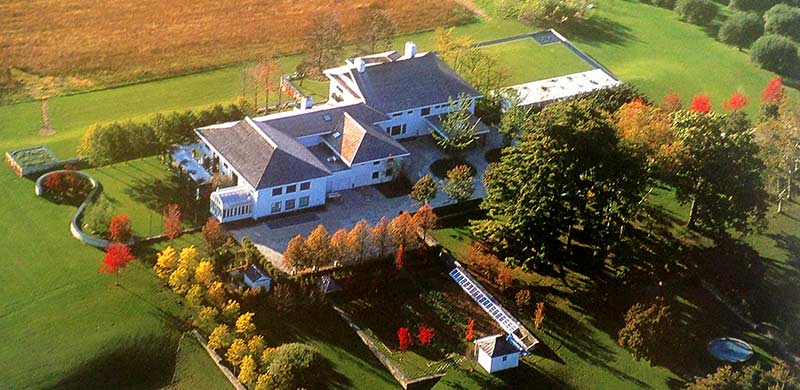 Kiley concentrated the formal elements of his design at the front of the house, where a curving entry drive lined with an allée of red maples provides access to a crushed stone entry court edged with hornbeams. Two ginkgo trees set in circular vinca-filled planting beds frame the home's porte-cochère, providing a focal element within the court. A tennis court and pavilion, outdoor sculptures, three-hole golf course, and vegetable and cutting gardens are incorporated into the front landscape.
The landscape behind the home features a series of stepped terraces, sculpted out of the hillside and held in place with poured concrete retaining walls planted with Boston ivy. The landscape gradually descends, offering expansive views of the surrounding hills and pond below. Marc Treib in his essay "The Nature of Space" says, "Kiley took on a grand site and varied his degree of control from that of the large-scale, almost regional, plan, to that of the intimate detail. Perhaps no other project evidences the landscape architect's mastery of grading and landform so well."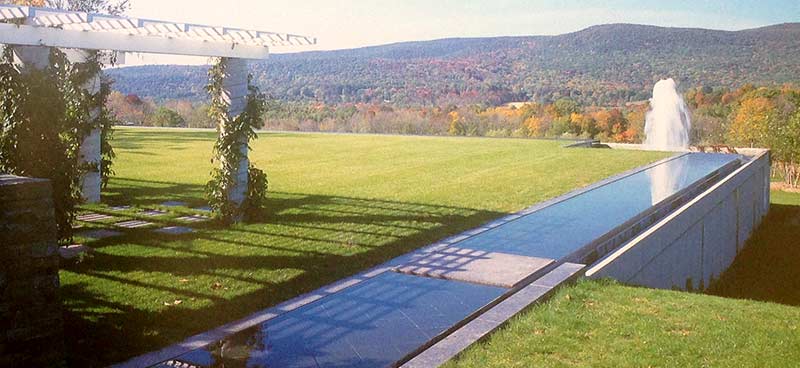 On the uppermost terrace, open space is concentrated to the north of the house, where a concrete and wooden pergola covered in climbing and flowering vines provides shade, and a rectangular croquet lawn stretches out towards a three-inch deep, slate-bottomed water channel. The 18-inch wide channel, which lies flush with the lawn, creates a solid line along the terrace's north and western edges, widening into a square pool and fountain at the northwest corner. South of the channel two copper beeches are planted in circular planting beds which frame a set of wide granite steps, visually connecting to the hillside below.
To the south of the house, an ess-shaped retaining wall supports a second open lawn, where an additional trellis, interwoven with hydrangea abuts the house, and a row of littleleaf lindens create an informal barrier along the lawn's western edge.
1 Treib, Marc. "The Nature of Space"In Dan Kiley Landscapes: The Poetry of Space, ed. Reuben M. Rainey and Marc Treib (Richmond, CA: William Stout Publishers, 2009), 74.
Petschek, Peter and Siegfried Gass, Constructing Shadows: Tents, Pergolas, Cables, Plants (Basel, Switzerland: Birkhäuser, 2011), 128-133.
The Cultural Landscape Foundation. "What's Out There: Kimmel Residence," https://tclf.org/landscapes/kimmel-residence.
Kiley, Dan and Jane Amidon. Dan Kiley: The Complete Works of America's Master Landscape Architect (Boston, New York, London: Little, Brown and Company, 1999), 158-167.