Reflections of Jim
by Hilda Brillembourg
August 2010
Honoring an outstanding artist who is also a friend is not easy. In honoring a friend you honor loyalty, integrity, immediacy, shared memories and most importantly the soul of a kindred spirit with whom you have laughed and cried, with whom you have shared humanity. In honoring an artist and his work, you honor creativity, excellence, dedication to his task and a life-long pursuit of an artistic vision of the world around us. What is common in honoring both the friend and the artist, is the amount of happiness shared in his company and in the presence of his work.
There have been so many unforgettably happy times shared with Jim! Walking by the likely site of the pool to determine which way the wind blew so there would always be a cool spot in which to sit by the pool even in the hottest summer day. Fighting over a rose garden, not Jim's favorite flower. I suggested his next book be called "I Never Promised You a Rose Garden". But he did give us a beautiful rose garden right in the middle of the entrance, for all to see and enjoy. The roses bloom from April through November in defiance of Jim's disdain for them. Some women are just like that!
There was also the day in which we were lounging by the pool reading aloud the transcription of Monica Lewinsky's grand jury testimony, and laughing so much and so loud it seemed impossible that Jim did not live there next to us so we could have this much fun every Sunday. I stopped reading and said, "Jim, you have to get a home here, this is too much fun." And then we went looking for a piece of land to build Jim's house on the Eastern Shore: That special place in which so many of our spirits have been enlarged in the presence of nature and Jim's creativity.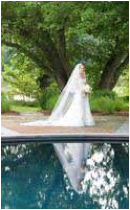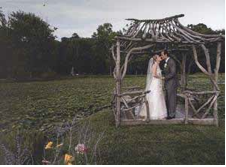 On a final and most special memory for a mother, there were a few spots in the garden purposefully designed for the day in which our daughter, Clara, would marry. Here are the pictures that show that dreams come true when you have friends who make them possible. There are few people in life that make life grander and more meaningful that Jim Van Sweden, best friend and artist.
With much love,