Reflections on Travels with Jim
by Barbara Downs
July 2010, Washington DC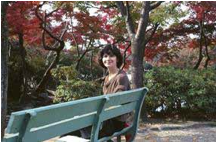 In the autumn of 1983, Jim and I went on an AHS tour of Asian gardens with ten days spent in Japan. On our first day in Tokyo we visited five extraordinary private gardens. I remember one garden in particular. It belonged to a house in traditional Japanese design. The details of the garden were exquisite with carefully placed layers of stone and plants separating the house from a large pool which swept around the back and sides of the house. The pool was inky black and filled with shimmering koi carp. It had some water plants and rough stones which were carefully placed to make it looked completely natural, but at the same time quite dramatic. Jim was so excited by the proportions of the design which created a feeling of a vast expanse although the house and garden were relatively modest in size and located in a congested warren of city streets. It seemed to me that this house opened a large room in his imagination where he could create gardens for clients who would understand the dramatic juxtaposition of water, stone and plants. He soon found many such clients and designed a significant number of the magnificent gardens which have been photographed in his books and elsewhere.
Jim was so excited by the AHS trip that he couldn't wait to return. We arranged to visit Japan in December of 1986, allowing a month's time to explore and photograph gardens. We travelled throughout the country but concentrated our visit in Kyoto where we visited the three magnificent Imperial Gardens. Jim was inspired by the detail and the simplicity of the designs. He was intrigued by the use of pathways connecting a series of intimate spaces with large scenic vistas. Natural materials used in all of these gardens: bamboo fences, rough weathered stones and pebbles as well as natural plant material: ferns, moss and carefully orchestrated
forests of pine and deciduous trees. In these gardens and the others we visited, Jim took dozens
of photos of details of stone work, paths, walls, waterfalls, stone basins, gates, fences, tile
work, drainpipes and stone gutters. It all served a library of very simple and elegant solutions to the problems encountered in designing gardens.
After this trip Jim designed the garden at my house in Georgetown. It incorporated many of the ideas from the Japanese gardens Jim and I had visited: a dry stream pathway meandering back to a millstone fountain, plants that refer to Japan, a crepe myrtle with twelve sinuous trunks, a dwarf bamboo, white Japanese iris and anemones as well as a tapestry of traditional perennials.
The garden is very narrow—about 18' and deep 80' but we are blessed with congenial borrowed scenery from our neighbors and a vine covered wall at the rear. It is the focus of our house and my husband and I love to sit there in all seasons, listening to the fountain and to the birds which are attracted to the bubbling water and the protective trees.