Reflection
by Kris S. Jarantoski
Executive Vice President & Director, Chicago Botanic Garden
August 2010, Glencoe, IL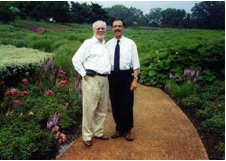 After reading Jim van Sweden's books and admiring his work (originally at the National Arboretum) for many years, I finally had the opportunity to work with Jim, Lisa Delplace, and Sheila Brady on the design and construction of Evening Island and the Gardens of the Great Basin, beginning in 1999.
Jim's enthusiasm and creativity lent itself well to the large landscape the Chicago Botanic Garden desired. This landscape would showcase the "New American Garden" style to hundreds of thousands of people in the upper Midwest who had never heard of it before.
Speaking as a client, the Oehme, van Sweden team was a dream to work with. Their excellent visuals and collaborative spirit helped our side articulate exactly what we wanted and helped deliver a final product that fulfilled our dreams. The "on time" and "on budget" process was wonderful. Jim's final pronouncement on the gardens was his usual "this is FANTASTIC!"
The gardens were dedicated in 2002. The public has been wild about them ever since. There have been many imitators since, but Jim's originality continues to shine through.