Overview
by Raymond Kaskey
Sculptor
July 2010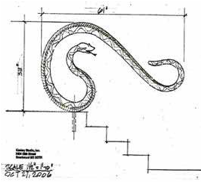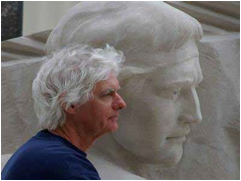 I knew Jim Van Sweden's work around Washington DC before I knew Jim. That is to say I didn't know who, if indeed anybody at all, had created such an unusual landscape fronting a Federal building or the back garden of a Georgetown house. Both venues looked "natural" as if they just grew that way without any "design." Of course that is the secret of the Oehme Van Sweden firm-they make everything look almost unplanned, graceful and easy when it's anything but.
Years passed before I got the chance to work with Jim and Sheila Brady, a partner in his office. When Friedrich St. Florian became a semi -finalist in the National World War II Memorial competition he needed a landscape architect and a sculptor among other professionals to complete his team for the final phase. Thus began an eight year collaboration between architect, landscape architect and sculptor when we became the winning team in December 1996.
What I remember most about Jim in those days was getting ready for a series of contentious public presentations. Jim knew the work doesn't speak for itself even if brilliant. You have to be able to communicate it to a skeptical client, government agency and/or public at large. Here Jim brooks no competition. And the postmortem analysis over drinks and dinner always moved things forward.
At the personal end of the scale I had the privilege to be commissioned by Jim to create a sculpture for his own garden in St. Michaels on Maryland's Eastern Shore. He wanted a snake in the form of a hand rail for his swimming pool. I can only surmise that perhaps he realized that a garden, like the Garden of Eden, needs a snake to provide that acid note. Whatever, my first attempt was dismissed because it looked too much like a hand rail rather than the desired
herpetological fantasy. Rejection brought to mind the lesson of Jim's work, i. e. the "natural," while working with the materials on hand, is highly contrived. I just had to let what snakes do best shape the hand rail. Thanks to Jim I think the snake hand rail rose to the level of the easy looking naturalism but very studied design of his amazing garden.