Memorable Reflections
by Carole Rosenberg
August 2010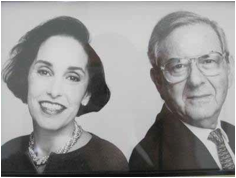 It was a Sunday afternoon in August 1981 when Lila Katzen, an artist we represented in our gallery, and her husband Phil came to visit us in Water Mill. Alex and I had spent the morning selecting plants at a local nursery and were busy installing them when the Katzens arrived. Phil and Alex went into the house to prepare some drinks and hors d'ouvres and Lila kept me company while I continued my planting of 35 pots. I complained to Lila that our efforts were producing very little in the way of a landscape. Lila responded by telling me of a magnificent garden at the Federal Reserve in Washington, DC where she had just installed one of her sculptures. "You should call the landscape architects," she suggested. Since we had not seen the work of any local landscape architects that inspired us, I asked for their names.
The next day I was on the phone to Jim van Sweden and he visited us about a month later. Turning the pages of his portfolio was an enlightening experience. Alex and I began gardening at very young ages and thought we knew about plants and planting. The pictures of the Federal Reserve that Lila spoke of were breathtaking. There were plants we never heard of and mass plantings that reminded us of broad strokes in color field paintings we saw in galleries and museums. I knew that James van Sweden and his partner Wolfgang Oehme would create a landscape with their grasses and perennials beyond our imagination. It did not take much convincing Alex that they were the perfect team to transform our garden, whose south side is an inlet of Mecox Bay, that was not visible from the house when we bought it a few years before.
Some weeks later we had the pleasure of a visit from Wolfgang Oehme, who knew more about plants than most encyclopedias. He took measurements and advised us that plans would be drawn. The pool had been dug before we met Jim and Wolfgang and fortunately, we had not done any terracing. The final drawings were incredible.
In the fall of 1981, Jim Van Sweden and Wolfgang Oehme transformed the Alex Rosenberg Gallery into a garden for the exhibition, Sculpture Returns to the Garden, featuring Lila Katzen's newest work. It was an amazing exhibition and the sculpture looked extraordinary set in the Oehme, van Sweden garden. It was the beginning of a long and successful collaboration.
In the spring of 1982, the terraces and walkways were installed. The last days of June Wolfgang, his 13 year-old son, Roland and Mr. Brandt with his team of young adults arrived from Maryland with truckloads of plant material propagated in the nurseries of Kurt Bluemel. They spent 2 days living and eating with us. Wolfgang laid out thousands of small plants and in one and half days the team dug them into the ground, just missing rain. The garden was on its way. Weeks later, Jim helped me buy clay pots and plant them with showy perennials while the garden started to grow. By the end of the summer we started to see the amazing grasses and perennials growing. It was the beginning of Oehme, van Sweden's first bold, romantic garden in the Hamptons and what turned out to be a very special friendship.
When newspapers and magazines began calling, we realized that we had started something new and special on the east end. Landscape architects, garden designers and horticulturists came to visit. Marc Cathey, President of The National Arboretum spent some week-ends with us where he delivered his radio show from one of our guest rooms. He referred to Oehme, van Sweden gardens as the New American Garden. People called in with questions and listening to the answers was an education.
Alex and I were working with the Hofstra University museum and shortly thereafter, I was invited to Chair the first Advisory Board of the Hofstra University Arboretum and Sculpture Garden. Before long the President of Hofstra wanted an Oehme, van Sweden garden on the campus for the University Club.
A new dimension was added to our already creative life as art dealers, curators and consultants. Our Water Mill house was set in a magnificent garden where design blends with the natural elements of water, sky and reeds. Sweeping masses of ornamental grasses, perennials, flowering bulbs and rare clump bamboo create a different palette in each season. The herb and vegetable gardens not only offer a display of seasonal texture and color but a cornucopia of fresh culinary treats. A formal terrace for dining overlooking spectacular views of the bay is bordered by low grasses and perennials. Steps lead to the pool terrace on a lower level, where Pennisetum alopecuroides soften the lines of the pool while the sculptural Miscanthus sinensis sways and sings in the sea breeze.
In 1986, we had the opportunity to move up to a higher floor with terraces in the building where we live in Manhattan. Andrée Putman was the interior designer and worked closely with Oehme van Sweden on the construction of a greenhouse attached to the apartment that Alex uses for an office. The gardens that face south, west and north were designed with arbors and trellises. Trees, grasses, perennials and bulbs were planted in boxes and each spring pots are planted with annuals and herbs. There are places for dining and relaxing. Every day, we have the fortune to live with an Oehme, van Sweden garden and are grateful for Lila Katzen's encouragement and introduction. It has been our pleasure to share our wonderful experience with all those who venture to try something new and exciting.
When Lila died some years ago, Wolfgang brought us a special shrub Clerodendrum trichotomum fargesii (fragrant white flowers followed by midnight blue berries and red calyxes), also known as Harlequin Glorybower and planted it facing the water in her memory.
Our long-term friendship with Jim and Wolfgang has been important in our lives. We have enjoyed many wonderful experiences with Jim and his friends, the Nefs and Sorgs.
Wolfgang has adopted our garden as his own and visits frequently with his friends Carol and Paul. He always manages to find new and unusual plants to try out in the Rosenberg Garden making it more interesting all the time. Some even find their way into Holger Winenga's Garden Treasures Nursery.