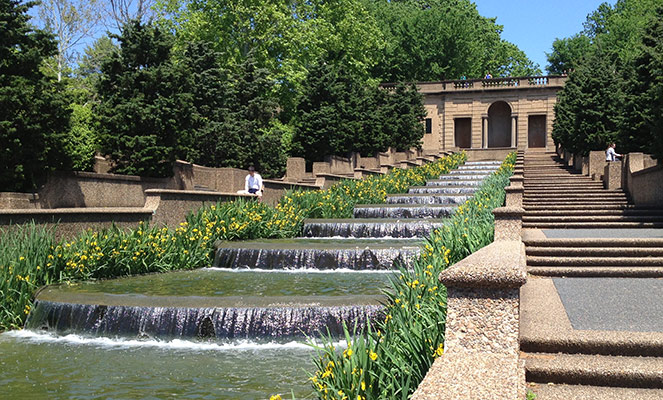 Meridian Hill Park, 2013. Photo © Charles A. Birnbaum.
"The experience is more than a pleasurable recognition of an impressive vista or a successful dialog between structures and spaces. It is an act of love between citizen and stone… in the tradition of all great cities that have captured the hearts of men. Washington succeeds as a city because… [of its] singular grace, character, and charm."                       
–Ada Louise Huxtable, 1967
The What's Out There Washington, D.C. Guide from The Cultural Landscape Foundation (TCLF) covers more than two centuries of designed landscapes in the nation's capital. From the Monumental Core—the ceremonial and political heart of the nation that includes the National Mall — to Italianate, Modernist, and other designs, the city's built environment including its commemorative landscapes, institutional grounds, public and national parks, plazas, cemeteries, and boulevards, is exceptionally diverse.
This profusely illustrated and detailed Guide is based on TCLF's ever-expanding What's Out There, a free online database of the nation's designed landscape legacy that features more than 1,700 landscapes, 900 designer profiles, and 10,000 images.  The Guide and the What's Out There Database also come with What's Nearby, a GPS-enabled function that locates all sites in the database within a 25-mile radius of any given location.
This Washington, D.C. Guide launched with documentation of more than 70 sites and 50 designers—and it will continue to grow. Along with informative written descriptions, the Guide provides access to short videos of four landscape architects featured in TCLF's Pioneers Oral History Project with discussions about their projects in the nation's capital. Available for viewing on YouTube, these live links allow you to hear at home or on site the stories behind the creation and design of such projects as the Franklin Delano Roosevelt Memorial by Lawrence Halprin or John Marshall Park by Carol Johnson.
Funded in part by a National Trust for Historic Preservation grant, the What's Out There Washington, D.C. Guide is made possible through a collaborative effort. In development of the project, TCLF gratefully acknowledges the assistance of the Washington, D.C. Historic Preservation Office, the National Park Service, and the American Society of Landscape Architects. We hope you will find this Guide a useful and compelling resource, one that will inspire you to explore the nation's capital.
Washington DC's Legacy of Parks and Open Spaces→