Located in the Brownsville neighborhood of Miami, Florida, Lincoln Memorial Park is one of the oldest African American cemeteries in Dade County. It is the final resting place of many soldiers who served their country, from the Civil War to Iraq, as well as community pioneers who helped shape the history and culture of Miami. Thousands have been laid to rest within the twenty-acre parcel, which is still an active burial site. But the cemetery, along with the story it reveals about the nature of our segregated past, is now facing an uphill battle for survival.   
History
In the early 1920s, the property that would become Lincoln Memorial Park was owned by a White realtor named Fred B. Miller. Stories passed down from one generation to another recount how Kelsey Leroy Pharr had cut down lynching victims he found hanging from trees and secretly buried them at night on Miller's vacant land. As the stories go, Miller discovered Pharr in the course of one such burial, but rather than prosecuting him for trespassing, was moved by his compassion. Miller then sold the property to Pharr at a significant discount, making Pharr one of the very few African Americans to own a cemetery in the Jim Crow South (Pharr would later become the first licensed African American embalmer south of St. Augustine, Florida).
While there is little beyond oral tradition to confirm the cemetery's origin, records do indeed reflect that Pharr had begun purchasing pieces of the property from Miller by the fall of 1923, when the books of the Pharr Funeral Home record the first burials in the cemetery. In May 1924, Pharr and his partners filed a Notice of Intention to Apply for a Charter to formally incorporate as a burial service, and one year later a portion of the property was officially platted. Pharr apparently continued to purchase contiguous parcels for several years, finally, in 1937, consolidating the twenty acres that constitute Lincoln Memorial Park today.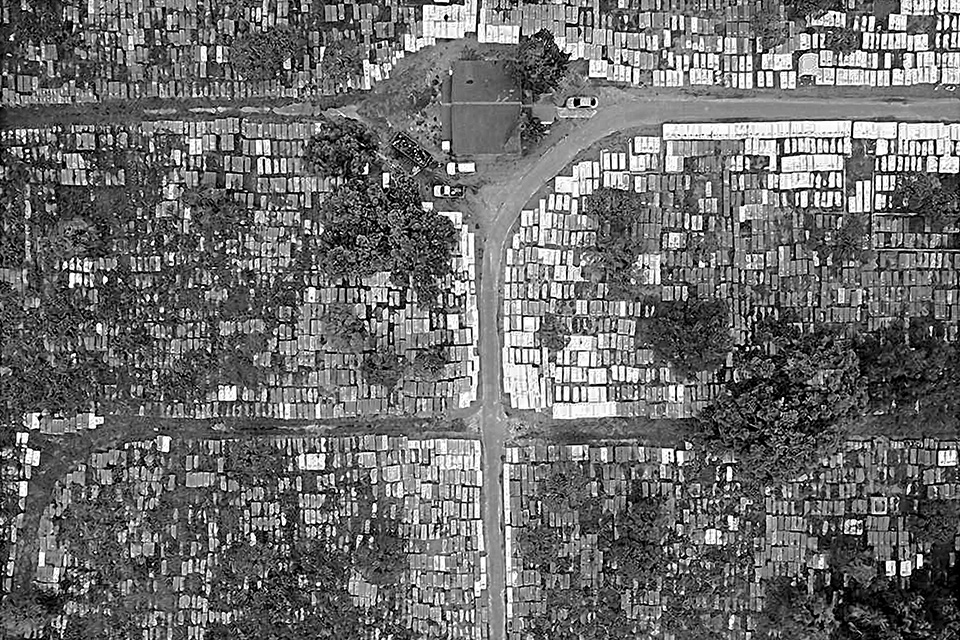 In its heyday, Lincoln Memorial Park was touted as "The Finest Colored Cemetery in the South." Among the luminaries buried there is D.A. Dorsey, Miami's first African American millionaire. Born circa 1872 as the son of former slaves, Dorsey made his mark in real estate, buying lots and building homes (at first, with his own hands) in South Florida before founding the Negro Savings Bank in 1916, giving many African Americans access to banking for the first time. He also owned and operated the first African American hotel in the area, the upscale Dorsey Hotel once located on Miami's 2nd Avenue, and his generosity as a philanthropist and civil rights leader helped make possible Dorsey High School (opened in 1937) and Dorsey Memorial Library (opened in 1941), both serving the African American community. When Dorsey died in 1940, flags throughout Miami, in both White and African American communities, flew at half-staff.  
Also buried at Lincoln Memorial Park is H.E.S. Reeves, founder of Miami's first African American newspaper, the Miami Times, launched on September 1, 1923, and operating to this day. Arthur and Polly Mays, pioneering activists for education in Dade County's underserved Goulds community, are buried there as well. So, too, is Gwen Cherry, the first African American women elected to the Florida Legislature, who died in February 1979 and was posthumously inducted in the Florida Women's Hall of Fame in 1986.
In addition to the well-known figures of the African American community, countless domestic workers and common laborers who helped build much of Miami are buried at Lincoln Memorial Park. Hundreds of veterans of the U.S. Armed Forces are also represented in large numbers at the cemetery, including young men who served in the Civil War, the Spanish American War, World War I, World War II, the Korean Conflict, Vietnam, and Iraq.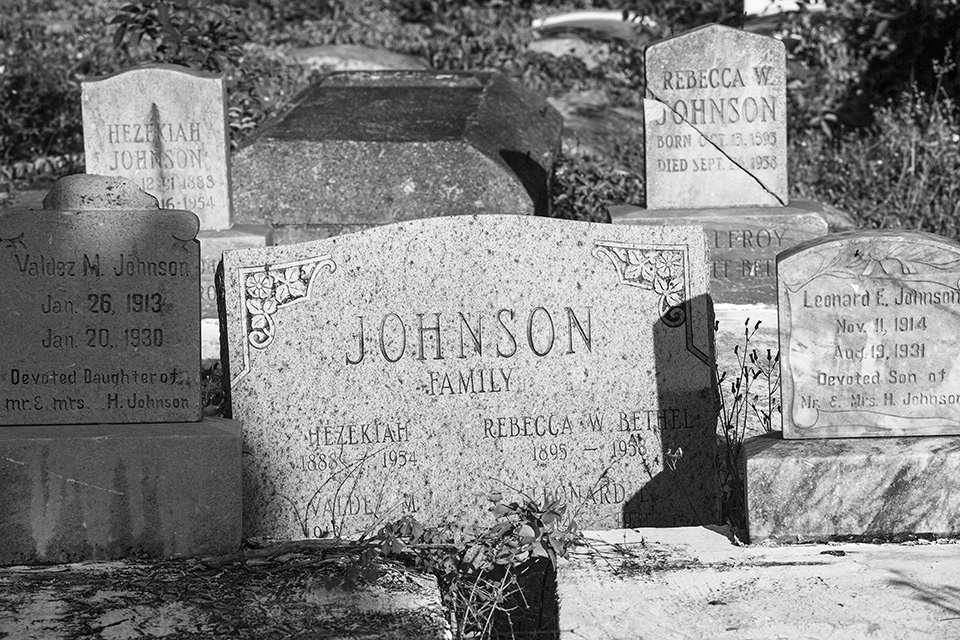 Kelsey Pharr remained actively involved with Lincoln Memorial Park until his death in 1964, when he, too, was interred there, along with his wife, Josephine, and son, Kelsey, Jr. His life was one of service to his community. Pharr founded the first Boy Scout troop for African Americans in Florida, was instrumental in establishing the Miami Negro Civic League (serving as its first president) and was a longstanding member of the Miami Colored Board of Trade.   
After Pharr's death, ownership passed to Ellen Johnson, a nurse at Jackson Memorial Hospital who had many ties to the local community and who had developed a long-time friendship with Pharr. He confided to her that his one desire was to maintain the cemetery as a living monument for African Americans. Johnson shared his aspirations and spent much of the rest of her life attempting to honor his wishes. Under her ownership, the property was officially designated an Historic Site by Dade County (it was added to the National Register of Historic Places in the summer of 2018). The twenty-acre cemetery occupies a flat, square parcel surrounded by urban housing. Its sole entrance, located on 46th Street, is marked by an arched, stone gateway framing an asphalt road that enters the parcel before branching east to intersect with overgrown, unpaved lanes that loop through the cemetery's northern and southern sections. The cemetery's most salient feature is its above-ground stone sarcophagi, crowded together in undulating rows, interspersed with mature canopy trees.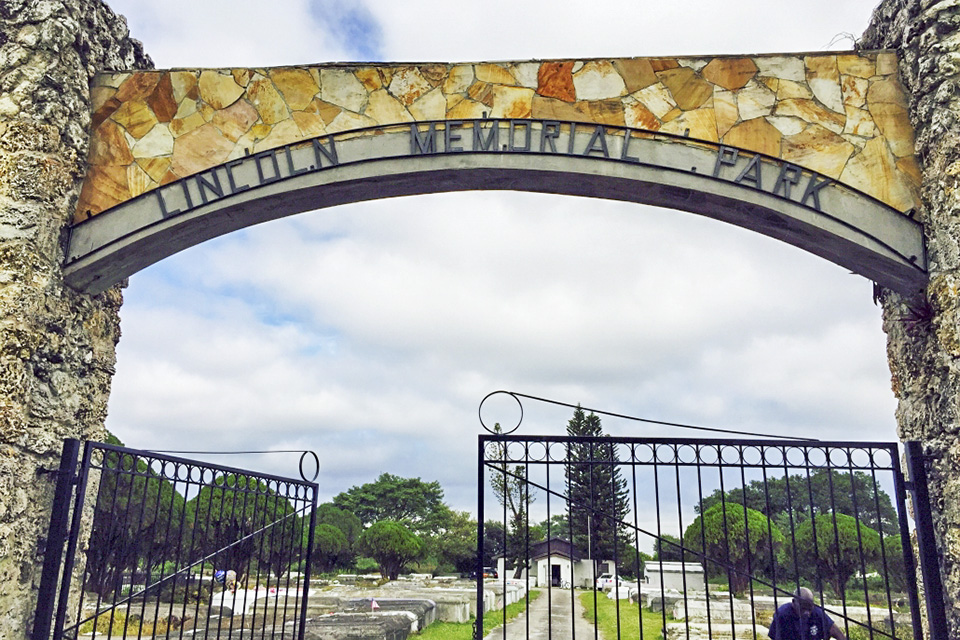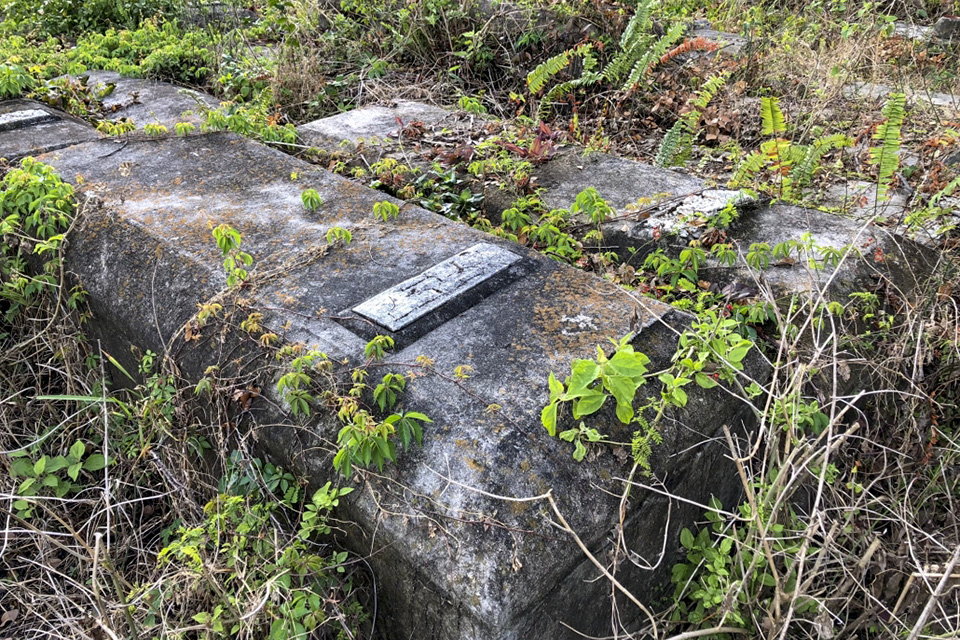 Threat
Ellen Johnson maintained the beauty and integrity of Lincoln Memorial Park until the late 1990s, when she developed Alzheimer's disease. Without her vigilance, the cemetery quickly became overrun with invasive plants and trespassers who frequently desecrated the graves and mausoleums. After Johnson's death in 2015, ownership passed to her niece, Jessica Williams, who has struggled to maintain the cemetery for the past three years. Despite its historical significance to the City of Miami, the cemetery's existence is largely unknown by much of the local population. The property lacks an intact perimeter fence, which leaves it vulnerable to vandalism. Graves are frequently desecrated, and it is not unusual to stumble across an open and exposed coffin. The graves of infants and children are not spared desecration, and are, in fact, targeted more often. Littered with plastic bags, cups, bottles, and various other forms of refuse, the burial ground is treated as if it were a garbage dump. 
Miami's subtropical environment makes the cemetery very difficult to maintain, especially during the summer months. There are acres of the property that are so overgrown that even its distinctive above-ground burial vaults cannot be seen. The nameplates for those buried at Lincoln Memorial Park were made from ceramic tiles, more than 75% of which are now completely illegible, preventing families from finding the tombs of their loved ones.
Moreover, as the condition of the cemetery began to deteriorate in the 1990s and rampant overgrowth began to cover and conceal burial spots, it became at first difficult, and then nearly impossible, to locate the graves of veterans in order to place appropriate markers on them. For nearly 30 years, markers for which graves have not been located have been stored in a structure on the property or were laid out side by side, four rows deep, against the back wall of the cemetery. There are now approximately 200 such unplaced markers for veterans' graves.
While the threats facing Lincoln Memorial Park are considerable, this has not stopped members of the community from lending their time to help save this historic Miami landmark. As interest grows in rediscovering the history that was too difficult to deal with in the past, Lincoln Memorial Park has proven to be the ideal place to confront our segregated past and its lasting effects.
What You Can Do to Help
In late 2017, Williams partnered with the Coral Gables Museum in a concentrated effort to document the cemetery's history and restore it to its former state. The museum recently mounted a public exhibition on the cemetery and is working with the Brownsville community to locate and identify many of the burial sites. This work has already led to a series of discoveries that will play a significant role in reshaping Miami's recollection of its own past. One of the specific goals of the museum's Historic Research Division is to locate the burial sites of African American veterans so that the memorial markers can, at long last, be placed above them. If efforts to restore and maintain the burial ground are successful, Lincoln Memorial Park may once again be among the South's most beautiful African American cemeteries.
Support the ongoing documentary work of the Coral Gables Museum, which is committed to restoring this significant cultural landscape to its former glory.