As the first town incorporated by African Americans in the United States, Princeville, North Carolina, occupies a unique place in history. Many of its residents trace their roots to Freedom Hill, the inconspicuous knoll where the Emancipation Proclamation was read aloud to their newly freed ancestors. Still others descend from forebears brought in captivity via steamboat to Shiloh Landing, just northeast of town at a sharp bend in the Tar River. Occupying the floodplain next to the river, the town has never been a stranger to adversity. But after generations of building and rebuilding, a marked increase in flooding in recent decades may prove an insurmountable threat to the naturally susceptible landscape—and the rich history it embodies.   
History
By 1865 Union troops had established a temporary encampment just outside Tarboro, North Carolina, having occupied the town. The site of the encampment became a refuge and beacon for still-enslaved people who heard they could find relative freedom and safety there under the protection of Union forces. After the Civil War ended, many of the formerly enslaved people decided to remain on the land to establish their own settlement. They called it Freedom Hill, named for the elevated parcel where a Union soldier had stood to share news of the Emancipation Proclamation. Turner Prince, a black carpenter, led the formal incorporation of the town as Princeville in 1885, making it the first incorporated African American town in America.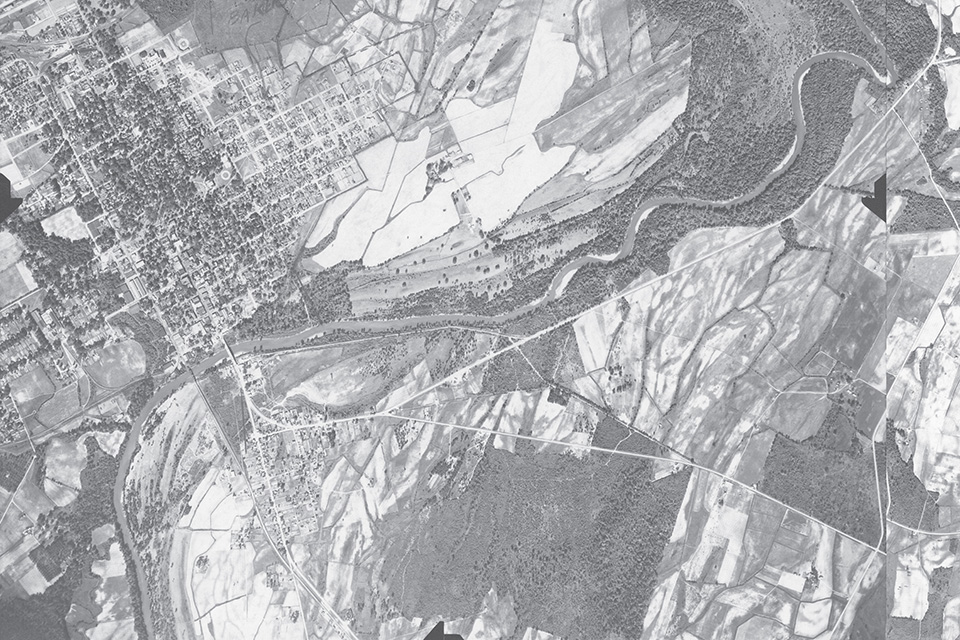 Like many African American towns in the American South, Princeville has since faced existential challenges since its founding. A wave of violence perpetrated by white supremacists threatened the town's people and its charter beginning in the late 1800s. State and federal policies and a lack of public investment undercut the town's ability to maintain its infrastructure and economy. And the town's location in the floodplain—the only local land that White landowners would sell to people of color in the 1860s—meant that it faced regular, debilitating floods, most recently following Hurricane Matthew in 2016. And yet generations of Princeville residents have built and rebuilt their community against harsh odds. Few historical structures remain, and the town's built environment continues to evolve. Princeville's cultural landscape is, however, steeped in history, and it retains enormous significance not only for its residents but for the entire nation.
This cultural landscape—a 230-acre stretch of floodplain from Freedom Hill to Shiloh Landing—contains elements of the everyday and the profound, spanning more than 200 years of American history. The site is bounded to the north for 2.5 miles by the Tar River, by Mutual Boulevard to the south, by U.S. 258 to the east, and by a quarter mile of Princeville's Main Street, the historical U.S. 64, to the west. The area includes sites that collectively tell the story of generations of African Americans and that embody the last vestiges of memory of one of the nation's most storied communities. The challenge now facing that community, and those advocating for the stewardship of its cultural assets, is to make Princeville's history visible in the landscape, focusing on the following sites:  
Shiloh Landing—North Carolina's Slave Economy
To the far northeast of the site is Shiloh Landing, a sharp bend in the Tar River that accommodated steamboat access. Shiloh Landing is believed to have been a point of delivery for enslaved people who would have been marched into Tarboro and sold into the brutal life of forced labor, captivity, and punishment that characterized eastern North Carolina's lucrative slave economy. There are families in Princeville today who trace their own Edgecombe County lineage to Shiloh Landing by way of the slave trade. Currently the site's pier is a popular fishing spot, and its deeply significant history is both unmarked and unrecognized.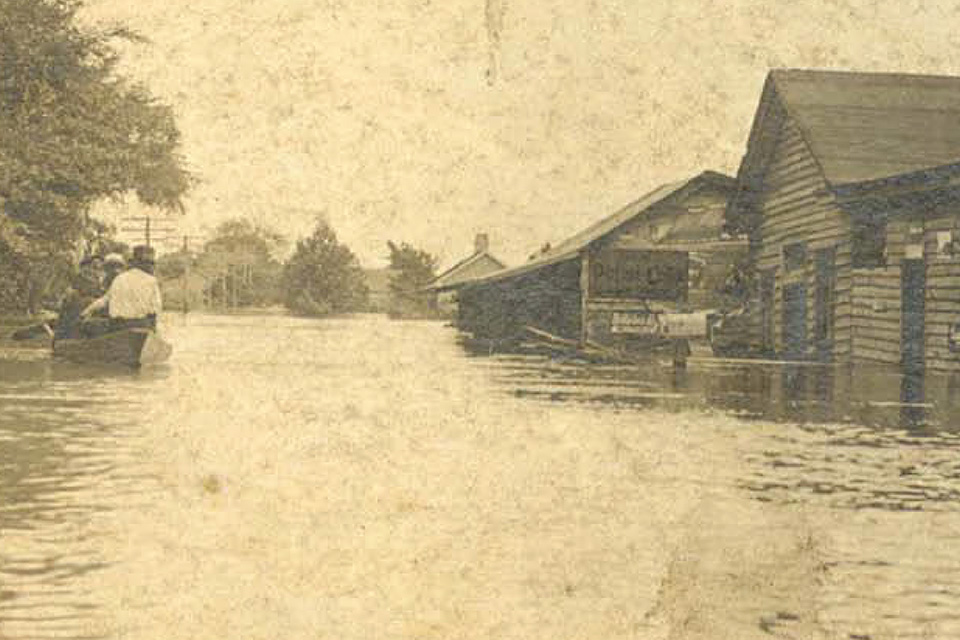 Freedom Hill—Civil War and a New Black Town
At the opposite, southwest corner of the site is Freedom Hill, the small knoll where a Union soldier delivered news of the Emancipation Proclamation to the formerly enslaved people who had risked all to travel there. The soldiers encouraged the refugees to return for paid work to their former farms and plantations, but many chose instead to pursue self-governance, establishing what would become the Town of Princeville. Early town development emanated from the river and included—until the 1980s—houses and businesses on the Freedom Hill site. Today Freedom Hill is recognized as the high point south of the Tar River at the intersection of Main Street and U.S. 258. It is now mostly open lawn with a few large, deciduous canopy trees, edged by roads to the south and west, a trail to the east, and a small, densely vegetated wetland to the north. The Town of Princeville uses the site for public events, and its history is marked only by a roadside sign near the intersection of the four-lane U.S. 258 and three-lane Main Street.
Powell Park and Tar River Baptismal Site—Princeville's Early Growth and Development
One-tenth of a mile down Main Street, toward the Tar River, is a parcel of low-lying lawn known as Powell Park. This land used to support a dense row of houses built on piers in close proximity to the riverside mills and factories that once spanned both sides of the river. The houses are still remembered by people who grew up in Princeville. Farther down Main Street is the Tar River itself and the bridge to Tarboro. From the 1890s to the 1950s, congregants of local African American churches, arriving in white-robed processions, accessed the river for baptism ceremonies at this place—yet another cultural landscape with a rich and emotionally charged history but marked only in the memories and stories of Princeville's oldest residents.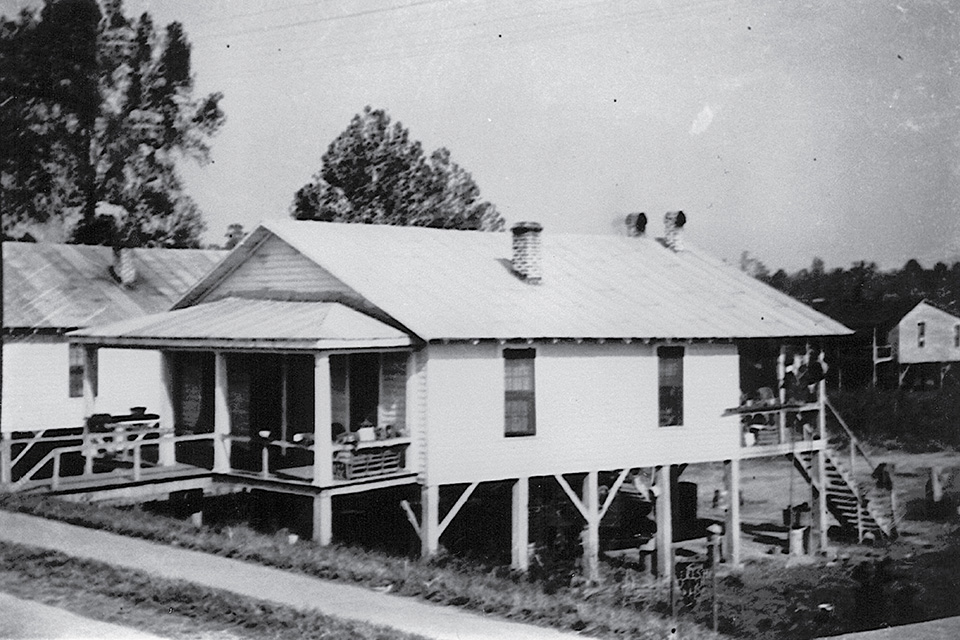 Levee Trail—Mid-Twentieth-Century Federal Flood Protection
After five major twentieth-century floods inundated Princeville, the U.S. Army Corps of Engineers agreed to build a levee to protect the town. Following its construction, which ended in 1967, the levee protected Princeville from major floods until Hurricane Floyd arrived in 1999, when the entire town was underwater for weeks. Seven years later, in the wake of Hurricane Matthew, 51 percent of the town was submerged. An important piece of Princeville's physical and psychological landscape, the levee runs through the site along the Tar River for one mile, marked by weathered trail signage.  
Riverfront Park—21st-Century Flood Recovery
Princeville residents felt safe from floods following construction of the levee; the destruction
caused by Hurricane Floyd in 1999 created extreme local distress and captured national
attention. Many well-known politicians and celebrities, including Jesse Jackson, Al Sharpton, Bill Clinton, and Prince, expressed their support for the town and its singular place in American history. As part of the optimistic rebuilding effort, the town secured state and federal funds to develop, in 2002, Riverfront Park, an eight-acre floodplain parcel with a playground, picnic shelters, and a mural. The park sits about one mile from Freedom Hill and 1.5 miles from Shiloh Landing, spanning the full north-south distance from U.S. 258 to the levee. Today the park is in need of repair, to honor the optimistic spirit in which it was built and to play a greater part in Princeville's future.
These places are significant because they offer complex and multigenerational snapshots of Princeville's cultural lifeways, anchoring a town whose historical precedence sets it apart from others. These stories are both under-told in our national histories and under-represented in the canon of our cultural landscapes. The challenge of fully realizing these sites' potential is to recognize that they currently communicate through the media of memory and oral tradition rather than through physical artifacts or design elements. Scholarship on African American cultural landscapes suggests that a memory-driven approach is often best suited to understanding the significance of the nation's historically black spaces, which were built under the duress of Reconstruction and Jim Crow, frequently threatened by floods and urban renewal, and often defined less by buildings and physical installations than by customs, stories, and events.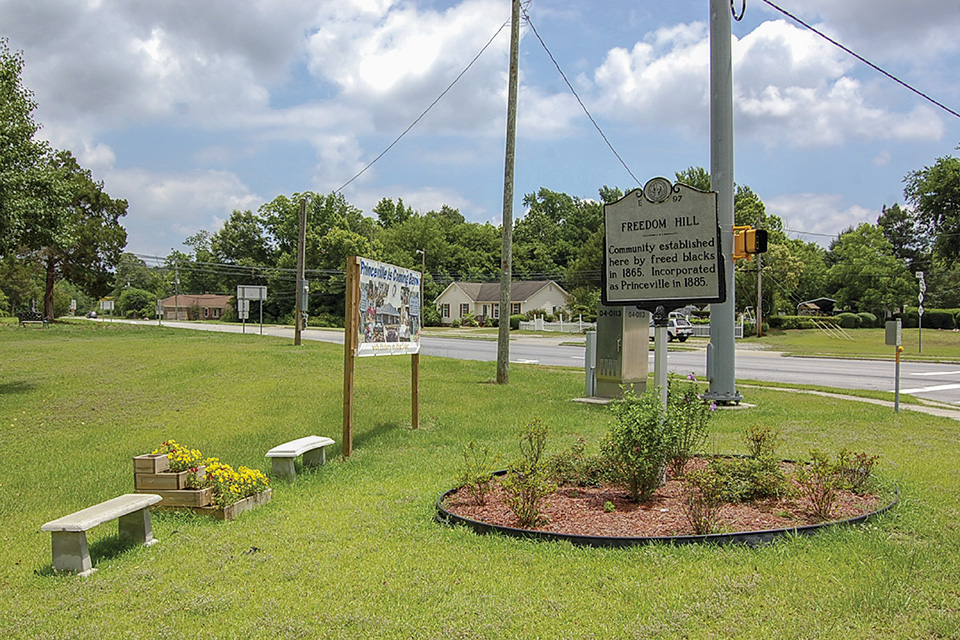 Moreover, the sites that remain anchored via the landscape itself, few as they are, lack formalized strategies for preservation, restoration, or interpretation. The small roadside sign marking Freedom Hill does little to activate that space and its potential to unlock its rich history as a cultural landscape. And Shiloh Landing, located outside the town's limits, lacks any interpretive infrastructure whatsoever. The ability of these cultural landscapes to serve as "portals" into the history of the first free African American town in the nation thus remains a largely untapped resource. Future landscape interventions can work to unite these and other assets to ensure that Princeville's history and extant heritage are more legible and accessible, making use of marked trails and spaces for gathering, as well as additional signage and public art to communicate with current and future generations.
When viewed through a broader interpretative lens, the 230-acre site in Princeville—and the multitude of memories and stories it contains—is a significant cultural landscape that can embody a local history that is key to understanding our national narrative. In The Aesthetics of Equity, Craig L. Wilkins writes about the politics of space from slavery to the present: "Indeed, black folks equated freedom with passage into a life where they would have the right to exercise control over space on their own behalf, where they would imagine, design, and create spaces that would respond to the needs of their lives, their communities, their families." The cultural landscapes of Princeville, in their totality, evoke the atrocities of human bondage and the devastations of floods; but they are also historic sites where people who escaped bondage could design, create, and maintain a home for themselves, their families, and subsequent generations.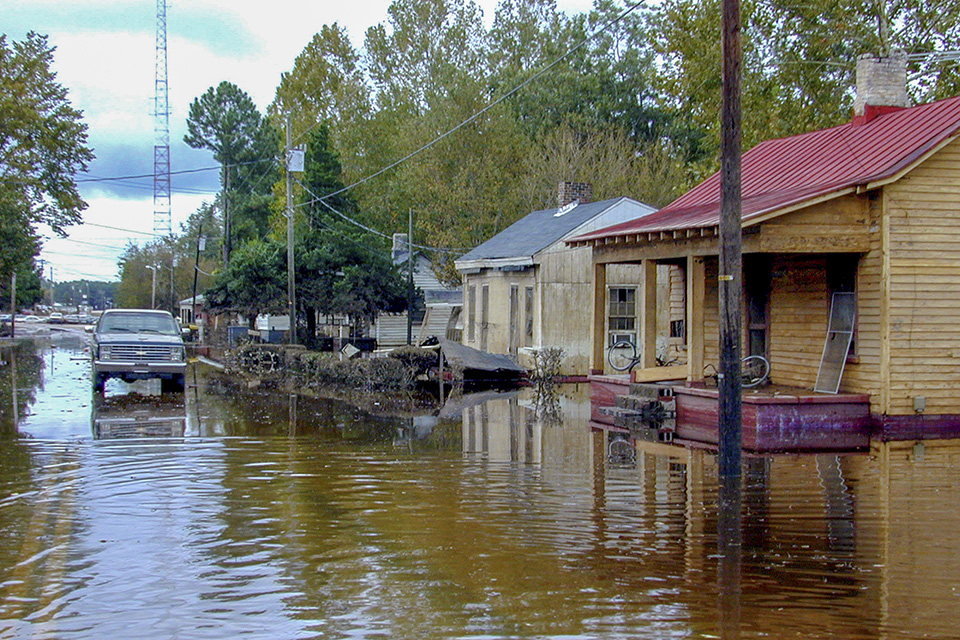 Threat
Princeville's cultural landscape faces threats that are both immediate and ongoing. Climate change threatens to increase the frequency and severity of local floods, which, bringing losses of property and population, will only compound the social and economic challenges already facing Princeville as a small rural town. Every year, from June to November, the threat of flood is imminent, and evidence suggests the threat will grow as hurricanes become more frequent and intense. The capacity of the community to rebuild continually is also uncertain, and as long as the cultural landscape is undefined and under-acknowledged, its long-term fate is equally in doubt.
Defining the cultural landscape—its precise extent and its various landmarks—is difficult because it is grounded in individual and collective memory and in the rebuilding heritage that has become part of Princeville's cultural lifeways. This lack of definition—or even simple recognition—by mainstream historical or preservation organizations reflects a larger challenge that has loomed over the town's cultural landscape since its founding: the failure of public and private institutions to acknowledge the historic nature of Princeville.
In the early 1900s, white supremacists fiercely lobbied the North Carolina legislature to literally erase Princeville from the map, to revoke its charter and fold the town into Tarboro. In the early 1970s, the U.S. Department of Housing and Urban Development assessed nineteenth-century Princeville homes that had been built in independence and freedom by people born into captivity; they deemed the houses non-significant and ordered their demolition. They were replaced by double-wide manufactured homes.
The past disregard for Princeville's place in history has led to widespread and repeated failures to protect its extant artifacts, and the result is that Princeville lacks the critical mass of historic structures to enable traditional preservation approaches, such as historic designation. Without any form of designation—or the funding and protective measures that would accompany it—Princeville's remaining place elements (from structures to discrete landscape features) are at risk from future floods and economic malaise. It is critical for Princeville to find other means of recognition, to raise visibility, and to mobilize support for its unique and irreplaceable cultural landscape.
What You Can Do to Help
Within Princeville and its diaspora community, the public can support Princeville's cultural landscape by contributing stories and images from Princeville's past. With a shortage of remaining built artifacts, these archival materials are essential to defining the cultural landscape of Princeville in terms of the memories and events that have shaped it. The Town of Princeville is working with the Federal Emergency Management Agency and the North Carolina State College of Design to organize opportunities for free image scanning and online document uploads. This is the beginning of an archival repository accessible to Princeville residents and allies who seek to make visible and leverage Princeville's cultural landscape, to promote its unique history, and to build new economic opportunities through community-centered heritage tourism, including but not limited to signage, wayfinding, and heritage trail development.
On a national level, the public can support Princeville's cultural landscape by learning and sharing its history, by donating funds to support rehabilitation and interpretive projects, and by visiting Princeville. With widespread recognition as the oldest incorporated African American town in America, and with a new, concerted effort to translate archival research into tools that can help local people define and share their cultural landscape, Princeville stands to serve as a model for landscape-led revitalization and for the celebration of important spaces too long marginalized by mainstream culture and historic preservation.