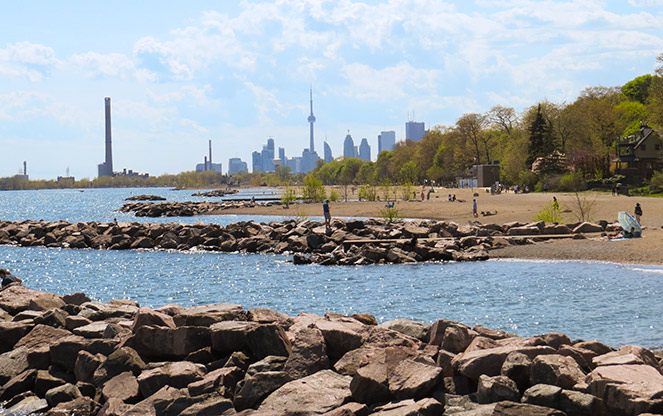 Beaches Park, 2013. Photo © Nathan Jenkins
"I am frequently asked whether I find Toronto sufficiently exciting. I find it almost too exciting. The suspense is scary. Here is the most hopeful and healthy city in North America, still unmangled, still with options."  
–Jane Jacobs, 1969
The What's Out There Toronto Guide from The Cultural Landscape Foundation (TCLF) describes more than two centuries of design and stewardship in the fourth largest city in North America. From the conservation of its extensive system of ravines to the transformation of its formerly industrialized port into an interconnected network of parks and open spaces, Toronto is at the forefront of urban planning and landscape architecture. With an unrivaled collection of Picturesque, Beaux-Arts, Modernist, and Postmodernist landscapes, and more than 1,400 parks, Toronto is well-deserving of the moniker "the City within a Park."
This interactive Guide, profusely illustrated, has grown out of TCLF's ever-expanding What's Out There, a free digital database that makes visible the designed landscapes in our midst. Currently featuring 1,800 landscapes, 900 designer biographies, and 10,000 images, What's Out There—and this Guide—are connected to TCLF's What's Nearby, a GPS-enabled function that locates all sites in the database within a 25-mile/40-kilometer radius of any given location.
This What's Out There Toronto Guide launched with illustrated profiles of more than 80 landscapes and 25 designers—and it will continue to evolve as we expand the reach of documentation efforts in Toronto and, eventually, throughout Canada. Contemporary photos of each site illustrate the unique qualities of Toronto's distinctive landscapes. These accompany original, detailed descriptions of the landscape's history and design, which include courtyards, boulevards, suburbs, parks, plazas, scenic reservations, roof gardens, pedestrian malls, and waterfront development. An extensive essay complemented by historic photographs and maps provides information about the chronological development of Toronto's legacy of landscapes and urban form.
Invaluable support for the development of the What's Out There Toronto Guide was provided by TD Friends of the Environment Foundation, the City of Toronto, and the Ontario Association of Landscape Architects. A number of the essays and photographs in the Guide emerged from TCLF's 2014 partnership with Professor Nina-Marie Lister at Ryerson University, whose eighteen urban planning students spent a semester compiling a list of Toronto's significant landscapes and developing research about a diversity of sites, designers, and local themes. The launching of the Guide in May 2015 coincided with TCLF's Second Wave of Modernism III: Leading with Landscape conference and What's Out There Weekend Toronto comprising free, expert-led tours of almost 50 sites over the course of two days. We hope you will find this Guide a useful and compelling resource, one that will inspire you to explore "the City within a Park."
Toronto's Legacy of Parks and Open Spaces→