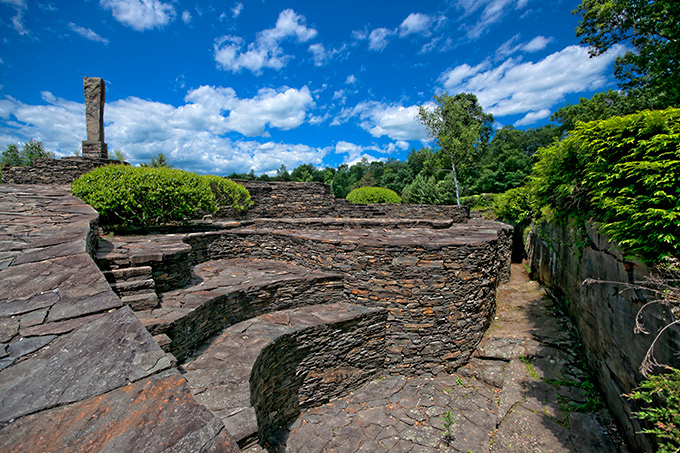 Landslide 2014: Art and the Landscape
The Cultural Landscape Foundation's 2014 Landslide compendium, titled Art and the Landscape, focuses on a broad range of sites. These works of art –from the ancient petroglyphs of New Mexico's Wells Petrogylph Preserve to Robert Morris's sculpted earthworks, the Modernist artworks of Athena Tacha, and site-specific installations such as Tyree Guyton's Heidelberg Project and Sabato Rodia's Watts Towers – are distinct expressions of cultural identity and many are endangered by development, neglect, vandalism, industrial operations, and the natural wear and tear which comes with age. TCLF's annual compendium aims to bring attention to these sites in an effort to raise their visibility and promote informed stewardship. Landslide 2014 is made possible by presenting sponsor The Davey Tree Expert Company, educational partner The American Society of Landscape Architects, and media partner, Landscape Architecture magazine.
"Site-specific works of art in the landscape rank among the most organic and historically significant representations of our cultural identity, and are often the most threatened."
– Charles A. Birnbaum
TCLF's Landslide® program, established in 2003, focuses attention on threatened and at-risk landscapes and landscape features and includes an annual thematic compendium.
Landslide includes hundreds of parks, gardens, horticultural features, and working landscapes – collectively, places that embody our shared landscape heritage. From monitoring threats to chronicling ongoing care and management, Landslide draws attention to these places and rallies support at the local, state, and national levels; with the Web site providing critical links to advocates working to safeguard each site.