the Artists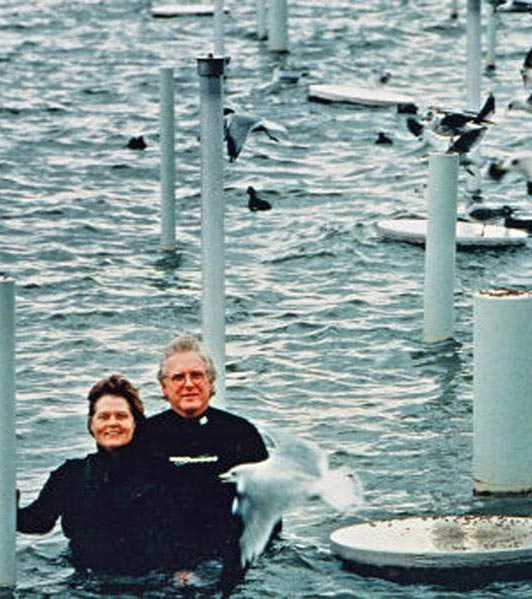 Frances Bagley and Tom Orr
Born in Fayetteville, Tennessee, Bagley received a B.F.A. in painting and an M.A. in art education from Arizona State University, before studying sculpture at the University of North Texas where she received an M.F.A. in 1980. Dallas, Texas native Orr studied sculpture at the Rhode Island School of Design where he received his B.F.A. in 1973. Bagley and Orr were married in 1988.
The Dallas-based couple has produced an extensive portfolio of projects, both independently and collaboratively as a team, including sculptures, installations, and site-specific pieces, such as their design for the White Rock Lake Wildlife Water Theater in Dallas, Texas, completed in 2001. The pair was selected to design the sets and costumes for the Dallas Opera's production of Verdi's Nabucco in 2006. Bagley's works appear in collections including the Dallas Museum of Art, Texas; and the National Museum of Women in the Arts, Washington, D.C. Orr's works are in numerous public collections, among them the Nations Bank Corporate Headquarters, Charlotte, North Carolina; and the Osaka Foundation of Culture, Osaka, Japan.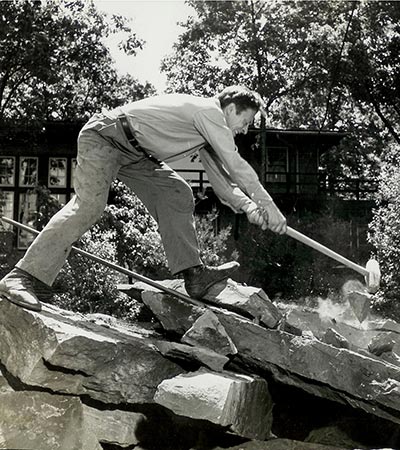 Harvey Fite 
Born in Pittsburgh, Pennsylvania, and raised in Texas, Fite enrolled at the Houston Law School at the age of twenty. Terminating his law studies, he began seminary studies at St. Stephens College in Annandale-on-Hudson, New York where he discovered a love of acting. Three years later he abandoned school to join an acting troupe.
Backstage one day, he picked up a discarded spool and began to whittle. Soon after he became a full time sculptor, and in 1933, his former alma mater, St. Stephens now known as Bard College, hired him to help develop their fledgling fine arts program. Fite settled across the river from the college in 1938, purchasing a twelve-acre property, containing an abandoned bluestone quarry in Saugerties, New York. That same year he was invited by the Carnegie Institute to help restore Mayan sculpture in Honduras. Inspired by the Mayan construction techniques he saw on his trip, in the spring of 1939 he began work building an outdoor gallery on his property to display his figurative sculptures. Working alone, and utilizing quarryman's tools, he constructed the gallery from bluestone rubble using an adaptation of dry key stone masonry. In 1962 he realized that the gallery, a monumental group of pedestals, ramps, steps and terraces, was a work in its own right. Removing his sculptures from the installation, he continued to construct the piece, which he named Opus 40, until his accidental death in 1976 from a fall in the quarry.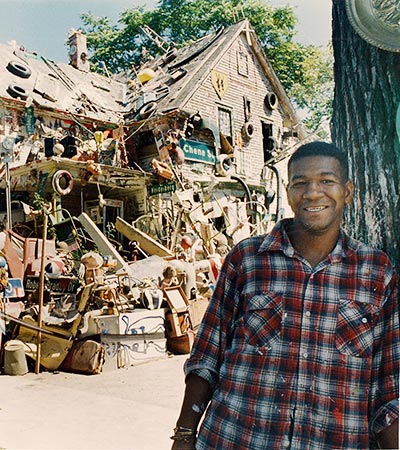 Tyree Guyton 
Born in Detroit, Guyton dropped out of high school and joined the U.S. Army after his cousin was fatally shot in 1972. He returned to Detroit in 1973 where he worked for Chrysler's Jefferson Assembly Plant and the Ford Motor Company. Beginning in 1980, he studied art at Wayne County Community College, Marygrove College, and the College for Creative Studies , which awarded him an Honorary Doctorate of Fine Art in 2009. He worked for the Detroit Fire Department from 1979 to 1984.
Overwhelmed by the violence taking place on the streets of Detroit's East Side, in 1986, helped by his grandfather, Guyton began cleaning up vacant lots on his street and using found objects including vacant houses, trees, and detritus to create a large-scale art environment which he painted with colorful letters, numbers and shapes. Incorporated in 1988 as the Heidelberg Project, Guyton's work has been instrumental in transforming the image of East Detroit and in rejuvenating the surrounding community. Guyton has taught at Syracuse University School of Fine Art, University of Michigan, Harvard University, Ohio State University and the New School for Social Research among others. His paintings and sculptures have been exhibited worldwide and are contained in numerous collections including the Detroit Institute of the Arts, Kresge Art Museum, and the University of Michigan Museum of Art. He continues his work at the Heidelberg Project today.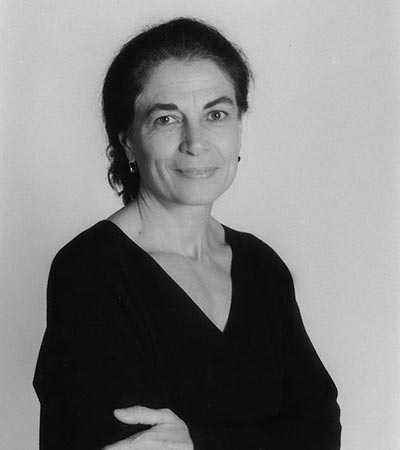 Mary Miss 
Born in New York, Miss received a B.A. in art in 1966 from the University of California, Santa Barbara, and an M.F.A. in 1968 from the Maryland Institute College of Art, where she studied sculpture. She is a pioneer of the land-art movement along with Nancy Holt, Athena Tacha, and Alice Aycock. She created her first temporary site-specific installations in the 1960s, later producing permanent works such as the environmental artwork Greenwood Pond: Double Site in Des Moines, Iowa. Miss's works are interdisciplinary, often informed by the history and ecology of their settings, and include elements of architecture, sculpture, landscape design, and installation art. In 2009 Miss launched the City as Living Laboratory (CaLL) an initiative that encourages artists to collaborate with scientists, planners and other experts to create place-based artworks that engage the public with the environment and issues of sustainability. The inaugural project is Flow: Can You See the River? (2008-2014).
Miss has received numerous awards and honors including three National Endowment for the Arts fellowships; a John Simon Guggenheim Memorial Foundation Fellowship; the American Institute of Architect's Medal of Honor; a Centennial Medal from the American Academy in Rome; and the New York Chapter of the American Society of Landscape Architect's President's Award. In addition, her work has been exhibited at the Museum of Modern Art and the Whitney Museum of American Art (both in New York City); Harvard University (Cambridge, Massachusetts); and the Tate Modern (London, UK).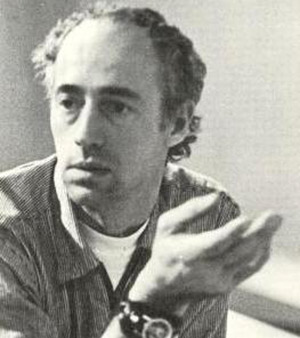 Robert Morris
Born in Kansas City, Missouri, Morris majored in engineering at the University of Kansas City before studying art at the Kansas City Art Institute and the California School of Fine Arts, in San Francisco. He then studied philosophy and psychology at Reed College in Oregon. He returned to San Francisco in 1956 working as an abstract expressionist painter, and participating in choreographer Anna Halprin's groundbreaking dance workshops. He moved to New York in 1960, received an M.A. in art history in 1966 from Hunter College, and began teaching art there in 1967. At Hunter, Morris, who had abandoned painting as a medium in the late 1950s, began producing his first works of Minimalist sculpture.
An artist and philosopher, Morris was a prolific writer, establishing himself as one of the leading advocates for the Minimalist movement.  In the late 1960s and 1970s, Morris helped pioneer Process Art, and became involved early on in the Land Art movement, creating a number of monumental earthworks, among them The Grand Rapids Project, (1974) and Untitled (Johnson Pit No. 30), (1979). His work is in the permanent collections of the National Gallery of Art, Washington, D.C.; the Museum of Modern Art and the Solomon R. Guggenheim Museum, both in New York, New York; the Tate Modern, London, U.K., and elsewhere.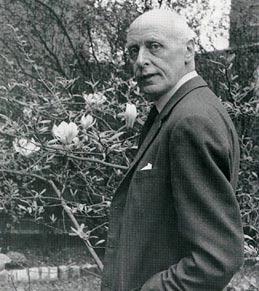 Russell Page
Born in Lincolnshire in the English countryside, Page's love of nature was cultivated from a young age. In his teenage years, he derived an interest in garden design, a passion which he was able to actively pursue, helping his family create a cottage garden at their property in Wragby. At seventeen, he undertook a professional apprenticeship in the art of garden composition. After studying painting for three years at the Slade School, University of London, he left for Paris to continue his art studies. Returning to England in 1932, Page undertook his first large-scale project, an improvement of the parklands at Longleat House designed by eighteenth-century landscape gardener Capability Brown. Other early projects included Ditchley Park, Le Vert Bois and the château de Mivoisin in France, and Leeds Castle in Kent, a commission he continued to work on throughout his life.
Influenced by English, French, and Islamic design, Page is known for the gardens he created both on large estates and in small courtyards throughout Europe, the Middle East, and North and South America. Throughout his career, he experimented in other directions, creating displays for the Festival Gardens at Battersea Park in London in the 1960s, and engaging in urban planning projects in Australia and Venezuela. In 1962, he authored an autobiography, The Education of a Gardener. His later public commissions in the U.S. include a garden for the Frick Collection in 1977 and his last great work, the PepsiCo Sculpture Garden in Purchase, New York.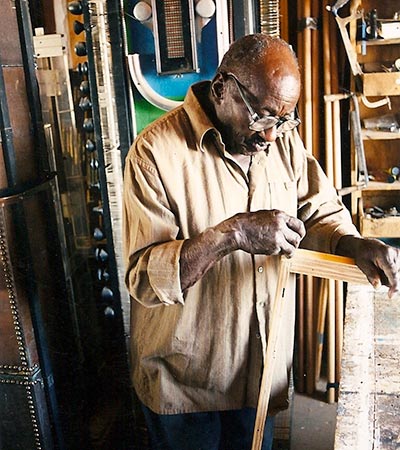 Noah Purifoy
Born in Snow Hill, Alabama, Purifoy received a B.S. in education from the Alabama State Teachers College in 1943, and a M.S.W. in social service administration from Georgia's Atlanta University in 1948. He spent several years practicing social work in Cleveland, and then Los Angeles where he enrolled at the Chouinard Art Institute, now CalArts, as the school's first full-time African-American student. He graduated with a B.F.A. in 1956.
Purifoy co-founded the Watts Towers Arts Center in Los Angeles in 1964; the next year the Watts neighborhood, in which it is located, was the scene of intense racial riots. Using debris that he collected in the aftermath Purifoy assembled a series of artworks, which were displayed in the traveling group show 66 Signs of Neon that he co-organized with artist Judson Powell. The exhibit, which traveled the country, marked the beginning of Purifoy's work with assemblage sculpture, a style with which he became widely associated. He returned to social work briefly in the early 1970s, and then in 1976 he was appointed to the California Arts Commission by Governor Jerry Brown, where he worked for eleven years. In 1989 Purifoy moved to Joshua Tree, California and returned to making art full time, creating large-scale assemblages until his death.
Noah Purifoy Outdoor Desert Art Museum of Assemblage Sculpture →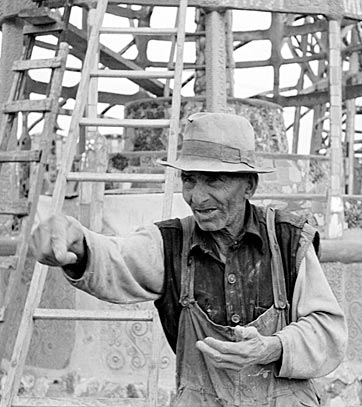 Simon Rodia
Born in Ribottoli, Italy, Rodia immigrated to America in the mid-1890s where he joined his brother in the coal fields of Pennsylvania. After his brother's death in a mining accident he moved west to Seattle, then California, where he held an assortment of jobs, working in rock quarries, logging and railroad camps, and as a tile setter. 
In 1921, Rodia purchased a small triangular lot in Watts, California. Although he had no formal training as an artist, over the next 33 years, he built the Watts Towers, which he referred to as "Nuestro Pueblo"(Our Town). Living in a small cottage on the site, he labored alone and used only simple tools: a hammer, chisel, bucket, pliers, and crowbar to erect a series of spires. Constructed of steel girders, wire mesh, concrete, and pieces of broken glass, seashells and ceramic which he gathered from the streets, the tallest tower was nearly 100-feet high.
In 1955, shortly after completing his towers, Rodia deeded the property to a neighbor and moved to Martinez, California where he lived out the rest of his life. In his later years he remained indifferent to his creation, although he was honored with standing ovations at the San Francisco Museum of Modern Art and University of California, Berkeley in 1961. His unique vision, a significant example of assemblage art, and the only known work that Rodia created, was listed in the National Register of Historic Places in 1977 and made a National Historic Landmark in 1990.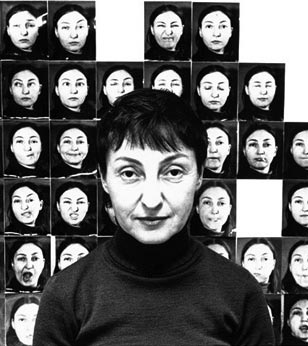 Athena Tacha
Born in Larissa, Greece in 1936, Tacha studied sculpture at the National Academy of Fine Arts in Athens, and later with the help of a Fulbright scholarship received an M.A. in art history from Oberlin College in Ohio. In 1963 she received her Ph.D. in Aesthetics from the Sorbonne in Paris, France, and then returned to Oberlin to begin her career as an assistant curator, and later curator, at the school's Allen Memorial Art Museum, before teaching sculpture classes at the College starting in 1973. In 1998 she moved to Washington, D.C. and began teaching as an adjunct professor at the University of Maryland, College Park. The artist, who completed her first large-scale outdoor work, Charles River Step-Sculpture for a site in Cambridge, Massachusetts in 1974, and her first landscape sculpture Streams in Oberlin Ohio in 1975, is best known for her work with site-specific art, although she also produces smaller scale pieces.
Tacha works with a diverse array of materials including stone, brick, steel, water, plants, and L.E.D. lighting. Her works are informed by her interest in the sciences, and the human experience of space. Her commissions include: Green Acres, Trenton, New Jersey; Connections, Philadelphia, Pennsylvania; and Curving Arcades (Homage to Bernini), Tucson, Arizona. She has exhibited extensively and her work is in the permanent collections of the Museum of Modern Art, New York, New York; the Hirshhorn Museum and Sculpture Garden, Washington, D.C.; and other significant institutions.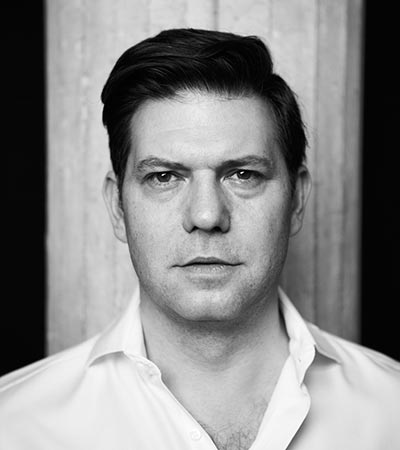 Leo Villareal
Born in Albuquerque, New Mexico, Villareal spent his youth in El Paso, Texas and northern Mexico. He received a B.A. in sculpture from Yale University in 1990, and then enrolled in New York University's Tisch School of the Arts, Interactive Telecommunications Program, receiving his M.P.S. in 1994. After graduating he moved to California, where he worked on virtual reality technology at the Interval Research Corporation in Palo Alto from 1994 to 1997.
Villareal, who is based in New York and known for his site-specific work with L.E.D. lighting and computer technology, created his first large-scale public art installation, Supercluster at MoMA PS1 in Long Island City in 2004. Since that time his work has appeared in numerous solo and group exhibitions. His site-specific installations include Radiant Pathways, Rice University in Houston, Texas; Diagonal Grid, Borusan Center for Culture and Arts, Istanbul, Turkey; and the 1.8-mile long Bay Lights – the world's largest L.E.D. sculpture –installed on San Francisco's Bay Bridge in 2013. Villareal's work is in permanent museum collections including the National Gallery of Art, Washington, D.C.; the Museum of Modern Art, New York, NY; Naoshima Contemporary Art Museum, Kagawa, Japan; and Arario Museum, Seoul, Korea.