"I was going to do something big, and I did. " – Simon Rodia
History
In 1921 on a parcel of land in Los Angeles, Italian immigrant Sabato Rodia, began construction of Watts Towers, a monumental project composed of seventeen, steel reinforced cement stucco sculptures on which he worked for the next 34 years. Today the project, a National Historic Landmark, City of Los Angeles Historic-Cultural Monument No. 15, and listed in the National Register of Historic Places, is part of the Simon Rodia State Historic Park. While the inspiration behind Rodia's work remains a mystery (there is speculation that he was inspired by Italy's Festa dei Gigli[1] ), the project does figure significantly in the development of the assemblage art movement, distinguished by works that incorporate everyday, found and mundane objects. The Towers site has been praised by critics, artists, and the general public.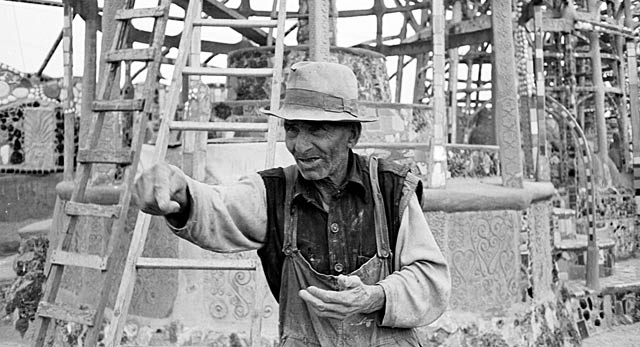 Rodia, who was born Sabato Rodia and known throughout his life as Sam or Simon (a name he didn't answer to, but which he became known by as the result of a mistake in a 1937 Los Angeles Times article)[2] , grew up in southern Italy. He emigrated to the U.S. when he was fifteen, living first in Pennsylvania where he worked alongside his brother in the coal mines. After his brother's death he moved to Seattle, then later Oakland, and Long Beach. He made his way working in construction, quarries, logging and railroad camps. In 1921, in his early forties, he moved to South Central Los Angeles where he purchased a triangular shaped lot at 1761-1765 107th Street in the Watts neighborhood. There he settled, working by day as a tile setter, and in his free time, both day and night, constructing his masterpiece, which he called "Nuestro Pueblo" (meaning "our town").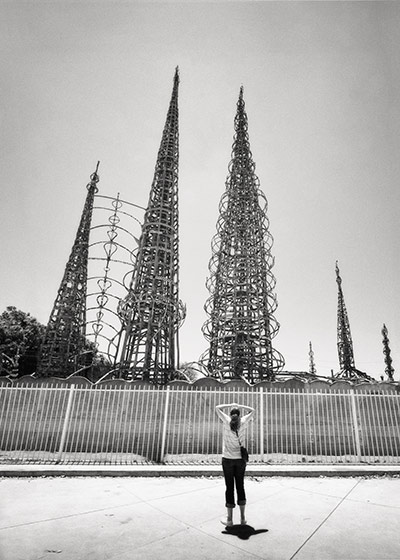 The Watts Towers site features three main towers — two of which are nearly 100 feet tall — and seven other sculptures among them a gazebo and a work titled the "Ship of Marco Polo". The towers, walls and other structures were constructed using salvaged steel of various shapes and sizes that Rodia bent by hand and secured with wire. This armature was then wrapped with wire mesh and covered with Portland cement. The shell or mortar applied to the steel armature was hand formed to create the columns, bands, loops and other elements of the structures that give them their distinctive shape. While the cement was still wet it was embedded with a range of found and donated objects including broken glass, seashells, generic pottery and tile, and many pieces of twentieth century American ceramics.
Rodia built his towers without the benefit of machine equipment, scaffolding, bolts, rivets, welds, or drawing board designs. He used simple hand tools and a bucket that he would carry with him climbing the tall towers one rung at a time. In the 1957 film The Tower, Rodia said: "I did it all by myself, I never had a single helper."[3]
In 1955, Rodia, then approaching 75, left his property with a neighbor, and retired to Martinez, California. A fire destroyed Rodia's former Los Angeles house in 1956, and on February 5, 1957, the Department of Building and Safety ordered the property, including the Towers, demolished. A group of concerned citizens, calling themselves The Committee for Simon Rodia's Towers in Watts (CSRTW) fought successfully to save the Towers, winning their battle in 1959 after a stress test verified that they were structurally sound. In 1961 the Watts Towers Arts Center was constructed adjacent to the property, with Noah Purifoy as its cofounder and first director. In 1975, the Committee gave the Towers and adjoining Arts Center building to the City of Los Angeles for operation and maintenance and in 1978, the Towers were deeded to the State, which undertook extensive restoration of the three main towers. Seven years later, responsibility for the preservation of the Towers was again returned to the City of Los Angeles under the direction of the Department of Cultural Affairs, which continues to operate both the Towers and the Watts Towers Art Center today.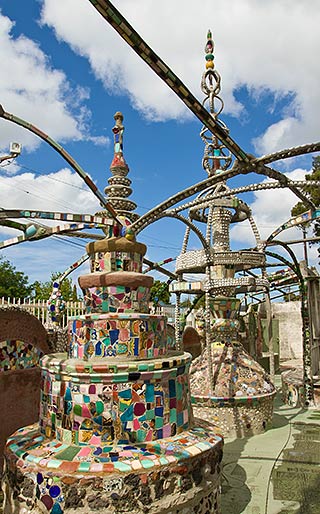 For more than 60 years Watts Towers has been considered a significant work by the art world, particularly within the discourse around pioneering large-scale works that used unconventional construction methods. Buckminster Fuller in a February 1960 interview after visiting the towers said "Sam is the first sculptor I know of in history to think in terms of tension and compression, using more than just a form which sculptors have been using for a very long time ... Sam also came in with what today would be called ferro-cement structure. He thought in terms of very thin shells with a great deal of wire mesh embedded deeply in it ... thin-shelled reinforced concrete, which is the great accomplishment of recent European building in dome structure. He had that well in advance."[4] In addition, artists such as James Turrell, Noah Purifoy, Betye Saar, and others credit Simon Rodia and Watts Towers as being inspirational to their respective studio practice and influential in their understanding of art and its power. The site was also recently listed by Los Angeles Mayor Eric Garcetti as one of four must-see places in Los Angeles[5] and apparently is very popular among European tourists.
THREAT
The Watts Towers has not always received proper care and attention over the years given its history of multiple owners and its location in a neglected and overlooked neighborhood of Los Angeles. Maintenance has also been affected by recent reductions in staff at the City of Los Angeles' Department of Cultural Affairs. In October 2010 the Los Angeles County Museum of Art (LACMA), thanks to the initiative of its director Michael Govan, entered into a partnership with the Department of Cultural Affairs to review and assess the City's existing conservation and preservation plans for Watts Towers, oversee the day-to-day care and maintenance of the site, and to develop a comprehensive conservation management plan, slated for completion in January 2015. The three year contract was extended for an additional year and will be up for renewal at the end of 2014.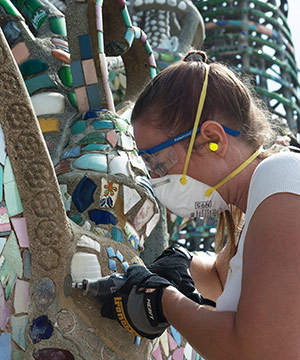 The Towers are subject to deterioration from a number of environmental factors including thermal effects, vibration, and earthquakes, which have created cracks and spalling of the cement mortar covering the underlying iron armature and the subsequent loss of decorative elements. All of the structures comprising the Watts Towers require varying degrees of conservation and restoration. The towers and the gazebo require immediate attention to repair existing cracks and structural damage particularly at higher elevations. Maintenance of the cement stucco is critical to the long term preservation of the Towers to prevent water intrusion and corrosion of the underlying metal armature. Past treatment repairs have failed largely because of the use of incorrect materials resulting in the reappearance of cracks and fissures. LACMA is currently evaluating the long term efficacy of a number of flexible repair mortars and crack fillers, and adhesives for reattaching or securing loose decorative elements.
1 According to Mark Gilberg, Conservation Center Director at the Los Angeles County Museum of Art, "The prevailing opinion is that Rodia was inspired by the Gigli Festival (Festa dei Gigli) which he remembered from his youth. The annual Festival commemorates the return of San Paolino, the bishop of Nola, after selling himself into slavery in North Africa to save a Nola citizen from the same fate. Upon his return via boat, the town citizens greeted him with lilies (gigli in Italian). Today, those lilies are represented by eight giant wooden spires carried by teams of men with very sore backs. There is also a tower with a boat, representing the one San Paolino took back to Nola." 
2 Richard Cándida Smith, "Simon Rodia," American National Biography Online, http://www.anb.org/articles/17/17-01372.html (accessed on September 29, 2014).
3 "The Towers," online video, 11:56, Posted by Prelinger Archives, directed by William Hale (Rembrandt Films: 1957).
4 Kate T. Steinitz, "Buckminster Fuller visits the Towers," Interview, February 2, 1960.
5 "Mayor Garcetti's Los Angeles," Discover Los Angeles, (accessed on September 29, 2014).