"I certainly take inspiration from things that I find in nature … but I'm trying to distill how these things work and evoke them in an abstract way. The exciting thing is how a set of numbers can feel alive or beautiful and evoke all of these things: a set of LEDs and numbers that can make you feel as if you're looking at the most beautiful sunset you've ever seen … "
– Leo Villareal, 2013 [1]
History
On March 5, 2013, the Bay Lights, a monumental installation created by artist Leo Villareal featuring 25,000 white L.E.D.s (light-emitting diodes) – the world's largest L.E.D. sculpture – arrayed along the 1.8-mile, 500-foot high western span of San Francisco's Willie L. Brown Jr. Bridge came to life. A complex, computer program constantly creates changing patterns of shimmering lights along the span. It's an art and electrical engineering feat on a par with the bridge itself, considered by many a marvel of civil engineering when it was completed in 1936. Formally called the San Francisco-Oakland Bay Bridge, it was named one of "Seven Modern Wonders of the World" by the American Society of Civil Engineers in 1955 and an International Historic Civil Engineering Landmark by the Society in 1986. The installation, created in celebration of the Bridge's 75th anniversary, has brought renewed acclaim to the iconic span.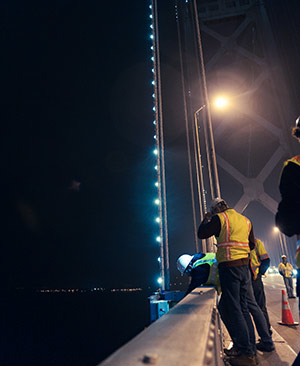 Ben Davis, with the communications firm Words Pictures Ideas, conceived of the project in 2010. In a 2012 interview, Davis recounted: "I was sitting at the Ferry Building looking at the span and thinking that when it first opened it had its moment and since then it has lived in the shadow of the Golden Gate Bridge. I was trying to think of ways to have the Bay Bridge shine again. Then it hit me. Instead of just being a bridge, it could be a canvas." (San Francisco Chronicle, September 18, 2012). A recommendation from a friend led him to contact New York-based Villareal, whose first light sculpture was unveiled in 1997 at Nevada's Burning Man festival. The artist, who studied sculpture at Yale and received a graduate degree from the New York University School of the Arts, Interactive Telecommunications Program, has work in significant public and private collections around the world, including a major permanent installation at the National Gallery of Art in Washington, D.C. Villareal, like Dan Flavin, James Turrell and Keith Sonnier before him, uses light as his principal medium in sculptures of varying scale that have garnered raves. A 2011 review of the ceiling hung work titled Cylinder called it "a thing of fascinating beauty." The critic also wrote: "It is hard to tear away. You keep watching to see what will happen next." (New York Times, June 16, 2011).
The ambitious $8 million project was financed entirely with private donations and required the coordination of a massive coalition of players to get off the ground. Once permits were received, construction took several months. Fiberoptic cable was installed along the entire 1.8-mile stretch of the bridge. At night, working from 8pm to 5am, workers dangling in harnesses attached long strings of lights (a total of five miles in length) to the steel suspension cables positioned vertically along the length of the western stretch of the bridge. Individual L.E.D.s were positioned every foot along the strands. To prevent potentially dangerous distractions, drivers are unable to see the display of lights while on the bridge.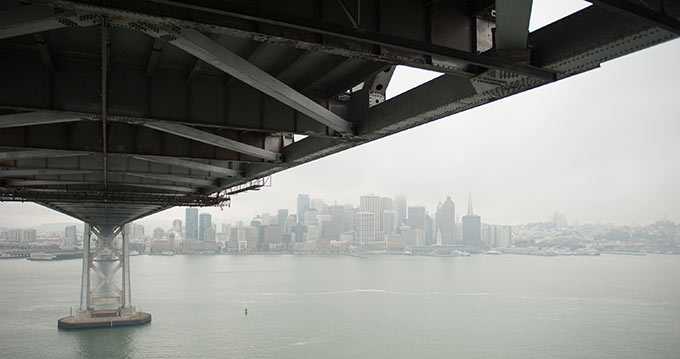 When he began constructing his light sculptures, Villareal was no stranger to technology. He worked early on in his career in Palo Alto and Silicon Valley, a regional connection Davis was aware of when he contacted the artist about the project. As part of his work, Villareal specializes in creating overlapping computer generated programs that generate light patterns that never replicate. On a theoretical level, Villareal's work is influenced by the British mathematician John Conway's "Game of Life," but he also looks to the color theories of the influential twentieth century artist Joseph Albers. He says: "I'm interested in computation and in visually manifesting computation in light – making these operations visible is at the core of my work."[2] Of the San Francisco project, Villareal notes: "The inspiration for my pieces comes from everything that surrounds them, so I'm looking for motion, and obviously this is an incredibly fertile site, there is so much happening with the flow of traffic, the very dramatic weather, the interaction with the sky and the water, and you know it's just really ever changing, so that there's endless inspiration there."[3]
Since the piece's completion the artist's prediction for the work has proved true: "The Bay Lights will be a really monumental piece of public art and my hope is that it will unleash all sorts of creativity around the Bay Area, change the way people feel about what can be done and really get art out and into the public realm in a very large way."[4] It is estimated that 50 million people will have seen it by March 2015.
Threat
The Bay Lights installation was initially contracted for a two-year term ending in March 2015, when the bridge undergoes previously scheduled maintenance. But, the project has been immensely popular with residents, visitors and critics. Indeed, at the opening in 2013, CNN reported "[San Francisco] Mayor [Ed] Lee predicted an extended lifespan for the project, saying the city will want to keep the display longer than its two-year engagement. He hopes it will help give San Francisco the reputation as a location for world class art." [5}
1 Jan Garden Castro, "Programming the Sublime: A Conversation with Leo Villareal," Sculpture Magazine, November 2013, 35-36.
2 Ibid, 35.
3 "The Bay Lights – Interview with Leo Villareal," YouTube video, 4:14, Posted by "StevenEcht," March 3, 2013.
4 Ibid.
5 Heather Kelly, "San Francisco turns a bridge into art with 25,000 lights," CNN.com. Last modified March 8, 2013.