The Beebe Garden, designed by Pacific Northwest landscape architecture firm Lord & Schryver in the 1930s, is situated in Lake Oswego, Oregon. An enduring personal and professional relationship between firm and clients resulted in a premiere Country Place Era garden framing a borrowed view of the Oregon mountains. This private garden is threatened with encroaching development from the Portland suburbs, and risks destruction without a dedicated effort to preserve it.
History
In 1933, Mary and Gerald Beebe of Portland, Oregon, purchased land for a country estate. Mary Beebe asked landscape architects Lord & Schryver to design the four-acre garden on their "small farm." The land, a plowed field with a view of Mount Hood, was a blank slate where "not a wisp of anything" was growing. The house was envisioned as a retirement property: Gerald Beebe worked at his family's marine, fishing, and cannery supply firm, the Beebe Company (established in 1884), and Mary Beebe volunteered with the Girl Scouts and was an active member of the Portland Garden Club. The Beebes hired architect Ernest Tucker to prepared the first house plan in 1934, and by 1935 Lord & Schryver was engaged to start the topographical study and site plan.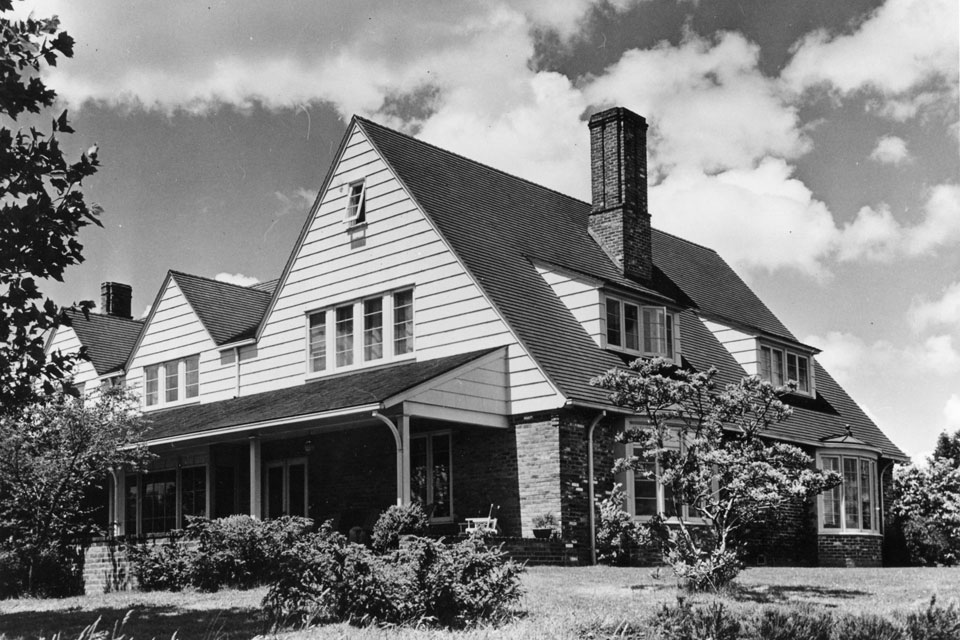 Elizabeth Lord and Edith Schryver, lifelong professional partners, had met in the summer of 1927 while on a European garden tour organized by the Lowthorpe School of Architecture and Planning for Women, which they both attended at different times. After setting up practice in Salem, Oregon, in 1929, the duo continued to travel and import ideas from Europe, Asia, and New York. As their business picked up and they became too busy to leave town often, they lamented the situation, noting in a 1941 letter to Mary Beebe: "our great trouble is that we do not have time to...see newer things."
Lord & Schryver designed close to 200 gardens in the Pacific Northwest over a span of more than 40 years, mostly residential but including several civic and institutional settings. Commissions came from recommendations passed along among a network of friends and through the Portland Garden Club. The duo actively promoted their firm on the radio and by traveling on the lecture circuit. The firm's designs often featured formal axes punctuated by sculptures delineated by boxwood, soft arches formed by flowering trees, or even an ethereal bank of heather, as at the Beebe Garden. They were known for creating elegant garden rooms that could be used for outdoor entertaining or for more private, quiet use.
Work on the Beebe Garden spanned from 1935 to 1940 with continued advising for several years thereafter. The garden's formal aspect reflected the design of the house, a 5,000-square-foot brick-and-wood structure in the English hunting lodge style. Lord & Schryver was involved in every aspect of the site planning, including the grading of the curved driveway and siting of the catch basins. Some of the planting installation was done by the Beebes, though the work mostly fell to their gardener and other staff. The garden rooms included a patio, formal garden, laundry yard, and a vegetable garden, surrounded by a Naturalistic design for the rest of the property, all governed by a view of Mount Hood.
"Crab Avenue," an allée lined with box hedges that led from the house to a garden folly, became the central point of much planning. When a Vancouver nursery, B.O. Case and Sons, specialists in "flowering trees of the Orient," had an inventory sale in 1937, Lord & Schryver was quick to select from the wide offerings, including Chineisis, Floribunda, Hopi, Rinki, and Theifera. Crab Avenue was planted even before the house construction was finished, and became a favored part of the garden for its owners. Mary Beebe noted that the hedge "is like a picture frame," and both husband and wife wrote letters to the landscape architects praising the decision. "I love my walled garden," Mary wrote in 1941, "I know it will always be a joy."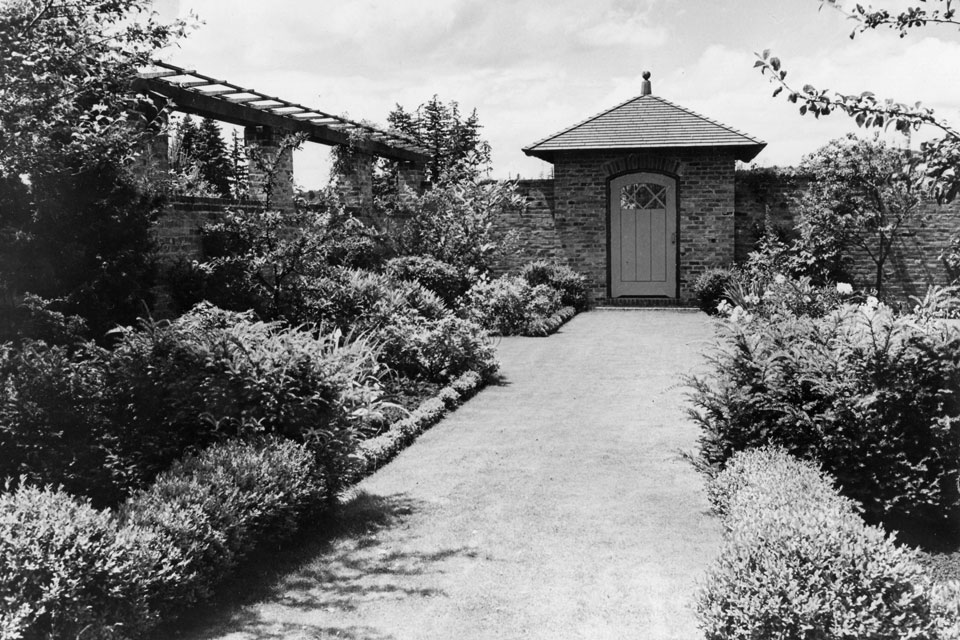 The relationship between the landscape architects and their clients was both personal and professional. Mutual arrangements were made to meet for lectures or concerts at the University Club in Portland, and the Beebes often extended invitations to Lord and Schryver to visit their home and garden, even after the work was completed. The correspondence between firm and client was formal and professional when it needed to be--especially regarding invoicing--but turned familiar as they exchanged worries about driving in the dark at night, or traded recipes for cold remedies, such as an old-fashioned mustard poultice. Ultimately, the Beebes and Lord & Schryver proved to be a team in designing this garden project. When he sent a final payment to Lord & Schryver for the landscape architecture work on his beloved new country house in February of 1939, Gerald Beebe included a note: "it is a pleasure to enclose our check. We are both delighted."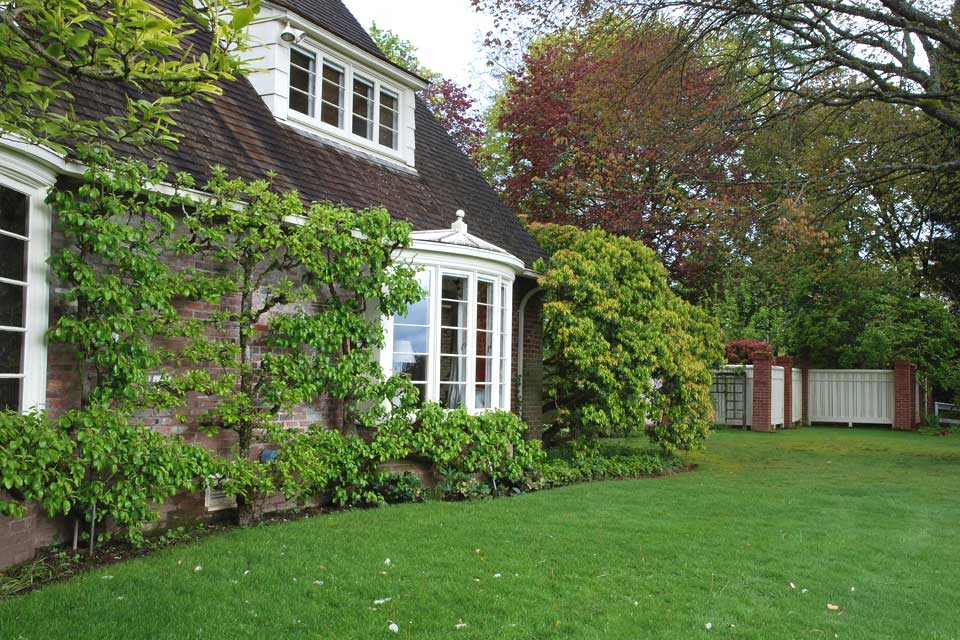 Threat
The Beebe Garden remains largely intact, including the couple's beloved crabapple allée. The main threats to the site today are twofold: encroaching development and the cost of maintaining such a well-realized garden. Development is a very serious threat, according to the current property owners. The five-acre property is in prime-for-new-construction territory in an affluent area of metro Portland. It is surrounded by new homes with minimal land, making its relatively large grounds particularly tempting to developers with an eye toward subdividing the lot.
Finding new owners who value such a garden and will prioritize its maintenance is a challenge. Maintaining the garden demands a great deal of year-round work, requiring skilled staffing at a high level. The Lord & Schryver Conservancy (LSC) is helping to secure the next steward to purchase the property and dedicate attention and resources to maintaining the integrity of the garden. Portland is growing, and LSC's work helps create awareness among realtors who network nationally with high-end clients, expanding exposure among gardeners, gardening organizations, and publications.
What You Can Do to Help
Learn more about Lord & Schryver by following the work of the Lord & Schryver Conservancy. LSC works to preserve the gardens designed by the Pacific Northwest's premiere landscape architecture firm of the mid-twentieth century. You can keep informed about the LSC's ongoing efforts to identify gardens at risk, learn about programming, or provide technical advice.
Make a donation or volunteer to support the LSC mission to preserve, interpret and steward the legacy of Lord & Schryver. Your support of LSC helps the organization protect the well-preserved examples of Lord & Schryver gardens as the highest priority and encourage the re-creation or enhancement of remnant pieces of their landscape legacy using Lord & Schryver design principles and plants.