Disneyland is visited by eighteen million people each year. The park was carefully curated for large groups to navigate seamlessly through its many sections with wayfinding indicated by site-specific plantings and the orchestration of pathways. Yet in March of 1955, mere months before opening day, its landscape was still incomplete. Walt Disney invited landscape architect Ruth Shellhorn to synthesize the work and push the project over the finish line. Her contributions helped transform Disney's vision into one of America's most visited landscapes. Though the park is continually being reimagined, many of its original design elements are intact. Today, despite her vital work on the park's planting design and visitor experience, Shellhorn's name is largely unknown to Disneyland visitors.
History
Disneyland is an 85-acre amusement park in Anaheim, California. This remarkably rich landscape includes 3,000 species of plants, 18,000 trees, and 125,000 shrubs, the cumulative vision of many designers over the years, including one of California's earliest women landscape architects.
Los Angeles native Ruth Shellhorn left home to study landscape architecture and architecture at the University of Oregon and Cornell University. She returned to Southern California in 1933 to live with her parents during the depths of the Great Depression and worked on her own until 1945. Shellhorn's early projects included a shoreline study of open space and recreation areas in Santa Monica Bay, through which she established a connection with the project leader, architect Carl McElvey. McElvy invited her to work with him on the first suburban Bullock's department store in Pasadena, a retail business for which she eventually designed nine landscapes from the 1940s to 1970s. Through the use of well-planned, lush landscapes that invited customers into the space, Shellhorn's work for Bullock's helped establish shopping as a recreational activity.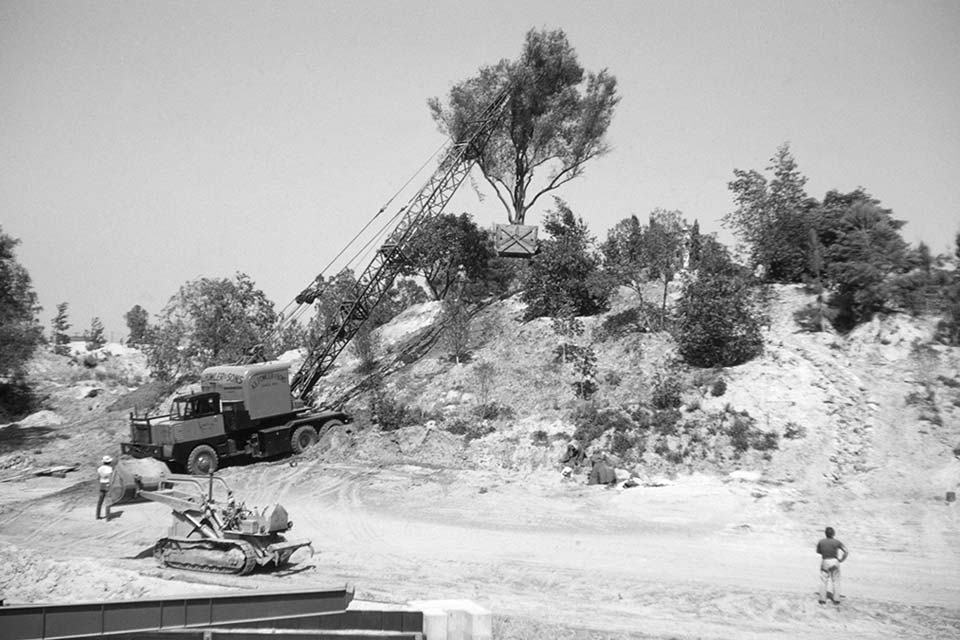 Shellhorn's husband, Harry Kueser, joined her business in 1945 to help supervise construction jobs and oversee the finances. They worked together for almost 40 years, for the most part without other employees. Her career spanned the midcentury era, from 1933 to 1990, encompassing almost 400 projects that ranged from small residential gardens to a campus-wide master plan for the University of California at Riverside. Her work also included commercial commissions and the private homes of Hollywood moguls, which afforded her working relationships with some of the best-known architects of the time, including Welton Becket, Wallace Neff, and many others.
Shellhorn was an early champion of the "Southern California look," an approach that melded bold plant material textures and colors to create a subtropical, sunshine-splashed aesthetic. Still, she did not adhere to any particular style, and worked equally well within a wide range of design aesthetics.
Shellhorn's human-scale designs and careful use of diverse plantings were evident in the original landscape planning she conducted at Disneyland in 1955. First introduced to Walt Disney by architect Welton Becket to liaise between the planning and the all-male design teams to bring order to the massive construction project, Shellhorn ultimately helped finish the pedestrian circulation system, contributed to plans for the Plaza Hub, advised on grading the roads by sharing her expertise in engineering and surveying with the untrained crews, and supervised the digging of the moat around Sleeping Beauty Castle.
She matched specific trees and plant materials with Disney's thematic villages to differentiate between Fantasyland, Frontierland, Tomorrowland, and Adventureland, so the plants would tell the park's story. In the New Orleans area, for example, she planted white-flowering pear and oleander to accentuate the white trim of the buildings and give the scene a crisp, well-manicured appearance. In front of Sleeping Beauty Castle, she planted a melaleuca tree, with its fairy-like leaves and the sinister appearance of its twisted branches and paper-like bark, to help tell the story of the fantastical, magical world of Disney.
Shellhorn focused on the visitor experience, carefully choreographing the movement of visitors throughout the park, just as she had done at Bullock's and UC Riverside, and created significant scenic views and vistas to enhance an experience of wonder. She employed a cohesive palette of trees and understory plantings, using both deciduous and evergreen trees throughout the park to link the various areas. Shellhorn worked with landscape architects Jack and Bill Evans, "shopping" in the vast onsite nursery of these skilled nurserymen and horticulturists to find the perfect trees for each location. In her brief yet significant time working with Walt Disney, her major contributions included pedestrian and planting plans for the Town Square entrance, Main Street, and the areas surrounding and radiating away from the Plaza Hub.
Walt Disney himself acknowledged her work in 1965 in his introduction to Bill Evans' book, Disneyland: World of Flowers: "In giving credit for the landscaping at the Park, it is impossible to mention all who have contributed. Special plaudits are due to Ruth Patricia Shellhorn for her design of the formal Victorian plan for Main Street, the Town Square and the Plaza. The trees and shrubs she selected in the spring of 1955 are still used." In 2020, this acknowledgement still rings true.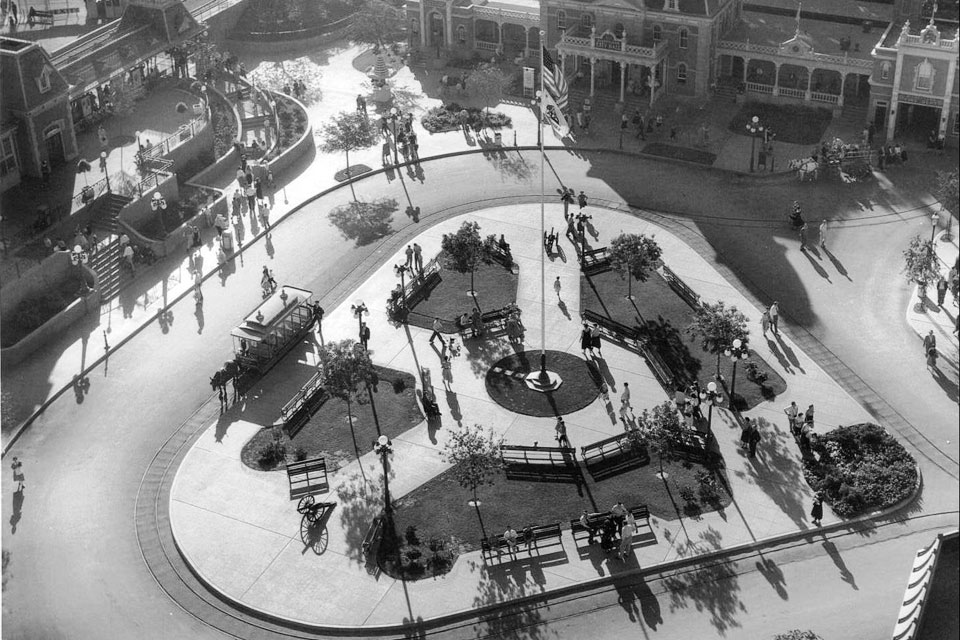 Shellhorn's incorporation of creative and appropriate plant material to tell the stories and highlight the themes of the park is carried on by future generations of "Imagineers" at Disneyland. For these and her other accomplishments, Ruth Shellhorn stands out among Disneyland's pantheon of imaginative, dedicated designers, and as one of only a few women who were there when it all began.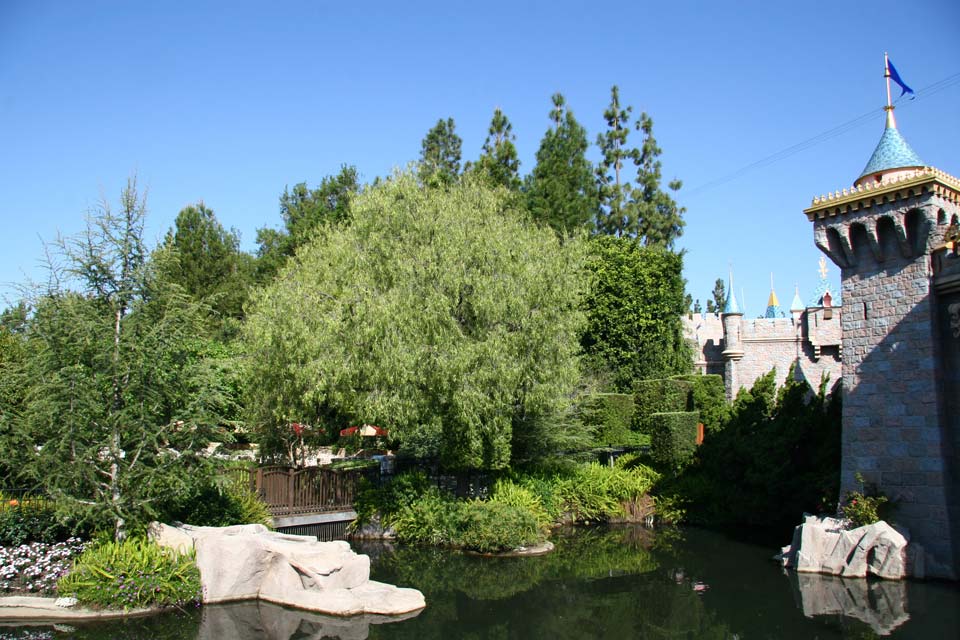 Threat
Much of Ruth Shellhorn's work throughout California is no longer extant. All of her projects for Bullock's have been either dramatically changed or destroyed altogether. Remnants of her designs in some residences and commercial projects remain, and her planning concepts for UC Riverside continue to guide future development. Disneyland alone, however, retains so many distinctly discernable elements of her work, thanks to exceptional maintenance——a fundamental element in retaining the plant material and pathways she planned for the site—and a working environment of respect for this historical cultural landscape. In this way, a vital component of her midcentury legacy and contributions to the Southern California look endures.
Prominent recognition and heightened visibility of her contributions will ensure that future generations understand Shellhorn's important role in the creation of Disneyland.
What You Can Do to Help
Visit Disneyland. On your next visit, take some time to walk through the Plaza Hub, notice the trees and their relationship to each themed "Land," and tell your friends and family about Shellhorn's contributions. This will help spread the story of her work and make sure it remains part of the history of the opening of the park in 1955.
Spread the word about the tree dedication. Disneyland executives plan to dedicate the Melaleuca tree at Sleeping Beauty Castle in Ruth Shellhorn's honor. You can help further the goal of raising Shellhorn's visibility by sharing information about this tree ceremony over social media. Watch this space: TCLF will update information about the social media campaign and other ways to get involved in the dedication as plans develop.