The integrity of James Oglethorpe's eighteenth-century town plan for Savannah, as articulated through the placement of a series of public squares surrounded by well-preserved private homes and civic buildings, has long been at the core of its appeal as a celebrated early American city and tourist destination. In the mid-twentieth century, five of the historic squares, as well as many historic house museum gardens, were revitalized by one of the South's pioneering landscape architects, Clermont "Monty" Huger Lee. Lee's work at these public landscapes served as an innovative model for infusing modernity into historically informed design. However, Lee's work is threatened by neglect and even eradication unless the city acts to preserve the public landscapes of downtown Savannah, along with the historic buildings they complement.
History
By the middle of the twentieth century, Savannah, long past its colonial and antebellum heyday, was in a state of physical and economic decline. Though much historic fabric still remained, urban renewal and the increased demand for vehicular access, including wider roads and provisions for parking, threatened to destroy the integrity of the surviving Colonial-era city plan. In 1949 landscape architect Clermont Lee established her own firm in her native Savannah, and became instrumental in protecting the historical character of the city. As landscape historian Ced Dolder states, "I don't think you could walk through the city of downtown Savannah and not touch a Clermont Lee landscape."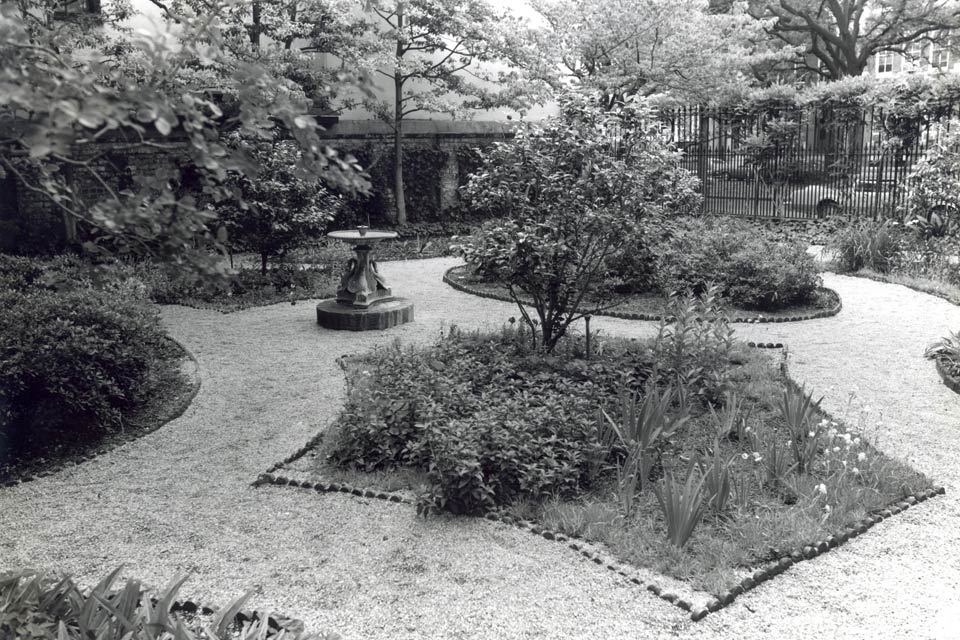 Lee was educated at Smith College (formerly the Cambridge School) in landscape architecture. While other design students in the 1930s explored Modernism, Lee gravitated toward the traditional, with a Southern touch. Upon returning home to Georgia, Lee developed her expertise in repopulating antebellum formal gardens with historically appropriate plant material. Integral to the professionalization of landscape architecture in Georgia, Lee was one of the earliest registered landscape architects in the state, and the very first woman to establish a private practice there. Over the course of her career she worked on more than 100 public and private projects in and around Savannah.
Lee reproduced or designed new, but thoroughly researched and historically appropriate, gardens at a number of significant homes in Savannah's historic district, including the Green-Meldrim House, the Owens-Thomas House, the Andrew Low House, and the Juliette Gordon Low Birthplace. The Birthplace, enrolled as a TCLF Landslide site in 2016, was purchased from Low in 1953 by the Girl Scouts of the USA; shortly thereafter, Lee was engaged to design a garden for the home that would be compatible with its historic character, circa 1850. Lee was involved with the project for more than 40 years. In 2020, Girl Scouts of the USA demolished the historic garden in favor of an expanded paved area for ceremonies and events. Lee's planting plans remain, however, at the Andrew Low House and the Green-Meldrim House, where what she referred to as her "re-creation" of the parterre gardens still welcome visitors today. Moreover, the Birthplace landscape has been documented by the Historic American Landscape Survey.
Lee extended her period-appropriate garden design expertise to larger projects as well, developing planting plans for hospitals, churches, and hotels. Perhaps most immediately visible is her work on Savannah's squares, extant features of the original town plan developed by James Oglethorpe in 1733.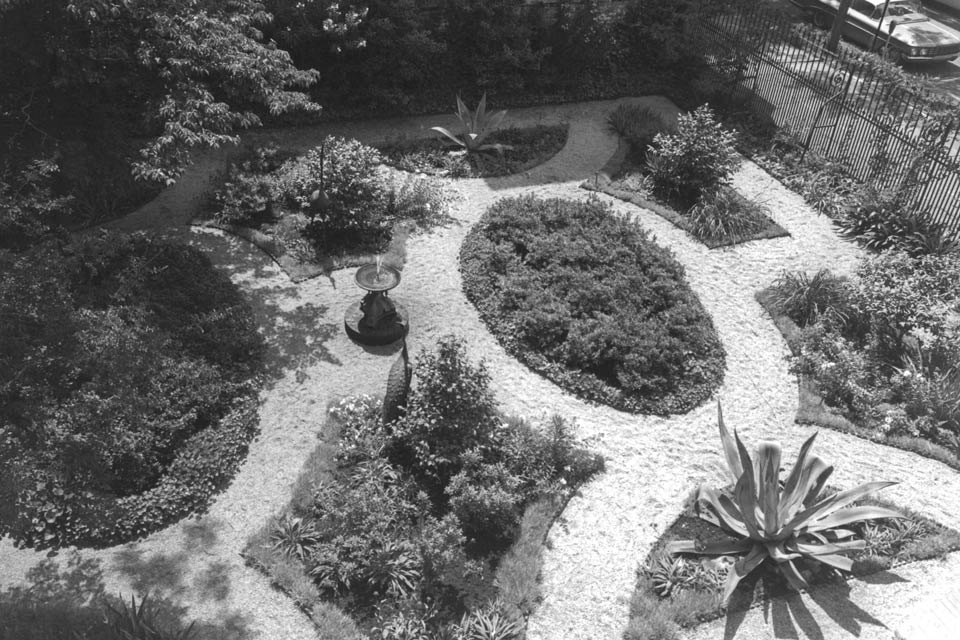 By the early twentieth century, the overworked squares had suffered compounded damages from hurricanes, fires, and heavy use. Ill-maintained and often perceived as dangerous by local residents, by the 1930s the squares had become overrun with weeds and chain-link fencing. The promise of tourism in Savannah prompted the Park and Tree Commission (PTC) to engage landscape architect Georges Bignault to prepare drawings and planting plans for the restoration of the majority of the 24 historic squares. Bignault's plans, according to the city's mayor, consisted mainly of "a mass of foliage." Lee and other landscape architects' involvement with the squares in the 1960s built on this earlier effort, taking the plans in a more holistic direction.
With PTC approval and private funding from various sources, Lee was hired to redesign five Savannah squares: Warren, Washington, Greene, Troup, and Madison Squares. Lee introduced rounded corners to the squares' curbs to enhance the turning radius capability of large vehicles, thereby retrofitting them for modern use while retaining much of their original footprint. She was also instrumental in having existing fire lanes closed. Lee removed aging concrete and boardwalks, weeds, caved-in cisterns, and utility poles, and prepared designs for renewed plantings, pedestrian walkways, seating, and lighting. Using North Carolina bluestone, Lee installed pathway patterns and placed benches of her own design, making the squares more usable and welcoming. Her detailed designs for wrought iron and wood benches show her eye for every detail. In all of the squares, she worked around specimen live oak trees.
Well after retiring and into her 80s, Lee advised local garden club members on appropriate plantings for formal gardens and nature trails. Her historical plant research, evident throughout Savannah, allows visitors and residents to "see" the past while walking through contemporary parks and gardens. Lee's indexed plans have been donated to the Georgia Historical Society. The Savannah Historic District was designated a National Historic Landmark District in 1966 and listed in the National Register of Historic Places in 1977.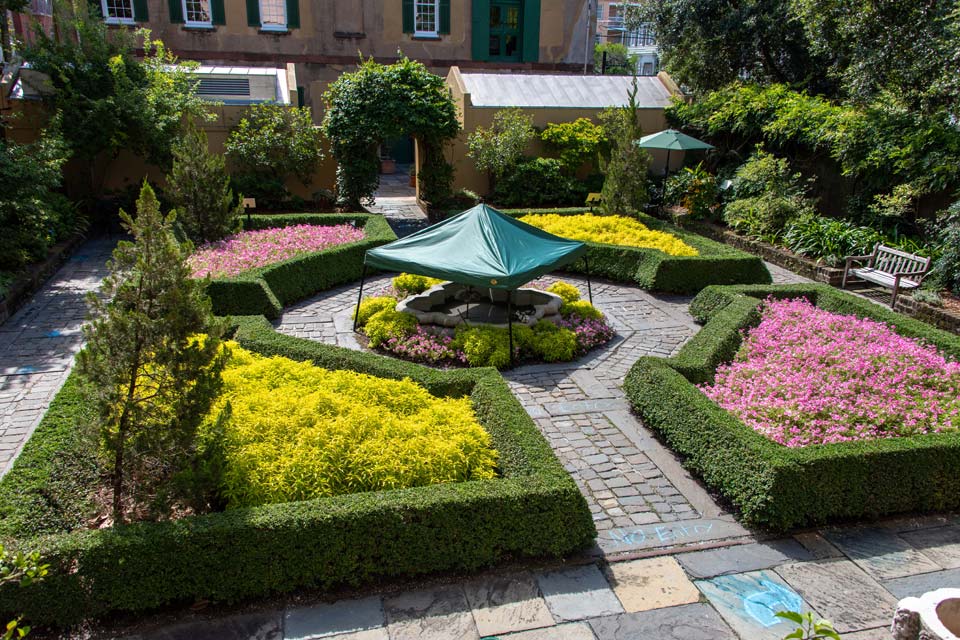 Threat
In 2018, the National Historic Landmark District in downtown Savannah, which includes the extant 22 squares and a number of downtown gardens designed by Clermont Lee, was declared "threatened" by the National Park Service (NPS). The report highlighted what NPS calls the "vulnerability of cultural landscapes," and was an important wake-up call to the historic preservation and design communities.
Lee's work in Savannah is significantly threatened by the limited periods of significance indicated in the National Register listing for the historic district. The Juliette Gordon Low Birthplace historic site, for example, was designated with a period of significance that ended in 1949, which does not take Lee's work into account. This, unfortunately, was a contributing factor to enabling destruction of the garden without recourse. This speaks to a larger issue across the board with National Register and other such designation processes - the significance of cultural landscapes and landscape architecture is often secondary to architectural heritage, if the landscape is acknowledged at all.
What You Can Do to Help
Encourage the city of Savannah's Historic Preservation Commission to protect its cultural landscape heritage as it currently does for significant historic structures. Historic landscapes, including those designed by pioneering landscape architect Clermont Lee, should be afforded the same research and analysis that underpins the evaluation of their integrity and significance, just as the City does with historic structures.
Write to the Planning Commission. In 2020, the Historic Savannah Metropolitan Planning Commission is considering an historic landscape ordinance which would help protect significant landscapes and landscape features. There is currently no such ordinance to protect historically significant landscapes, even while there are many regulations for historic structures. There is a city Landscape and Tree Protection Ordinance, but it does not address specific landscapes of historic importance. Help convince the Commission that this needs to change.
You can write to:
Chatham County-Savannah Metropolitan Planning Commission (MPC)
110 East State Street
Savannah, GA 31401