City Shaping III: The Philadelphia Story

City Shaping III: The Philadelphia Story
City Shaping III: The Philadelphia Story
The transformation of the urban core, as I've written before, is hot, hot, hot. Currently, there's a great deal of attention focused (justifiably) on the much-talked-about opening of the second phase of the much-talked-about High Line in New York, which has put yet more vim into that city's vigor. But if you want to see some serious va-va-voom, set your sites on Philadelphia (and don't get all snarky quoting W. C. Fields now). Philadelphia's exceptional array of parks and open spaces, and the visionary, entrepreneurial and civic-minded people behind them, is where to really see a city center in high gear (and the BYOB restaurant scene is taste bud nirvana).
For more than three centuries, city planning, landscape architecture and a unique civic ambition that emphasizes horticulture as much as the pedestrian experience in its public spaces and streetscapes, have made Philadelphia a fascinating city. From the five squares that were at the core of William Penn's 1683 plan to Dan Kiley's mid-20th-century design for Independence Mall, which connected Franklin Square to the north and Washington Square to the south, the city has a landscape heritage that few others can boast.
However, as with many American cities, the long period of urban growth and development was followed by a social and economic catharsis that saw a protracted and universally painful decline. Fortunately, as we know from observing top models and dinosaur fossils (which, by the way, are not always mutually exclusive), nothing beats great bone structure, and Philly certainly has that in places like Fairmont Park, the Benjamin Franklin Parkway and Society Hill. Add to that some exceptional new public landscape construction -- kicked off with the recent unveiling of Race Street Pier (on the Delaware River) by James Corner Field Operations (landscape architects for the High Line) and the 24-acre recreational Penn Park (on the Schuylkill River) by Michael van Valkenburgh Associates (landscape architects for New York's Brooklyn Bridge Park) -- and you begin to see why that voom gets those vas.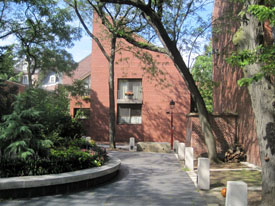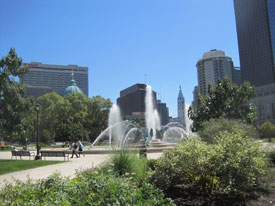 (upper) Society Hill; (lower) Logan Square, images
courtesy The Cultural Landscape FoundationThe work we see today in the 120-acre Society Hill section of Philadelphia, for example, a neighborhood with an abundance of buildings spanning more than three centuries, was a pioneering effort of the 1960s-era Washington Square East Urban Renewal Project, the brainchild of city planning commissioner Edmund Bacon (which also demonstrated historic preservation's powerful role in city shaping). The estimable Philadelphia-based landscape architect John Collins, who passed away early last month at the age of 85, designed it.
Today, Collins' signature site-sensitive approach to landscape architecture -- richly patterned brick sidewalks and walls, granite curbs and backless benches, alleys, street trees, site-specific light standards and bollards, peppered with small courtyards and pocket parks -- can still be read, and has matured gracefully. Other Collins projects, including Schuylkill River Park, Delancey Park and Chestnut Street Park, demonstrate how he established the power of place with well-crafted designs that were built to last and embraced the city's multiple layers of nature, culture and history. His exquisite use of historic materials in a modern way gives his 20th-century landscape insertions a dignity of their own that today see them absorbed into the neighborhood's dynamic and richly articulated cultural fabric.
Two other sites -- Logan Square and the recently rejuvenated gardens surrounding the Rodin Museum -- are also well worth examining. Under the skilled guidance of landscape architect Sue Weiler, a partner at OLIN, the transformation of these signature spaces enhances and amplifies the original designs and, like Collins' earlier work, embraces the landscapes' multiple meanings and layers. Weiler's work at Logan Square visually opened up the space, inviting pedestrians in to linger and sit amidst a restored central fountain. With beautifully choreographed and luxurious plantings harkening back to plants with horticultural, medicinal, pharmaceutical and agricultural benefit -- in celebration of the Lewis and Clarke Expedition Bicentennial -- it is nuanced in its meaning and as celebratory of the cultural narrative as Collins' work decades earlier.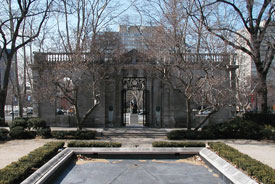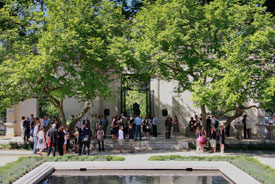 (upper) Rodin Museum before; (lower) Rodin Museum
after, images courtesy OLINThe deceptively simple work at the Rodin Museum is homage to its earlier designers, Jacques Gréber and Paul Cret, who, Weiler says, "understood the integration of architecture and landscape as well as boldness and detail."
Today, it teems with locals and tourists, who take in this richly articulated sequence of outdoor rooms, now repopulated with Rodin's sculptures set amid the restored symmetrical paths and planting beds, complete with Gréber's original use of native plantings, including lavender, thyme and yarrow.
As the stewards of the High Line know, looking gorgeous on day one is the easy part (sort of), but what about five and 10 years down the road? The High Line and other sites have dedicated constituencies. What about the aforementioned Philadelphia sites? They have PHS, the Pennsylvania Horticultural Society. The name may sound very 1827 (the year it was founded), but PHS, with generous support from the Pew Charitable Trusts, the William Penn Foundation and the Knight Foundation, is a 21st-century juggernaut managing much of the city's shared landscape heritage -- from parks and parkways to piers and plazas. Its president, Drew Becher, an energetic, entrepreneurial ideas machine animatedly said, "While a skyline can be beautiful from afar, when you get here, the city has to have a soul ... Philadelphians are seeing that soul come back to these spaces, and these spaces are where people want to be. When was the last time you heard someone say, 'Let's meet at the Bell Atlantic Building'? They say, 'Let's meet at Logan or Franklin Square,' and looking ahead it will be the Race Street Pier."
The Race Street Pier, which opened this past May, is an example of how the city is reclaiming its river edge, and this finger-like promenade, jutting out into the Delaware River is a harbinger of other open-space improvements that will be dotted along the river at half-mile intervals. Though similar in detail and design to the High Line, this place is of and about Philadelphia and cleverly leverages the waterfront as it accommodates numerous passive uses such as strolling, promenading and viewing. Working with the Delaware River Waterfront Corporation and the City of Philadelphia, PHS is providing ongoing stewardship for the site's 10,000-plus perennials and 37 swamp oaks (which came from the same nursery as those at the new World Trade Center memorial at Ground Zero).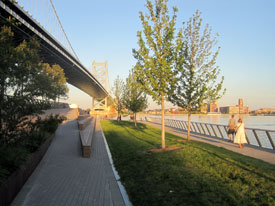 Race Street Piers, image courtesy The Cultural Landscape
Foundation.Of Race Street Piers, Becher says, "This project moved the ball away from the traditional application of antique lights and benches -- now with this more modern design we can see that people love it and want to see more." He continued, "Looking ahead at PHS, we want to do have the opportunity to also [experiment] with plant materials ... let's do strange and interesting plant concoctions. It has been 10 years since Logan -- it looks good, but you need to [continue to] draw attention back and keep these spaces changing all the time -- we can do this with landscape architecture and horticulture." He's also looking at landscaping Amtrak's northeast corridor, beginning with the 20-mile gateway to the city of Philadelphia -- now that's thinking big.
As Weiler observes, "People today are talking about landscapes, and they are more interested in the public realm because they are in it." She adds, "Philadelphia is a more exterior city and here people are more attuned to the natural environment -- the way the city is situated between two rivers. Fairmount Park is the watershed, and the city fathers were visionary in protecting this. Philadelphians want to enjoy the difference between inside and outside, and they want the transition to be right, too -- all the way from the Delaware River to the Art Museum -- the extraordinary improvements have been great."
What's happening in Philadelphia right now -- orchestrated by an inspired, dedicated and hard working mixture of patrons, stewards, landscape architects and urban planners -- bodes well for the city, but it's also something for other city stewards to watch.
This Birnbaum Blog originally appeared on the Huffington Post website on September 13, 2011.