feature
Just Wild about Larry
With the recent posting of the Lawrence Halprin oral history module, the latest in TCLF's ongoing Pioneers of American Landscape Design series, we have received several interesting unsolicited submissions that are "under the radar" in the context of Halprin's most celebrated works of landscape architecture. The following two places are individually interesting, while also suggesting that there is an ever-increasing fascination with Halprin's design philosophy and built legacy.
The first item was submitted by Anthony Rubano of the Illinois Historic Preservation Agency who was visiting Flint, Michigan, with Ron Campbell, Principal Planner for Oakland County. One of the sites Ron took Rubano to visit was Riverbank Park. Here, Rubano writes us proclaiming that "it was magnificent". It seems that this largely unknown Halprin design was conceived as part of an Army Corps of Engineers flood control project.  It is comprised of five connected block parks that included market stalls, an amphitheater, and a large fountain with a highly animated water feature that uses storm water and water from the Flint River. During their visit Campbell was amazed to see the fountain working, it was only later that he discovered how it came to be repaired (click here for article).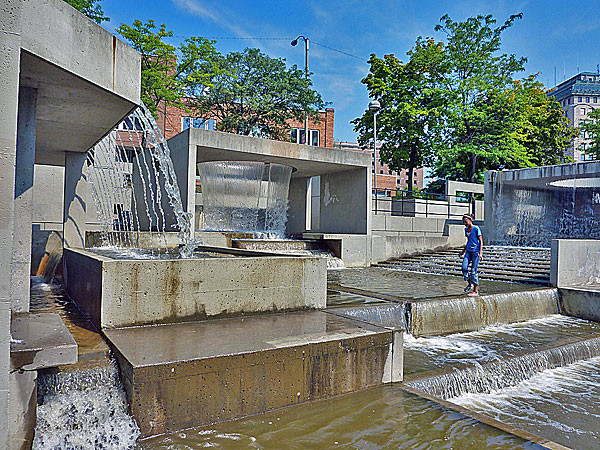 At the opposite end of the spectrum, a Santa Barbara-based landscape architect was recently visiting Legoland in Carlsbad, California (near San Diego) with her son. While the two were exploring Miniland USA --  they came upon seven reproductions of American scenes from urban to rural, constructed with 20 million LEGO bricks in 1:20 scale. As the two California residents explored the park they came upon the San Francisco landmark – Embarcadero Fountain constructed entirely of Lego – Van Atta reports that she "was gratified to see the Halprin designed fountain and plaza as a recognizable landmark, and even more pleased to see all the pennies in its basin.