feature
Sacrificial Lambs: Part II
On the heels of my recent trip to the Hamptons, the issue of overdevelopment, in which landscape is sacrificed for structure, re-surfaced on my arrival home. Washington Post culture critic Philip Kennicott weighed in on four proposed sites on or near the National Mall for a new museum ("In Siting a National Latino museum, the best view is the long view," July 18, 2010). Congress would seem to have addressed the tipping point issue in 2003 legislation that deemed the Mall "a substantially completed work of civic art." Kennicott concurs and suggests an alternate site – a park several blocks from the Mall labeled "a forgotten spur of 10th Street SW." At no time does the article say that the 10th Street Overlook park [now known Banneker (Benjamin) Park] as was designed by Presidential Medal of Arts recipient, landscape architect Dan Kiley. Not a minor figure. In fact, Frederick Law Olmsted is perhaps the only person with more works of landscape architecture designated as National Historic Landmarks. Kiley's other projects in the region include Hollin Hills (1949), Capitol Park Apartments (1956), Dulles Airport (1963), the pilot block for the Pennsylvania Avenue redevelopment (1968) and the National Gallery of Art East Building (1978). However, I think nothing equals the power and simplicity of the Overlook's central, low-slung, cone shaped fountain that sends a surge of water more than 30 feet in the air.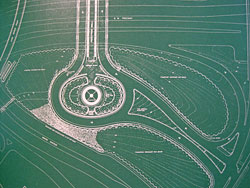 Kiley's plan for the 10th Street Overlook.
Recognizing that the proposed Overlook site is the work of a master landscape architect, how does its potential demolition inform site selection for the new museum? Is this the best and only alternative to keep new construction off the Mall?
As long as our cultural landscape heritage remains invisible and undervalued -- from the open pastoral scenery of the Hamptons to the shared civic landscape of our nation's capital, we can expect more landscapes to serve as sacrificial lambs for new building construction.