Landslide
Decision Imminent on Bell Labs' Nomination to National Register
The modernist corporate headquarters where the cell phone was born, and where Karl Jansky conducted his groundbreaking work in radio astronomy, is now being considered for listing on the National Register of Historic Places (NRHP). The nomination, prepared by Heritage Consulting Group and submitted to the National Park Service in 2015, touts the site's significance in the categories of architecture and landscape architecture and "includes the portion of the site that was designed by the landscape architecture firm of Sasaki, Walker and Associates in collaboration with Eero Saarinen and Associates."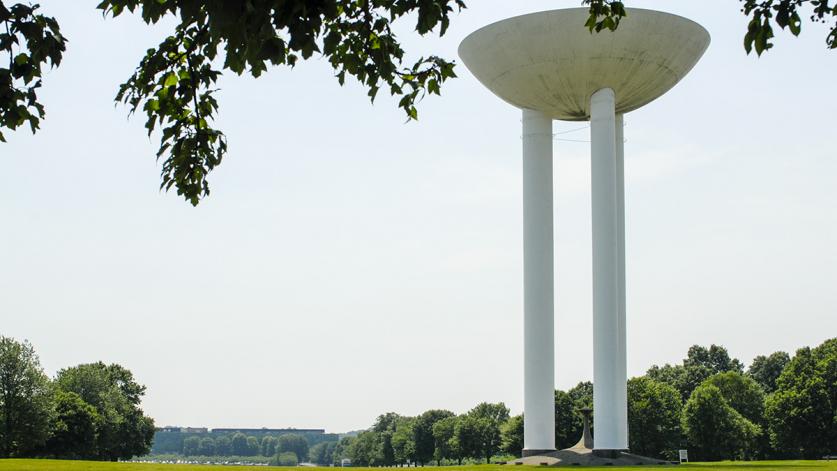 Just 35 miles from Manhattan, the two-million-square-foot glass-clad building was constructed in three phases between 1959 and 1985. Sasaki, Walker and Associates designed a 134-acre portion of what was initially a 472-acre site, the remainder of which was left as open fields and wooded expanse. At its core, a keyhole-shaped parcel is outlined by mature-canopy trees and comprises two main parts: an ellipse that surrounds the building itself and a long, tapering lawn defined by entrance and exit roads extending to the north. Saarinen's building bisects the middle third of the ellipse, which contains symmetrically arranged lawns, plantings, and bodies of water: the northern portion contains a pond (190 x 140 yards) and parking area; while the lagoon-like southern water feature is outlined by trees, with a central island accessed via a footbridge.
The complex remained operational until 2006 and was vacated by Alcatel-Lucent (the successor to Bell Labs) in 2007. TCLF enrolled the site in its Landslide program that same year, after plans were announced to demolish a large portion of the Saarinen building and install new corporate office-style structures within the surrounding ring road of the ellipse. TCLF also joined several groups to form a coalition, which sponsored the "Bell Labs Charrette," a preservation study undertaken in 2008 and published in 2009. After languishing for several years, the site was purchased in 2013 by Somerset Development, which received approval to re-purpose the building as a mixed-use town center. The newly refurbished complex, a commercial hub dubbed "Bell Works" and featuring shops, offices, a hotel, and other facilities, has already garnered several high-tech tenants (Acacia Communications, Nvidia, and McCann Systems), according to an article by Bloomberg News in March 2016. And a wave of tax credits issued by the New Jersey Economic Development Authority is attracting other companies to the Holmdel site as well.
As reported by Architect magazine in May 2016, the construction and real estate company Toll Brothers has begun to build homes along cul-de-sacs flanking the campus's entrance ensemble; but with the survival of the modernist building and landscape associated with the ellipse, the site's historic core remains intact. A decision about the NRHP designation is forthcoming.