Landslide
Eckbo's Union Bank Plaza Landscape is SAVED!
On February 26, the Los Angeles City Council voted in support of a recommendation by the city's Cultural Heritage Commission to make Union Bank Plaza the first downtown skyscraper to be designated a Historic-Cultural Monument. The council's vote cemented the property's status as a local historic landmark with a designation that includes Garrett Eckbo's Modernist plaza, as well as the towering structure that rises from it.
Working with Adrian Fine, the director of advocacy at the Los Angeles Conservancy, TCLF enrolled the site in its Landslide program in July 2019 after KBS Realty, which owns the property, publicly announced plans for a $20 million renovation of the plaza. The conservancy simultaneously submitted a nomination to the Cultural Heritage Commission seeking to designate the tower and plaza as a local landmark (aka an Historic-Cultural Monument). On August 15, 2019, the Cultural Heritage Commission voted unanimously, 5–0, to confer landmark status on Union Bank Plaza. Ultimately, KBS Realty did not oppose the nomination, and the company is now fully prepared to embrace the value of the property's newly achieved historic standing.
Located adjacent to the Harbor Freeway in downtown Los Angeles, Union Bank Plaza (originally called Union Bank Square) was built in 1968. The complex included the first skyscraper—a 40-story tower—to be erected in downtown Los Angeles after the 150-foot height limit was repealed in 1957. Designed by the architectural firms of Harrison + Abramowitz and Albert C. Martin Associates, the building and its innovative landscape by renowned landscape architect Garrett Eckbo have long been recognized for their iconic design.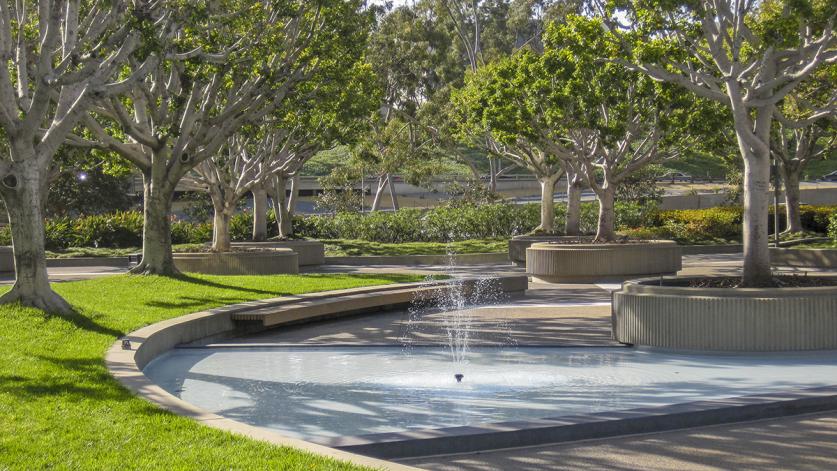 Eckbo's plaza was intended to be accessed by pedestrians from the street, but it was designed in equal measure to be viewed from above, by Union Bank employees. Occupying the northeastern part of the site, the plaza is formed by a circle inscribed within the lot's rectilinear boundary and is visually organized as a grid painted into the aggregate paving. The grid is disrupted by biomorphic and organic forms that comprise a series of sculpted grass islands surrounded by water and linked by a central bridge, the whole ensemble recalling paintings by Joan Miró. In 2015 an Historic American Landscapes Survey (HALS) affirmed that the plaza remains in good condition, summarizing its significance with the following statement:
The Union Bank Plaza is an intact artifact of the American Modernist movement as interpreted via landscape architecture in an urban context specifically, as opposed to the more well-known case studies from the residential realm. The plaza is also an excellent and publicly accessible representation of Garrett Eckbo's thesis on landscape architecture, and his underlying pursuit of a new visual and spatial vocabulary for organizing exterior space.