Garden Dialogues: New York Metro Area

Garden Dialogues: New York Metro Area
Garden Dialogues: New York Metro Area
Jun 20, 2015
to
Jun 27, 2015
On June 20 and June 27, get exclusive access to private gardens in New York City, The Hamptons, and Westchester, and hear directly from the designers and their clients about their collaborative process.
How do clients and designers work together? What makes for a great, enduring collaboration? Garden Dialogues provides unique opportunities for small groups to visit some of today's most beautiful gardens created by some of the most accomplished designers currently in practice.
This event is now complete.
---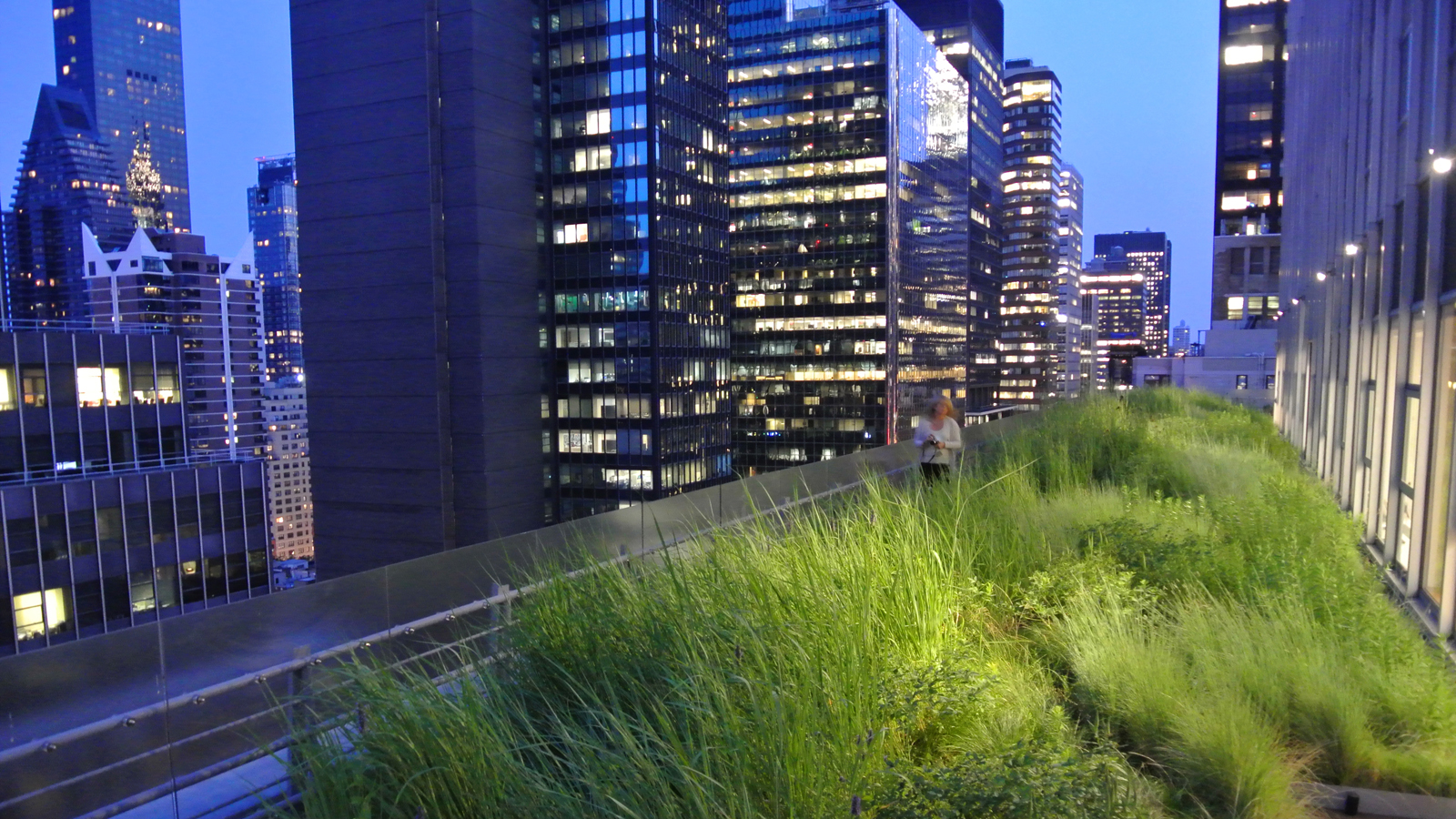 Saturday June 20, 10:00 to 11:30am | Manhattan
Midtown Sky Garden
Hank White, FASLA, and Aaron Booher of HMWhite
This excursion to a spectacular workplace landscape will take visitors up high above the busy streets of Manhattan. The award-winning, 6,500 square-foot terrace of the Midtown Manhattan Sky Garden takes advantage of panoramic skyline views while providing an intimate garden backdrop to the mid-century-modern building's newly-renovated interior workspace. Richly textured and seasonally diverse plantings include a dense blanket of drought-tolerant prairie grasses, wildflower perennials, and spring flowering bulbs, punctuated by flowering Crab Apple trees. At twilight, the garden evolves into a subtle stage set of textured plantings, rustling softly against the glow of a frosted glass parapet rail—a soothing space where workers can escape the conference room or the electrifying noise of the dense urban environment. The roof garden's biophilic design has elevated employees' well-being, productivity, and morale. more photos
---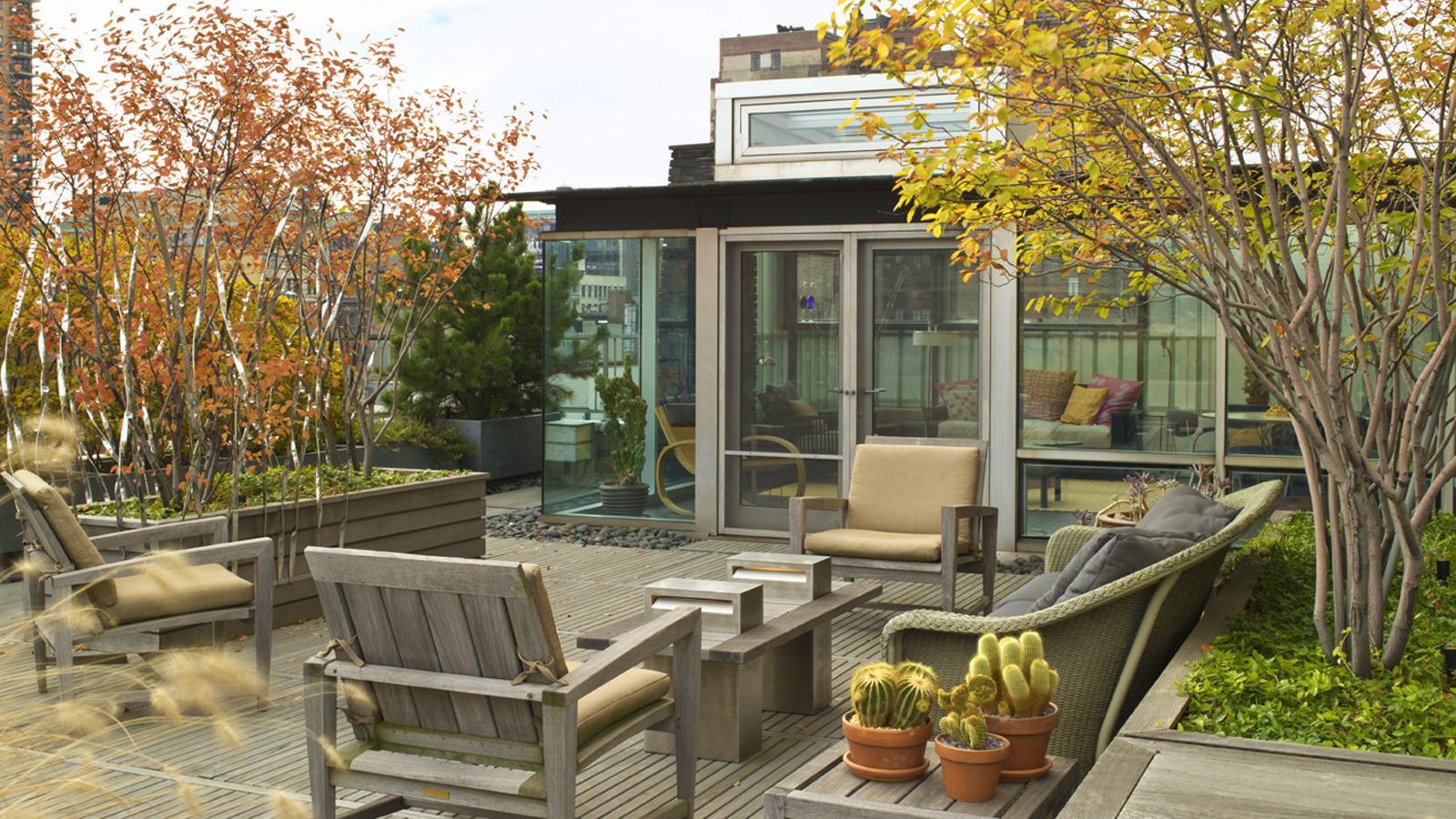 Saturday June 20, 1:30 to 3:00pm | Greenwich Village
Urban Aerie
David Kamp, FASLA, of Dirtworks Landscape Architecture, PC
For their award-winning terrace design, the landscape architects created a relaxing setting using the same materials they employed on their client's beachfront hideaway (as part of this Dialogue, attendees visit the terrace where they'll also get a presentation about the beach property). Contrasts in texture and color are carefully arranged. Cedar, weathered to a buff grey, is used throughout for decking and set off in places with borders of dark round stones. The wood is carefully treated so it's smooth underfoot. Two bow front metal perimeter planters overflow with grasses, which soften the edges. Strategically placed cedar planters with amelanchier, also known as juneberry, are used as a screening device, to frame dramatic views from the apartment and provide some canopy. A single pine, together with the juneberry, provides sculptural interest. All the plants, which are either native or naturalized, weather the harsh winter winds and temperatures. more photos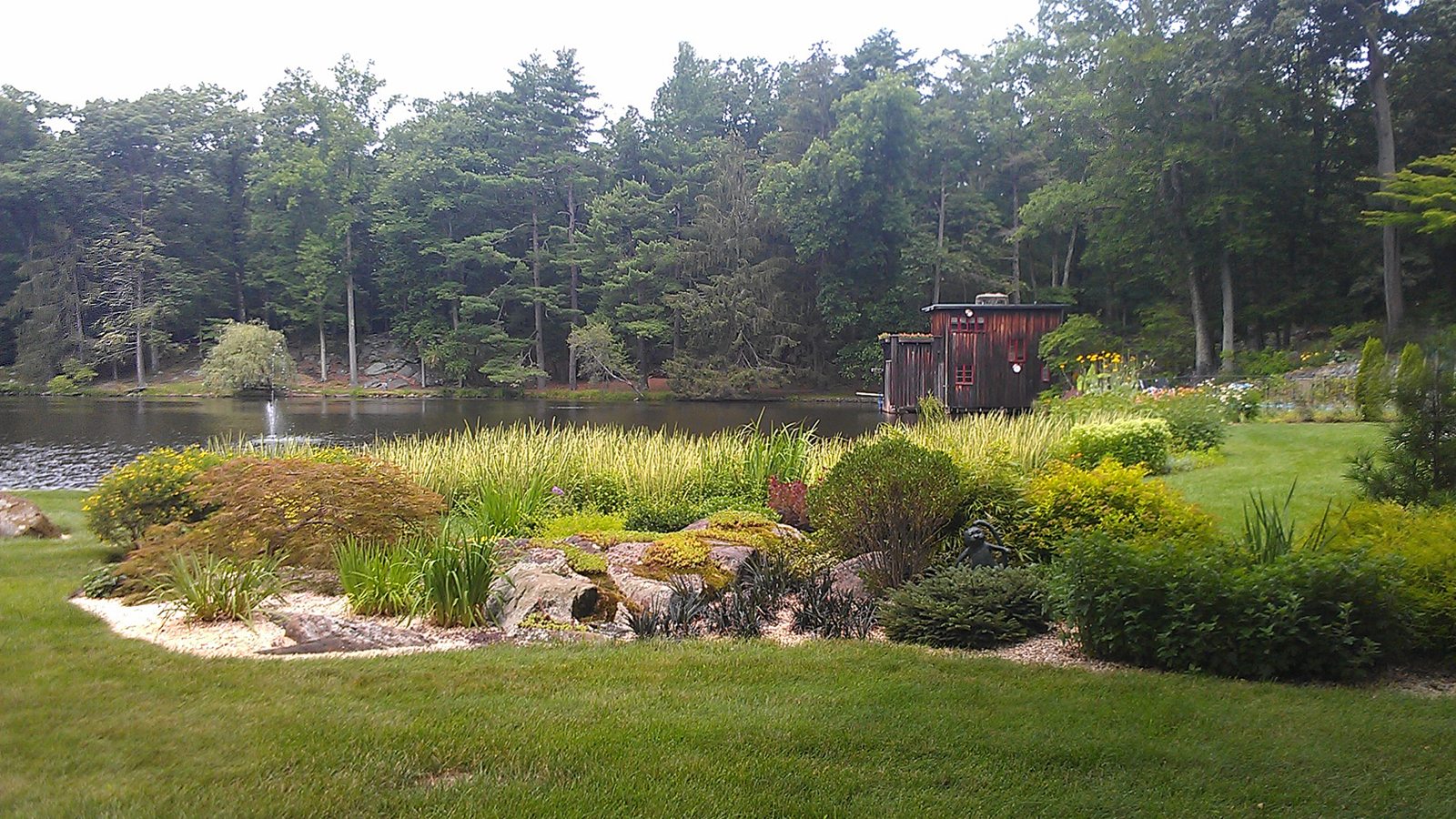 Saturday June 20, 1:30 to 3:30pm | Ossining
M. Bakwin Estate
Michael V. Ruggiero, RLA of MVR Landscape Garden
Nestled among an impressive array of large rock outcrops, this Tudor-style home and garden offers panoramic views of its central ten-acre groomed landscape. From the house and terraces, visitors enjoy a vista of towering trees, spacious lawn areas, dramatic rock outcroppings, lush gardens brimming with seasonal color, a three-acre pond, orchards, and meadows. An 'integrated' deer fence protects such gardens as the vegetable garden, a Japanese style garden, and a perennial border. Forty acres of mature, deciduous forest completely enclose the property. A dense, planted understory and years of moss overgrowth carpet the forest floor and exposed rock, revealing the interplay between the designed and natural and celebrating the rugged vernacular New York landscape.  more photos
---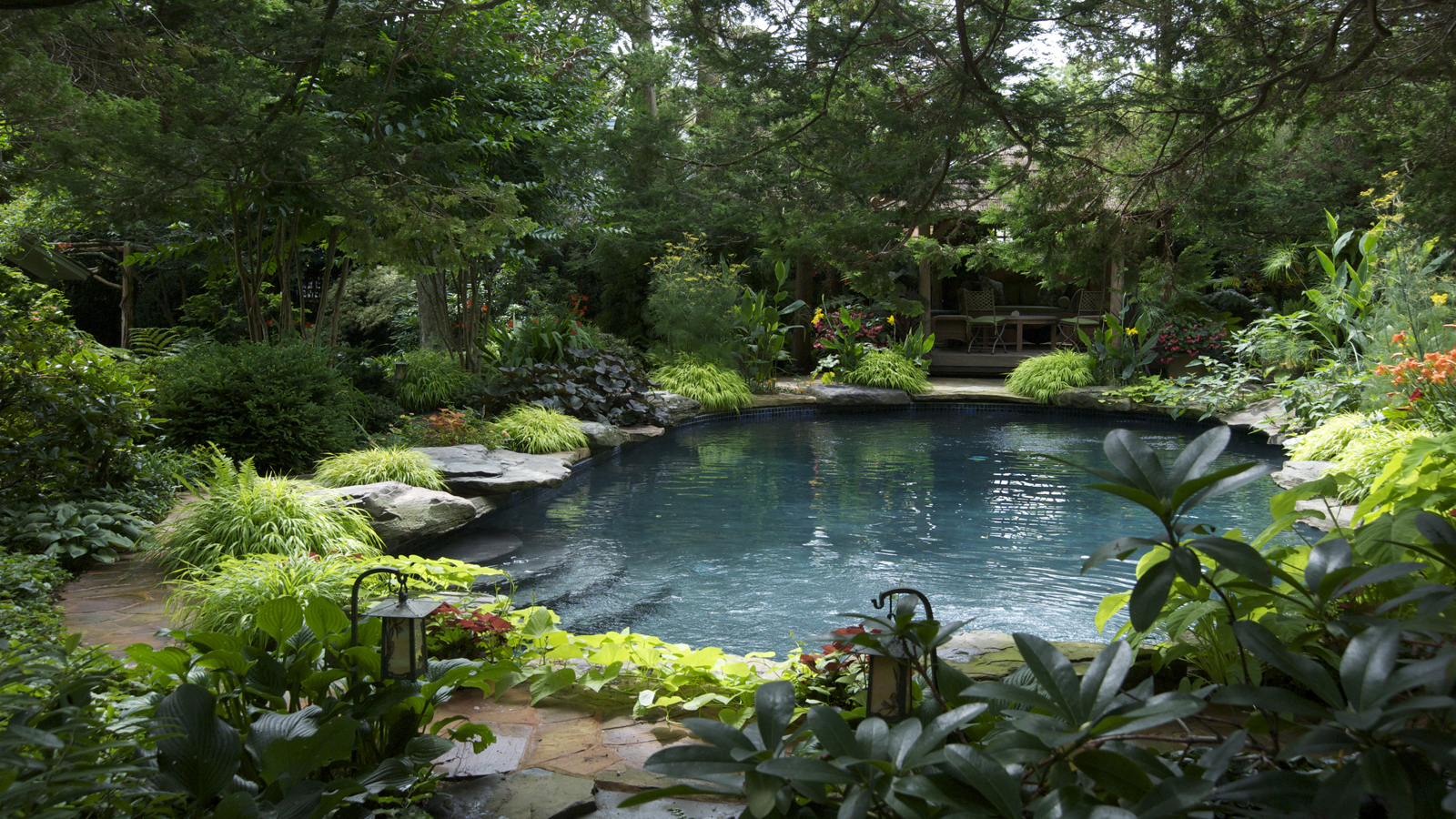 Saturday, June 20, 2:00 to 3:30pm | Amagansett
The Gillman Garden
Victoria Fensterer of Victoria Fensterer Landscape and Garden Design, LLC
Flowers overflow in this lush, sun-filled garden for a charming and historic farmhouse. The landscape for this Amagansett retreat includes a courtyard and pool area. In the courtyard garden, a central axis provides structure to the design while old large evergreens provide height and a sense of enclosure. A rose pergola and vine-covered arbor lead to garden spaces beyond.
An existing pool was recreated into a more organic shape, lined with large stones and boulders. Small evergreens complement older established ones, creating a secluded enclave. The patio was paved with warm-hued stone and edged by planting beds. Here the plantings take on a tropical feeling. A rustic pavilion provides a cozy place to sit and observe the light dancing off the water and to listen to the sound of birds and wind in the trees.
On the south side of the property, the landscape architect planted a group of large broadleaf and needled evergreens to provide privacy and year-round interest. Additional windows were added to the farmhouse to take full advantage of the beautiful view. more photos
---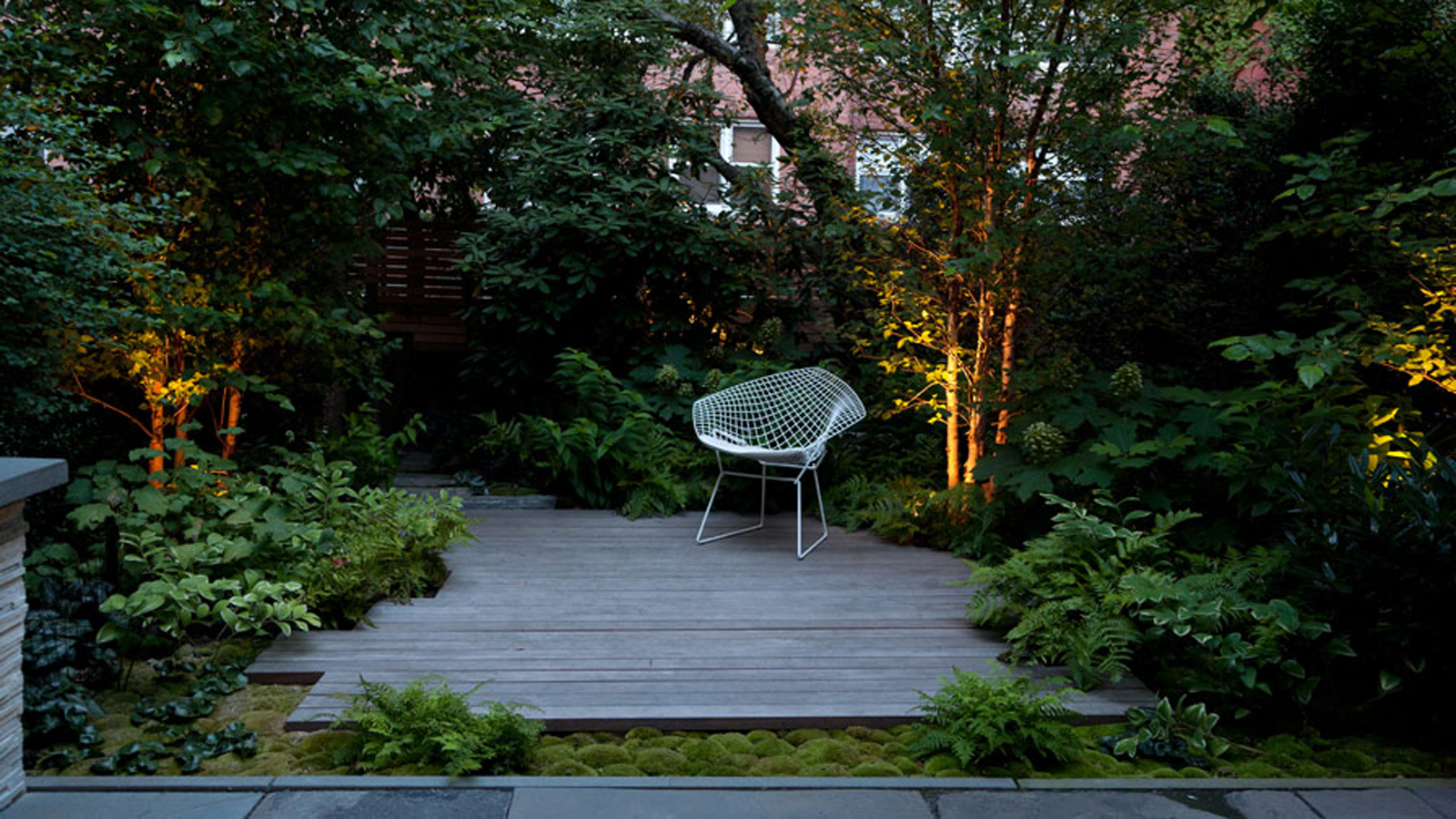 Saturday June 27, 10:00 to 11:30am | Brooklyn
Brooklyn Heights Townhouse
Robin Key of Robin Key Landscape Architecture
The landscape architect worked closely with the owners to design the front and rear gardens of this Brooklyn Heights townhouse. Located in a historic district, the front garden ironwork and original bluestone sidewalk were restored with the approval of the New York City Landmarks Preservation Commission. In the rear garden, materials were carefully selected to create a balance between the historic landscape and the new elements. The stone patios, laid using salvaged bluestone already existing on the site, are defined by two linear, stacked-stone fountains where water cascades gently into low pools. A raised wood deck at the back of the property is nestled within a bed of soft moss and wispy ferns, creating a peaceful seating area surrounded by woodland plantings. Here modern garden furniture and sculpture create a bold contrast. Throughout the property, the site's existing mature trees were preserved to serve as a framework for the garden. A lower level seating area adjacent to the house provides the owners with an outdoor kitchen and area for entertaining. more photos
---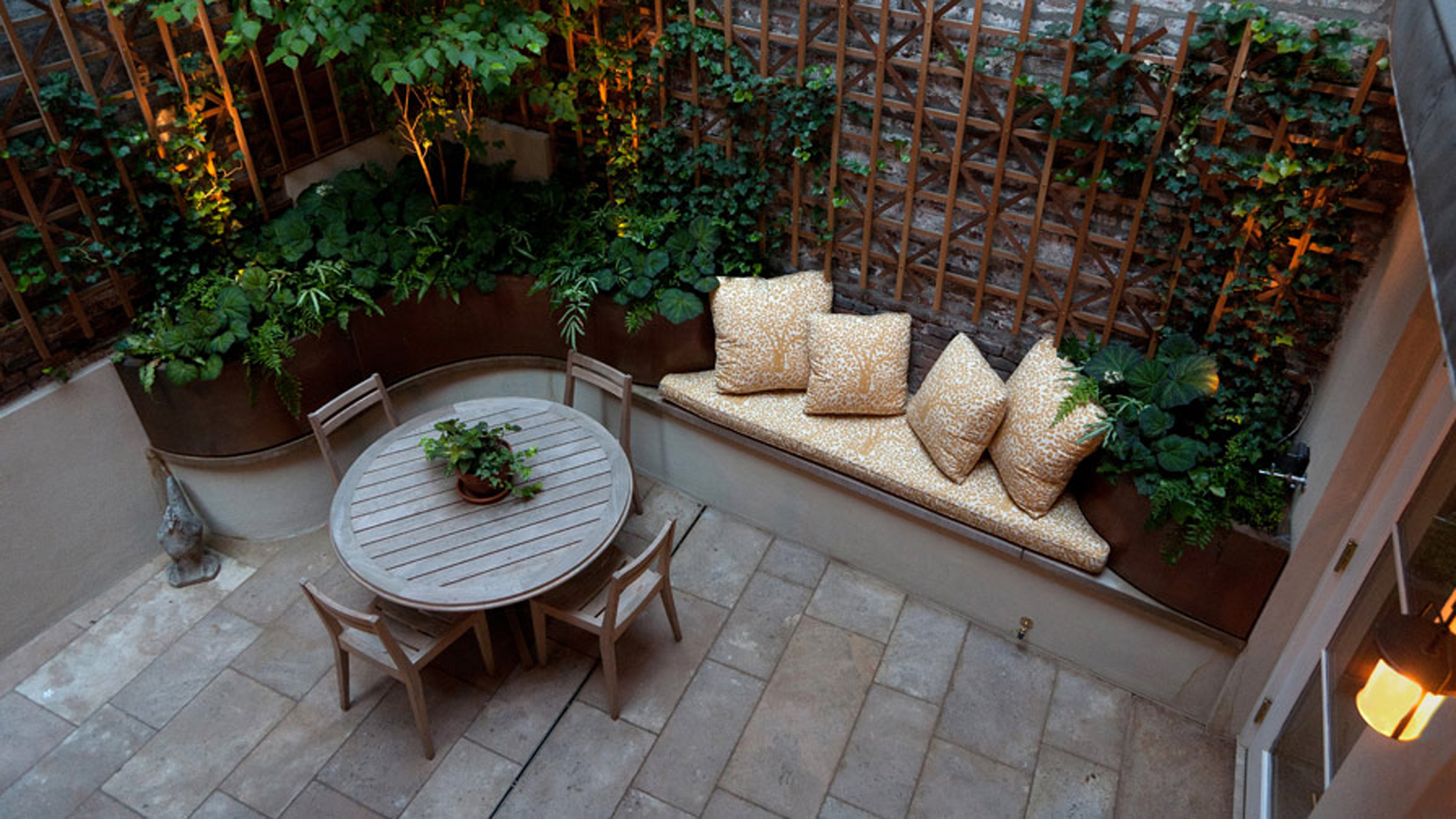 Saturday June 27, 1:30 to 3:30pm | Greenwich Village
Jane Street and 11th Street Gardens
Robin Key of Robin Key Landscape Architecture
See the hidden side of Greenwich Village with an exclusive visit to two enchanting townhouse gardens. The first, on Jane Street, includes a front garden, rear garden, and second floor terrace. In the rear garden a large, curved seatwall defines the space, creating a niche for the garden's dining table and providing additional seating. Custom-made copper planters hold lush, shade-tolerant plantings backed by a cedar and copper trellis, adding warmth and texture to the walled garden. Tucked away in a corner, a compact outdoor kitchen provides the perfect spot from which to entertain. A quick walk will take attendees to 11th Street, where the design for this townhouse rear garden is structured around three outdoor rooms. The geometry of the contemporary space is softened with lush, massed plantings, while two columnar hornbeams provide height. The perimeter fence takes design cues from the steel deck and railings, while the bluestone paving in the upper areas echoes the floor pattern inside the home. more photos
---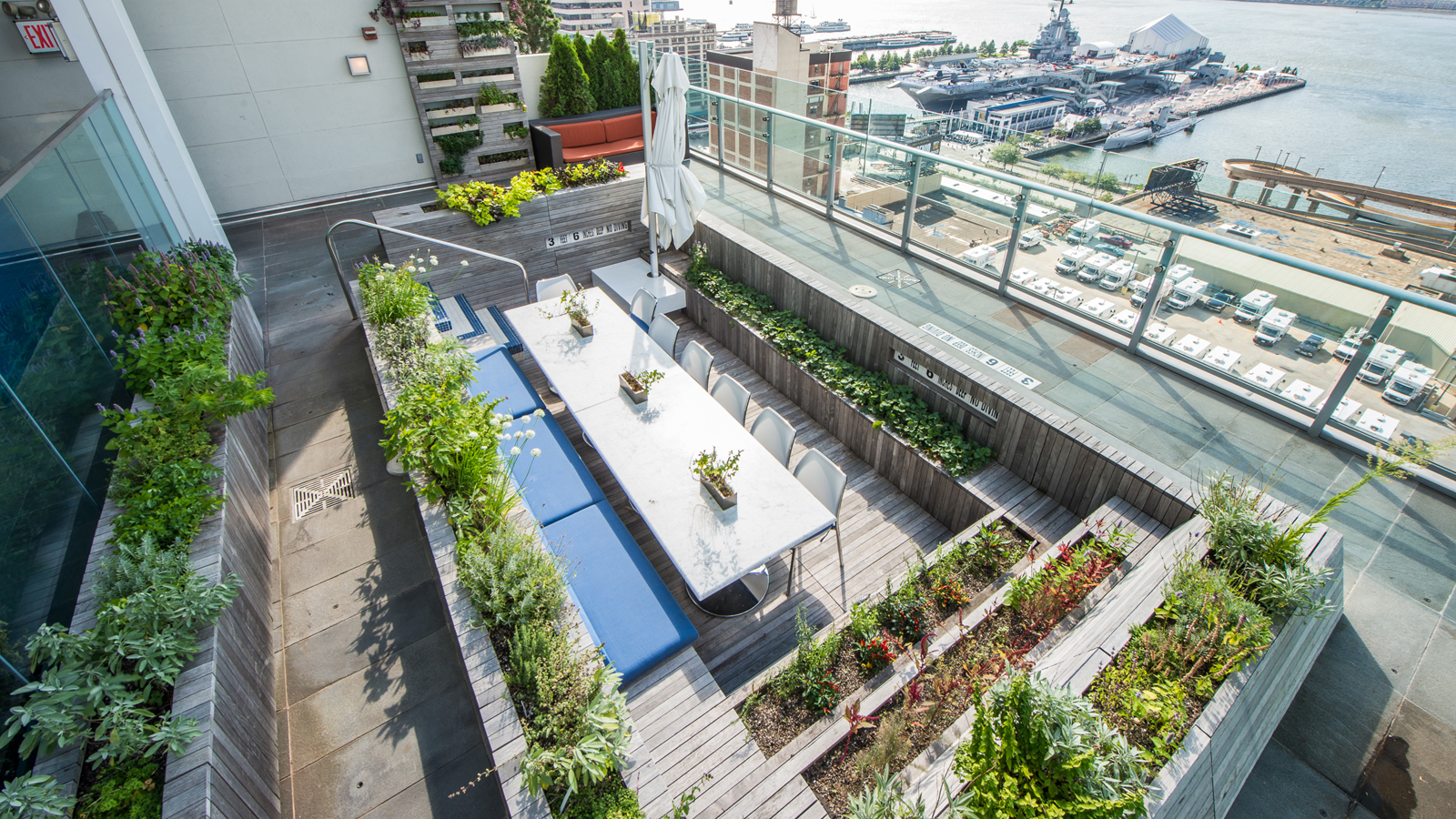 Saturday June 27, 4:00 to 5:30pm | Manhattan
Pool Farm
David Seiter of Future Green Studio
High above Midtown Manhattan, this transformed rooftop pool is now a farm-to-table restaurant, the Press Lounge, offering guests a dazzling view of the New York City skyline. From the 19th floor of Ink Hotel, a beautifully designed edible garden is meticulously cared for to create seasonal food and drink options from ingredients grown onsite. Utilizing themes of material reuse and urban infill, this custom design and fabricated system of wood terraced planters transforms an underutilized rooftop pool into a dynamic private dining experience. The project is inspired by the structure of a sushi mat- with flexibility in one direction and rigidity in the other, the mat rolls fluidly from deck to bench to planter to wall. In an effort to make the project sustainable and cost effective, ipe wood decking was salvaged from a recent renovation and repurposed. The planting palette was selected in consultation with the restaurant's chef, professional forager and a rooftop farmer in order to orchestrate the edible garden with unique seasonal food and drink menus. A small slice of paradise has been found in Hell's Kitchen. more photos