Landslide
Excellent Work Continues at Tregaron Estate, a Former Landslide Site
Tregaron Estate is a twenty-acre Country Place Era house and garden located in the Woodley Park-Cleveland Park neighborhoods of Washington, D.C. In 2003 it was enrolled in TCLF's Landslide program of at-risk landscapes due to proposed redevelopment. Three years later a settlement was reached under which the threatened thirteen acres were donated to the non-profit Tregaron Conservancy to be preserved in perpetuity; the estate was opened to the public in 2009.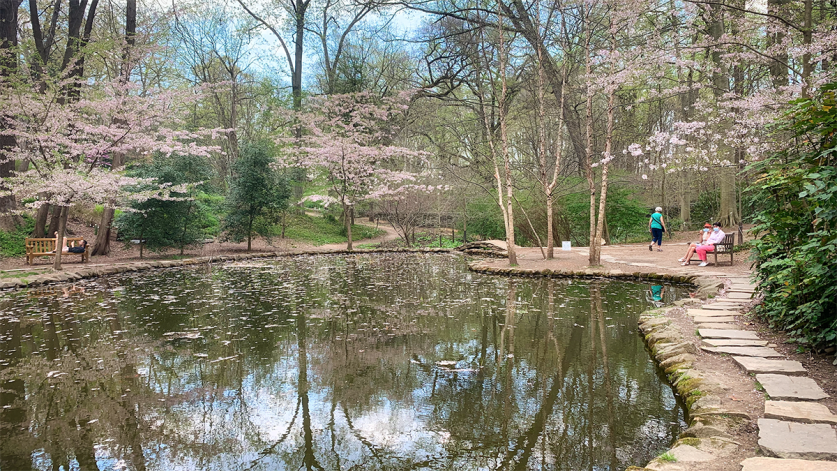 By the latter half of the twentieth century Tregaron's landscape had fallen into a state of profound neglect, with woodlands engulfed in overgrown, invasive plant material; the extensive system of footpaths unrecognizable due to erosion and fallen trees; and the streams silted in, with a lily pond devolved into a mud pit filled with debris. In its initial years the conservancy was faced with the daunting task of stewarding this severely degraded site. They cleared the paths, trails, meadows, streams, and the lily pond. Then, guided by a 2007 Cultural Landscape Report (CLR) from Heritage Landscapes, the conservancy turned to its mission of restoring the aesthetic vision of pioneering landscape architect Ellen Shipman, while adapting to current planting practices, climate challenges, and the conservancy's role as a public space.  
TCLF reported about this work in an October 2016 Landslide update. Nearly a decade later, a remarkable transformation continues to unfold at the estate, thanks to a dedicated board and corps of volunteers, and deep community support.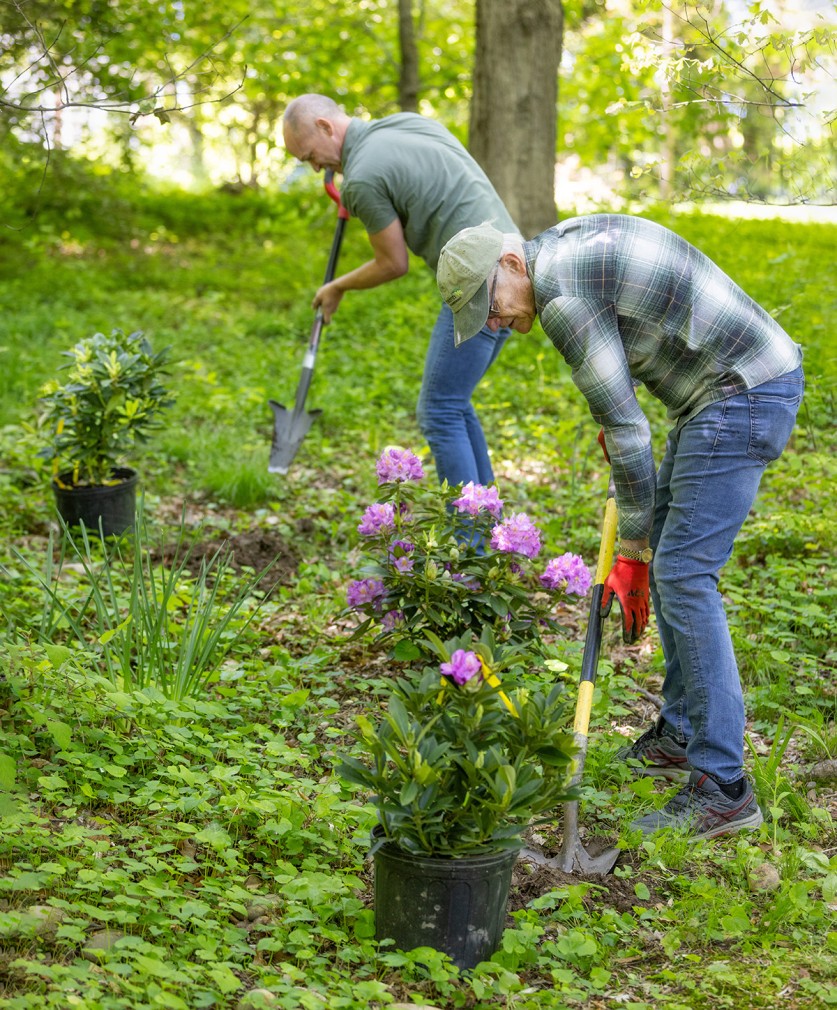 To guide its rehabilitation and stewardship work, the conservancy completed a Preservation and Sustainability Study with landscape architect Glenn Stach, updating and extending the analysis and recommendations in the CLR. This study, funded in part by the National Trust for Historic Preservation, laid out multi-year, seasonal guidance for various projects and landscape management.  
Working within the framework of the CLR and the study, the conservancy has designed and installed nine new wild gardens inspired by Shipman's plans and planted hundreds of largely native trees and shrubs and thousands of perennials throughout its woodlands. Tregaron's native grass and wildflower meadows, initiated in 2016-17 with native meadow designer Larry Weaner, provide a vibrant wildlife habitat that helps to make Tregaron a large corridor for pollinators and a birding "hotspot." 

The Tregaron Conservancy has rebuilt and repaired stone walls, bridges, footpaths, and stairways throughout the property, often featuring complementary metalwork to improve aesthetics and visitor accessibility and safety. A complete set of wayfinding signs is now installed along the footpaths, and regulatory and map signs are positioned at entry points to enhance visitors' experience.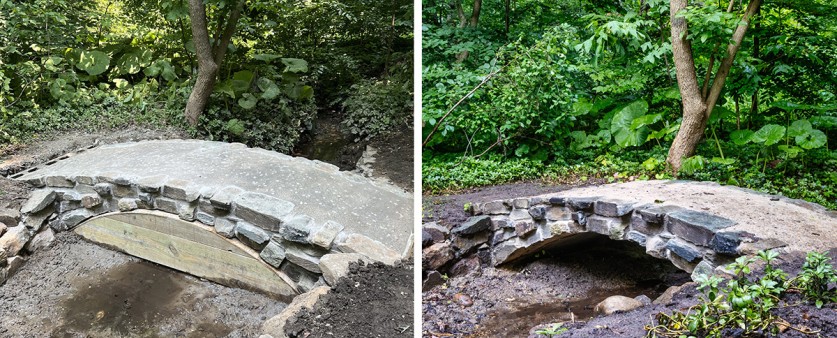 Tregaron continues to diversify its calendar of events, including musical programs, story time for young children, nature-oriented summer camp visits, "forest bathing," yoga, guided walks with experts on birds, geology, and trees, and tours for groups interested in landscape design – all free of charge. Tregaron recently recreated an original stone patio, wooden bench, and garden from the 1915 plan for the estate's pond area. Named the Shipman Terrace to honor Tregaron's guiding spirit, the terrace provides new space for community gatherings and events as well as a spot for quiet contemplation.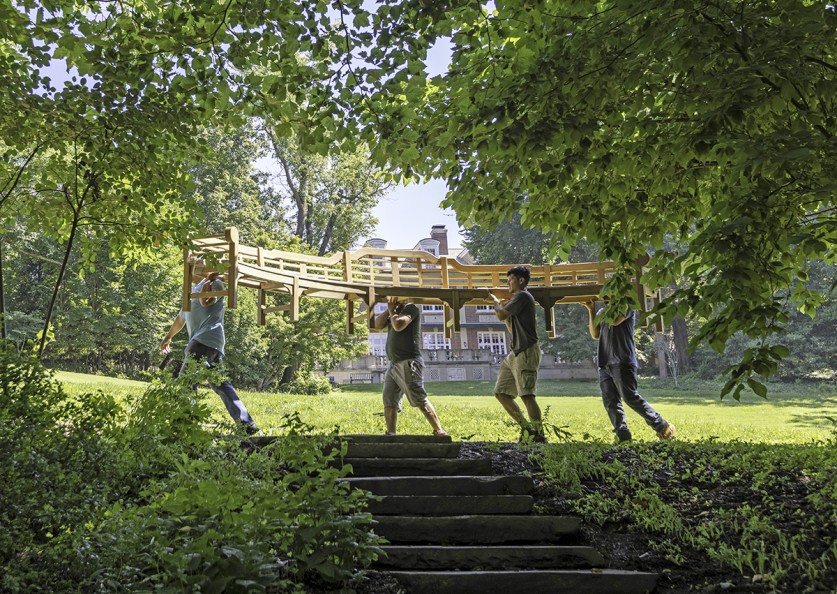 The conservancy has established a Zone Gardener Program, through which skilled volunteers "adopt" and care for each of the Shipman-inspired wild gardens. Conservancy volunteers and partner organizations (adults and students) also complete hundreds of hours of invasives removal, trail maintenance, and planning work each year. Their efforts are an integral part of the conservancy's stewardship.
Tregaron Conservancy works closely with the Washington International School (WIS), which sits atop the twenty-acre estate. Having jettisoned an earlier design for a new science building (the subject of a 2018 Landslide entry), WIS in 2021 received historic preservation and zoning approval for a new academic building situated in the center of the campus. The new project includes restoration of the original four-square garden designed by Shipman and architect Charles Adams Platt, and, in consultation with the conservancy, significant landscape enhancements. Recent intense storms hit Tregaron hard. Nine large trees came down, paths were blocked, and navigability was impaired. While much remedial work remains, professionals and volunteers swung quickly into action to help reopen Tregaron safely to the public. The severe damage was a humbling reminder that landscapes are always at risk; the swift response from friends was a heartening demonstration of the importance of open greenscapes to a vibrant urban experience.  
For more details about the Tregaron Conservancy, please visit tregaron.org.