feature
Fountain Designer James Garland: Don't Demolish Polk Park's Fountain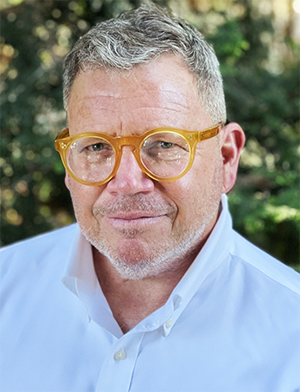 James Garland is President, Founder, and Design Director at the Los Angeles, CA-based Fluidity Design Consultants. He holds a Masters degree in Architecture from UCLA, with a focus in architectural design and urban design. His undergraduate degree, also in architecture, was obtained from the University of Louisiana. Jim interned at Urban Innovations Group under Charles W. Moore, FAIA, an internationally celebrated architect and professor, who was known, among many things, for his enthusiastic and skillful use of water in architecture. In 2020, Jim was awarded an honorary PhD for his career in advancing the profession of water design.
Jim was on a team lead by Agency Landscape + Planning that had been engaged by the City of Charlotte, N.C., in partnership with the Charlotte Center City Partners (CCCP), to rehabilitate Thomas Polk Park, designed by Angela Danadjieva and opened in 1991. For reasons still unknown, the city and CCCP changed course and on March 13, 2023, the Charlotte City Council voted to raze Polk Park. In its place, a new park named for Bank of America executive Hugh McColl would be constructed. The Cultural Landscape Foundation (TCLF) reached out to Jim to get his thoughts on Polk Park. 
It is my understanding that the City of Charlotte plans to demolish the existing Polk Park and replace it with an all new park. I understand the idea of building a new park, which would address a changing downtown's needs, but in this case, removing Polk Park's special fountain would be a terrible—and unnecessary—permanent loss to the community.
I have become very familiar with this fountain, as three years ago I was given the design assignment of either fixing it or replacing it. I studied it closely as I was prepared to build a new fountain, but I concluded that the advantages of its rehabilitation far outweighed the benefits of its demolition.
I hope to make clear several good reasons why the fountain should be kept. I write strictly from my point of view, that of a professional water feature designer with thirty-five years of experience, whose sympathies are with the city of Charlotte, her residents, and their past and future.
The space used by the fountain is minimal. Its pools, steppingstones and markers take up a fair amount of space, to be sure, but these elements are extraneous to the main, waterfall gesture. It is only the main waterfall, its base cascade and pool—the iconic gesture—that I hope to be preserved, relieving the remaining plan area for alternative redevelopment.
The fountain's iconic gesture is in a small, deep corner of Polk Park. Retaining it would not limit the new park's open space or multiple function opportunities.
The fountain's iconic gesture is first class. (I write as a professional, here.) The waterfall is of a rare and good quality, sparkling at the top, blending glassy and white-water streamers in its straight and untroubled falls, and splashing beautifully at its base. Its various sprays do not wet any nearby territories that should be dry. The cascades at the base of the falls are themselves attractive; their water shines well on the horizontal surfaces and generates attractively roughened effects at their vertical falls. The overlapping and mixing, stepped flow patterns in the cascade are mesmerizing. These visual effects are bathed during the day in streaks of sunlight that cut through from the shade tree canopies, and these streaks form a key part of the romance of the scene. And, the sounds of the water actions are rich and strong enough to moderate the assaults of all the vehicular noise—which is heavy, but the water achieves this without being too loud or overbearing.
Tall buildings have risen around the park since it was built, and the sunlight I wrote about is less present than it used to be, but the fountain survives, visually. This is because its displays are mostly white-water froth, which remains visible and assertive in low light levels. The design is still a perfect, conceptual fit for its space.
The fountain needs all new mechanical equipment and waterproofing. This would cost less than any new fountain of comparative, or even lesser, substance.
The fountain is culturally important. It was designed by Angela Danadjieva, the Bulgarian landscape architect with a noteworthy career who was project manager for landscape architect Lawrence Halprin on the Forecourt Fountain in Portland, Oregon. I have written previously that the Forecourt Fountain is one of the finest and most important fountains in The United States. I agreed with the urban critic Jane Jacobs on this point. Polk Park's fountain, therefore, has a special provenance while it makes a positive historical contribution of its own.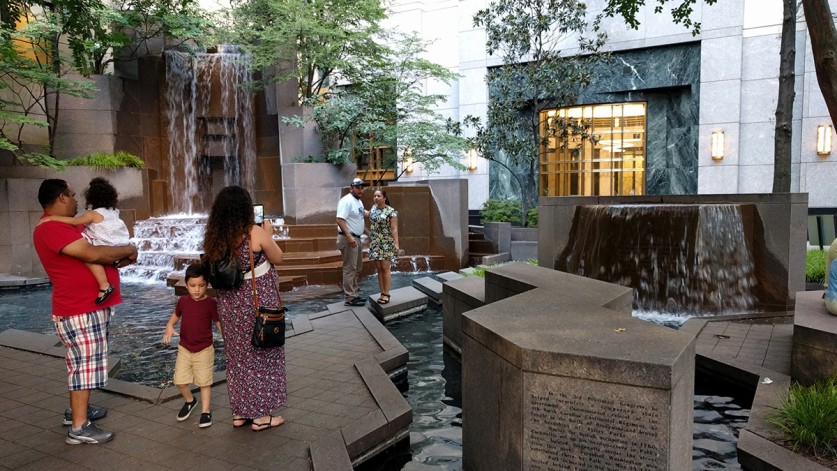 I believe that cities are the greatest invention that we humans have yet created, and that each city is unique and marvelous, and that our urban fountains—like the one at Polk Park—are the exclamation points of the city. Let us not lose this exclamation point, and so unnecessarily, or for weak trade. We recall what the great architect and garden designer, Louis Barragan said in his Pritzker Prize speech, "A fountain brings us peace, joy and restful sensuality and reaches the epitome of its very essence when by its power to bewitch it will stir dreams of distant worlds."
Let us retain this great example of the bewitching, dreaming arts, and serve both the future and the past through that rehabilitation triumph.