Fountain at Halprin Park Rightfully Restored

Fountain at Halprin Park Rightfully Restored
Fountain at Halprin Park Rightfully Restored
The initial tests were successful, and now the waterfall fountain at the five-acre, multi-layered Martin Luther King Jr. Park (formerly Manhattan Square Park) in Rochester, NY is in its final preparations to be turned back on. Following its designation as a Landslide 2008: Marvels of Modernism at-risk site, this represents a triumphant last step in the years-long effort to restore Lawrence Halprin's design to its original intent.

The Modernist park opened in 1974 as a key public space during Rochester's urban renewal efforts. In an April 2017 article for the Landmark Society of Western New York, Rochester-based landscape architect JoAnn Beck wrote: "Within Halprin's body of work, the park is noteworthy as his most multi-purpose, intensively developed urban park." It fell into disrepair throughout the 1980s and 1990s, suffering the continued damaging effects of deterioration due to lack of  maintenance. TCLF's 2008 Landslide compendium, guest curated by the George Eastman Museum of Photography and Film, included newly commissioned photographs by Rick McKee Hock (now part of the museum's permanent collection), and brought this lesser-known Halprin commission significant national attention.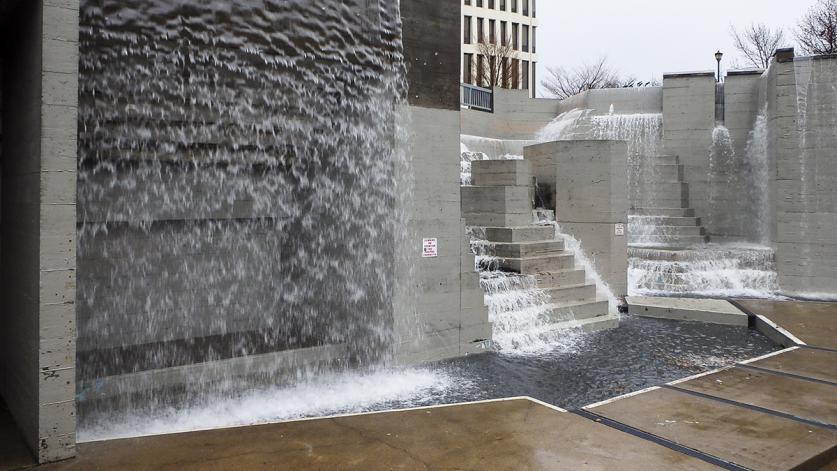 Over the past few years, the park has been rehabilitated to accommodate expanded use as part of a phased capital project. Improvements were made to the skating rink area, which was also adapted as a reflecting pool for the summer months, and the site's playground was reconstructed. As indicated by the Rochester Downtown Development Corporation, the third and final phase is the re-watering of the park's monumental fountain.
The May 10, 2017 test run marked the first time the fountain was seen flowing with water in more than 25 years; it should be running full time within the next few weeks. This is a significant win for Halprin's Modernist design and for the residents of the city of Rochester. The peaceful sounds of bubbling water have restored another layer to this complex site, which Halprin once deemed "four-dimensional."