Garden Dialogues 2019: Washington, D.C., and Fairfax, VA

Garden Dialogues 2019: Washington, D.C., and Fairfax, VA
Garden Dialogues 2019: Washington, D.C., and Fairfax, VA
For Campion Hruby "landscape is a collaboration of nature, culture, and self-expression. At its finest, a garden is a manifestation of art that can be both lived in and enjoyed, while providing the necessities of modern living." At two Washington, D.C.-area homes, Campion Hruby demonstrates both the breadth and dexterity of their artistry and how effectively they collaborate with their clients.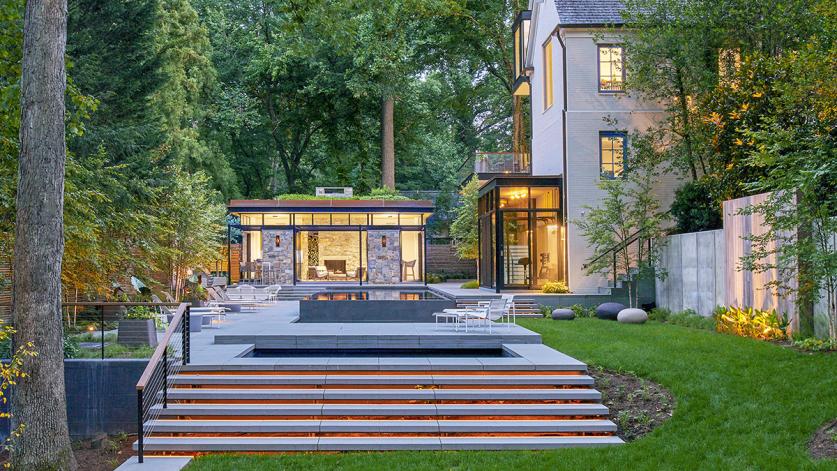 CHESTERFIELD PLACE - Washington, D.C. 20008 - 10:00-11:30 AM
Tucked into a leafy urban neighborhood, the Chesterfield garden unfolds as a series of perched modern garden rooms, collectively descending thirty feet from street level to Broad Branch Creek. Each room serves a distinct purpose. The entry garden provides a simple, uncluttered, modern gateway into the property. One level below, a wine terrace provides a small escape for tasting and small gatherings. Below the basement level, a pool house and pool garden provide a setting for modern outdoor living for clients who entertain frequently. The pool, inspired by the courtyard at the Museum of Modern Art in New York City, extends the width of the garden and draws the eye out to the forest. Tucked into the lower hillside, a forest garden creates a transition between the active garden above and the natural landscape of Rock Creek Park below. Together, these garden rooms provide the expression of modern urban living that the clients' initially requested, resolve problematic storm water issues, and create a series of outdoor spaces that respond to both the architecture and the site. The landscape architecture is by Kevin Campion.
1.5 LA CES™ professional development hours will be available to attendees.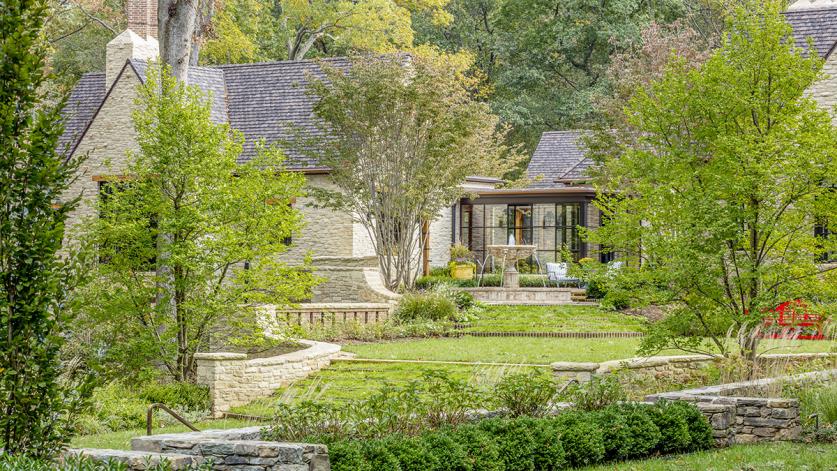 ACCOTINK CREEK - Fairfax, VA 22031 - 12:30-2:00 PM
The landscape architecture and architecture design team transformed a collection of properties in Northern Virginia in to a pastoral Cotswold-inspired eight-acre estate. The residence is comprised of five stone cottages – a central structure connected by steel frame glass hallways to four buildings that radiate from the central one. The configuration of the cottages allowed for the creation of four courtyard gardens that lead out to the vast surrounding wooded site. Each courtyard garden is distinct in its design. The entry garden is organized into parterres of boxwoods and annual displays. The west gardens are created from a series of spaces that step down from the house and culminate in a long English border. The east gardens begin with an intimate kitchen garden, which leads down to a quiet garden with a reflecting pool. Natural woodland gardens flank the site, with connecting trails and service paths. The gardens are all interwoven and integrated with vast stands of mature azaleas, planted by the previous owner. Behind the house is a glass-tiled swimming pool that also acts as a mirror that reflects the sky above and the adjacent woodland. The landscape architecture is by Bob Hruby and Kevin Gaughan, and the architecture and design team included Scott Anderson of Anderson Studio and Susan Stine of RedTeam Strategies.
1.5 LA CES™ professional development hours will be available to attendees.
Refund Policy
Cancellations and Refunds will be granted according to the following schedule:
Up to two (2) weeks in advance: 90% (Deduction represents administrative processing fees)
Less than two (2) weeks in advance but up to seven (7) days prior: 70%
No refunds will be made for cancellations seven (7) days prior to event
No refunds will be made for "No Shows" (a person who registers for a program but who does not cancel registration or attend the program).
Refunds will be processed as they are received or after the conclusion of the program, depending on the program date and when cancellation occurs. Refunds may take five (5) to seven (7) business days to process.