Garden Dialogues 2021: Napa Valley, CA

Garden Dialogues 2021: Napa Valley, CA
Garden Dialogues 2021: Napa Valley, CA
The Dialogue is now SOLD OUT.
Please contact aileen@tclf.org if you would like to be placed on the waiting list.
All events will be subject to local guidelines on gatherings, including social distancing, wearing face coverings, and stay-at-home orders. Attendance is limited to 25 people, not only to maximize the safety of those attending but to promote an intimate learning experience. If this event needs to be postponed to comply with local ordinances, registrants will be notified directly.
Brasswood Estates Winery, St Helena, CA 94574 - 10:00 AM - 11:00 AM 
Brasswood Estate Winery is nestled in the heart of Napa Valley in St. Helena, California. The project transformed a small-scale defunct outlet mall and underutilized land into a vibrant destination for immersive culinary and winemaking experiences, as well as a premier venue for community events. Blasen Landscape Architecture was hired as part of this two-phase design process. The first phase transformed 1.3 acres of the former outlet mall into a unique commercial zone celebrating local food and wine culture.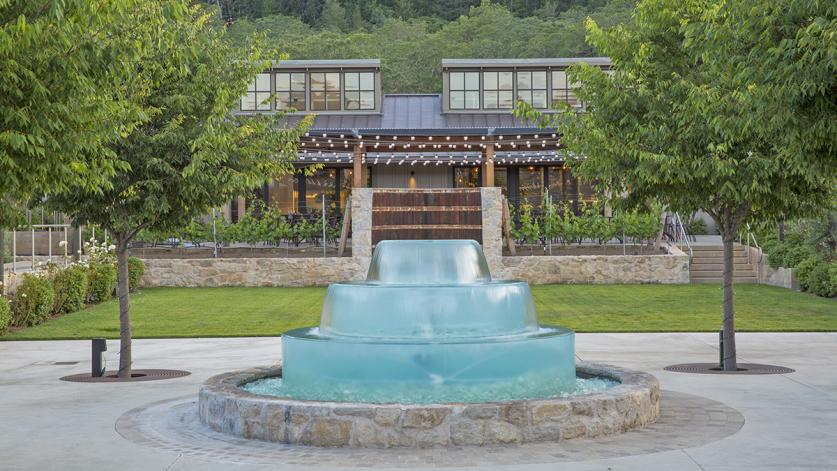 The second phase changed 1.5 acres of former agricultural land, next door to the former outlet mall, into the state-of-the-art Brasswood Winery. Blasen Landscape Architecture's design process sought to minimize disturbances to the native greenery, reduce the water footprint of the property, and honor the history of winemaking in the area. The design intention was to amplify the beauty of the surrounding context by editing out and reimagining the existing elements that detracted from the site.
Lee Garden, Calistoga, CA, 94515 - 11:30 AM - 1:00 PM
From the very beginning, Blasen Landscape Architecture's approach to this Napa Valley hilltop property was motivated by one overarching desire: Exert as light a touch on the land as possible. That commitment to make preservation and restoration the essence of sustainability is expressed in this garden's design as a series of meaningful compositions that relate to both the site and the architecture.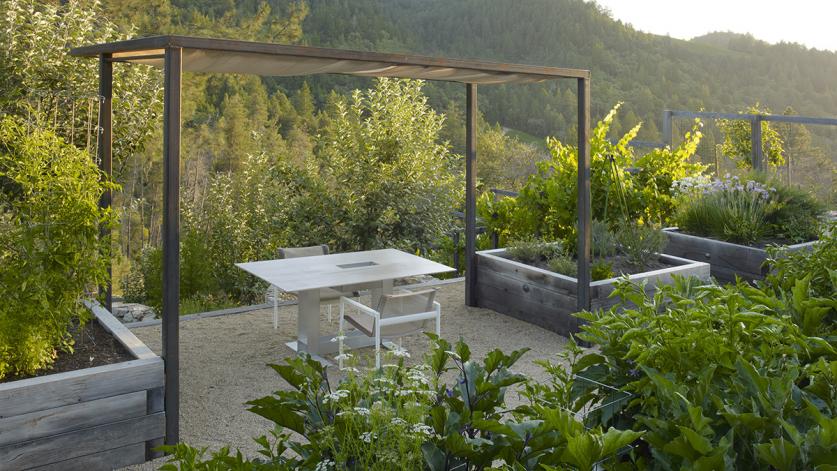 The property occupies 30 acres on an intermediary ridge of the Diamond Mountains, high above Napa Valley. Architects Eliot Lee and Eun Sun Chun Knew it was important to collaborate with landscape architects early in the process, and they began working with Blasen Landscape Architecture at the initial stages of design and site planning. Another imperative was to integrate the modern rammed-earth structures with the natural setting. The goal was to create the least amount of disturbance possible around the construction of each structure, to blend the existing grades around the architecture, and to replant the disturbed areas with indigenous and native plants.
Special care was taken to collect native seeds from the site prior to construction. Overall, the project proved to be a wonderful opportunity to design a garden that appears as though it wasn't designed at all. Fusing the elements of a subtle touch with a marked design perspective was an exercise in minimalism.
These Garden Dialogues will be led by Eric Blasen and Gary Rasmussen of Blasen Landscape Architecture.
2.75 LA CES™ professional development hours will be available to attendees.
Refund Policy
Cancellations and Refunds will be granted according to the following schedule:
Up to two (2) weeks in advance: 90% (Deduction represents administrative processing fees)
Less than two (2) weeks in advance but up to seven (7) days prior: 70%
No refunds will be made for cancellations seven (7) days prior to event
No refunds will be made for "No Shows" (a person who registers for a program but who does not cancel registration or attend the program).
Refunds will be processed as they are received or after the conclusion of the program, depending on the program date and when cancellation occurs. Refunds may take five (5) to seven (7) business days to process.