Landslide
Imminent Threat to Ontario Place
by Beth Kapusta
Toronto's Ontario Place, an iconic Modernist waterfront park built on two man-made islands (East and West Islands) just off the shore of Lake Ontario that opened in 1971 and that is listed in the City of Toronto's Heritage Register, was enrolled in The Cultural Landscape Foundation's (TCLF) Landslide program in July 2019. At that time, plans were emerging to redevelop the award-winning and internationally renowned site, designed by architect Eberhard Zeidler and landscape architect Michael Hough.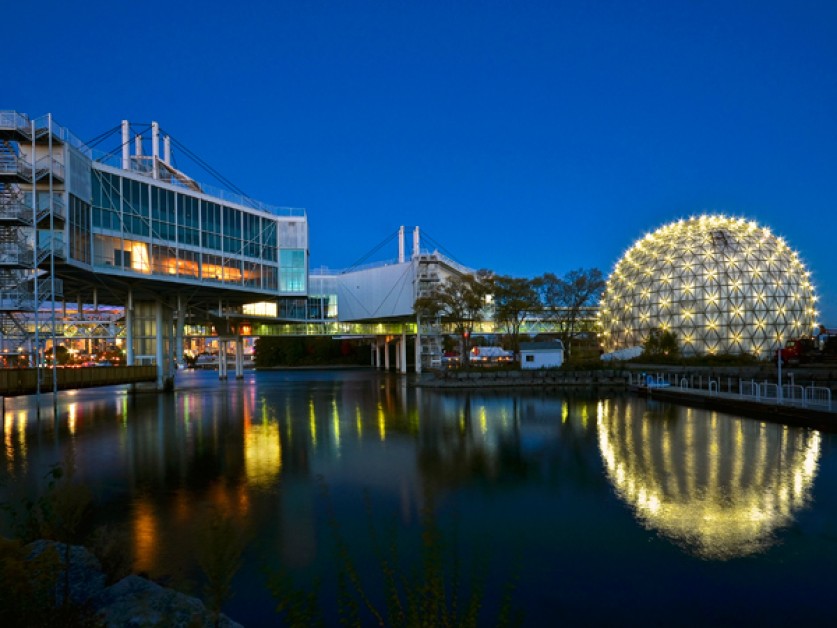 Since then, the threat to the site has escalated and is now imminent. The proposed redevelopment led by the Toronto office of the Vienna-based Therme Group that would create a privately owned spa on West Island, Therme Canada, is pushing ahead. Ontario's provincial government is advancing its plans, fencing has been erected around the site, and construction crews are planning to start work before the end of 2023. 
The man-made islands are part of an integrated landscape architecture vision that was part of Hough's idea to integrate native Ontario trees into a site that reflected the diversity of Ontario's natural heritage. The landscape has matured, realizing Hough's design intent, and providing habitat for nesting birds and other animals and supporting international bird migratory routes. This area is at immediate risk, with nearly 1600 trees slated for removal on both islands. East Island is now fenced off for "infrastructure improvements and tree removal" with about 800 trees slated for removal. Kilometres of solid plywood walls and fencing have been erected around the site, leaving only the east entrance to Trillium Park, the West Entrance to the West Island and the West Channel accessible to the public.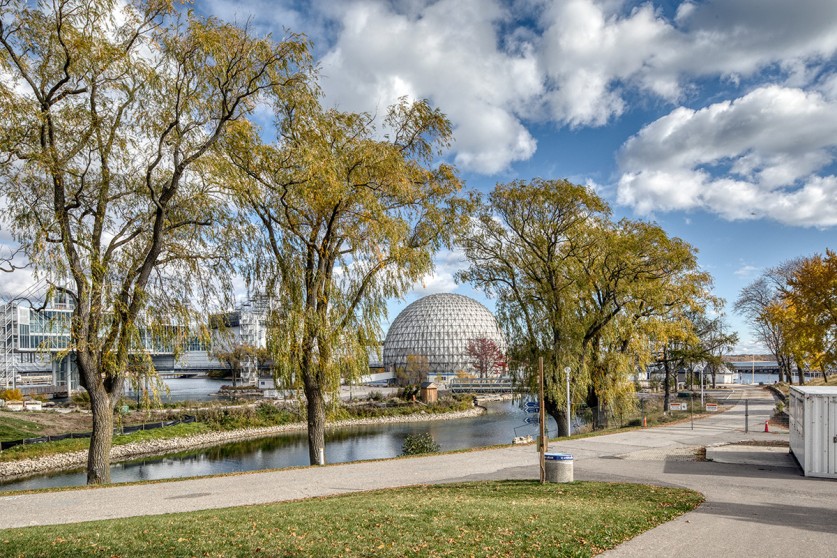 The private spa, along with underground parking garage for more than 2,000 cars on the mainland north of the East Island, threatens to irrevocably alter the integrated landscape of Ontario Place and its fundamentally public nature, obstructing views of the site and its iconic architecture from almost every vantage point. The spa will eliminate existing structures, trees, and public beaches on West Island. Only a slim portion of the waterfront, created with new landfill, is designated as fully publicly accessible. At 42 metres high and 65,000 square meters (700,000 square feet), the footprint of the spa obliterates the significant historically designed landscape of West Island. The Ontario Science Centre is slated for demolition and relocation to the mainland above the parking structure. This relocation would not only result in the loss of a designated heritage building by renowned Japanese Canadian architect Raymond Moriyama but would add another large structure to Ontario Place, further obliterating views to the iconic buildings and landscape and compromising the design intent and integrity of the site.  Other changes to East Island would see removal of additional trees within the historic designed landscape and expansion of the Budweiser Stage.
Civic leaders continue to ask questions and look for solutions in the interest of all Ontarians, in a time of climate change and unprecedented challenges to the world and cities across North America. The City of Toronto, with Mayor Olivia Chow and Ausma Malik as champions, have proposed relocating the spa site to Exhibition Place just north of Ontario Place. Most significantly, Ontario's independent Auditor General recently announced that they are looking into the provincial government's controversial plans by conducting a value-for-money audit.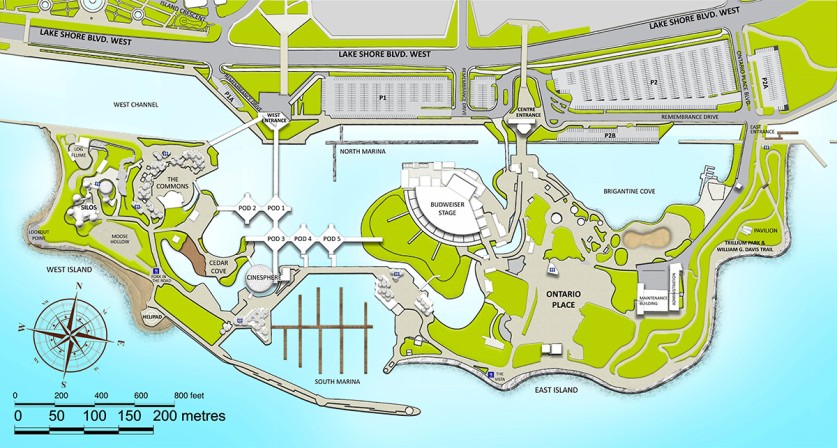 A Complex Political Landscape
Ontario Place is located just west of downtown Toronto. Four levels of government and a waterfront agency have jurisdiction over the site. Importantly, although located in the City of Toronto, Ontario Place is owned by the Province of Ontario, which is not bound by city by-laws or City Council decisions. To make matters worse, in 2019 the province amended its Environmental Act process prior to handing over the site to private developers so that an Environmental Assessment (EA) would not be required for specific cases where land was directly conveyed by the province to a private entity. An EA would have provided opportunity for mitigation of concerns, environmental issues, and a fulsome public engagement process. 
City political champions, including Mayor Olivia Chow and Councillor Ausma Malik, have been vocal advocates for preserving and protecting the public nature of Ontario Place. City staff have not signed off on the latest proposals and it remains doubtful whether issues raised by the city or its design review process will be addressed.
The grassroots group Ontario Place for All formed in 2019 as a response to the privatization and lack of transparency around Ontario Place redevelopment, informing and engaging the public in an ongoing advocacy campaign. Significant issues raised include loss of freely-accessible public space, significant canopy trees, and habitat; destruction of the historic designed landscape which as a work of Modernism is inextricably intertwined with the architecture; environmental considerations around climate impact/carbon footprint; lack of public input, the use of taxpayer money to facilitate a private enterprise; and, the lack of details regarding the redevelopment's 95-year lease.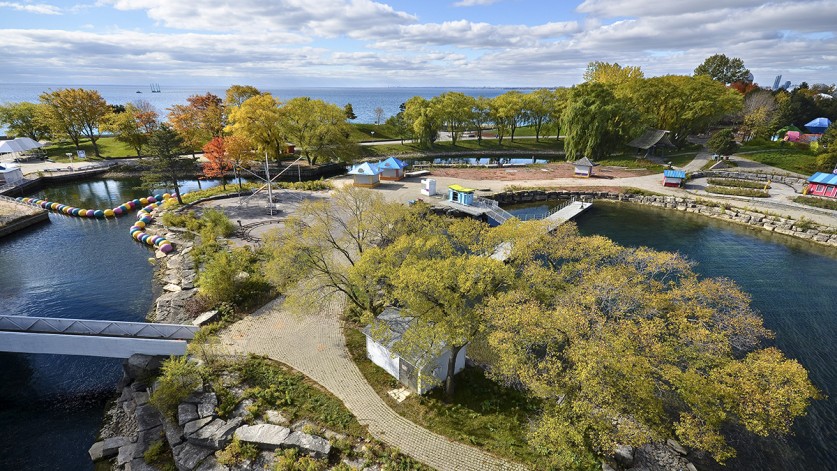 The past year has focused on raising awareness and strategic action, including letter-writing campaigns, participation at city council meetings, creation of a tracker to publish where Toronto mayoral candidates stood on the issue during the 2023 election, and others. Advocates are very encouraged by the Auditor General's recently announced audit of the proposed development.
Rallies have been organized at Ontario Place, City Hall, and the provincial legislature, encouraging participation in specific motions and legislation related to the redevelopment. Since the announcement in April 2023 that the Ontario Science Centre would be demolished for a much smaller building at Ontario Place, affinity grassroots group Save the Science Centre has maintained a presence at rallies organized by Ontario Place for All. Site walks and events have been hosted in collaboration with community groups, local politicians, swimmers, ornithologists, naturalists, artists, and an Ontario Place-focused Jane's Walk.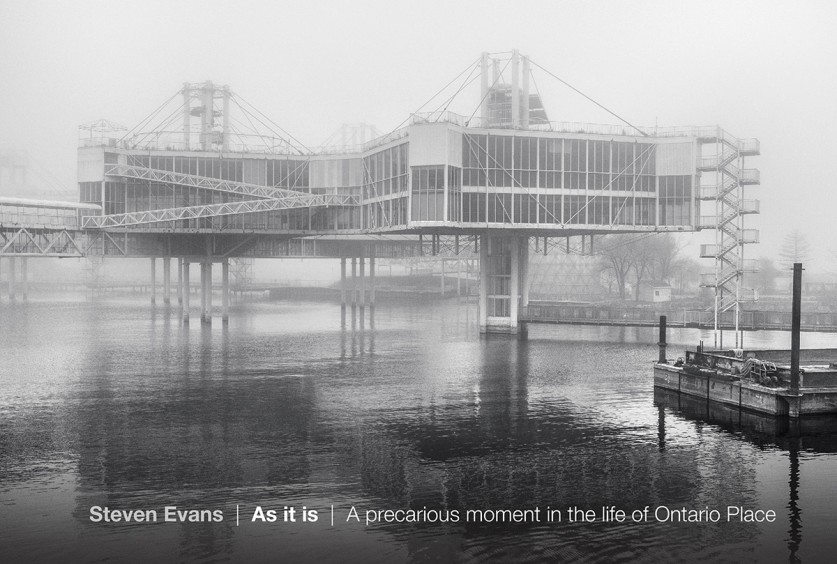 Diverse groups and individuals have been involved with this effort: SwimOP (a swimming community advocating for safe, clean, and accessible water), environmental organizations Toronto Field Naturalists and FLAP Canada regularly highlight the negative impact on habitat and wildlife, Progress Toronto in a targeted door-to-door awareness campaign, West End Phoenix in hosting panel discussions, and UrbanSpace Gallery/401 Richmond has facilitated events. The photography-based project Save the Forest at Ontario Place invites the public to participate by commemorating the historic trees within the designed landscape that are at risk, and the 2023 publication As It Is: A precarious moment in the life of Ontario Place by photographer Steven Evans illustrates the indivisibility of the landscape architecture and architecture at Ontario Place.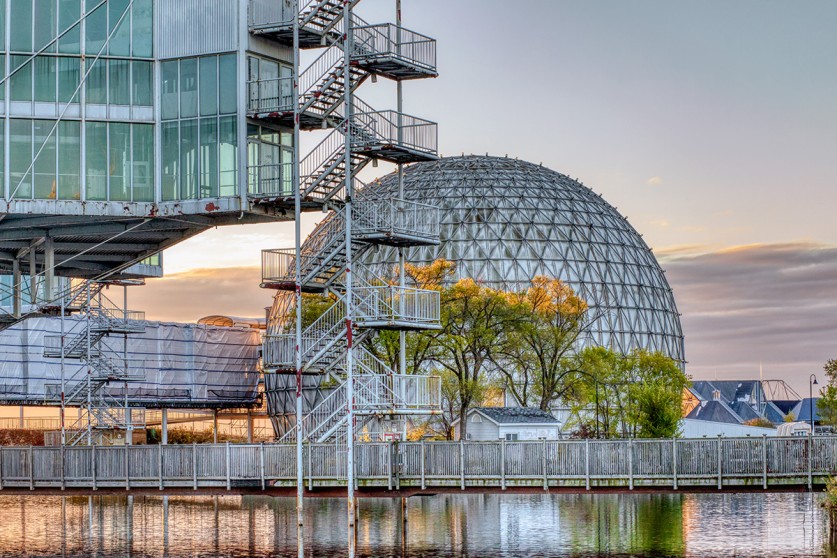 The Architectural Conservancy of Ontario has been instrumental in collaborating on political advocacy campaigns, providing professional knowledge on the site's design history, identifying major concerns in Heritage Impact Assessment procedures, and championing the cultural heritage landscape of Hough and Zeidler. The World Monuments Fund (WMF) placed Ontario Place on a 2020 "watch list" of global cultural heritage sites, and a collaboration with WMF and the Daniels Faculty at University of Toronto produced the participatory awareness-raising The Future of Ontario Place Project.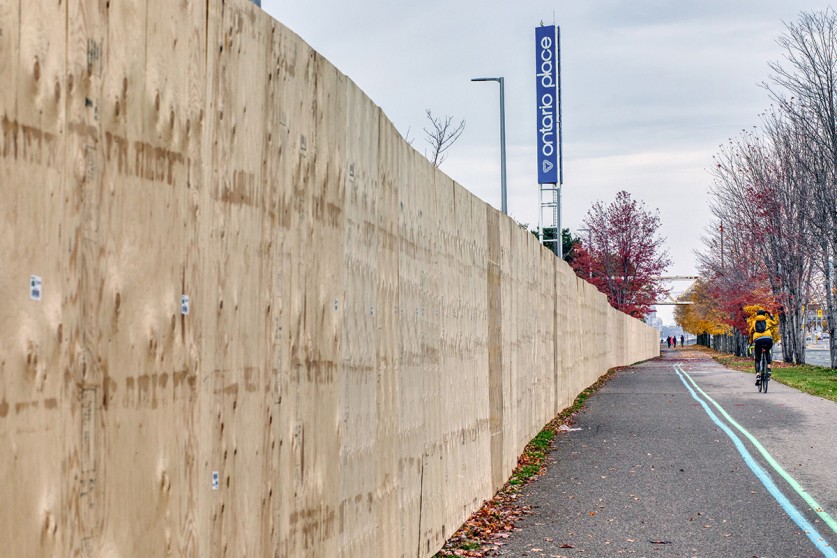 Since the site's enrollment in TCLF's Landslide program as an at-risk landscape, public awareness has been elevated. John Lorinc at Spacing Magazine dedicated an ongoing series of investigations (and Spacing released a dedicated issue about Ontario Place); others include architecture critic Alex Bozikovic at The Globe and Mail; Shawn Micallef and Edward Keenan at the Toronto Star; and theToronto Star editorial board has written against the proposal. Further pieces have been published in Canada's National Observer and NEXT Magazine. On TV and radio, CTV News, CBC Toronto, Global News, CP24 and Metro Morning have all covered Ontario Place regularly over the past year and conducted multiple interviews with Ontario Place for All. 
How to Help
A Change.Org petition has recently been launched in response to the imminent threat to Ontario Place's indivisible cultural landscape of significant architecture and landscape design. 
Sign the Change.org petition today.
International supporters are urged to sign the petition and share it with international advocacy groups on social media, and engaging influential media outlets to draw attention to the issue and to help save Ontario Place. Individuals in the international heritage, Modernism, landscape architecture and design communities are also encouraged to email the Premier and provincial opposition leaders, write personal testimonials as letters to the editor, and send emails of support and encouragement to city officials underlining the international significance of Ontario Place with the following key messages:
•    Ontario Place's integrated landscape architecture by Michael Hough, and architecture by Eberhard Zeidler are internationally recognized as significant examples of Modernist design and are inseparable.
•    Ontario Place was placed on "at risk" lists of sites of international significance by both The Cultural Landscape Foundation in 2019 and the World Monuments Fund in 2020.
•    The public nature of the landscape and its visual and physical access to Lake Ontario are significant design features, which involved creation of islands and beaches, lagoons, breakwaters, native plantings, and dunes that protect the unique architecture of the pods and Cinesphere and mitigate the effects of the lake for pedestrians.
•    Introducing a spa and parking lot threaten the integrity and significance of this Modernist cultural landscape and its significant natural habitat.
Provincial Leaders
Doug Ford, Premier; Leader, Conservative Party of Ontario
Legislative Building, Queen's Park
Toronto ON M7A 1A1
E: https://correspondence.premier.gov.on.ca/en/feedback/default.aspx
Marit Stiles; Leader, Ontario NDP
1199 Bloor St. W
Toronto, ON  M6H 1N4
E: MStiles-QP@ndp.on.ca
Michael Schreiner; Leader, Ontario Green Party
173 Woolwich St. , Unit 102
Guelph, ON N1H 3V4
E: mschreiner@ola.org
John Fraser; Interim Leader, Ontario Liberal Party
1883 unit D Bank St
Ottawa (ON) K1V 7Z9
E: jfraser.mpp.co@liberal.ola.org
City Leaders
Olivia Chow, Mayor of Toronto
Office of the Mayor
City Hall, 2nd Floor
100 Queen St. W.
Toronto, ON M5H 2N2
E: mayor_chow@toronto.ca
Ausma Malik, Deputy Mayor of Toronto
Toronto City Hall
100 Queen Street West, Suite C54
Toronto, ON M5H 2N2
E: Councillor_Malik@toronto.ca