It Takes One: Dan Snow

It Takes One: Dan Snow
It Takes One: Dan Snow
I'm a third-generation Snow, born and raised in Windham County, Vermont, where I built my home in 1975. Since then my work has been to construct site-specific environmental art. I've authored a few books on that topic (Listening to Stone, 2008; In the Company of Stone, 2001), and I also teach, lecture, and conduct workshops. 
How would you define a cultural landscape?
Reading Geoff Dyer's White Sands, recently, I was taken by the line, "...trying to work out what a certain place—a certain way of marking the landscape—means; what it's trying to tell us; what we go to it for." Perhaps it's questions that define a cultural landscape: a space becomes a place when it begins to ask us to engage with it and we wonder why we do.
How did you get involved in this landscape in your community?
The grandmother of a friend here in the town of Dummerston (in Windham County) started Green Mountain Camp for Girls in 1917. Every year since, the rustic cabins on a hillside, under a canopy of oak and hemlock, have hosted girls from local homes who might not otherwise have an opportunity to go to a summer camp. The camp operates on a shoestring budget from year to year, but has always persevered. This summer, I was part of a team that installed a stone stairway to connect the sleeping cabin plateau to the dining hall and activities area. The "Centennial Stairs" have become a vital link in a living landscape, not only improving communication between places but offering a space for girls and counselors to spontaneously meet and converse throughout their day.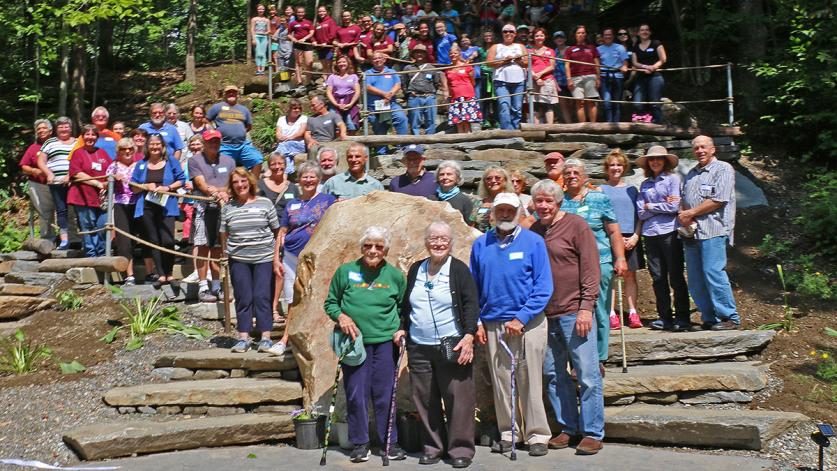 How did your understanding of this landscape change as a result of your involvement?
I hadn't thought about what this very unassuming camp might mean to the generations of girls that have gone there until becoming involved in the "Centennial Stairs" project. As story after story came out, the connections that so many community members have to this camp became apparent. The deep fondness and love of the place is so much greater than its appearance would ever suggest. It's not the physical structures that define the place, it's the fullness of experiences that have transpired there that make it what it is.The centennial year at Green Mountain Camp became a focal point for educating the wider community about the organization, which helped with a fundraising campaign designed to help the camp begin another 100 successful years.
What is the message that you would like to give our readers that may inspire them to make a difference.
When possible, build on the already established connections a community has with their surroundings. Emotional attachments aren't always physically identifiable. Take the time to observe and listen. A plan or design that's rooted in the care already given to a place can grow organically toward a healthy future for all concerned.