It Takes One: Roxie Munro

It Takes One: Roxie Munro
It Takes One: Roxie Munro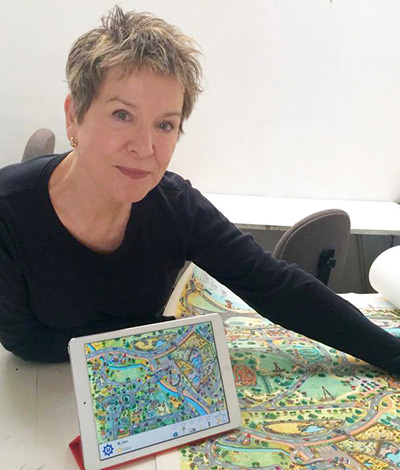 Roxie Munro grew up in southern Maryland and now lives in New York City. A working artist all her adult life, she freelanced in Washington, D.C., as a television courtroom artist and now creates oils, watercolors, prints, and drawings that are exhibited widely in the United States. She also has had fourteen magazine covers published by The New Yorker and is the author/illustrator of more than 40 children's nonfiction concept books, including The Inside-Outside Book of New York City (winner of a New York Times Best Illustrated Award); Gargoyles, Girders & Glass Houses; Mazeways: A to Z; and Amazement Park. She actively collaborates with OCG Studios to create interactive and educational 'apps' for both adults and children, with digital projects that include "Roxie's Puzzle Adventure" (a sixteen-screen jigsaw puzzle), "Roxie's a-MAZE-ing Vacation Adventure" (an interactive game), and the 3-D "Roxie's DOORS." Among her more recent books are Rodent Rascals; Masterpiece Mix; Market Maze; EcoMazes: 12 Earth Adventures (a Smithsonian Best Science Book for Children); Desert Days, Desert Nights; Hatch!; and Busy Builders. Visit www.roxiemunro.com to learn more about her work. 
Can you briefly describe the Inside-Outside book series and what inspired you to create it? 
When I moved to New York City from Washington D.C., I didn't know a single person there. But The New Yorker had bought my first magazine cover with the city as a subject, and I was fascinated by my new urban environment. I spent hours every day walking the avenues and streets, looking up at buildings, wondering what the city looked like from the highest floors. What did it look like inside…what kind of work went on…what was behind the facades?
A week after initially speaking with a children's book editor, I woke up with words across the black of my closed eyes: "The Inside-Outside Book of New York City." I called the editor and told her I had a title but no idea of what the book would be like. I went on to do that award-winning book, along with others on Washington, D.C., Paris, London, Texas, and American libraries.
Your publications focus on introducing children to existing, non-fictional landscapes. Why do you think it is important for children to have an understanding and appreciation of landscapes?
We spend all our time in real cityscapes and landscapes, and it's important to be aware of our environment and our surroundings. It's also a great pleasure to be aware of, pay attention to, and enjoy the richness and infinite variety of our world. One of my favorite books I did, for example, was EcoMazes: 12 Earth Adventures, which introduces children to various ecosystems.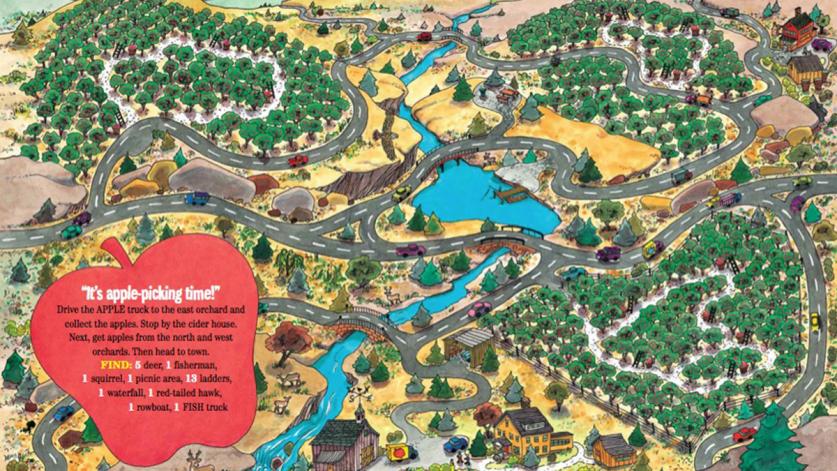 Gamification, in particular mazes, plays a large role in your projects. How does it enhance how children understand their surroundings?
Getting involved in games helps children with concentration, setting goals, problem-solving, working together, and celebrating achievement. Mazes help children with decision-making and critical thinking skills. They teach alternative ways to solve problems and to judge spatial relationships. Nonfiction print books aren't often thought of as being interactive or using games, but they are, and they do. I "gamify" nonfiction, making it a fun new way of looking at the subject. I wrap the content around a concept or a construct, using devices to engage children, to keep them interested, and impart information in creative ways: lift-the-flap/paper-engineered books, mazes, guessing games, inside-outside concepts, and more.
You have recently begun creating landscape-centered puzzle 'apps' for adults as well as children. Does gamification help adults to appreciate better architecture and landscape design?
Definitely—if for no other reason than some adults are fascinated, as am I, with puzzles and games. One elementary school principal said she plays with my jigsaw puzzle landscape 'app' every night to relax (she's gotten up to 260 pieces on one screen of the puzzle on her mobile device). Another fellow, from Australia, sent me an email about how well he did at another game involving a giant landscape. These folks could buy any game, but they preferred to play one in which they must travel through spaces, across cityscapes, and landscapes.
Ninety percent of information transmitted to the brain is visual. Many people, including sixty percent of children, are considered visual thinkers. Looking at reality filtered through a maze concept helps us understand the patterns and details from which our world is composed, purposefully or haphazardly, with or without intent.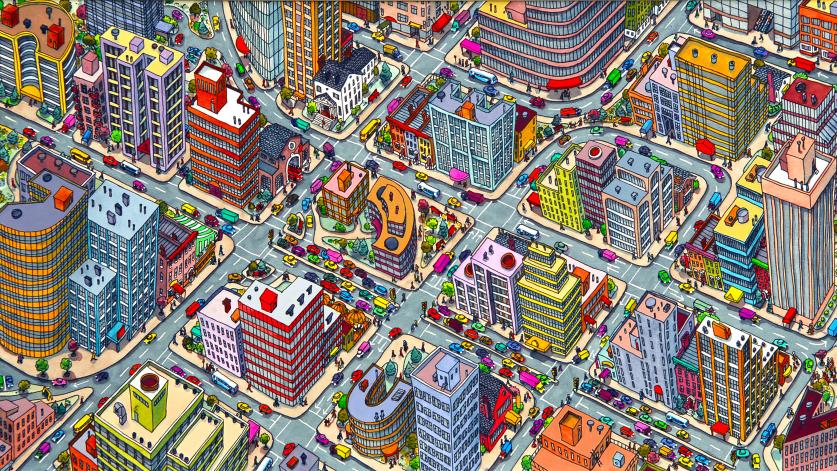 Your more recent books have centered on transforming natural and urban settings into mazes. How has the maze-design process affected your own visual perception of landscape?
Sometimes, while working on a maze, a landscape, or a city from a birds-eye view, I suddenly feel like I am in the tiny car winding along the mountain roads, or I'm walking down the big city street. I now see so many things in our world in terms of mazes, like the main selling floor of Macys, a huge conference center, Grand Central Terminal, a zoo, Heathrow airport, the Metropolitan Museum, the approaches by car to Houston, Los Angeles, and New York City—all full of crisscrossing bridges and super highways. This happens with even less obvious things, too, like a mall parking lot, ski slopes, or wilderness park paths.
What is the message that you would like to give to our readers that may inspire them to make a difference? 
The human influence on our world and its urbanization isn't necessarily a bad thing. It just has to be done right, with sensitivity to both nature and to our needs as people. Humans are social creatures. We mostly prefer to live together in groups. There are ways to accomplish a graceful relationship, balancing our needs with our man-made environments. It just requires thought, planning, and careful cultivation, as well as an aware, caring, and educated populace.