Fresno Park Threatened by Master Plan

Fresno Park Threatened by Master Plan
Fresno Park Threatened by Master Plan


Lake Washington
Roeding Park in Fresno is the culmination of efforts by a civic-minded German emigrant family—who donated the land and most of the trees—and Norwegian-born landscape gardener/landscape painter, Johannes Reimers, who developed a knowledge of plants that could thrive in the heat of California's Central Valley. The 148-acre park is an outstanding example of naturalistic landscape design style, but also a historically-significant arboretum that is noteworthy for its varied collection of exceptional specimen trees. A 2004 sale tax measure approved for enhancing a small zoo within the park has resulted in a master plan that calls for expanded facilities that encroach on many other areas of this pastoral landscape, removing available open space and cutting down hundreds of trees.
History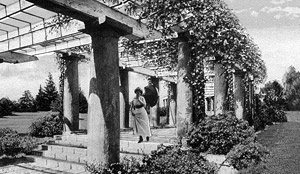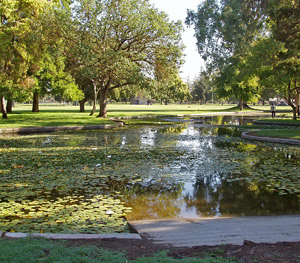 (upper) Historic pergola, courtesy Marlea Graham; (lower) Open lawn and lower ponds are threatened by proposed master plan, photo by Chris Pattillo California pioneers Frederick and Marianne Roeding contributed the land for Roeding Park in response to an 1898 challenge by The Fresno Republican, which urged "either the city or a generous public-spirited citizen to donate land for some open spaces or recreation areas as breathing places for the ever-growing population of the city." Their initial offer of 230 acres was rejected, but the Roedings persisted and over a period of years they gave 119 acres to the City and sold another 40 acres that were also included in the park.
The park itself was designed by landscape gardener Johannes Reimers, whose work with the Santa Fe Railway had resulted in a knowledge of plants that would thrive in hot, dry climates similar to Fresno's. He worked in the naturalistic style that became popular in the late 19th and early 20th centuries, and early construction included the grading of curvilinear roads, with plans for several group picnic areas. Two of these structures were designed in a rustic style, with trapezoidal stone columns and shake roofs, while other picnic areas were laid out in appropriately named groupings of trees — Eucalyptus Grove, Cedar Grove, and Pine Grove.
Among the most distinctive and remarkable features of Roeding Park is its profusion of trees, made possible by the continuing involvement of the Roeding family. Frederick's son George Roeding, who was making a name for himself in California's burgeoning agricultural business, donated many of the trees and shrubs from his own nursery. He directed much of the planting, in his role as park commissioner, and was able to make an even greater impact when he developed a relationship with the U.S. Department of Agriculture as early as 1910. He gained their support for using Roeding Park to field-test new varieties of trees from throughout the world, evaluating their heartiness and performance in California's Central Valley.
Under Reimers' and Roeding's stewardship, the park became a "horticultural paradise" of more than 3,700 trees, including hundreds of extraordinary specimens that have turned it into a world class arboretum. Recognizing its appeal as a destination, Fresno included a stop within the park when it planned a trolley system that operated until 1939. While the trolley no longer exists, the former station continues to be used as a picnic area.
Today's visitors continue to enjoy a chain of ponds planned by Reimers, once stocked with fish for Fresno's children. A continuous canopy of mixed tree species has turned the southeast area of the park into a cool and quiet oasis. In the southwest corner is Lake Washington, named for the first president. The soil excavated during its construction was used to build a massive berm and amphitheater for the elegant Lisenby Music Stand in the middle of the park. Later additions include a few modest memorial plaques; tennis courts in the 1920s; a Japanese Tea House and garden; and an animal enclosure in 1923, made possible when the City of Placerville donated two bears. The enclosure — Chaffee Zoo — has expanded over the years to its present size of 18 acres, plus parking for zoo visitors.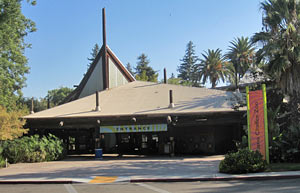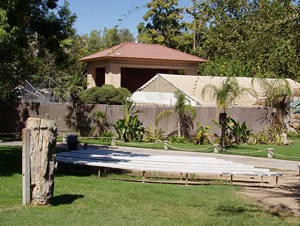 (upper) Main entrance; (lower) Historic music pavilion is now used by the zoo and no longer accessible without admission, photo by Chris Pattillo.
Threat
A new master plan developed after a successful 2004 countywide sales tax measure contains a series of proposals that will have a dramatic impact on the pastoral character and open space of Roeding Park. While the funds were meant to repair and restore the zoo, the environmental document released in mid-October 2010 reveals a plan to expand the zoo by 21 acres—more than doubling its size.
In total, changes proposed in the master plan will affect 80 to 90 acres, or up to 60% of the 148 acres in Roeding Park. Two new parking areas are included, for example, one for 830 cars and the other for 50 cars. There would also be a new park entry from the east side, plus an entry drive 70 to 80 feet wide, which will significantly change the existing circulation pattern in the park. The proposed new entry would also feature "signage, graphics and a scrolling marquee/gateway sign that would announce special events."
The plan also calls for the relocation of the existing maintenance yard, dog park, and a proposed Plaza Hub meeting area all of which will encroach on existing parklands. Additionally, another zoo maintenance yard is proposed for the current main entry area, which will affect neighboring homes as well as the historic arrival experience that has endured for a century.
Zoo expansion will eradicate an expansive area of well-used lawn surrounded by a mixture of mature trees. The proposal calls for the removal of existing trees within the park to re-create "The Great Lawn." The environmental report notes that 811 trees will be impacted by the proposed plan and while some will be transplanted, the majority would be cut down, diminishing the park's horticultural legacy and reducing available shade in a city where the summer temperature frequently exceeds 100 degrees.
Two intensely developed children's play areas in the southwest corner of the park—Playland, whose rides were donated by the Rotary Club in 1955, and Storyland, added in 1962—are separated by Lake Washington and a pastoral landscape of historic importance, designed by Johannes Reimers. The master plan proposes to merge these three separate areas, double the number of rides from 23 to 45, and enclose them all within a fence, cutting off free public access to the lake and park area.
Get Involved
Write a letter of support for Roeding Park and send it to:
Mr. Kevin Fabino, Planning Manager
City of Fresno
Development and Resources Management Department
2600 Fresno Street
Fresno, CA 93721-3604 
Please send a copy to Pattillo@PGAdesign.com
Or mail a hard copy to:
Chris Pattillo
PGAdesign
444 17th Street
Oakland, CA 94612
Save Roeding Park will copy and distribute your letter to the relevant decision makers
Resources
Historic American Landscapes Survey (HALS) Roeding Park Form
Roeding Family Fights Chaffee Zoo Expansion. KSEE News, NBC, October 25, 2010