Oakland Cemetery

Oakland Cemetery
Oakland Cemetery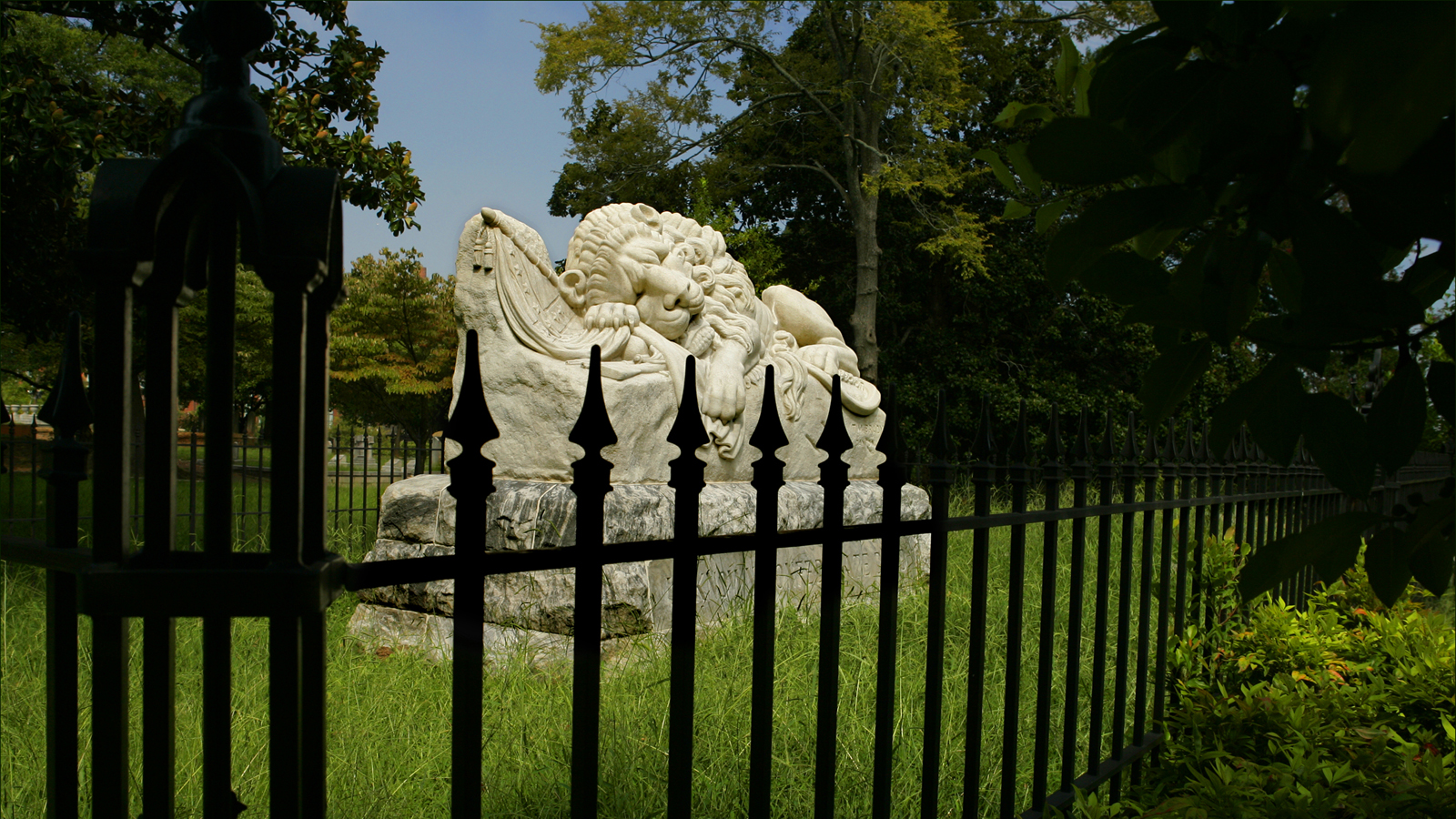 In 1850, the City of Atlanta purchased six acres on the eastern edge of its city limits to serve as a public burial ground for a young, but fast-growing town of 2,500 citizens. Designed as a hybrid of a rural garden cemetery, a 19th century innovation conceived as an alternative to traditional and often crowded church graveyards, Oakland was meant to provide comfort to the bereaved as well as a space for passive enjoyment for local residents. In March 2008, a devastating tornado hit the cemetery, toppling centuries-old trees and monuments, and replacing ongoing preservation work with recovery efforts. While the still-active cemetery has once again opened to visitors as a public park and heritage tourism destination, much work remains.
History
The City of Atlanta purchased six acres on the eastern edge of its city limits in 1850 to serve as a public burial ground for a young, but fast-growing town of 2,500 citizens. Originally called Atlanta or City Cemetery (the name changed to Oakland in 1872), the site was designed as a hybrid of a rural cemetery, a nineteenth-century innovation conceived as an alternative to traditional church graveyards which were often crowded and aesthetically unappealing. Portions of Oakland's grounds retain a traditional grid design. However, as the cemetery expanded between 1850 and 1867 (reaching its current size of 48 acres), the curvilinear roadways were installed to emphasize the changes in topography. Overall Oakland experiences 70 feet of elevation change which influenced the development of retaining walls around plots, locations of mausolea, and viewshed definition.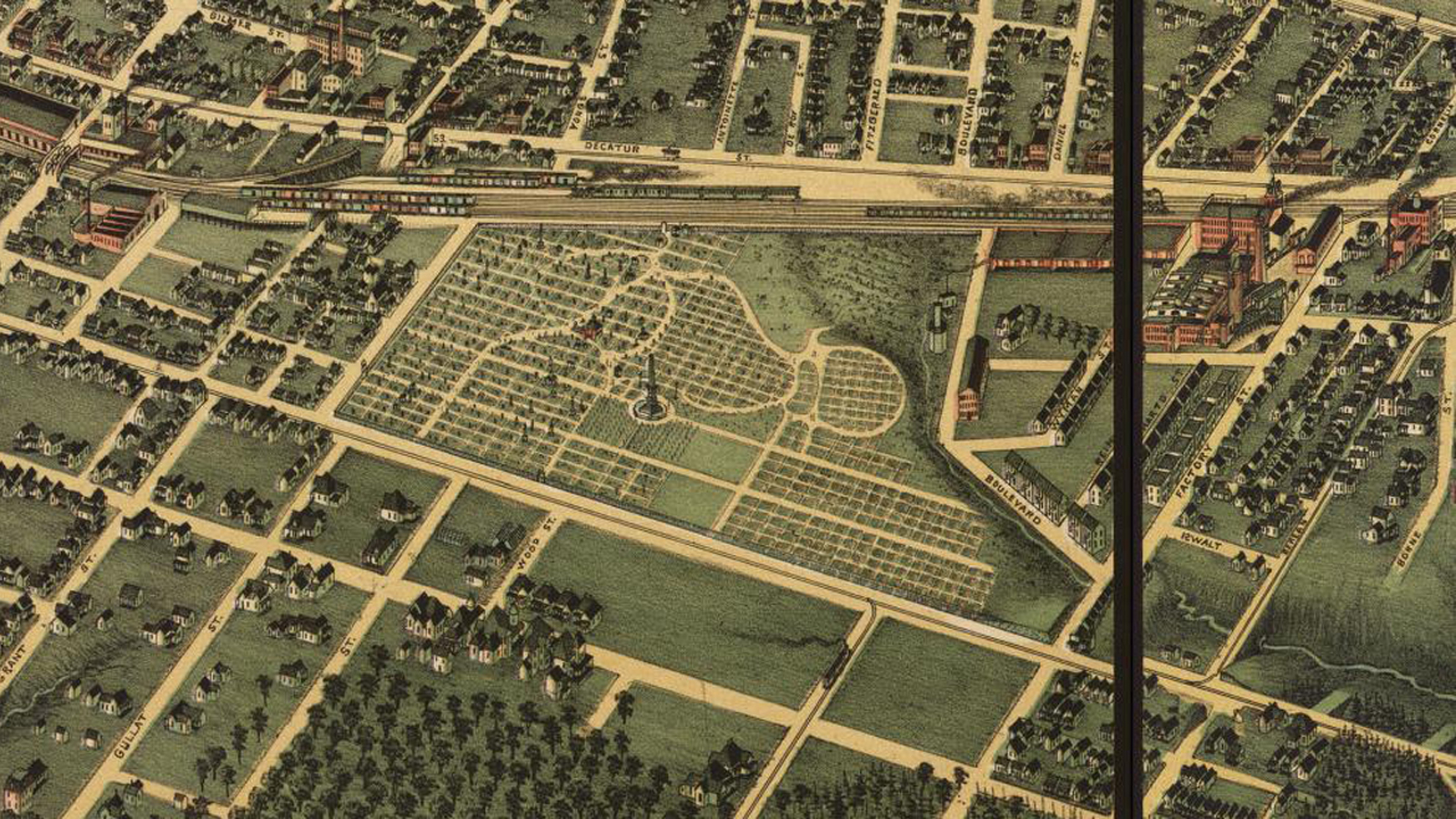 The layout included a portion reserved for burying Atlanta's African-American population and two public grounds for burying travelers, the indigent, and those who could not afford or did not desire a private burial lot. Burials included early residents of Atlanta, Confederate and Union soldiers, and prominent Georgians such as author Margaret Mitchell and amateur golfer Bobby Jones. The grounds were enhanced by a number of magnolias and oak trees (hence the name change) many of which survived for years. However, the tornado of 2007 has damaged or destroyed a number of the more mature specimens. Many of the plots were maintained by family members and thus an eclectic mix of plant material has been seen at Oakland. Daffodils, wildflowers, formal boxwood hedges, and perennials have all been incorporated into family plots.
Oakland is also defined by its buildings, mausolea, and gravestones. Grave markers and other structures, including the landmark bell tower, watchman's house and men's and women's comfort stations, were designed in Gothic Revival, Neo-Classical, Romanesque, and Eclectic styles. In 1886, Oakland was described in the Atlanta Annual Report "as the most attractive place in the city, where decorous and orderly throngs of our citizens congregate every pleasant Sunday to quietly pass through the well-kept grounds."
Largely forgotten until 1976, interest in the American Bicentennial coupled with recurring vandalism at Oakland Cemetery gave birth to Oakland's historic preservation movement. Historic Oakland Foundation (HOF) was formed and the cemetery was listed in the National Register of Historic Places. In the early 1980s, HOF hired its first executive director, developed a master plan for the site, and pursued grants to repair the effects of vandalism.
| | |
| --- | --- |
| | |
The organization has since developed an updated master plan, made repairs to the wall, iron work, stained glass in mausolea, and path systems, improved landscaping and signage, and established an extensive public outreach and volunteer program. The Foundation installed coverings to protect the mausolea stained glass windows, revived Oakland's only fountain, made repairs to walls and grave markers, and began replanting the landscape in accordance with the master plan. Other projects included the restoration of walkways, and repair of retaining walls and other structures. Their work has been recognized by the Georgia Trust for Historic Preservation, the Atlanta Urban Design Commission, and the American Horticultural Society, and, in 2007, the cemetery become a certified Atlanta Audubon Society Wildlife Sanctuary.
In 2008, a new master plan was completed to help guide the future of the site, while respecting its heritage. However, on March 14, 2008, Oakland Cemetery was hit by a devastating tornado. Centuries-old trees were toppled, monuments were shattered, and roads were completely blocked. Miraculously, the bell tower and staff inside were spared. In the days following the storm, volunteers descended upon the cemetery, removing more than 70 dump truck loads of debris from the approximately 150 damaged or destroyed trees.
Since that time, HOF staff has worked with the Federal Emergency Management Agency (FEMA) to secure funding to restore the cemetery and repair the damage, and have engaged consultants, volunteers, and local, state, and Federal government agencies, in hopes of rehabilitating the site within the time allowed by FEMA. While there is still much to be done, the still-active cemetery has once again opened to visitors as a public park and heritage tourism destination, and welcoming hundreds of school groups every year.
Today, Oakland's mausolea, monuments, and epitaphs offer a record of changing conceptions of death, as well as the expression of personal sentiments. The design reflects the evolving nature of urban cemeteries over time, when burial grounds had to adapt to changing urban life, public health concerns, and municipal necessities. Moreover, within its increasingly dense urban surrounds, Oakland continues to provide for passive enjoyment to Atlanta's residents and visitors.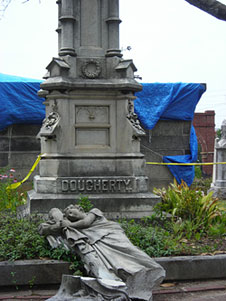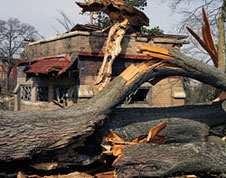 Threat
Although the natural landscape has rebounded and Oakland has once again established itself as a unique horticultural destination, the tornado has permanently altered Oakland's environs. There is an ongoing, phased restoration plan to restore and rehabilitate the walkways, drives, and retaining walls throughout the site. However, Oakland's landscape is dotted with historic structures that are in various states of disrepair. The storm has heightened the need for a detailed survey of Oakland's existing conditions. Such documentation efforts would include a detailed topographic survey, site plan, measured drawings of all 54 mausolea, and measured drawings of all buildings/structures and would allow a stronger understanding of the site's features giving those who are stewards of the property the ability to do so within the context of the site's significance.
Moreover, while the current economic crisis has slowed development around the cemetery, the potential for inappropriate development adjacent to Oakland still exists. New overlay zones promoting greater density, threats to significant viewsheds and increased visitor usage to Oakland can all be potentially negative consequences of new development.
Get Involved
Joining the Historic Oakland Foundation is a big first step in showing support for the cemetery. Aside from providing financial support, members can volunteer their time. There is an ongoing need to accomplish monument cleaning, landscape maintenance, and historic plantings in the cemetery. Volunteers with such experience are welcome, and those with an interest can be trained. Members also receive special invitations to a selection of general and specialized tours, as well as seasonal special events.
Oakland is also in need of support from City staff, local developers, mass transit officials, and community stakeholders to build community consensus on how best to connect Oakland to surrounding neighborhoods and promote context-sensitive development around the site. Supporters can write their local officials and make them aware of the need for such thoughtful development review.
Learn More
Oakland Cemetery
248 Oakland Avenue SE
Atlanta, GA 30312
Print Resources
Garrett, Franklin. "Oakland Cemetery." Atlanta and Environs: A Chronicle of its People and Events.
Taliaferro, Tevi. Historic Oakland Cemetery. Historic Oakland Foundation, 2001.
Tucker, Mary Pyne. "The Plants of Atlanta's Historic Oakland Cemetery." Carolina Gardener. September/October 2004.
Archives
Historic Oakland Foundation Archives, Atlanta, GA
Cherokee Garden Library, Atlanta History Center, Atlanta, GA