Landslide
Sharp Park Golf Course Threatened with Closure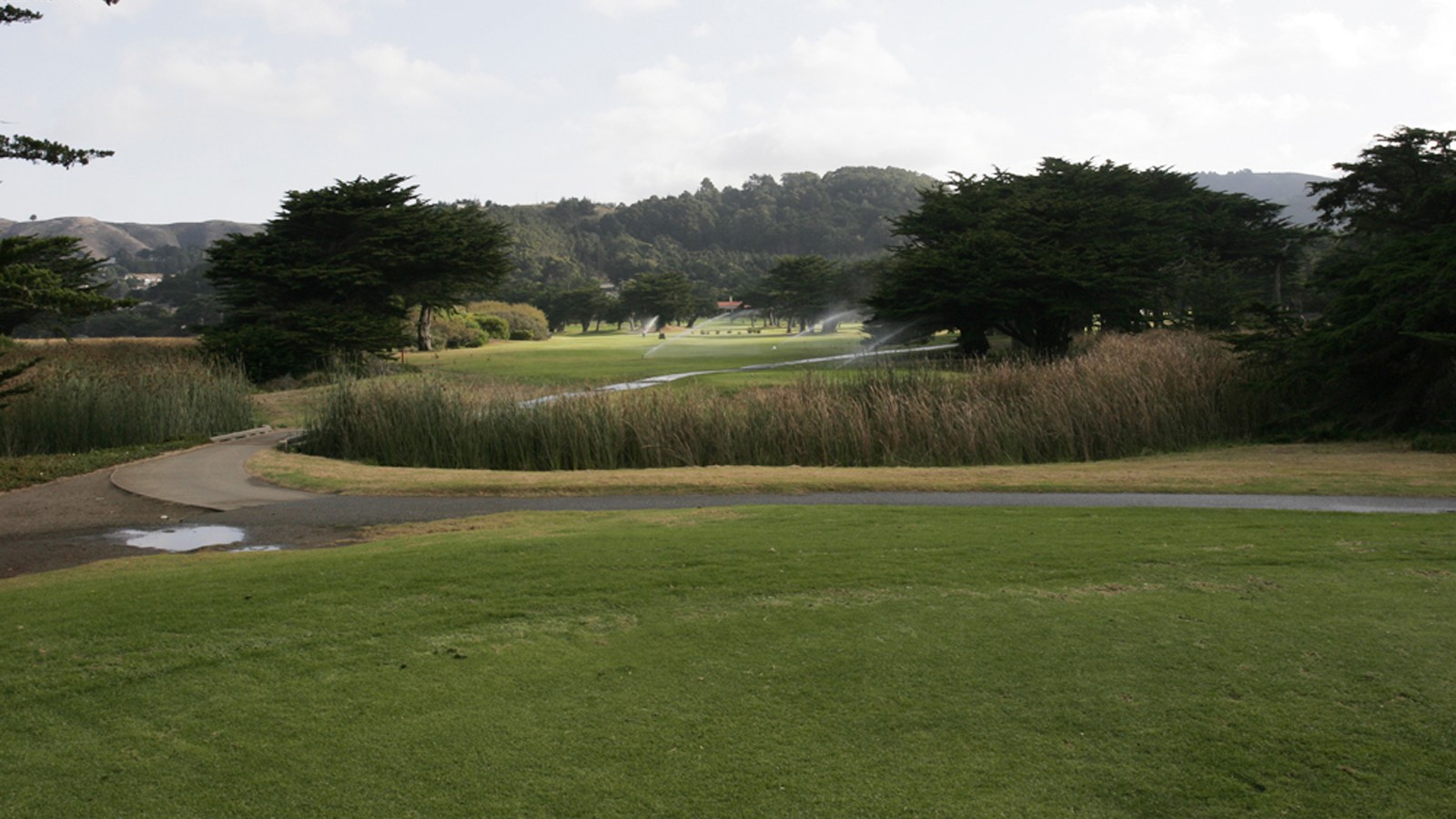 Designed by the legendary golf course architect Dr. Alister MacKenzie, Sharp Park Golf Course faces potential closure due to pressure from environmental activists and San Francisco city officials.
Just months before starting on his masterpiece Augusta National Golf Course in Georgia, Dr. Alister MacKenzie designed his only seaside public links at Sharp Park, a San Francisco municipally-owned course located 10 miles south of the city in the beachside suburb of Pacifica, California. Since opening in 1932, Sharp Park has hosted an annual average 50,000 rounds,with some of the lowest green fees of any 18-hole course in the Bay Area. Today, the course also is home to the threatened red-legged frog and the endangered San Francisco garter snake; and environmental activists have lobbied city officials to close the course and dedicate the land to these two listed species. The San Francisco Board of Supervisors in April 2009 adopted an ordinance to study how—and if—the golf course can be kept open, consistent with restoring reptilian habitat. So today environmentalists are politically squaring-off against golfers, landscape preservationists, and Pacifica city officials who want to keep the course open.
History
At the turn of the 20th Century, San Francisco city fathers aspired to fashion the city as a major world capital, a "New Constantinople." For this purpose they retained Daniel Burnham who, just three years after completing his master plan for Washington, D.C, completed his San Francisco Plan in 1904. Though the Burnham plan was not fully adopted, it became the impetus for San Francisco's grand public architecture, including the Beaux Arts Civic Center, and monuments by world masters, from the Golden Gate to the Embarcadero, and Bernard Maybeck's Palace of Fine Arts.
In this spirit, John McLaren, head of the city's park system and father of Golden Gate Park, hired the world's preeminent golf architect, Dr. Alister MacKenzie, to design a municipal golf course at Sharp Park, on property donated to the city exclusively for recreational purposes. Born in England and educated as a medical doctor at Cambridge, MacKenzie served as a surgeon in the Boer War and as a camouflager in World War I before moving to the Bay Area and devoting himself full-time to golf architecture. As a golf architect, MacKenzie was a naturalist in the tradition of Capability Brown, the 18th-century English landscape gardener. "The chief object of every golf course architect worth his salt," MacKenzie famously said, "is to imitate the beauties of nature so closely as to make his work indistinguishable from nature itself."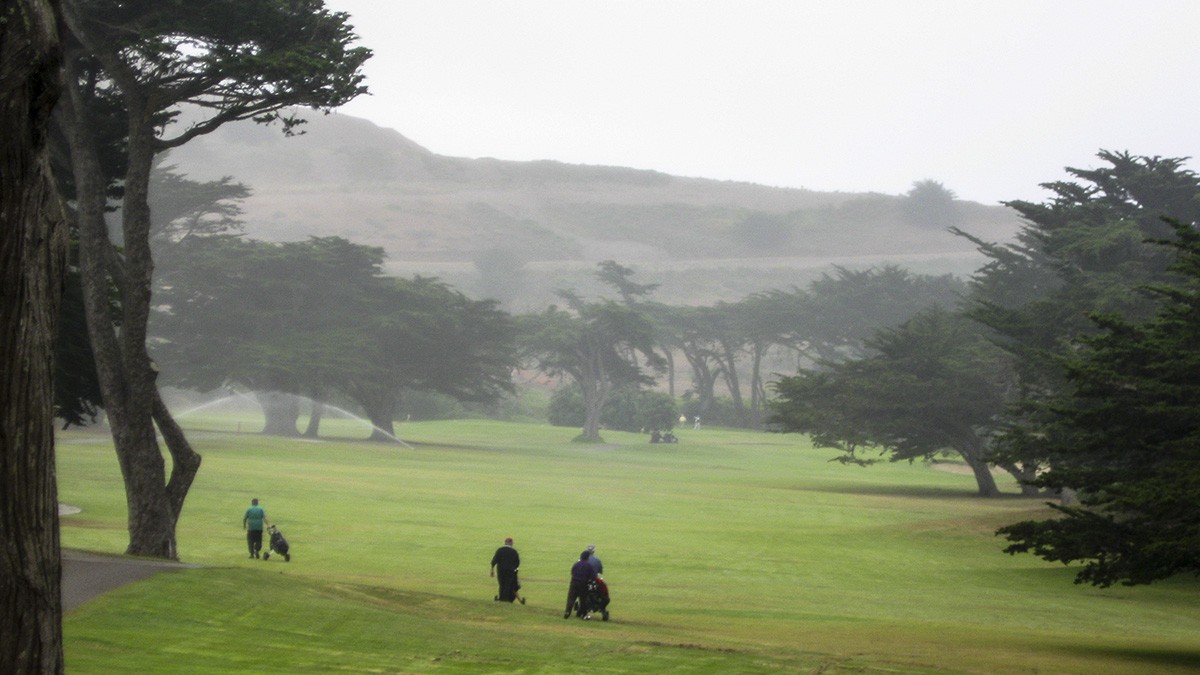 Although he had designed legendary courses outside the States, MacKenzie developed his American reputation with a burst of greatness between 1928 and 1933, the final six years of his life. During that span, he designed several of the world's most celebrated courses, including Cypress Point in Monterey and Pasatiempo in Santa Cruz, California; Crystal Downs in Michigan; Royal Melbourne in Australia; and, in collaboration with Bobby Jones, Augusta National in Georgia. (Augusta is home of the annual Masters Tournament and has been noted as America's greatest course by Golf Digest Magazine.) It was during this prolific time that MacKenzie designed Sharp Park, one of only a handful of his public courses.
Today at Sharp Park, golfers play 12 of MacKenzie's original holes, and parts of two others. Two original seaside holes are now buried beneath the seawall, while the routings of three other original MacKenzie holes lie fallow in the sand dunes at the course's west end. Ocean vistas are now blocked by the seawall, but the course retains its links character and the air, wind, sounds, and smells of the sea.
Sharp Park also retains the artistry of its creator—including MacKenzie's picturesque routing, his trademark optical illusions, and his false-fronted, heaving and tumbling greens. The current 14th hole for example, displays MacKenzie's use of camouflage principles. A large mound 30 yards in front of the right side of the green appears from the vantage of the drive in the fairway to be adjacent to the green, thus testing the golfer's mental skill and discipline to hit the proper shot, in spite of what appears to the eye.
Today, with green fees as low as $24 on weekends, the course continues to provide a world-class seaside recreational experience to golfers from diverse social and economic backgrounds in a city known for such diversity. In this way, the unpretentious, old-fashioned Sharp Park Golf Course closely resembles the public links of the sport's homeland, Scotland.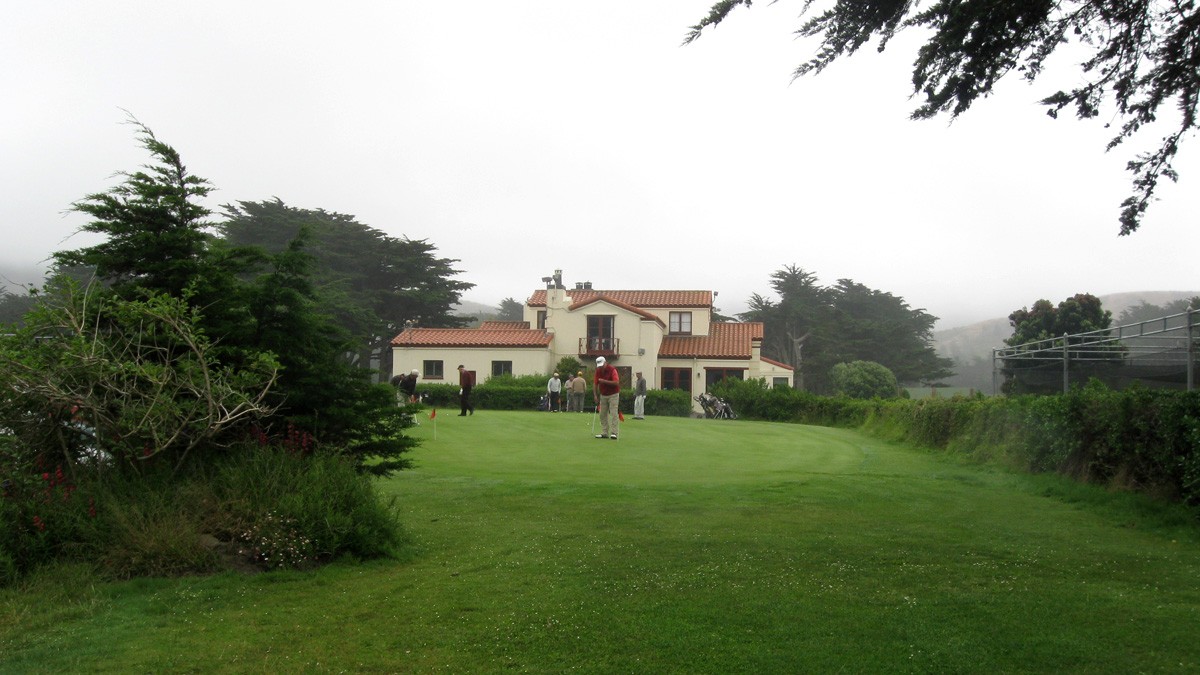 Threat
Under pressure from environmental activist groups, the San Francisco Board of Supervisors in early May 2009 directed the city's Recreation and Park Department to explore plans to close the golf course and convert some or all of its acreage to a wildlife preserve for the frog and snake. The Department is due to report back to the Supervisors by August 31, 2009.
Over the years, San Franciscans have defended their cable cars, the Palace of Fine Arts, Golden Gate Park and City Hall, and have restored the Embarcadero, from natural, commercial and political disasters and threats. MacKenzie's public golf masterpiece at Sharp Park is worthy of the same kind of citizen effort to save this world-class work of public landscape architecture.
The San Francisco Public Golf Alliance is leading a charge to preserve Sharp Park for future generations of golfers and public landscape aficionados, and find a way to restore Sharp Park's frog and snake habitat as well. Despite the Alliance's efforts to raise awareness and funds to maintain environmental harmony at the golf course, the future of this cultural landscape is very much in jeopardy.
Bibliography
Doak, Tom. The Life and Work of Dr. Alister MacKenzie (Sleeping Bear Press 2001).
MacKenzie, Alister. The Spirit of St. Andrews (Sleeping Bear Press, orig. manuscript 1934, publ. 1995).
Wexler, Daniel. The Missing Links (Sleeping Bear Press 2001).
Get Involved
To get involved, please contact the San Francisco Public Golf Alliance at info@sfpublicgolf.com
You can also contact city officials directly to voice your concerns:
San Francisco Recreation and Parks Commission
Mark Buell, President
501 Stanyan Street
San Francisco, CA 94117-1898
Recpark.commission@sfgov.org
San Francisco Board of Supervisors
Hon. Mark Farrell
#1 Dr. Carleton B. Goodlett Plaza
San Francisco, CA. 94102-4889
mark.farrell@sfgov.org
(Please copy all correspondence with San Francisco officials to info@sfpublicgolf.com)