Landslide
William E. Scripps Estate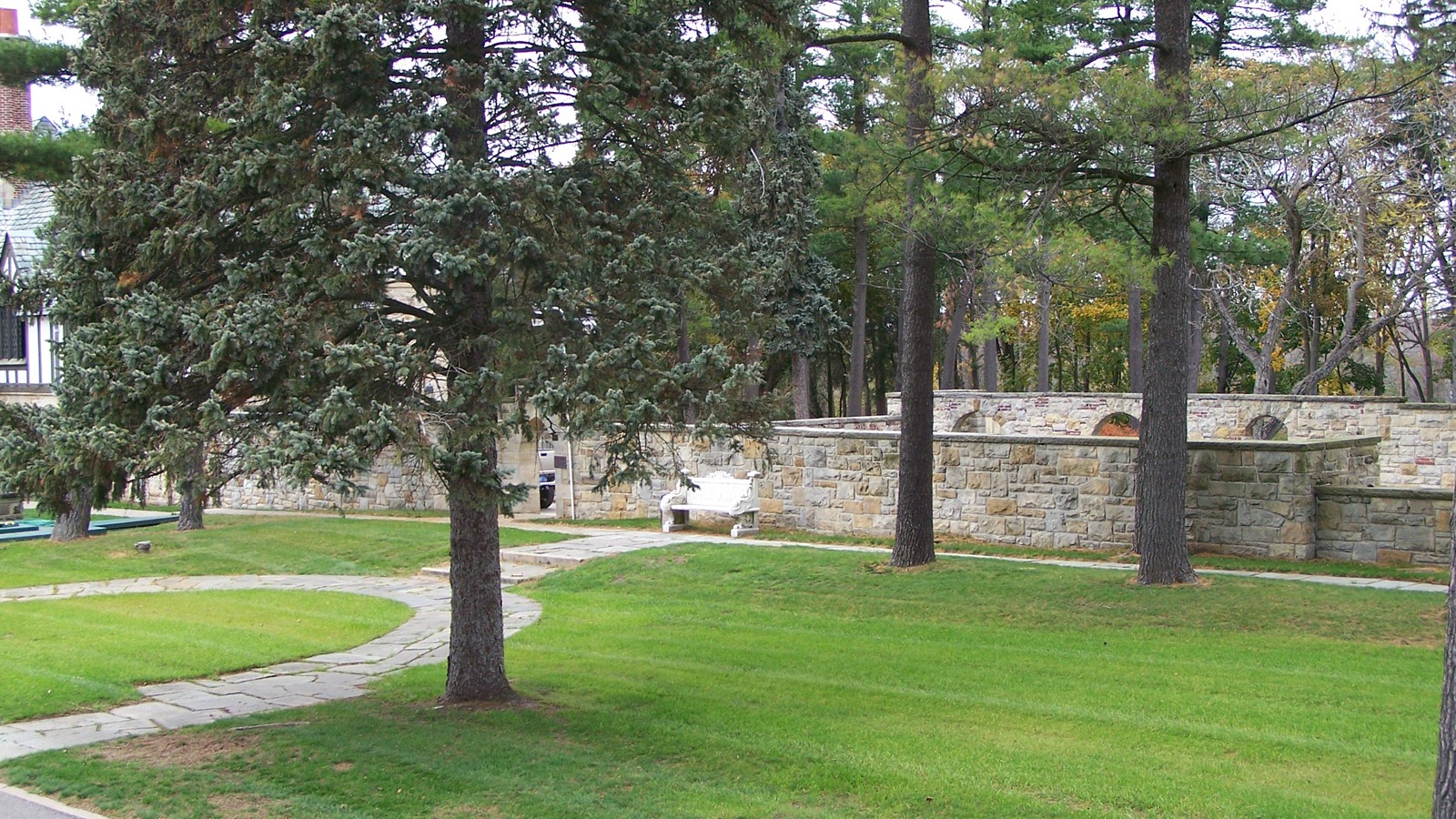 Designed by: Bryant Fleming
William E. Scripps founded the working farm, Wildwood Farm, as the heart of his estate in 1916. Within several years, the facility was host to one of the foremost stockbreeding enterprises in the world. When he built his magnificent country house ten years later, he hired landscape architect Bryant Fleming to design nearly 75 acres of naturalistic and formal gardens that incorporated his conservation-minded plans for the larger estate. With a supportive and wealthy patron, Fleming, a renowned landscape architect of the Country Place Era who co-founded the landscape architecture program at Cornell and was affiliated with the American Academy in Rome early in the 20th century, was able here to integrate the most refined elements of his design vocabulary. A previous lack of information and understanding about the site's origins has led to difficulty maintaining the property and left its integrity vulnerable. 
History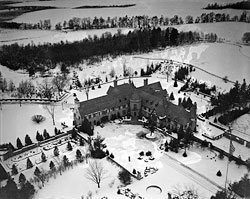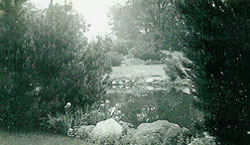 William E. Scripps founded Wildwood Farm in 1916. Heir to the Detroit News empire built by his father, James E. Scripps, he approached the farm's management seriously, implementing state of the art agricultural practices in land reclamation and stockbreeding. By the late 1920s, the farm was world famous as a stockbreeding enterprise.
After the farm was established and the estate residence was underway in 1926, Scripps selected renowned landscape architect Bryant Fleming to design the gardens. Now considered a pioneering American landscape architect, Fleming was in great demand in the 1920s, creating landscape designs for country estates across the United States. Fleming typically managed outdoor space around grand estates by creating a series of terraces, garden zones, and interconnecting outdoor "rooms" with varied configurations and levels. As he was also a building architect, he worked to integrate the site and the building through garden designs that incorporated architectural features as well as naturalistic elements.
At the Scripps Estate, Fleming had the unique opportunity to design a large site with diverse natural features and to work with a wealthy patron with a developed aesthetic taste. The site included several natural ponds, wetlands, a stream, a lake, woods, and rolling fields that offered long views of distant hills. Fleming further enhanced the rich natural characteristics of the site through active construction, dredging the existing stream and ponds, mounding and berming earth, and arranging large boulders for a desired naturalistic effect. Fleming also incorporated a variety of methods for water management. Numerous hidden drains were installed to handle the high volume water runoff from the mansion's steep roof, and direct it to different wetland areas. In other parts of the garden, heavy sandstone-faced rubble walls were used to disperse surface or ground water. Fleming also designed an irrigation system for the lawns using lake water channeled through a pump house built into the hill and disguised as a formal stone terrace overlook. These activities are remarkable for their conservation-minded use and re-use of natural resources.  Both designer and patron championed such techniques, as Scripps himself was an early environmentalist who advocated the wise use of natural resources, reclamation of over-farmed land, and reforestation and provided for a large wildlife sanctuary on his estate lands.
The resulting 75-acre plan integrates a comprehensive selection of Fleming's design vocabulary. Walled garden enclosures have varied architectural details, such as integrated carvings, window and doorway openings into adjacent garden rooms, and varied wall heights. The garden rooms are variously accented with integrated stone benches, dramatic rounded stairs, and wrought-iron ornamentation. Water features are numerous, ranging from formal fountains to quiet reflecting pools to naturalistic waterfalls that return runoff water to existing wetlands. Fleming used gravel and flagstone walks, a sculpture-lined allée, and informal, rock-edged woodland paths to lead visitors from the more formal terraces near the house to the pastures, park, designed evergreen wood, and lake overlook further out. He similarly used both formal, refined specimen plants as well as naturalized plantings of native species.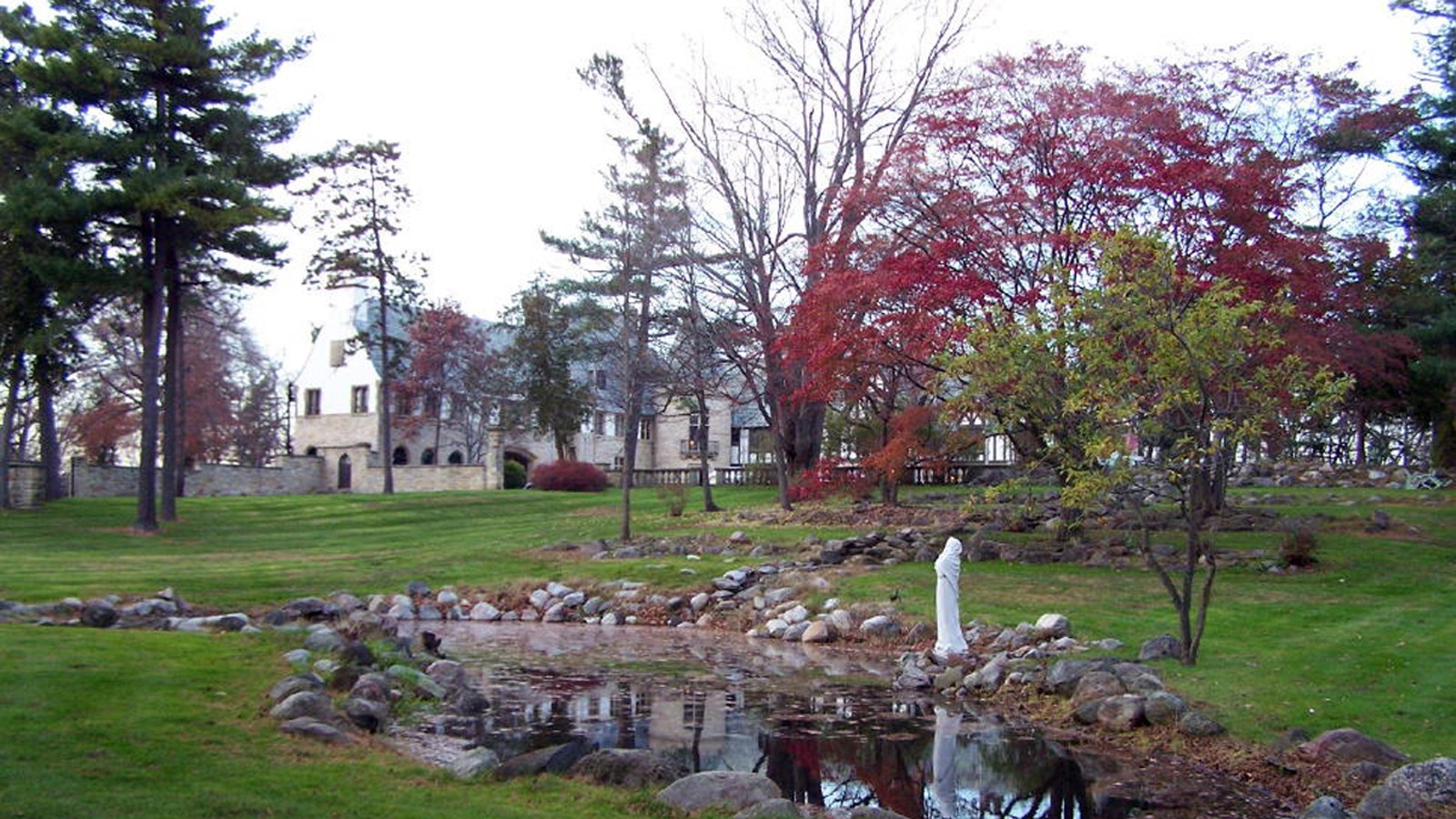 The Scripps Estate was adorned with bronzes by Harriet Frishmuth and Rafaello Romanelli, and Fleming himself designed two elaborate marble urns with classical motifs. He also collaborated with the celebrated metalworker Samuel Yellin, who created several wrought iron gates for the gardens. The estate's antique Italian stone wellhead was embellished with wrought iron ornamentation by Yellin to create a focal point.
After the death of William E. Scripps in 1952, the 3800 acre estate property was subdivided. The house and surrounding grounds were purchased by a newly formed non-profit corporation, Guest House, Inc. The organization used the main home as a residential alcohol treatment facility. The farm buildings became part of Howard Keating's Keatington Antique Village, later known as Canterbury Village. Today, 100 acres of the estate and gardens are still used for Guest House programs on a part-time basis, but are open for tours by appointment. Most of the farm estate's land and lakes have become county or state park land, all of which continue to provide sanctuary for local wildlife.
Today, the estate is one of the rare surviving masterworks of residential landscape architecture from the Country Place Era of garden design, including 60 of the 75 original acres designed by Bryant Fleming. Unlike many other country estates of the era, the Scripps site retains much of its original design elements, sense of place and setting. However, the history and importance of this landscape has only recently come to light. As few as five years ago, the origin of the garden landscape and its architect were completely unknown. Only when a series of faint and brittle landscape drawings were found in a forgotten storage area did investigations begin.  The property's true cultural value is not yet fully understood, but initial research resulted in its listing in the National Register of Historic Places in 2007.
Threat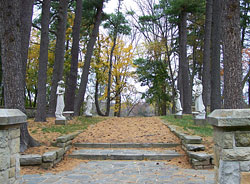 The lack of understanding of the site's origins has led to inconsistent maintenance and repairs in past years. Original plants have matured, been replaced with incompatible selections or disappeared, and aggressive invasive trees and shrubs have become established among the original plant material. While the garden's architectural features remain, the changing seasons have taken their toll on many of the features. Stone walls are failing, wrought iron gates are rusting and wooden doors rotting and, in some cases, improper repairs have accelerated damage to built features. Moreover, the addition of structures in recent years has degraded the landscape design in some parts of the garden, in some cases interrupting intentional sight lines.
The surviving landscape drawings are both extremely fragile and incomplete, lacking important details about specific plants used at the site. Without comprehensive data, including a survey of existing conditions at the site, and in the absence of a formal master plan that recognizes the site's significance, further loss will take place. As with all historic sites, the Scripps Estate will languish without a greater awareness and understanding of its rarity.
Get Involved
The study and full restoration of the Scripps gardens will be a major undertaking. Guest House, Inc., and The Friends of the William E. Scripps Estate are working to develop a volunteer program that will allow both experienced volunteers and enthusiasts to help preserve and maintain the site. In particular, the organizations are hoping to further the effort to use GIS to produce a comprehensive historic tree survey and conduct further historic research. Volunteers can participate in a range of activities, depending on their interests, from gathering data about the plants to maintenance to fundraising. If you or an organization you are associated with can contribute resources to survey the grounds or document its condition, or contribute directly to the conservation or digitization of the Fleming blueprints, please contact the Curator and Executive Director at (248) 391-4445, ext. 1100.
Learn More
William E. Scripps Estate
1840 W. Scripps Road
Lake Orion, MI 48360
Print Resources
Knight, Gayle Sanders. "Bryant Fleming, Landscape Architect: Residential Designs, 1905-1935." Master's thesis. Cornell University: 1987.
Pielack, Leslie. The Scripps Mansion: Its Era, Art & Family. Guest House, Inc., 2007.